What to Know in Washington: Senate Democrats Agree on Budget
Senate Democrats on the Budget Committee agreed to set a $3.5 trillion top-line spending level for a bill to carry most of President Joe Biden's economic agenda into law without Republican support.
Democrats on the committee had been divided about the size and scope of the package, with Chairman Bernie Sanders (I-Vt.) initially pushing a $6 trillion measure that added an expansion of Medicare, immigration reform, more generous childcare benefits and more to Biden's proposal.
The Budget Committee agreement includes the Medicare expansion, marking a significant win for Sanders. Sen. Mark Warner (D-Va.), a moderate, said the bill would be "fully paid for."
"We are very proud of this plan," Majority Leader Chuck Schumer (D-N.Y.) said last night. Schumer said it would include dental, hearing and vision benefits for Medicare recipients but didn't detail whether a proposal to lower the eligibility age will be included or if a separate proposal to lower prescription drug prices is in the plan.
Biden plans to go to Capitol Hill today to discuss the plan. The president did not immediately endorse it publicly, but White House economic adviser Brian Deese and chief legislative liaison Louisa Terrell attended last night's meeting.
Meanwhile, negotiations on a $579 billion bipartisan bill focused on physical infrastructure, the second part of Biden's two-track economic package, made some headway after meetings earlier last night. Sen. Rob Portman (R-Ohio), the lead Republican negotiator, said "about half" of the outstanding issues were resolved last night, but a "couple dozen" remain.
The goal, he said, is to resolve the remaining issues by tomorrow and work on drafting the legislation over the weekend.
Biden will meet at the White House at 3 p.m. with a bipartisan group of governors and mayors to discuss the bipartisan infrastructure plan, according to his daily schedule. Read more from Erik Wasson, Steven T. Dennis and Laura Davison.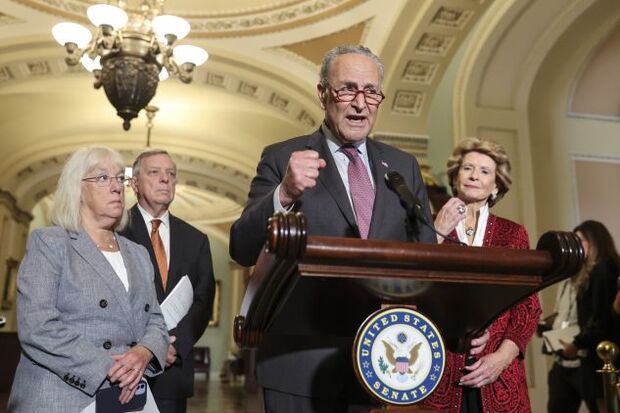 Happening on the Hill
Today's Agenda:
The Senate votes today on two of Biden's nominees to the Labor Department and Equal Employment Opportunity Commission.
Secretary of State Antony Blinken will give a closed-door classified briefing to senators about Iran today, according to the Washington Post.
Click here for a complete list of today's hearings and markups.
Jennifer Abruzzo Nears Confirmation as Labor Board's Top Lawyer: The full Senate cleared the way for final votes to confirm Jennifer Abruzzo as general counsel of the National Labor Relations Board. The 50-48 vote yesterday makes Abruzzo's nomination eligible for the Senate floor, an action needed after the divided chamber's labor committee voted in a party-line tie on May 12. Read more from Ian Kullgren.
Homeland Security Revamp Underway: House lawmakers are vying to reshape the Department of Homeland Security — a sprawling agency formed to thwart international terrorism that's had to adapt to shifting missions over its 20-year existence. Lawmakers have discussed for years how to overhaul the department — widely considered to need changes — without reaching a solution. The House Homeland Security Committee, aiming to succeed this time, will meet tomorrow to weigh new legislation and hear from national security professionals who've called for molding DHS and its varied components into a more cohesive and accountable unit. Read more from Ellen M. Gilmer.
Senators Push to Ease Cuba Trade Ban: A new bipartisan push in Congress to open up Cuba for U.S. agriculture stands the best chance of moving ahead with a trade relationship that has bedeviled American presidents over decades. Despite industry support, it won't happen without a fight from Cuban-Americans in the GOP who have protested any move seen as benefiting the island's communist government. Read more from Megan Boyanton.
Lawmakers Face Push to Limit Drugmaker Deals as Prices Skyrocket: Lawmakers will have a hard time objecting to legislation aimed at lowering prescription drug prices by limiting deals between name brand and generic manufacturers, Sen. Amy Klobuchar (D-Minn.) said yesterday. "The stakes could not be higher," Klobuchar, chair of the Senate Judiciary Committee's antitrust panel, said at a hearing. Klobuchar is sponsor of a bill that would limit arrangements in which brand drugmakers compensate generics for waiting before they enter the market. These types of settlements are called pay-for-delay deals. Read more from Ian Lopez.
Politics & Influence
House Republicans Take Lead in Money Chase: The National Republican Congressional Committee, the fundraising arm of the House GOP, took in a record $45.4 million in the second quarter, topping the $36.5 million raised by the Democrats. The NRCC said it had raised $20.1 million in June, its best monthly haul in a non-election year, and $79.2 million over the first half of 2021, a 78% increase over its fundraising over the same period in 2019. The NRCC had $55 million in the bank, more than the twice the $25.6 million it had two years ago.
The Democratic Congressional Campaign Committee also topped its previous records as it defends its narrow majority in the House in 2022. The DCCC, which released its totals Friday, had its best second quarter fundraising and best total for June, some $14.4 million, in a non-election year. It ended the month with $44 million cash on hand, or $11 million less than the GOP had. Read more from Bill Allison.
Trump's Former Energy Chief Joins Sempra: Sempra Energy's new infrastructure unit has hired former Trump administration official Dan Brouillette, enlisting the onetime cabinet secretary as part of its mission to expand LNG exports and other technology. Read more from Jennifer A. Dlouhy and Sergio Chapa.
Bloomberg Law's 40 Under 40: Bloomberg Law today launched the inaugural edition of "They've Got Next: The 40 Under 40," an award recognizing the accomplishments of sterling young lawyers nationwide. These 40 honorees represent the best of the future of the legal profession. The inaugural group includes litigators and labor & employment attorneys who score key victories for client companies and plaintiffs. They're M&A mavens taking the lead on some of the most substantial deals of our time. They're appellate aces who've excelled in matters before the U.S. Supreme Court and in federal courts of appeal. And they're intellectual property lawyers, using incisive strategies to propel business. Find the full list, and details on the winners, here.
Around the Administration
Yellen, Powell to Discuss Risks of Housing Market: Treasury Secretary Janet Yellen and Fed Chair Jerome Powell are slated to discuss the hot U.S. housing market and the risks it could pose to the financial system at a meeting with fellow regulators on Friday. The aim of the closed-door session: To make sure the U.S. is not vulnerable to a crisis akin to the one it suffered more than a dozen years ago, when the bursting of a property-price bubble drove top banks to the brink of insolvency and the economy into a deep recession. Read more from Saleha Mohsin and Rich Miller.
Lawrence Summers Meets With Biden Advisers Amid Inflation Fears: Former Treasury Secretary Lawrence Summers, a sometime-critic of President Joe Biden's economic policy, met yesterday at the White House with two of the president's top economic aides. Summers, who served at Treasury in the Clinton administration and also worked in the Obama White House, met with National Economic Council Director Brian Deese and Council of Economic Advisers Chair Cecilia Rouse, a White House official said. The group talked about the infrastructure legislation that's under negotiation as well as Biden's broader Build Back Better economic agenda, the official said. Read more from Jennifer Epstein.
Biden to Tap Former West Virginia Health Official as Drug Czar: Biden is nominating Rahul Gupta for director of the Office of National Drug Control Policy, according to a White House official speaking on condition of anonymity and two others close to discussions. Gupta is a primary care physician who currently serves as the chief medical and health officer at the March of Dimes. He previously was the health commissioner of West Virginia under two governors. Read more from Valerie Bauman and Alex Ruoff.
Tensions Await Julie Su in Shaping Role as Labor's Deputy: Julie Su's confirmation as deputy labor secretary gives the Biden administration an experienced employment law regulator known for prioritizing vulnerable workers, but raises questions about how much influence she'll have in setting the president's workplace policy agenda. The Senate voted 50-47 yesterday to approve Su as second-in-command at the U.S. Labor Department, ending months of delay from Republican resistance to her California credentials. Read more from Ben Penn.
U.S. Plans for Jobs, Justice Hinge on Mine Cleanup: The $16 billion the White House is proposing to reclaim abandoned mines and halt methane leaking from orphan oil and gas wells represent a start to advancing environmental justice and creating jobs, Interior Secretary Deb Haaland said yesterday in Pennsylvania. She also said Interior is complying with a federal court order to re-start oil and gas leasing. The department's actions regarding the order have come under scrutiny by congressional Republicans. Read more from Bobby Magill.
Boat Migrants From Haiti, Cuba Warned Against Entering U.S.: Homeland Security Secretary Alejandro Mayorkas is warning Cubans and Haitians against attempting illegal journeys to the U.S. by sea, even as the assassination of Haiti's president and protests in Cuba inject political instability in the Caribbean nations. "Any migrant intercepted at sea will not be permitted to enter the United States," he said in a press briefing yesterday. Most will be returned to their countries, he said. Those who fear persecution or torture at home will be referred to third countries for resettlement. Read more from Ellen M. Gilmer.
Biden's China Policy Hints at Trump-Style Pain: Six months into his presidency, Biden is revealing a hard-edged China policy that suggests relations between the world's two biggest economies are only going to get worse. A spate of U.S. actions in recent days underscore that Biden plans to extend and deepen Trump's more confrontational approach. Read more from Nick Wadhams, Saleha Mohsin and Peter Martin.
Meanwhile, China accused the U.S. of waging a "sinister" campaign to halt its rise, as the Biden administration moved to counter Beijing's growing global trade influence and domestic political crackdowns. Read more from Iain Marlow and Kari Lindberg.
To contact the reporters on this story: Zachary Sherwood in Washington at zsherwood@bgov.com; Giuseppe Macri in Washington at gmacri@bgov.com
To contact the editors responsible for this story: Loren Duggan at lduggan@bgov.com; Michaela Ross at mross@bgov.com