What to Know in Washington: Senate Control Hangs in the Balance
Democrats' hopes of taking control of the U.S. Senate hung in the balance early this morning after the party captured one seat in the Georgia runoff elections and waited on the outcome of another race that remained too close to call.
To secure a narrow majority, Democrats need to win both Senate seats, which would split the chamber 50-50 between Republicans and the Democratic caucus, with Vice President-elect Kamala Harris casting tie-breaking votes.
Democrat Raphael Warnock defeated Republican Sen. Kelly Loeffler in one of the runoff races, the Associated Press reported this morning, while Republican Sen. David Perdue and Democrat Jon Ossoff were locked in a dead heat with some absentee votes yet to be counted and as many as 17,000 military and overseas ballots due by Friday.
With Loeffler's loss, Republicans must hold on to the other Georgia Senate seat to preserve their hold on the chamber and be able to thwart Biden's agenda and cabinet nominees. It could take days to determine the final outcome, and the narrow victory margins will almost certainly spark legal challenges or recounts.
But GOP state officials were grim. "From the numbers we're looking at right now, it doesn't look good for the two incumbent Republican senators," said elections official Gabriel Sterling, a Republican. Mark Niquette has the latest. Follow the results live here.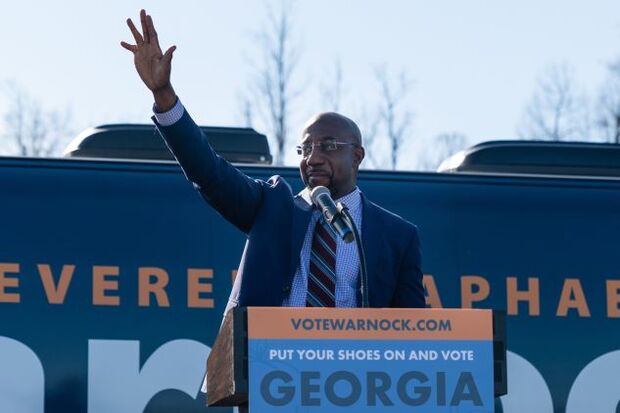 What's After Georgia: Join Bloomberg Government's Emily Wilkins on Friday at noon for a Reddit AMA ('ask me anything') on what's next for Congress after the Georgia runoffs determine control of the Senate. Follow along on Reddit.
Last Act in Trump's Loss Turns GOP Fight Inward
Donald Trump's months-long effort to toss out the election results and extend his presidency will meet its formal end this week, but not without exposing political rifts in the Republican Party that have pitted future contenders for the White House against one another.
Congress is expected to vote overwhelmingly against objections to certification of President-elect Joe Biden's victory, after several Senate Republicans said this week they wouldn't join a small group of their colleagues set to challenge Electoral College votes from closely fought states Trump falsely claims he lost due to widespread fraud.
The senators who say they'll affirm Biden's victory — and who say to do otherwise would defy the Constitution — include Tom Cotton (Ark.) and Tim Scott (S.C.), both of whom are seen as potential future presidential candidates.
The leaders of the 13 Senate Republicans planning to object to one or more states are Josh Hawley (Mo.), also regarded as a potential 2024 candidate, and Ted Cruz (Texas), who finished second in the 2016 GOP primary to Trump.
Presiding over the event will be the Republican Party's most obvious standard-bearer in the years ahead, besides Trump himself: Vice President Mike Pence. He is under pressure from Trump's supporters and the president to attempt to single-handedly change the outcome of the election by rejecting Electoral College votes from states where Trump has baselessly alleged that fraud robbed him of victory. Pence has not said how he will address the matter.
Congressional certification of Biden's win is the final, official act in the drawn-out 2020 election before he's inaugurated and takes office on Jan. 20. But the complicated political currents roiling the Republican Party are turning what used to be a mere formality to end presidential contests into an unprecedented drama. Read more from Josh Wingrove and Nancy Cook.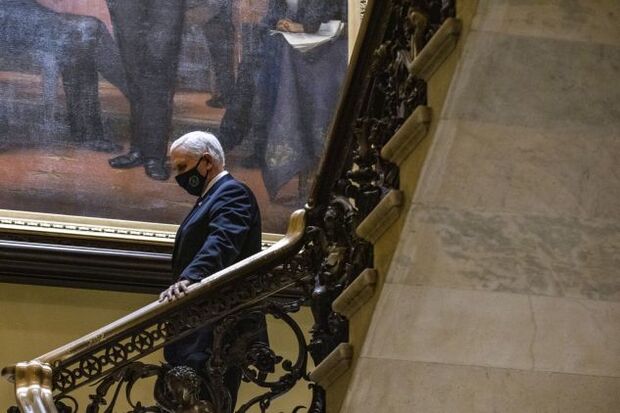 How to Watch the Electoral College Count: The objections, which are provided for under the law, could well delay the proceedings but are not likely to affect the outcome. Daniel Flatley and Mark Niquette preview what to expect as the day unfolds.
Read more:
Trump Lawyer Mitchell Leaves Firm After Georgia Call: Cleta Mitchell is no longer a partner at Foley & Lardner, days after she joined a phone call on which Trump told Georgia Secretary of State to "find" enough votes to turn the state's election in his favor. Mitchell "has informed firm management of her decision to resign from Foley & Lardner effective immediately," Dan Farrell, a firm spokesman, said in a statement. "Ms. Mitchell concluded that her departure was in the firm's best interests as well as in her own personal best interests." Roy Strom has more.
Also Happening on the Hill
Pelosi Announces More House Committee Nominations: Speaker Nancy Pelosi (D-Calif.) yesterday announced new and returning members had been nominated by the House Democratic Steering Committee to join a number of committees. Nominations now go to the full caucus for approval.
Democrats React to Spy Agencies' Call Russia Likely Hack Culprit: U.S. intelligence agencies and the FBI said a major hack of the federal government and some corporations was likely undertaken by Russia—contradicting Trump's efforts to suggest China might be responsible—and "will require a sustained and dedicated effort to remediate." Read more from Alyza Sebenius.
In a statement, Sen.

Mark Warner

(Va.), the top Democrat on the Senate Intelligence Committee, criticized the Trump administration for waiting for more than three weeks after the hacking campaign was revealed to "finally issue a tentative attribution." "We need to make clear to Russia that any misuse of compromised networks to produce destructive or harmful effects is unacceptable and will prompt an appropriately strong response," he said.
Rep.

Adam Schiff

(Calif.), the top Democrat on the House Intelligence Committee, said in a statement, "Congress will need to conduct a comprehensive review of the circumstances leading to this compromise, assess the deficiencies in our defenses, take stock of the sufficiency of our response in order to prevent this from happening again, and ensure that we respond appropriately."
Brady Tests Positive for Covid-19: Rep. Kevin Brady (R-Texas) said he has tested positive for Covid-19. Brady had previously received the first of two doses of the Pfizer vaccine, he said.
The Coronavirus Pandemic
FDA Resisting Pressure to Tweak Vaccine Dosages: The top U.S. drug regulator is resisting calls to tinker with how Covid-19 vaccines are administered, sticking to the scientific evidence and its own procedures after being more flexible in the face of outside pressure earlier in the pandemic. There have been increasing calls worldwide to experiment with dosing regimens to speed up inoculation efforts and arrest a worsening pandemic. However, the Food and Drug Administration's leadership Monday pledged "to make decisions based on data and science." Jeannie Baumann and Anna Edney have more.
WHO Team Can't Get in China: The WHO team investigating the origins of the Covid-19 virus has been temporarily prevented from entering China because of visa issues, according to Director-General Tedros Adhanom Ghebreyesus. The delay comes as Beijing faces criticism for stonewalling efforts to trace the virus's origins. WHO experts were kept out of Wuhan in 2020 and an independent probe was rebuffed. Read more from Bloomberg News.
Covid-19 Treatment Push Prompts Calls for Faster Public Trial Data: The need for reliable Covid-19 treatments is spurring calls for the government to invoke a legal clause that would require drug companies and NIH-funded researchers to post their study results within a month instead of a year. Shortening the time frame for posting data to ClinicalTrials.gov could mark one of the first times the clause has ever been tested since it became part of a 2007 drug law in 2016. Such a move from the National Institutes of Health would better arm health professionals with information on how best to treat patients, a former FDA chief said. Read more from Jeannie Baumann.
What Else to Know Today
Trump Order Would Ban Transactions With Chinese Apps: Trump signed an order last night banning U.S. transactions with eight digital Chinese payment platforms including Ant Group's Alipay in 45 days, when he'll no longer be in office. The order is the outgoing administration's latest bid to use national security powers against China's technology companies, but it will be up to Biden to decide whether to enforce the policy. Read more from Justin Sink, Jennifer Jacobs, and Zheping Huang.
NYSE May Revert to Original Plan to Delist China Shares: The New York Stock Exchange is considering proceeding in delisting three major Chinese telecommunications firms after Treasury Secretary Steven Mnuchin criticized its surprise decision to grant the companies a reprieve, said three people familiar with the matter. The back-and-forth sowed deep confusion within global financial markets about the policy that set off the remarkable chain of events: an order signed by the Trump administration in November that requires investors to unload Chinese businesses deemed a threat to U.S. national security. Read more from Saleha Mohsin, Jennifer Jacobs, Robert Schmidt and Lananh Nguyen.
Hong Kong Arrests U.S. Citizen, Dozens More Under Security Law: Hong Kong arrested dozens of opposition figures under a controversial national security law, an unprecedented crackdown that included an American lawyer, as authorities work to quash any dissent that remains in the former British colony. Police said they had swept up 53 people in the Wednesday operation and that around 1,000 officers had been dispatched to carry out the detentions. Read more from Iain Marlow, Natalie Lung and Alfred Liu.
China's unprecedented arrest of dozens of leading Hong Kong opposition figures illustrates the depth of Biden's challenges with Beijing. By the time he becomes U.S. president, there might not be much democracy left to save in the Asian financial hub. Iain Marlow and Kari Lindberg have more.
Mnuchin Arrives in Sudan for Talks on Economic Crisis, Aid:Treasury Secretary Steven Mnuchin arrived in Sudan for talks on the economy, the latest U.S. official to visit the North African country that's rebuilding ties with Washington after decades as a pariah. Mnuchin is due to meet the chairman of Sudan's Sovereign Council, Abdel Fattah al-Burhan, and Prime Minister Abdalla Hamdok during today's visit, according to the state-run news agency SUNA. Read more from Mohammed Alamin.
Judge Allows Trump Auction of Arctic Refuge Drilling Rights: The Trump administration's sale of oil drilling rights in the Arctic National Wildlife Refuge will go forward today, after a federal judge rejected a request by environmentalists to block the auction. The decision is a victory for the administration, which has been racing to issue oil leases in the refuge's coastal plain before the Jan. 20 inauguration of Biden. Biden has vowed to permanently protect the refuge, but it would be difficult, if not impossible, for his administration to cancel formally issued oil leases. Read more from Jennifer A. Dlouhy.
Battle Over Forgiving $1 Trillion in Student Debt Awaits Biden: Biden ran on a promise of forgiving at least $10,000 in student debt per borrower. As president-elect he's getting bombarded from all directions with advice on how to scale up that plan—or back away from it. In Biden's Democratic Party, many want him to cancel a bigger portion of the loans via executive order right after taking office this month. They say it's a way to aid the economic recovery without getting bogged down in congressional wrangling. Biden told journalists just before Christmas that he's unlikely to go that far. Ben Holland and Alexandre Tanzi roundup of some of the main arguments in the debate.
Kenosha Police Officer Avoids Charges in Blake Shooting: The Kenosha, Wisconsin, police officer who shot Jacob Blake in the back and side seven times won't face criminal charges, District Attorney Michael Graveley said. Prosecutors would have insufficient admissible evidence to secure a guilty verdict against Kenosha officer Rusten Sheskey, Graveley said at a news conference yesterday. Read more from Stephen Joyce.
Julian Assange Denied Bail: Julian Assange was denied bail by a U.K. judge today, two days after the court blocked the WikiLeaks founder's extradition to the U.S. on mental-health grounds. The ruling means the Assange will remain in London's high-security Belmarsh prison, where he's been for nearly two years., while the U.S. government tries to appeal the extradition ruling. Read more from Ellen Milligan.
To contact the reporters on this story: Giuseppe Macri in Washington at gmacri@bgov.com; Brandon Lee in Washington at blee@bgov.com
To contact the editors responsible for this story: Zachary Sherwood at zsherwood@bgov.com; Loren Duggan at lduggan@bgov.com; Michaela Ross at mross@bgov.com