What to Know in Washington: Senate Control Down to Three Races
The struggle for control of the US Senate boiled down to three races—Nevada, Arizona, and Georgia—with each party needing to win two of those states to secure a majority, as fractious Republicans limped along toward a tenuous hold on the House.
Republicans didn't achieve the midterm wave election wave they expected, and some House conservatives expressed frustrations with party leaders for failing to deliver a larger majority.
As things stand, Republicans have won 207 House seats, compared to 184 wins for Democrats, with 44 races not yet called. At least 218 are needed to claim a majority. It could take days to know the balance of power as officials count mail-in ballots in dozens of close races. And some may be subject to recounts and court challenges. Read more from Mike Dorning and Erik Wasson.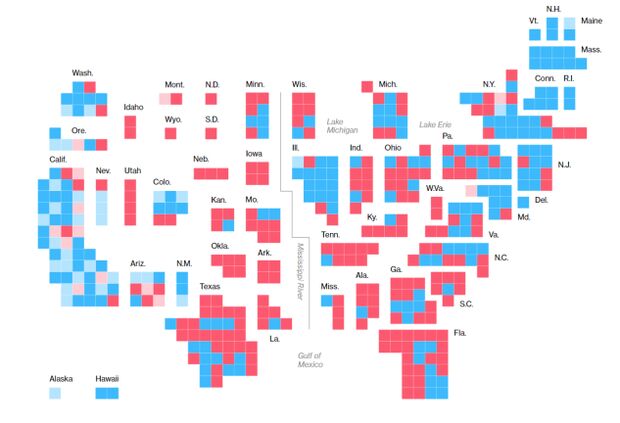 Bloomberg is reporting live election results for Senate and House races. Follow here.
To see the members-elect of the 118th Congress, click here.
Lame-Duck & Next Congress
The likely Republican takeover of the House of Representatives, narrow as it may end up being, will effectively end the legislative period of Joe Biden's presidency and usher in what's sure to be an even more contentious era.
One of its most important players will be Representative Kevin McCarthy, the California Republican who's all but certain to become the next House speaker once the 118th Congress is gaveled in on Jan. 3. No figure better illustrates the party's internal tensions—tensions that, if McCarthy doesn't manage them, could quickly cause a market crisis or upend geopolitical stability.
The House Democratic Caucus will hold its leadership elections on Nov. 30, according to a leadership aide.
Progressives are urging the Democratic-led Senate to continue processing Biden's judicial nominees even if results of the midterms aren't known when the lame-duck session begins.
Workplace retirement policy will be on the minds of lawmakers returning to Capitol Hill next week, as a deadline to pass major retirement access and administrative relief legislation looms.
The House Freedom Caucus will begin welcoming new members to Washington Wednesday evening for its own orientation focused on integrating prospective new members to a group that could soon become the most powerful bloc in Congress.
US implementation of a 2021 deal to overhaul global tax rules may not make fast progress after the midterm elections, regardless of which party controls Congress.
Americans were already unhappy with the economy of 2022. Republican control of the House threatens to make 2023 worse.
More in Elections & Politics
Republican leaders are moving on from former President Donald Trump and embracing Florida Governor Ron DeSantis as the party's best hope for retaking the White House.
Biden said fellow Democrats had a "strong night" and exceeded expectations in Tuesday's midterm elections, but acknowledged voters' frustration with the country's direction.
Biden

said he still plans to seek re-election in 2024 — and that he'd likely make an official call early next year. Read more

Biden

said Wednesday he is eager to see his predecessor,

Trump

, and Florida Governor

DeSantis

jockey for position as the 2024 Republican presidential primary campaign gets under way. Read more
Biden said he is optimistic the US isn't nearing a recession the day after Democrats fared better than expected in midterm elections clouded by voter anxiety about inflation and the economy.
The controversial strategy of spending millions during the primaries to boost far-right Republicans and election deniers paid off for Democrats with victories Tuesday in a half-dozen competitive races.
Voters watched record-breaking amounts of advertising over the last two years as politicians sought to win control of Congress and state capitols.
Democrats gained enough strength in state legislatures to start plotting policy changes on abortion, the environment, voting, education, and more when their new members are sworn in next year.
Voters in red states, blue states, purple states, coastal states and interior states have made it resoundingly clear that they don't want the near-total abortion bans currently being pushed across post-Roe America.
Love the messenger, hate the message. Voters in several states approved ballot measures that ran counter to measures championed by their state lawmakers.
A set of local minimum wage proposals appeared to fare poorly in initial ballot-box results Tuesday, as voters considered industry-specific pay increases for health-care, hotel, gig, and service workers in California and Maine cities.
Trump's company is a step closer to submitting to an independent monitor during New York's civil fraud suit after a state appeals court denied, for now, the former president's request to temporarily block the appointment.
David DePape, the intruder accused of striking House Speaker Nancy Pelosi's husband in the head with a hammer, was indicted by a federal grand jury.
The Republican Party is "expected" to win control of the US House of Representatives, Fox News said.
Around the Administration
PRESIDENT'S SCHEDULE
Biden will give a political speech at Howard Theatre in Washington, D.C., at 3 p.m.
At 9:45 p.m., Biden departs for the COP27 climate conference in Egypt.
Press Secretary Karine Jean-Pierre and National Security Advisor Jake Sullivan will give a press briefing at 12:45 p.m.
Bidenvowed to make no "fundamental concessions" in his first in-person summit with China's Xi Jinping, reinforcing already low expectations for any major breakthrough in strained ties between the world's two largest economies.
Russian President Vladimir Putin will not attend the Group of 20 summit next week, with the country's foreign minister leading the delegation, according to the embassy in Indonesia.
US-China tensions have America's closest allies in Asia strengthening their militaries. But in a boost to Biden's diplomatic efforts, that trend is extending to some Southeast Asian nations which have recently kept the US at arm's length.
Biden said Elon Musk's relationships with other countries are "worthy of being looked at," though he declined to say whether the world's richest man was doing anything inappropriate.
The US Federal Trade Commission plans to make wider use of its 1914 founding statute to police anticompetitive behavior by companies in the internet age. The Democratic-led commission on Thursday issued a new policy statement that empowers the agency to prevent "unfair methods of competition."
The Biden administration is forging ahead with federal regulations using a temporary figure to account for the costs of climate change, as a delay in finalizing a permanent estimate draws frustration from industry and advocates.
Forthcoming maps of internet availability in the US will clear the way for the federal government to deploy broadband grants by June 30, 2023, agencies involved in the effort will announce Thursday.
The Justice Department is looking into the turmoil surrounding Sam Bankman-Fried's FTX.com and the liquidity crisis that has pushed the firm to the brink, according to a person familiar with the matter.
The SEC should require companies to publicly disclose workforce diversity, as the agency seeks to mandate more robust human capital reporting, Democratic SEC Commissioner Jaime Lizarraga said Wednesday.
Infrastructure projects funded by federal dollars will have to use American-made construction materials as of Thursday, bucking an industry plea for more time.
Addressing staff shortages at air traffic control facilities and stopping airlines from misusing visa programs are among the top priorities for major transportation unions next year.
Covid-19 hospitalizations are rising among babies under 6 months old, and the US Centers for Disease Control and Prevention is urging mothers to get vaccinated to reduce the risk of infection in those not yet eligible for shots, Director Rochelle Walensky said.
Nicole has strengthened into a hurricane as it rolls over the Bahamas and churns toward Florida, where evacuations are underway amid the threat of powerful winds and a dangerous storm surge.
To contact the reporters on this story: Michaela Ross in Washington at mross@bgov.com; Andrew Small at asmall@bgov.com
To contact the editors responsible for this story: Giuseppe Macri at gmacri@bgov.com; Brandon Lee at blee@bgov.com