What to Know in Washington: Senate Adopts Budget Blueprint
Senate Democrats took a major step toward the biggest expansion in decades of federal efforts to reduce poverty, care for the elderly and protect the environment, passing a $3.5 trillion budget framework that opens the way for President Joe Biden's economic agenda.
The party-line 50-49 vote early this morning marks an abrupt reversal from the tax-cutting philosophy of Republicans when they controlled the government. It provides a path for enactment of a long list of cherished Democratic priorities — if the party's fractious progressives and moderates can agree among themselves in the coming months.
Democrats are pitching tax cuts in the plan as the largest in history for the middle class, including an extension of the temporary pandemic child tax credit. Part of the cost would be paid by rolling back the tax cuts for corporations and wealthy households that were former President Donald Trump's signature legislative achievement.
The Democratic budget plan includes calls for universal pre-K for 3- and 4-year-olds, paid family leave, two years of tuition-free community college, and new dental, vision and hearing benefits for Medicare beneficiaries. The resolution also calls for a series of measures to combat climate change. Among them are a "polluter fee" on imports for products' greenhouse gas emissions, plans to electrify the federal vehicle fleet and incentives for electricity suppliers to achieve Biden's goal of 80% clean power by 2030, up from approximately 40% currently.
House Speaker Nancy Pelosi (D-Calif.), who cannot afford to lose more than three Democrats on a party-line vote, said she would delay consideration of the infrastructure package, which the Senate also passed yesterday, until the Senate passes legislation following through on the budget. The House will interrupt its summer recess on Aug. 23 to vote on the budget resolution, Majority Leader Steny Hoyer (D-Md.) announced yesteray, and approval in the Democratic-controlled chamber is expected. House members weren't scheduled to return to Washington until Sept. 20. Read more from Mike Dorning, Laura Davison and Steven T. Dennis.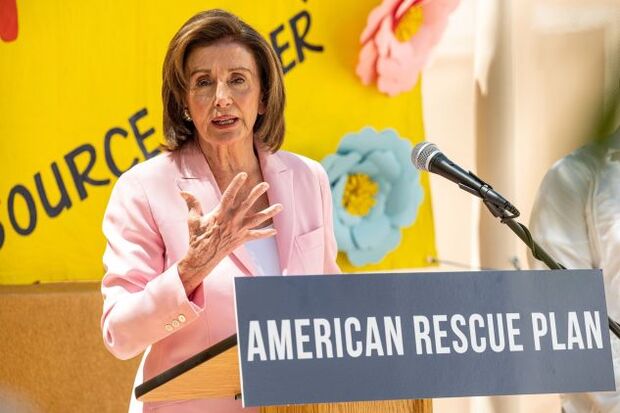 House Fights Loom on Infrastructure Bill: The Senate's $550 billion bipartisan infrastructure legislation faces an uphill battle in the House, where cryptocurrency, chemicals and transportation lobbyists, and advocates are jockeying to alter it to benefit their industries. The Senate's 69-30 vote yesterday to pass the measure marked a major step forward for Biden's economic agenda and shifts the burden to House Democrats who hold a narrow majority and don't all agree on the next steps.
While moderate Democrats want to pass the infrastructure bill quickly as-is, others are pressing for inclusion of their priorities in the infrastructure bill or in the broader and larger budget reconciliation package. The House will work with the Senate to make sure its priorities "are included in the final infrastructure and reconciliation packages," Pelosi said yesterday. Lillianna Byington, Genevieve Douglas, Allyson Versprille and Kellie Lunney set up the fights ahead.
Medicare Age Change Eyed for Budget Bill: Progressive Democrats in the Senate say lowering the age at which Americans can join Medicare remains a top priority, even as their colleagues signal the issue is likely to fall off the party's agenda this year. Sens. Elizabeth Warren (D-Mass.) and Bernie Sanders (I-Vt.) both told BGOV they are pushing to include a provision lowering the age to join Medicare to 60 or lower. Warren has sought to lower the age to 55. Read more from Alex Ruoff.
Also Happening on the Hill
What to Watch Today:
The Senate adjourned just before 6 a.m. this morning, with lawmakers departing for August recess. No floor action is scheduled and the chamber will next convene for business on Sept. 13. The House returns on Aug. 23.
The Senate Judiciary Committee is scheduled to meet for a hearing today on pending nominations including Armando O. Bonilla and Carolyn N. Lerner to be judges of the U.S. Court of Federal Claims and two federal district court judicial nominees.
Note: Bloomberg Government's What to Watch in Congress will pause publication until the week of Aug. 23, when the House returns for votes.
Senate Democrats Tee Up Clash on Voting Rights: Senate Democrats set up a September showdown with Republicans over voting rights, teeing up floor action immediately after their summer break on a revised version of a sweeping elections-overhaul measure that the GOP blocked in June. Senate Majority Leader Chuck Schumer (D-N.Y.) said the legislation would be the first item on the Senate's agenda when it returns from recess in September. The party's latest effort to move forward on the legislation focuses fresh attention on Republican opposition to stronger federal protection of minority voting rights and to GOP-led state efforts to restrict access to the ballot. Read more from Jarrell Dillard and Sophia Cai.
Senate Confirms Salazar, Others: The Senate, by unanimous consent, confirmed former Senator Ken Salazar to serve as Biden's ambassador to Mexico, Kathleen Hunter reports. Salazar, a Colorado Democrat, served in the Senate from 2005 to 2009 before becoming then-President Barack Obama's Interior secretary. Senators also confirmed Brian Nichols to be assistant secretary of state for the Western Hemisphere.
Senate to Consider Nominees on Return: Schumer took steps to consider more of Biden's nominees when the Senate returns in September, and filed cloture on: James Kvaal to be undersecretary of education, David Estudillo to be a judge for the U.S. District Court for the Western District of Washington, Angel Kelly to be a district judge for Massachusetts, and Veronica Rossman to be a judge for the U.S. Tenth Circuit Court of Appeals.
Around the Administration
Today's Agenda: Biden is scheduled at 11:15 a.m. to meet virtually with business, university, and health care leaders to discuss vaccinating more Americans against Covid-19. The president at 1:15 p.m. will speak from the White House about his economic agenda, and at 3 p.m. Biden meets virtually with governors, mayors, and state, local, and tribal officials to discuss the bipartisan infrastructure package the Senate passed yesterday.
Biden Defends Pullout From Afghanistan: Biden said he has no plan to reverse the withdrawal of U.S. troops from Afghanistan despite advances by the Taliban, arguing the Afghan army must fight for itself while the U.S. offers military support and financial aid. "We lost thousands, death and injury, thousands of American personnel," Biden said yesterday at the White House, just days after the Taliban conquered at least five towns over the weekend. "They've got to fight for themselves." Nick Wadhams has more.
Biden Doubtful on Overruling States on Masks: Biden said he doesn't think he has the power to overrule governors who nullify requirements imposed by school systems calling on kids and staff to wear masks to protect themselves and others against Covid-19. "I don't believe that I do thus far. We're checking that," he told reporters at the White House. Biden's remarks came as school leaders face a dilemma as millions of students prepare to return in person to classes. Josh Wingrove and Mario Parker have more.
Meanwhile in U.S. school districts, debates over safety have devolved into litigation and protests as the first day of class nears. The toxic mix has sparked fear among some parents that their children face a third academic year marred by the pandemic. Nic Querolo and Danielle Moran have more.
Defense Industry Awaits Update on Costly Cyber Rule: The defense industry is eagerly awaiting the results of the Biden administration's internal review of a Trump-era cybersecurity standard, and some small defense companies and industry groups say the new cyber requirements could cost the industry billions of dollars more than the Pentagon's initial estimates. The cost of compliance could drive one in four suppliers to stop doing business with the Defense Department, according to one study—potentially a major blow to small defense companies and the Pentagon's ability to do business with small innovators. Read more from Chris Cornillie.
U.S., Mexican Auto-Parts Maker Strike Labor Deal: The U.S. government and a Mexican car-parts maker reached an agreement to improve working conditions at a plant after a complaint spurred the first test of the USMCA's enforcement provisions. Tridonex, a factory near the Texas border in Matamoros, will offer severance and back pay to at least 154 workers who were laid off and will support workers' rights to determine union representation, the Office of the U.S. Trade Representative said. Eric Martin has more.
Elizabeth Prelogar Selected by Biden to Be Solicitor General: Biden will nominate acting Solicitor General Elizabeth Prelogar to take the job on a permanent basis, elevating a former clerk for two Supreme Court justices to lead federal litigation before the high court. If confirmed by the Senate, the Harvard Law School graduate would become just the second woman to hold the job. The president's intention to nominate her was confirmed by a White House official who requested anonymity to discuss the decision before it was formally announced. Read more from Greg Stohr and Justin Sink.
Biden Picks Williams as First Black Manhattan U.S. Attorney: Damian Williams was chosen by Biden to take charge of the U.S. attorney's Office in Manhattan. If confirmed, he will be the first Black person to lead what is considered the Justice Department's highest-profile branch office. The White House announced the nomination yesterday, along with Biden's pick of Breon Peace as U.S. attorney in Brooklyn. Both choices were expected. Read more from Robert Burnson.
Biden Picks N.Y. Fed Official for Treasury Job: Biden will nominate Joshua Frost, a longtime official at the Federal Reserve Bank of New York, to serve as the Treasury Department's assistant secretary for financial markets, a pointperson on debt management and market oversight and regulation. Frost, who's been serving as the Treasury's deputy assistant secretary for financial markets, would need to be confirmed by the Senate to take office in the new job. Biden announced the pick yesterday. Justin Sink has more.
Biden Taps Trade Official as IP Negotiator: Biden plans to nominate Christopher Wilson as the chief innovation and intellectual property negotiator in the Office of the U.S. Trade Representative, the White House said yesterday. Wilson currently serves as the U.S. Trade Representative for South and Central Asia, overseeing trade policy on 15 countries in the region. From 2014 to 2018 he represented the USTR in Geneva, as U.S. Deputy Permanent Representative to the World Trade Organization, Kyle Jahner reports.
Blinken Appoints Adviser for Energy Security: Amos Hochstein, a former executive vice president at liquefied natural gas project developer Tellurian, will serve as the Department of State's senior adviser for energy security, Secretary Antony Blinken tweeted yesterday. "He is uniquely suited to support the development and implementation of an integrated strategy to strengthen global energy security," he said of Hochstein, who previously served the Obama White House, Sergio Chapa reports.
To contact the reporters on this story: Zachary Sherwood in Washington at zsherwood@bgov.com; Brandon Lee in Washington at blee@bgov.com
To contact the editors responsible for this story: Giuseppe Macri at gmacri@bgov.com; Loren Duggan at lduggan@bgov.com; Michaela Ross at mross@bgov.com