What to Know in Washington: Senate Adopts Blueprint for Stimulus
The Senate voted 51-50, after Vice President Kamala Harris broke her first tie, to adopt a budget blueprint for President Joe Biden's $1.9 trillion virus relief package — following nearly 15 hours of wading through amendments from both parties.
The House had already adopted its budget resolution but will likely have to vote again today to agree on the Senate's language. Once that's done, Democrats will be able to craft a relief bill in the coming weeks that can pass without any Republican votes under special budget rules — though the White House, moderates like Sen. Joe Manchin (D-W.Va.) and others still say they want a bipartisan final product.
House and Senate committees would have until Feb. 16 to write the stimulus legislation under the instructions in the budget.
The final action just after 5 a.m. this morning followed an all-night marathon of votes on amendments known as a vote-a-rama. Most of the non-binding measures were intended more to make points on hot-button issues like taxes, abortion, immigration and schools that had little or sometimes nothing to do with pandemic aid. There were 41 roll call votes during the process.
Democrats mostly held together to beat back the Republican amendments, but on several issues centrist Democrats displayed their clout in the 50-50 Senate and delivered a message to Biden and progressives that they won't get everything on their wish list.
"This was a giant first step," Majority Leader Charles Schumer (D-N.Y.) said, noting the vote came exactly one month after two new Democrats were elected in Georgia, handing the majority to his party.
House Speaker Nancy Pelosi (D-Calif.), Majority Leader Steny Hoyer (D-Md.), Majority Whip Jim Clyburn (D-S.C.), and committee chairs plan to meet with Biden and Harris at the White House at 9:45 a.m. this morning. Read more from Steven T. Dennis, Daniel Flatley and Erik Wasson.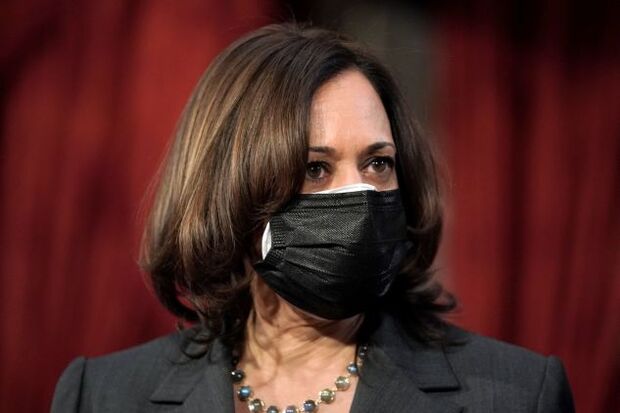 Bipartisan Group Wants Separate Health Package: A bipartisan group of 56 House members is calling for an immediate vote on a $160 billion package of funds for coronavirus vaccinations, testing, tracing and health-provider funding, Erik Wasson reports. The Problems Solvers Caucus was instrumental in propelling the December agreement on the $900 billion Covid-19 relief bill. Now, the group says that health funding is needed immediately even as wider talks on stimulus checks, unemployment insurance, child tax credits and other provisions continue.
Also Happening on the Hill
Trump Won't Testify Under Oath: Attorneys for Donald Trump rejected a request from House impeachment managers for the former president to testify under oath about his conduct on Jan. 6 when a mob of his supporters stormed the U.S. Capitol, calling it a stunt. The lead impeachment manager, Rep. Jamie Raskin (D-Md.), said in a letter to Trump released yesterday that the former president has disputed "factual allegations" and put "critical facts at issue," and that he should agree to testify. But Trump impeachment lawyer Bruce Castor told NBC "no" when asked whether Trump will testify. Read more from Mark Niquette.
Senate to Vote Monday on VA Secretary: The Senate will vote Monday at 5:30 p.m. on nomination of Denis McDonough to be secretary of veterans affairs. The vote may be the last confirmation of Biden's cabinet before the Trump impeachment trial begins on Tuesday, Erik Wasson reports.
House Ousts GOP's Greene From Committees Over Controversies: The House voted yesterday to strip Rep. Marjorie Taylor Greene (R-Ga.) from her two committee seats for embracing conspiracy theories and violence against Democrats, dividing her own party as it tries to move past Trump's presidency. With the 230-199 vote, the House will remove Greene from the committees responsible for education and the budget. Eleven Republicans voted with all Democrats in favor of the resolution. Read more from Billy House and Emily Wilkins.
Capitol Riot Stirs Consideration of New Terror Laws: House Homeland Security Committee lawmakers are grappling with how to address the domestic terrorism linked to the Capitol riot without alienating one another or impinging on constitutional rights. New federal statutes that would create criminal penalties for domestic terrorism and a bipartisan, independent commission are among the options the panel will consider in the 117th Congress. Read more from Shaun Courtney.
Meanwhile, the rapid buildup of National Guard troops in Washington after rioting cost almost half a billion dollars, according to two officials familiar with the situation. Approximately 25,000 National Guard from across the country were sent to Washington after the violence at the Capitol. The cost of that deployment was at least $480 million, according to the people, who asked not to be identified since the information isn't yet public. Read more from Tony Capaccio.
Klobuchar Pushes Broad Antitrust Revamp As Hawley Targets Tech: Lawmakers on both sides of the aisle took a swipe at overhauling antitrust laws yesterday with disparate tactics for regulating large technology companies that offer a narrow window for bipartisan compromise on the issue. Sen. Amy Klobuchar (D-Minn.) introduced broad antitrust reform legislation that would beef up enforcement and revamp underlying antitrust laws. The bill stands in contrast to a largely symbolic proposal to ban mergers by big technology companies like Amazon and Alphabet's Google, which Sen. Josh Hawley (R-Mo.) offered unsuccessfully as an amendment to Senate Democrat's budget resolution. Hawley's efforts were seen in technology policy circles as more political theater than policymaking. Read more from Rebecca Kern.
Testing Mandates for Domestic Flights Draws Opposition: Lawmakers in both parties and representatives from the aviation industry say mandated Covid-19 testing for domestic flights would lead to even greater furloughs and losses, especially if aid to keep airline employees on the payroll expires next month. "This would be devastating to the airline industry," said Sara Nelson, president of the Association of Flight Attendants union, at a House Transportation and Infrastructure Committee hearing. Read more from Lillianna Byington.
From the New White House
Biden Makes Early Moves on Immigration Policy: Biden used his first day in office to reverse some of the Trump administration's changes to immigration policy and sent an overhaul bill to Congress. Bloomberg Government analysts break down Biden's executive actions on immigration and his proposed legislation. Read the analysis.
Johnson & Johnson Submits FDA Application: Johnson & Johnson asked U.S. drug regulators to clear its experimental Covid-19 vaccine for emergency use, setting up what is poised to be a fast-moving review process that could lead to millions more doses becoming available to step up a stumbling immunization effort. The drugmaker in a statement said it filed an application for an emergency-use authorization with the Food and Drug Administration. If cleared, the J&J shot would offer the U.S. a third vaccine to try to halt a disease that's killed more than 450,000 Americans. Read more from Riley Griffin.
Yellen Finds Market Infrastructure 'Resilient': U.S. financial regulators determined that the infrastructure of stock and commodity markets remained "resilient" during the volatility in trading seen in recent weeks. "The regulators believe the core infrastructure was resilient during high volatility and heavy trading volume," according to a statement issued by the Treasury Department following a meeting yesterday convened by Secretary Janet Yellen. Officials also agreed that the Securities and Exchange Commission should issue a "timely study of the events." Read more from Christopher Condon and Saleha Mohsin.
Former HHS Official Sues Biden to Keep Post: Roger Severino was appointed to an advisory committee just days before Trump left office. Now, he's suing the new president to hold onto his job. The former director of the Health and Human Services Department's civil rights office filed a lawsuit on Wednesday after receiving an email from the new administration that asked him to step down from the Council of the Administrative Conference. Lydia Wheeler has more.
DOJ Tosses Trump-Era Environmental Policies: The Department of Justice has withdrawn a series of Trump-era directives that constrain the agency's environmental enforcement tools. Deputy Assistant Attorney General Jean E. Williams, a career official who is currently leading DOJ's Environment and Natural Resources Division, issued a memo yesterday eliminating a series of directives from Trump appointees. Read more from Ellen M. Gilmer.
Labor Nominee May Have Future Clashes With GOP: The confirmation hearing for labor secretary nominee Marty Walsh, notable for its lack of partisan sniping, validated the Boston mayor's bipartisan reputation and opened a clear path to Senate approval. But underlying the bonhomie that characterized many of Walsh's exchanges with Republican senators were warnings of the fierce labor policy battles he'd confront as a member of Biden's Cabinet. Read more from Ben Penn.
Flynn Judge Emmet Sullivan to Retire: U.S. District Judge Emmet Sullivan, a mainstay of the federal trial court in Washington, announced he plans to take senior status, capping a 27-year career as an active judge on the court and letting Biden fill his seat. Sullivan was appointed to the U.S. District Court for the District of Columbia in 1994 by Bill Clinton. He joins the ranks of at least two dozen other federal judges who announced they'd take senior status since Biden was elected. Read more from Madison Alder.
To contact the reporters on this story: Zachary Sherwood in Washington at zsherwood@bgov.com; Brandon Lee in Washington at blee@bgov.com
To contact the editors responsible for this story: Giuseppe Macri at gmacri@bgov.com; Loren Duggan at lduggan@bgov.com; Michaela Ross at mross@bgov.com