What to Know in Washington: SCOTUS Vaccine Case Tests U.S. Power
The Supreme Court will hear arguments in the case against the Biden administration's Covid-19 vaccine mandate for health workers next week as the latest variant of the virus continues its spread across the U.S.
Here's what Bloomberg Government is tracking for Wednesday.
Biden's Agenda:
At 5 p.m. President Joe Biden will travel from Rehoboth Beach, Del. and arrive at Wilmington, Del. shortly before 7 p.m.
High Court Vaccine Case Puts Agency Power to Test
The power of a federal health agency to make critical decisions could hang on whether the U.S. Supreme Court allows the Biden administration to enforce its vaccine mandate for health-care workers while lawsuits unfold.
The Centers for Medicare & Medicaid Services' Covid-19 vaccine mandate is the first time the agency has forced an inoculation—wading into territory that is usually governed by individual states. The action was meant to create a federal standard to replace the patchwork of state laws that either mandated the vaccine or banned employers from requiring it.
The rule was designed to protect health-care workers and patients across the U.S. from coronavirus surges. But according to four lawsuits backed by 26 states, the mandate will cause health-care workers to leave the industry in droves and also worsen staffing shortages in facilities packed with patients.
The Supreme Court will hear oral arguments Jan. 7 on the Biden administration's request that the justices vacate two lower court injunctions that have left the CMS unable to enforce the mandate in half of the U.S. The justices will also consider a separate rule for employees at large businesses issued by the U.S. Occupational Safety and Health Administration.
If the justices side with the states, it could mean that any time an agency "does something big and important, it needs explicit congressional authorization," Dorit Reiss, a professor at the University of California Hastings College of Law, says. That would have a lasting impact on the CMS' ability to safeguard public health moving forward. Read more from Allie Reed.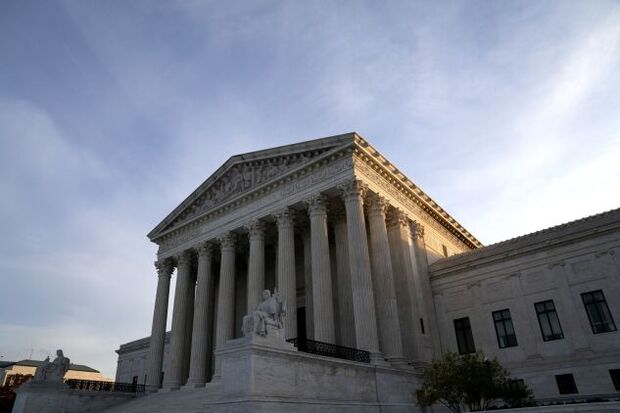 More on the Pandemic
The omicron variant is causing an increasing share of infections in the U.S., though its climb to dominance has been gentler than earlier estimates indicated, according to an updated federal model. Omicron accounted for about 58.6% of sequenced U.S. virus cases in the week ending Dec. 25, the Centers for Disease Control and Prevention's Nowcast model showed yesterday—up from roughly 22.5% the previous week. Read more from Angelica Peebles.
The omicron-fueled surge appears to be triggering a lower hospitalization rate than prior waves, more evidence that the contagious strain leads to milder symptoms than other strains. The seven-day average of new cases hit 206,577 Sunday, roughly 18% lower than the all-time high recorded Jan. 11, the CDC found. Read more from Nic Querolo.
U.S. Sees More Kids in Hospitals as Covid Spikes, Walensky Says: The U.S. is seeing a higher number of kids in hospitals, as omicron spreads across the country, Rochelle Walensky, director of the Centers for Disease Control and Prevention, told MSNBC. "Most of those children are not yet vaccinated," Walensky said today. "So the message here is: Get the children vaccinated." Walensky spoke amid concerns that the return of U.S. kids to to school next week after the holiday break may further spread infections, already at record levels. Read more from Kasia Klimasinska.
OSHA has officially withdrawn its original Covid-19 health-care emergency temporary standard but is continuing to work on a permanent version of the rule. The federal Occupational Safety and Health Administration's announcement came on Monday, a week after its ETS had reached its six-month expiration date with no word from the office on what lay ahead. Its decision doesn't affect OSHA's Covid-19 vaccinations and testing emergency temporary standard. Bruce Rolfsen has more.
MORE HEADLINES:
Covid-19 testing expansion could be key to the success of Merck's and Pfizer's newly authorized treatment pills, which require an early diagnosis and administration to effectively lower the risk of severe cases. Food and Drug Administration clearance of the first two at-home Covid-19 therapies addresses some criticisms that Biden's response to the pandemic has leaned too heavily on vaccines. Celine Castronuovo and Ian Lopez have more.
The CDC identified 89 cruise ships with Covid-19 cases, nearly all of which have met the threshold for a formal investigation. Sen.

Richard Blumenthal

(D-Conn.) told cruise companies and health agencies to stop ships from sailing, saying they are "repeating recent history as petri dishes" of Covid-19 infections. Read more from Kasia Klimasinska and Martine Paris.
Talks are underway between the U.S. and China on possible changes to the Chinese government's new aircraft-cleaning requirements that prompted a Delta Air Lines flight to turn back to Seattle, and that could trigger the cancellation of some flights to China. The talks were confirmed yesterday by a State Department official. The new sanitation mandates—spurred by Covid-19—significantly extend the time planes are on the ground, the industry said. Mary Schlangenstein has more.
Politics, Policy & Probes
States are expected to move swiftly in 2022 to control "forever chemicals" while Congress explores laws that would limit their use. Nothing in the Environmental Protection Agency's roadmap describing in detail how it's addressing per- and polyfluoroalkyl substances (PFAS) signaled "anyone to slow down," said Daniel Rosenberg, an attorney who handles federal policy at the Natural Resources Defense Council. "I think there will be a lot of action on the state and marketplace level," he said, "while EPA continues to lag behind the rest of the country." Read more from Pat Rizzuto.
Industries are advised to brace for more federal moves next year to cut and control "forever chemicals," including plans by the EPA to propose water and waste regulations for two of the substances, Rizzuto reports.
Cryptocurrencies are not a real path toward financial equality, Sen. Elizabeth Warren (D-Mass.) said, criticizing the industry for the fact that Bitcoin is even more closely held by the rich than dollars. "We need real solutions to make the financial system work for everyone, not just the wealthy," Warren said on Twitter. Congress and federal regulators are bolstering scrutiny of cryptocurrencies amid growing calls for stricter regulations for the booming sector, which saw valuations of digital currencies including Bitcoin and Ether soar. Read more from Se Young Lee.
Bipartisan bills to make court records free to access, increase judicial financial reporting requirements, and create a shield for judges' personal information online are the judiciary measures best positioned in Congress to win final passage next year. While Congress didn't pass major courts legislation in 2021, the three proposals that moved through committees or one chamber have strong support from lawmakers in both parties. Read more from Madison Alder.
MORE HEADLINES:
Harry Reid, the Democratic Senate majority leader who helped implement President Barack Obama's legislative agenda by rounding up votes to pass Obamacare, the 2009 economic stimulus package and regulation of the financial industry, has died at 82. His wife said the cause was pancreatic cancer, the Associated Press reported. His Democratic successor, Majority Leader

Chuck Schumer

(N.Y.), called Reid a fighter for "the poor and the middle class." Patrick Oster has more.
Ex-New York Gov. Andrew Cuomo's (D) alleged sexual harassment of two women in Westchester County did not amount to crimes, the local district attorney said in the second such announcement in less than a week. Westchester County District Attorney Mimi Rocah yesterday said that her office investigated the allegations and it found "credible evidence" that Cuomo inappropriately touched two women. But, she said his conduct were not criminal violations. Erik Larson has more.
The First Amendment right to free speech doesn't protect four leaders of the far-right Proud Boys group from criminal charges over their participation in the Jan. 6 Capitol riot, a federal judge said. The men were properly charged with conduct that isn't protected by the Constitution, such as trespassing, destruction of property and interference with law enforcement—all with the intention of obstructing Congress, U.S. District Judge Timothy Kelly in Washington ruled. Erik Larson has more.
Around the Administration
Vice President Kamala Harris has increasingly turned to corporate executives from Wall Street and Silicon Valley to serve as informal advisers, policy allies and political boosters as she grapples with a sprawling and at times intractable policy portfolio. Microsoft President Brad Smith, Cisco Chief Executive Officer Chuck Robbins and Citigroup CEO Jane Fraser are among the leaders whom Harris has sought out in telephone conversations, video conferences and strategy meetings. Discussions with one group of corporate leaders cleared the way for what Harris calls one of her biggest first-year triumphs: $1.2 billion in corporate commitments to help address the surge of migration from Central America. Read more from Justin Sink.
The delay in passing President Joe Biden's $2 trillion spending plan means companies won't get some much-sought tax relief on their research and development costs—at least not yet. A new, less tax-friendly way for companies to record their R&D costs is set to go into effect Jan. 1, now that the spending measure has been shelved. A provision in Biden's plan would have pushed back that change to 2026, staying with the current more tax-favorable method. Michael Rapoport has more.
Talks on reviving the Iran nuclear deal in Vienna are showing some progress but it's "far too slow," a U.S. official said. Tehran "has at best been dragging its feet in the talks while accelerating its nuclear escalation," State Department spokesman Ned Price said in a press briefing. "We have been very clear that that won't work." If Iran continues at that pace, it will be too late to restore the 2015 agreement between Iran and world powers, Price said. Read more from Jarrell Dillard, Jonathan Tirone, and Arsalan Shahla.
States can integrate mental health services into their Medicaid programs under a new option meant to help people suffering mental health or substance use crises. The Medicaid option will allow states to support mobile crisis intervention services, which connect users to a behavioral health specialist on call, the Biden White House announced yesterday. Read more from Allie Reed.
MORE HEADLINES:
Forecasters are warning of powerful thunderstorms in the coming days, with a 15% chance of severe storms, strong winds and tornadoes in several southeastern U.S. states by Saturday, according to the federal Storm Prediction Center. A slight chance of extreme weather today will increase later in the week, said Liz Leitman, a U.S. government meteorologist based in Oklahoma. "We could see more widespread threats" heading into the weekend," she said. Josh Saul has more.
A California-led coalition of 22 states and D.C. urged the Ninth Circuit to affirm a decision halting Arizona's enforcement of a law that bans abortions when a person's reason for wanting one is a prenatal diagnosis of Down syndrome. The filing came after Arizona Attorney General Mark Brnovich (R) asked the U.S. Supreme Court to permit the law to take effect while an appeal is pending in the U.S. Court of Appeals for the Ninth Circuit. Read more from Mary Anne Pazanowski.
To contact the reporters on this story: Giuseppe Macri in Washington at gmacri@bgov.com; Brandon Lee in Washington at blee@bgov.com
To contact the editor responsible for this story: Michaela Ross at zsherwood@bgov.com