What to Know in Washington: SCOTUS Faces Historic Case Backlog
High court's backlog comes amid signs of internal discord
House Judiciary plans markup of gun-safety legislation
Amid signs of internal discord, the US Supreme Court is waiting until the bitter end to do the largest share of its work in more than 70 years.
The court is due to issue 33 opinions, a whopping 53% of its expected total in argued cases, as its 2021-22 term comes to an end in the next month. Among those will be rulings that could effectively render abortion illegal in two dozen states and mean more handguns on the streets.
The historic backlog—the biggest in percentage terms since at least 1950, according to empiricalscotus.com founder Adam Feldman—comes as the justices and their law clerks deal with an investigation into the leak of a draft opinion overturning the Roe v. Wade abortion-rights ruling. All told, it's a formula for what could be a momentous and rancorous final month.
In addition to abortion and guns, the justices are scheduled to decide whether to restrict the Environmental Protection Agency's power to tackle climate change, whether to force President Joe Biden's administration to keep a Trump-era asylum policy and whether to give public-school teachers and staff more freedom to pray openly on campus.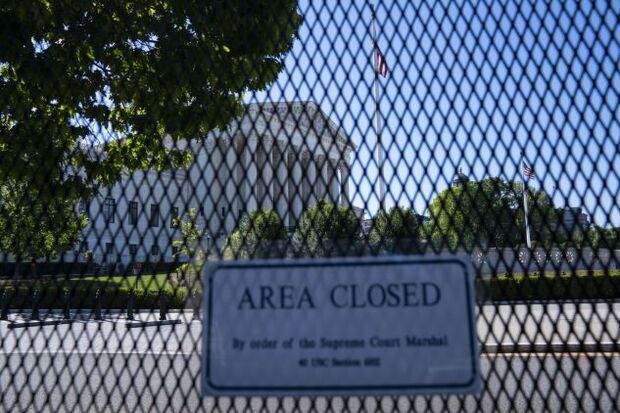 Arguments earlier in the term suggested Republicans will reap the dividends from filling three vacancies during Donald Trump's presidency, giving the court a 6-3 conservative majority. In their first full term together, the three Trump appointees — Justice Neil Gorsuch, Brett Kavanaugh and Amy Coney Barrett — have signaled a readiness to fulfill top items on conservative wish lists. Read more from Greg Stohr.
House Judiciary Takes Up Gun Safety Bills
The House Judiciary Committee plans to mark up the "Protecting Our Kids Act" (H.R. 7910) from Chair Jerry Nadler (D-N.Y.), teeing up a possible floor vote when the chamber returns next week, Michael Smallberg reports.
The markup comes following another mass shooting Wednesday where four people were killed at a Tulsa medical building on a hospital campus, the AP reports. Biden was briefed on the shooting last night, Chelsea Mes reports.
The House's legislative package combines several gun-safety bills from House Democrats, including provisions that would:
Increase to 21, from 18, the minimum age for sales of certain semiautomatic rifles and shotguns, with exceptions for active-duty service members and authorized government employees;
Make gun trafficking a federal crime, covering individuals who buy firearms for a third party through "straw purchases;"
Prohibit unauthorized production or sales of untraceable "ghost guns" that lack unique serial numbers, including gun frames and receivers;
Set federal requirements for secure firearms storage, including in homes where young people are likely to gain access;
Authorize federal grants to distribute firearms storage devices and provide a tax credit for some retail sales; and
Restrict sales of bump stocks and large-capacity ammunition-feeding devices.
House leaders previously announced plans to take up separate "red-flag" legislation from Rep. Lucy McBath (D-Ga.) allowing federal courts to grant petitions from family members and law enforcement officers to temporarily remove firearms from individuals who are deemed to pose an extreme risk to themselves or others
Meanwhile, on Wednesday, Speaker Nancy Pelosi (D-Calif.) told reporters that an assault-style weapons ban bill is also under Democrats' consideration. A House Democratic leadership aide clarified that such a measure would be marked up separately at a yet-to-be-announced time.
ALSO HAPPENING ON THE HILL:
People who sue tech companies for privacy violations wouldn't be forced into arbitration under a bill drafted by Senate Commerce, Science, and Transportation Chair

Maria Cantwell

(D-Wash.). Meanwhile, ranking member

Roger Wicker

(R-Miss.), as well as House Energy and Commerce Committee Chair

Frank Pallone

(D-N.J.) and ranking member

Cathy McMorris Rodgers

(R-Wash.) have agreed on a separate draft, according to two sources familiar with the issue. Binding arbitration is one major sticking point between the two drafts. Read more from Maria Curi.
Around the Administration
BIDEN'S SCHEDULE:
At 11:15, Biden will meet with NATO Secretary General Jens Stoltenberg and National Security Advisory Jake Sullivan to discuss preparations for the NATO Summit in Madrid at the end of June.
The Biden administration is awarding millions of dollars to expand and improve the nation's rail tracks in an effort to reduce freight congestion and speed up the supply chain as shippers decry what they see as poor service. The Transportation Department announced Thursday it will spend almost $370 million in grants for 46 projects in 32 states and Washington, D.C. As much as $15.7 million will fund new tracks at the Port of Baltimore terminal. The long-awaited Gateway commuter-rail tunnel project in New York and New Jersey isn't receiving funds from this program. Read more from Lillianna Byington.
The White House unveiled a new national effort on Wednesday to help states, localities, and tribes adopt the latest building codes, making them more resilient to hurricanes, flooding, and wildfires. Under the program, the White House will review federal funding of building construction to ensure projects follow modern building codes "to the greatest extent feasible." The administration will also tap $225 million in funding under the infrastructure bill for the Department of Energy to implement and enforce updated building energy codes. Read more from Stephen Lee.
The US will forgive $5.8 billion in outstanding debt for students of defunct Corinthian Colleges who the government says were deceived and defrauded—a major loan cancellation that comes as Biden considers a more widespread proposal. Vice President Kamala Harris, who sued Corinthian as California's attorney general, will make the announcement Thursday, fully discharging the loans held of a total of 560,000 borrowers. Read more from Josh Wingrove.
Biden is likely to visit Saudi Arabia later this month as part of an international trip for NATO and Group of Seven meetings, according to people familiar with the matter, with record high US gas prices weighing on his party's political prospects. Traveling to Saudi Arabia would mean Biden would almost inevitably meet its effective ruler, Crown Prince Mohammed Bin Salman, whom the US president blames for the 2018 murder of a US-based columnist in the kingdom's Istanbul consulate, Jennifer Jacobs reports.
The US has no immediate way to slash the price Americans are paying for gasoline, and is considering other proposals such as trying to set a lower price for sale of Russian crude, Biden said. "There's a whole lot of consideration going on about what can be done to maybe even purchase the oil but at a limited price, so that it has to be sold — there'd be an overwhelming need for the Russians to sell it and it would be sold for a significantly lower price than the market is generating now," he said, Justin Sink and Josh Wingrove report.
The Biden administration is set this week to finalize biofuel-blending mandates that largely track plans it already proposed in December, according to several people familiar with the matter. EPA officials have told industry representatives to expect final 2022 quotas to be aligned with that initial proposal, Jennifer A. Dlouhy and Kim Chipman report.
The US Postal Service said it sees the potential to expand the number of EVs in its fleet, Greg Chang reports. USPS will soon publish a notice of intent to supplement the final environmental impact statement for Next Generation Delivery Vehicles to determine if changes to its delivery fleet mix are warranted, according to an emailed statement.
Pfizer asked U.S. regulators to clear its Covid vaccine for emergency use in children under age 5, an effort to extend protection against the virus to the country's youngest. The drugmaker and BioNTech SE finalized their rolling application to the Food and Drug Administration for emergency-use authorization of their vaccine in kids ages 6 months through 4 years old, the companies said in a statement on Wednesday. Read more from Riley Griffin.
Biden defended his administration's response to a national baby formula shortage, saying he acted as soon as he became aware of the crisis in April, even as manufacturers told him Wednesday they saw it coming months earlier as soon as Abbott Laboratories issued a key recall. "We knew from the very beginning that this would be a very serious event," Robert Cleveland, senior vice president for North America and Europe nutrition for Reckitt Benckiser, told Biden at a White House meeting. Read more from Justin Sink, Martine Paris, Josh Wingrove, and Nancy Cook.
The Biden administration is teeing up policy recommendations to lower cryptocurrency mining's energy consumption and emissions footprint, marking its first major foray into a poorly understood industry that critics say threatens U.S. climate goals and strains the power grid. The report, expected in August, could be one of the first studies following Biden's executive order in March pressing federal agencies to ensure the "responsible" mining of digital assets such as cryptocurrency. Read more from Daniel Moore.
The campaign to unionize Starbucks stores across the country has reached a new stage, with federal labor board prosecutors heading into hearings over accusations that the coffee chain violated labor law as workers at a growing number of locations have gone on strike. Read more from Robert Iafolla and Ian Kullgren.
LGBTQ advocacy groups are seeking to reopen a case by July 31 against a Trump-era rewrite of an Obamacare anti-discrimination rule if the Biden administration doesn't propose a new rule by that date. The suit stems from the Trump-era removal of gender identity and sexual orientation from a list of anti-discrimination protections under Section 1557 of the Affordable Care Act in 2020. The case was put on hold in the US District Court for the District of Columbia in 2021 after Biden was inaugurated. Read more from Allie Reed.
Erinn Baldeschwiler, who is battling metastatic breast cancer, is one of two terminally ill patients seeking access to psilocybin under Right to Try, a federal law and an array of state laws meant to grant people facing death access to experimental drugs outside of a clinical trial. Her case is being closely watched by supporters of Right to Try, lawmakers and the research community because it has long-reaching implications for end-of-life care and the role of the Drug Enforcement Administration. Read more from Alex Ruoff.
To contact the reporters on this story: Michaela Ross in Washington at mross@bgov.com; Michael Smallberg in Washington at msmallberg@bgov.com
To contact the editor responsible for this story: Brandon Lee at blee@bgov.com