What to Know in Washington: Scott Perry Helps Shape Debt Debate
Bloomberg Government subscribers get the stories like this first. Act now and gain unlimited access to everything you need to know. Learn more.
A squad of reporters followed Rep. Scott Perry (R-Pa.) as he left Speaker Kevin McCarthy's office last week, aiming to take the temperature of a key leader in the high-stakes standoff over the debt ceiling.
Perry parried the questions about negotiations, and instead offered the bottom line for himself and the hard-right Freedom Caucus: "We want to save as much as we can, and spend as little as we can and keep this whole operation running."
As President Joe Biden and McCarthy (R-Calif.) meet today to continue debt limit talks, the spotlight on Perry as the influential group's chair marks a sharp ascent for a congressman who has often been on the political fringes.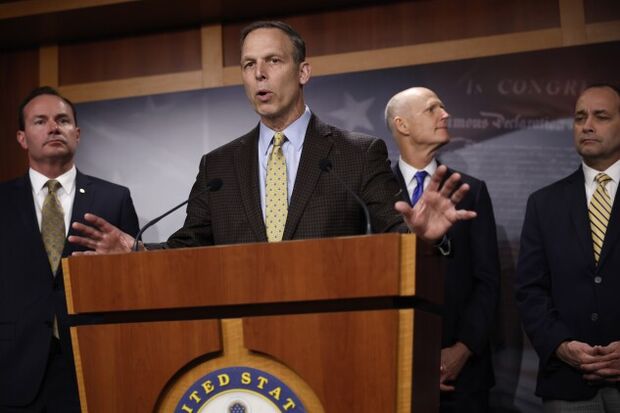 His rise, and his hand helping shape conservative priorities in the Republican debt plan, reflects how the GOP has shifted rightward over the past decade, and how McCarthy has had to navigate his narrow majority by opening doors to all corners of his party. McCarthy has brought the rebellious faction into the fold, rather than trying to marginalize them.
Perry's prominence also underscores how few consequences have followed for lawmakers who tried to overthrow the results of the 2020 presidential election. He was one of former President Donald Trump's most vigorous allies in spreading false claims and attempting to disenfranchise voters. Now he wields more power than ever.
Perry and his caucus are being closely monitored for how they react to any compromise between McCarthy and Biden, with Washington wondering whether they'll try to sink a forthcoming deal, or unseat the precariously positioned speaker. Jonathan Tamari outlines what's at stake.
BGOV Webinar — The Debt Limit: Outlook, Concerns, and Strategies: On Thursday, join BGOV's experts for a discussion about the debt limit crisis and how organizations can prepare for possible disruptions. BGOV's reporters and analysts will dive into possible outcomes and how they could affect strategies, budgets, government programs, and federal contracting. Register here.
CONGRESS AGENDA
The House returns today with votes planned this week targeting fentanyl and Biden administration regulations.
Senators are on recess this week.
BIDEN'S SCHEDULE
Biden is back from the G-7 summit in Japan and plans to meet with McCarthy to discuss the debt limit deal.
Deal on the Debt
Negotiators hand-picked by Biden and McCarthy met for more than two hours Sunday evening in McCarthy's office at the Capitol, but did not discuss the status of those discussions with reporters.
Treasury Secretary Janet Yellen said the US is unlikely to reach mid-June and still be able to pay its bills, underscoring the urgency of reaching a deal to raise the debt limit.
Elections & Politics
Carper to Announce 2024 Plans
Sen. Tom Carper (D-Del.) is set to announce his plans for 2024 today at an event in Wilmington, Delaware. The 76-year-old, four-term senator and chair of the Environment and Public Works Committee was first elected to the chamber in 2000. He served in the House from 1983 to 1993 and as the state's governor from 1993 to 2001.
Rudy Giuliani fended off accusations he's failed to fully comply with his legal duty to produce records and other evidence for two Georgia election workers who are suing him for defamation after becoming targets of 2020 election fraud conspiracy theories he promoted.
Rep. George Santos' (R-N.Y.) campaign hired another treasurer after the New York Republican appointed himself to the post on Friday.
The Latest on Foreign Affairs
Heading into the G-7 summit, the US and its allies knew they needed to do more to win over global swing nations also courted by China and Russia. The weekend meeting in Japan showed they face a long road ahead.
Biden said he expected ties with China to improve "very shortly" after a spat over an alleged spy balloon earlier this year derailed relations. Read more.
China has questioned the "sincerity" of the Biden administration, as it pushes to resume high-level diplomatic talks with Beijing while also heaping tech sanctions on its main economic rival. Read more.
The US and Papua New Guinea signed two new security agreements today aimed at bolstering ties in a move seen as an effort to counter to China's growing influence in the Pacific. Read more.
Department of Defense announced additional security assistance to meet Ukraine's critical security and defense needs.
Paul Whelan, the former Marine imprisoned in Russia, said he's confident that the US is working to secure his release, CNN reported.
What Else We're Reading
Four House Appropriations subcommittees approved their spending bills the week of May 15, kicking off the process of funding the federal government for fiscal 2024.
The Biden administration has dropped, for now, a plan that would have awarded automakers such as Tesla credits for using renewable natural gas to power electric vehicles.
Lawmakers seeking to expand the Low-Income Housing Tax Credit this year hope a new version resolves transparency concerns and that pressure from the affordable housing crisis will press their colleagues to act.
Lawyers from an elite Wall Street firm with deep ties to the banking industry testified before Congress four times in the last month on regulating digital assets and financial institutions.
The Justice Department has spent the pandemic years handily securing guilty pleas from small-time scammers who'd purchased luxury items using emergency relief loans.
To contact the reporters on this story: Giuseppe Macri in Washington at gmacri@bgov.com; Michaela Ross in Washington at mross@bgov.com
To contact the editor responsible for this story: Kayla Sharpe at ksharpe@bloombergindustry.com
Stay informed with more news like this – from the largest team of reporters on Capitol Hill – subscribe to Bloomberg Government today. Learn more.