What to Know in Washington: Schumer to Test Infrastructure Plan
Bloomberg Government subscribers get the stories like this first. Act now and gain unlimited access to everything you need to know. Learn more.
Senate Majority Leader Chuck Schumer (D-N.Y.) has set up two major tests for himself and fellow Democrats in trying to force action this week on a bipartisan $579 billion infrastructure plan and a separate $3.5 trillion tax and spending proposal.
Schumer put the legislative gears in motion by announcing he'll take a preliminary step today that would lead to a first test vote on the infrastructure plan by Wednesday. He set the same day as a deadline for all Senate Democrats to unite behind a budget blueprint that would carry out the bulk of Biden's economic and social agenda later this year.
But there's no firm deal on either plan yet, and it will take weeks — if not months — before anything reaches President Joe Biden's desk.
The bipartisan group of 22 senators negotiating the infrastructure package have struggled for weeks to hammer out details that can be turned into legislative text, but still haven't settled on how to pay for their plan as negotiations with the White House continued through the weekend.
Sen. Rob Portman (R-Ohio) one of the Republicans leading the effort, said the group has dropped the idea of using revenue gained from stricter tax code enforcement to offset costs because Democrats intend to include that in their separate tax and spending package. He and other Republicans are balking at moving forward without the legislation in hand, directly rebuffing of Schumer's strategy. "It's more important to get it right than to meet an arbitrary deadline," Portman said yesterday on CNN. "We should bring the legislation forward when it's ready."
Schumer's second target — agreement on a budget framework for the biggest expansion of social spending in decades — could prove just as challenging. Details of that package also haven't been spelled out and Sens. Jon Tester (Mont.) and Joe Manchin (W.Va.) want more details on the specifics of the $3.5 trillion plan. Schumer needs the backing of all 50 senators who caucus with Democrats to set the stage for passing legislation without GOP support. Read more from Steven T. Dennis and Laura Litvan.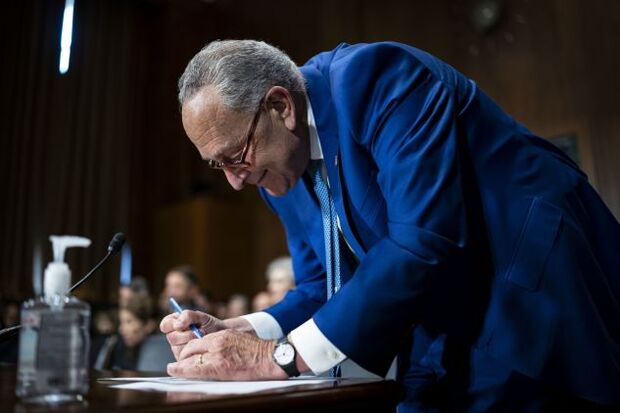 Happening on the Hill
Today's Agenda:
BGOV OnPoint's Appropriations Update: The House Appropriations Committee completed its work Friday on the 12 spending measures to fund the government for the fiscal year beginning Oct. 1. The panel approved the remaining six bills—Commerce-Justice-Science, Defense, Energy-Water, Homeland Security, Labor-HHS-Education, and Transportation-HUD—after acting on the first six measures before the July 4 recess. It advanced most of the bills on party-line votes. This BGOV OnPoint provides an overview of the House spending bills and committee action to date.
Congress Takes Aim at China's Recruitment of Talent: Congress is aiming to hobble China's ability to recruit scientists and academics in the U.S. as part of broader moves in Washington to confront the Asian nation's growing clout. A recently passed House bill to bolster American research and development would bar scientists and academics from participating in U.S.-funded research projects if they are also receiving support from Beijing. House passage of the restriction is yet another sign of the strained relationship between the world's two biggest economies, even at the level of academic inquiry that has attracted hundreds of thousands of Chinese students and scholars to the U.S. Read more from Daniel Flatley and Janet Lorin.
Lawmaker Says White House Supports Raising Visa Cap for Afghans: The Biden administration is working with Congress to offer more visas to Afghan nationals who risk being targeted by the re-emergent Taliban for assisting U.S. forces during the two-decade war there. The legislative push comes as officials rush to evacuate thousands of Afghans to neighboring countries before the withdrawal of U.S. forces is completed next month. It has widespread support, but lawmakers are split on how to speed it through the typically slow-moving Capitol. Read more from Daniel Flatley and Roxana Tiron.
Klobuchar Wants Liability for Misinformation: Sen. Amy Klobuchar (D-Minn.) said that misinformation on social media about Covid-19 vaccines adds urgency to her push to change liability standards for what gets published on their platforms. "There is absolutely no reason they shouldn't be able to monitor this better and take this crap off of their platforms," she said yesterday on CNN. Biden on Friday said the social media sites are "killing people" by allowing the spread of false information about the shots. Read more from Yueqi Yang.
National Guard Warns of Cuts Without Jan. 6 Refund: National Guard state commanders warned on Friday of damaging cuts in training if Congress does not reimburse $521 million they spent securing the Capitol after the Jan. 6 riot. If lawmakers fail to act by next month, the Guard will be forced to scrap scheduled training in August and September, its busiest time for drills. Cancellations could impact the reserve force's ability to deploy to disasters and pay troops, Guard leaders said. Read more from Travis J. Tritten.
Elections & Politics
Zombie Campaigns-to-Be Hold Millions in Cash With Murky Rules: As a 34-year Senate veteran who's chaired four committees and faced little political opposition in Alabama, Richard Shelby has been able to raise millions of dollars more from lobbyists, political action committees, and others with interests before Congress than he's had to spend to be re-elected.
So with no more races to run, the top Republican on the Senate Appropriations Committee is sitting on more than $16 million in two campaign accounts—far more money than any other retiring lawmaker has ever had. Federal law says campaign contributions must be used to run for office or pay for official expenses; "personal use" of the money is barred. But the line between personal and political is getting more blurry, with ex-lawmakers in recent years spending millions to help elect other candidates, including family members, or to fund schools and nonprofit organizations they support. Read more from Kenneth P. Doyle and Nancy Ognanovich.
Redistricting Spurs Fundraising for Tight Contests: House incumbents are for the most part better-funded than they were two years ago as they prepare for a potentially chaotic redrawing of congressional district lines ahead of the 2022 elections. There are 145 House members whose campaigns began July with more than $1 million in cash on hand; that's up from 107 at a similar point in the 2020 elections, according to a Bloomberg Government analysis. Read more from Greg Giroux.
Anti-Trans Bid in Texas Signals Pushback of Biden: A drive by Texas lawmakers to curtail transgender participation in sports is the latest signal of pushback in Republican-led states as Biden champions expanded LGBTQ rights. While the stuck because of a walkout by the state's House Democrats, the bills are part of a growing trend of more than 250 anti-LGBTQ bills introduced in 33 states this year. Read more from Jarrell Dillard.
Pollsters Mark Worst Performance in 40 Years in 2020 Campaign: Donald Trump supporters who didn't respond to pollsters were a likely cause of wildly wrong pre-election surveys in 2020 as political surveys suffered their worst performance in 40 years, a new industry report finds. If that trend continues, those non-responses could pose an even greater crisis for political polling than the advent of mobile phones a generation ago. A new report from a task force of the American Association for Public Opinion Research found that national polls overstated Biden's lead over Trump by 3.9 percentage points. In state-level polls, it was 4.3 points. Read more from Gregory Korte.
Around the Administration
Today's Agenda: Biden plans to deliver remarks at the White House at 11:30 a.m. on the economic recovery from the Covid-19 pandemic. Biden will host Jordan's King Abdullah II for a bilateral meeting starting at 1:45 p.m.
Biden Says U.S. to Appeal Dreamers Ruling: Biden said that the U.S. will appeal a federal judge's ruling that the DACA program protecting hundreds of thousands of "Dreamers" who came to the country as children was implemented unconstitutionally, and he renewed his call for Congress to agree on a permanent solution. The federal court ruling "is deeply disappointing," Biden said in a statement. "The Department of Justice intends to appeal this decision." Jenny Leonard and Laurel Calkins have more.
U.S. to Attribute Microsoft Hack to Chinese Government: The U.S. will formally attribute the Microsoft Exchange hack to actors affiliated with the Chinese government, a senior Biden administration official said. The U.S. expected to say today that the Chinese government has been the mastermind behind a series of malicious ransomware, data theft and cyber-espionage attacks against public and private entities, including Microsoft Exchange hack earlier this year, according to the official. Read more from Jenny Leonard.
Yellen Expresses Doubts on Results of Trump's China Deal: Treasury Secretary Janet Yellen expressed doubts about last year's trade deal with China, the first clear statement from the Biden administration detailing its thinking about the future of the agreement between the world's two largest economies. "My own personal view is that tariffs were not put in place on China in a way that was very thoughtful," she told the New York Times in an interview as she returned to the U.S. last week. "Tariffs are taxes on consumers. In some cases it seems to me what we did hurt American consumers, and the type of deal that the prior administration negotiated really didn't address in many ways the fundamental problems we have with China." Read more.
Latin America Unrest Intrudes Biden's China Focus: Biden says his foreign policy focus is on dealing with the challenges posed by China and rebuilding frayed alliances in Asia and Europe. Latin America is putting those priorities to a test. From civil unrest in Cuba to a presidential assassination in Haiti and the migration crisis on the southern border, the Biden administration is finding it harder to avoid getting pulled into Latin America's problems. Read more from David Wainer and Eric Martin.
U.S. Rejects Iran's Suggestion of Deal on Detainees: The U.S. rejected an Iranian effort to separate the fate of four Americans held in Iran from talks on a nuclear deal, calling it an "outrageous effort to deflect blame." The remarks by the State Department and Abbas Araghchi, Iran's lead negotiator, are the latest evidence of an impasse in negotiations on a possible U.S. return to the agreement abandoned by Trump. Read more from Nick Wadhams.
Court Blocks Lifting of Pandemic Rules for Cruise Ships: U.S. requirements for preventing the spread of the coronavirus on Florida-based cruise ships must remain in place after a federal appeals court blocked a previous ruling that allowed the state to avoid the regulations. Read more from Mark Chediak.
To contact the reporters on this story: Zachary Sherwood in Washington at zsherwood@bgov.com; Brandon Lee in Washington at blee@bgov.com
To contact the editors responsible for this story: Giuseppe Macri at gmacri@bgov.com; Loren Duggan at lduggan@bgov.com; Michaela Ross at mross@bgov.com
Stay informed with more news like this – from the largest team of reporters on Capitol Hill – subscribe to Bloomberg Government today. Learn more.