What to Know in Washington: Schumer Prepares for Confrontation
Senate Majority Leader Chuck Schumer is preparing a summer agenda that's set to bring more confrontation than deals with Republicans even as President Joe Biden continues his quest to bring the GOP on board for his infrastructure plans.
Senators return to work next week expected to deliver a bipartisan victory with passage of a bill designed to bolster the U.S. competitive posture toward China.
But that barely will cover the sour note from their departure from Washington last Friday: The first use of the filibuster this year by Republicans blocked legislation to establish a commission to investigate the Jan. 6 insurrection at the U.S. Capitol. It won't be the last time GOP deploys the filibuster with Schumer (D-N.Y.) muscling ahead with votes on issues that most sharply split the two political parties, including measures on voting rights and paycheck equality.
The rough path ahead may trigger some intra-party Democratic turmoil. The filibuster of the Jan. 6 commission renewed calls within the party to change Senate rules to get rid of the tactic, which gives the minority party power over the agenda through the 60-vote threshold to advance legislation.
Schumer last week hinted that more pressure will be applied on two Democratic moderates, Sens. Joe Manchin (W.Va.) and Kyrsten Sinema (Ariz.), to drop their opposition to limiting the filibuster's reach. Both also have expressed reluctance to bypassing the GOP to get some major portions of Biden's agenda through the Senate using a legislative shortcut called budget reconciliation. Read more from Laura Litvan and Steven T. Dennis.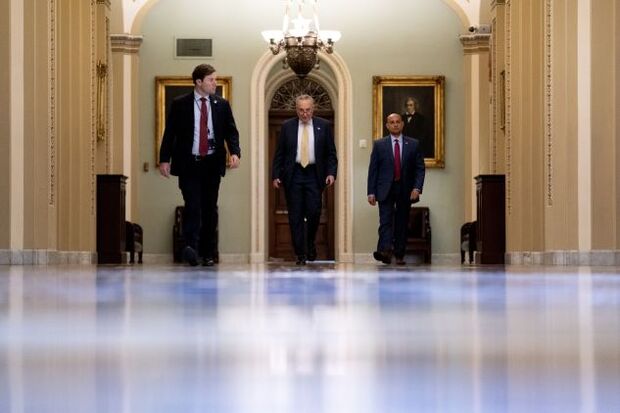 Politics & Influence
Democrat Wins House Seat in New Mexico: New Mexico Democrat Melanie Stansbury defeated Republican Mark Moores in a special U.S. House election that keeps the Albuquerque-based 1st Congressional District under Democratic control, the Associated Press reports. Stansbury, a state representative, will succeed Deb Haaland, who resigned in March to become Biden's Interior secretary. Upon Stansbury's swearing-in, Democrats will have 220 House seats compared with 211 for Republicans, Greg Giroux reports.
Texas Voter Bill Foes Energized: Biden pressed voting rights groups yesterday to work energetically as minority-party Democrats in Texas planned their next moves in a political fight over early and absentee balloting. "I urge voting rights groups in this country to begin to redouble their efforts now to register and educate voters," Biden said in Tulsa, Okla. Read more from Stephen Joyce.
Less than 48 hours after legislative Democrats killed his high-priority bill, Texas Gov. Greg Abbott (R) was back in the political spotlight with a re-election endorsement from former President Donald Trump. Abbott "is all in on Election Integrity," according to a statement from Trump that Abbott posted yesterday on Twitter. Read more from Stephen Joyce.
National Enquirer Publisher Fined Over Payment for Trump Story: The Federal Election Commission has fined a tabloid publisher that paid $150,000 in 2016 to a woman who claimed she had an affair with Trump for making an illegal campaign contribution, according to Common Cause, which filed the complaint in the case. The former president's campaign will not be penalized. Read more from Bill Allison.
U.S. to Drop Charges Against Man Accused in Capitol Assault: The Justice Department plans to drop charges against one of the more than 400 Trump supporters it has accused of participating in the Jan. 6 attack at the U.S. Capitol. It's the first time the government has given up on a case in the far-reaching criminal investigation. A spokesman for the Justice Department said the U.S. was dropping the case because the charges were "not consistent with what has been the standard across the other investigations." Read more from David Yaffe-Bellany.
Supreme Court Justice Rejects Church Challenge to Disaster Law: Supreme Court Justice Neil Gorsuch rejected a request from two churches to block a Colorado law that lets the state issue emergency orders in the event of wildfires, earthquakes and other disasters. The Denver-area churches said high court intervention was warranted because the state had gone too far in using the Colorado Disaster Emergency Act to impose capacity restrictions against houses of worship in a bid to stem the coronavirus pandemic. Read more from Greg Stohr.
Around the Administration
Today's Agenda: Biden will host Sen. Shelley Moore Capito (R-W.Va.) at the White House today at 2:45 p.m., as negotiations over a potential bipartisan infrastructure bill enter a critical phase. The meeting is just with Capito, and no other Republican members will join despite several attending previous conversations.
Also today, Biden will deliver remarks at 1:15 p.m. on the administration's Covid-19 response and vaccination program. The president will depart for Rehoboth Beach, Del., at 5:15 p.m.
JBS Moves to Reopen 'Vast Majority' of Plants After Cyberattack: JBS, the largest meat producer globally, has made "significant progress" to resolve the cyberattack that impacted its global operations and will have the "vast majority" of its plants operational today. "Our systems are coming back online and we are not sparing any resources to fight this threat," JBS USA Chief Executive Officer Andre Nogueira said in a statement late yesterday. Read more from Mike Dorning, Fabiana Batista and Michael Hirtzer.
A notorious Russia-linked hacking group is behind the cyberattack against JBS, according to four people familiar with the assault who were not authorized to speak publicly on the matter. The cyber gang goes by the name REvil or Sodinokibi. Read more from Jennifer Jacobs, Kartikay Mehrotra and William Turton.
Russia has no information about the cyberattack but is in diplomatic contact with the U.S. government on the issue, Kremlin spokesman Dmitry Peskov said on a conference call, Andrey Biryukov reports. "It's premature to speak of cooperation" between Russia and the U.S. in cybersecurity issues, despite contacts over JBS hack, Peskov said.
DOJ Seizes Domains Blamed on Russians: The Department of Justice announced it has seized two domain names used in an phishing email attack from the Russian hackers said to be behind the SolarWinds software campaign. The seizure is meant to disrupt malicious actors from exploiting victims of the hack and identify victims, the department said. Read more from Andrea Vittorio.
Biden Targets Tax Break Trump Used: Biden is pushing to close a tax break that helped his predecessor amass a fortune. Biden has proposed narrowing a tax code provision that allows real estate investors to avoid capital gains taxes when they sell property, as long as they use the gains to buy more. Trump's most valuable investment, which traces back to his $95 million purchase of a west-side Manhattan development site, has benefited from the rule. Read more from David Kocieniewski and Caleb Melby.
Yellen, China's Liu Talk 'Frankly': The U.S. and Chinese governments took another step toward restarting economic and trade talks, with Treasury Secretary Janet Yellen and Vice Premier Liu He holding what they described as frank discussions in their first call. The two sides discussed how to "support a continued strong economic recovery and the importance of cooperating on areas that are in U.S. interests, while at the same time frankly tackling issues of concern," according to a statement from the U.S. Treasury. A Chinese statement carried in state media also said the two "frankly exchanged views on issues of mutual concern." Read more.
CDC Talks Up Smell Training After Covid-19: Regular sniffing of lemon, clove and other spices won't help everyone regain their sense of smell after Covid-19, but the Centers for Disease Control and Prevention says "smell training" is an option some survivors should absolutely try. But some doctors and scientists fear that might be giving people a false sense of hope about its usefulness, even as a top CDC official talked it up to lawmakers at an April 28 hearing. Lydia Wheeler has more.
With assistance from Brandon Lee
To contact the reporter on this story: Zachary Sherwood in Washington at zsherwood@bgov.com
To contact the editors responsible for this story: Giuseppe Macri at gmacri@bgov.com; Loren Duggan at lduggan@bgov.com; Michaela Ross at mross@bgov.com