What to Know in Washington: Schumer Dares House GOP on Deep Cuts
Bloomberg Government subscribers get the stories like this first. Act now and gain unlimited access to everything you need to know. Learn more.
Senate Majority Leader Chuck Schumer (D-N.Y.) dared House Republicans to propose and vote on the deep spending cuts they demand in exchange for lifting the debt ceiling later this year.
Such a vote would tie Republicans politically to what Schumer called "draconian" reductions that conservatives want to make to popular federal programs.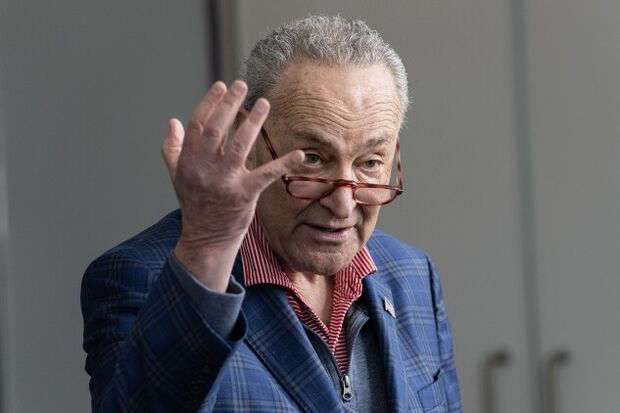 Speaking on the Senate floor, the New York Democrat said it isn't clear what conservatives want, whether it be cuts to Social Security or Medicare, or to military pay raises or public health programs.
"Frankly, I expect the House Republicans themselves will struggle to come up with a serious answer, because deep down they know that no matter what they propose their cuts are likely to be deeply unpopular with the American people," Schumer said.
House Speaker Kevin McCarthy (R-Calif.) has said he wants to use the threat of a catastrophic debt default later this year to extract spending cutbacks from Democrats. Senate Minority Leader Mitch McConnell (R-Ky.) predicts an accord linking a debt ceiling increase and some spending decreases, but is offering assurances that the US won't breach the limit.
Schumer said the only way to raise the debt limit is with the help of lawmakers of both parties, reiterating a position stated in recent weeks by Democratic leaders and President Joe Biden. Any default, Schumer said, would be the fault of "MAGA" Republicans and would have deep consequences on average citizens, including their retirement accounts and pensions and the costs of borrowing for mortgages, car loans and credit cards.
"Brinkmanship, hostage-taking, default on the debt should be off the table," Schumer said. "Both parties should work together to ensure we can continue to pay our debt on time, and we Democrats are ready to move quickly in order to make that happen." Read more from Laura Litvan.
The US will not default on its debt, but the Biden administration might be forced to take unilateral action to head off a crisis, Rep. Ro Khanna (D-Calif.) said, offering several possible executive moves. Read more
Mark Zandi, the Moody's Analytics chief economist, warned that investors are being "too sanguine" about the looming fight over the debt limit—and said that itself raises the danger of a default. Read more
Meanwhile, China invoked the US's brinkmanship over its own debt limit as it hit back at Treasury Secretary Janet Yellen's criticism of Beijing's handling of debt issues in developing countries. Read more
Happening on the Hill
CONGRESS' SCHEDULE
The House returns at noon to debate legislation on civil servants and settlement agreements.
The Senate meets at 10 a.m., with no votes locked in.
The head Live Nation Entertainment will tell Congress today that the concert promoter learned "valuable lessons" from the debacle that forced its Ticketmaster unit to cancel public sales for a Taylor Swift tour when its site crashed amid massive demand.
Joe Berchtold, president and chief financial officer of Live Nation, will appear before the Senate Judiciary Committee to answer questions about the incident in a hearing focused on competition in the $12 billion live music entertainment market. "In hindsight there are several things we could have done better, including staggering the sales over a longer period of time," Berchtold said in written testimony prepared for the hearing.
Berchtold will testify that the problems with the Swift ticket sale in November resulted from unprecedented demand and a cyberattack that overwhelmed the company's servers. He plans to urge Congress to take further steps to thwart automated ticketing "bots" that overwhelm sales.
The White House said it would review requests a Republican-run House panel made for information related to Biden's handling of classified documents, but suggested it will not give the committee all that it wants.
Meanwhile, Attorney General Merrick Garland dismissed criticism that his department is treating Donald Trump and Biden differently when it comes to investigating their documents probes. Read more
Health insurers are circulating a letter among lawmakers this month to marshal support for a program where private companies cover seniors on behalf of the government.
Republicans who oppose the state and local tax deduction cap gained ground on key committees this Congress—and are pushing ahead on ways to work around the limit.
Biden isn't resubmitting two of his judicial selections for US district courts from last Congress after issues with their nominations, a White House spokesperson said.
Around the Administration
BIDEN'S AGENDA
Biden at 3 p.m. hosts Democratic congressional leaders along with Vice President Kamala Harris.
At 5:20 p.m., Biden has planned a reception for new members of Congress.
White House Press Secretary Karine Jean-Pierre will hold a briefing at 1:30 p.m.
The US has confronted China with evidence that suggests some Chinese companies may be providing assistance for Russia's war effort in Ukraine, as it tries to ascertain if Beijing is aware of those activities, people familiar said.
Just before Yellen will visit South Africa as part of a renewed focus on the continent, she got a stark example of the challenges the US faces in countering influence by its rivals, Russia and China. Read more
The Biden administration could more vigorously defend its authority over medication abortion as it fights a wave of state restrictions, legal observers say.
The F-35 Joint Strike Fighter—the world's costliest weapons program—is still plagued by deficient software despite the most ambitious round of upgrades since the aircraft's inception 20 years ago, the Pentagon's top weapons tester said.
The US Justice Department is poised to sue Google as soon as Tuesday regarding the search giant's dominance over the digital advertising market, according to people familiar with the matter.
The Federal Trade Commission plans to heighten its focus on junk fees and consumer privacy violations through potential new rules and enforcement actions, a top agency official said.
Mexico's proposed changes to a planned ban on imports of US corn are insufficient, the Biden administration warned, saying that it continues to consider all of its rights to respond under the free-trade agreement between the nations.
Two hacking groups linked to North Korea were responsible for the theft of $100 million in an attack on a crypto service last year, the Federal Bureau of Investigation said on Monday.
WHAT ELSE TO KNOW TODAY
Lawyers who've appeared before US District Judge Donald Middlebrooks said his ruling in a petition that led to Bush v. Gore show his devotion to the law, even when it may clash with his own views. Read more
Fire departments face liability risks and potentially huge costs and uncertainties as they switch from PFAS-enabled firefighting foam, according to lawyers and groups working with them. Read more
Top metal producers urged the European Union to follow the White House's lead in rolling out financial relief to help the bloc keep control of raw materials critical to the green-energy transition. Read more
To contact the reporter on this story: Brandon Lee in Washington at blee@bgov.com
To contact the editors responsible for this story: Giuseppe Macri at gmacri@bgov.com; Michaela Ross at mross@bgov.com
Stay informed with more news like this – from the largest team of reporters on Capitol Hill – subscribe to Bloomberg Government today. Learn more.