What to Know in Washington: Russia Seen Racing for May 9 Victory
Date marks anniversary of Germany's defeat in WWII
Farmers want agriculture workforce overhaul in Congress
Warning signs are becoming clearer that a major Russian assault in eastern Ukraine is imminent. If that's the plan, its troops risk repeating at least some of the mistakes made in trying to take the capital, Kyiv.
According to NATO and European diplomats familiar with the matter, Ukraine's allies see a two-week window to spirit in heavier weapons like tanks before President Vladimir Putin unleashes an offensive designed to declare some sort of victory by May 9—the anniversary of Nazi Germany's defeat in World War II. Moscow traditionally holds a massive annual military parade that day.
"The next weeks will be decisive," Josep Borrell, who coordinates European Union foreign policy, said on Wednesday, as the bloc proposed a further 500 million euros ($544 million) to help fund member states' military aid to Ukraine. That lifts the total to 1.5 billion euros. The eastern port city of Mariupol has been under siege for weeks and is at risk of falling completely under Russian control within days.
Yet weather conditions and the need to prepare logistics, establish air dominance and reconstitute forces mauled around Kyiv would argue for a longer time frame to retake the rest of the Donbas region that's still in Ukrainian hands, according to some diplomats and military analysts.
The trade-off between speed and casualties is one Putin appears to recognize. Putin at a press conference Tuesday said he was often asked if it wasn't possible to finish the war more quickly. "It is possible—it depends on the intensity of military action, and the intensity of military action is unfortunately one way or another linked with losses," Putin said. "Our task is to achieve the set goals while minimizing losses." But that will be hard to do if Russia throws units into the battle at the height of the spring melts, when the ground is too muddy for trucks and mobile artillery to move off the roads without getting stuck.
That season will end some time in May, but likely not soon enough for any considerable campaign win before Putin's Victory Day parade, according to a Moscow-based military analyst. There is incentive to act before Ukraine can deploy more of its own forces in the east, or take delivery of the hundreds of millions of dollars worth of drones, anti-aircraft, ship and armor weapons, as well as tanks and armored vehicles that the U.S., Britain, Australia and many EU states are now hurrying to Ukraine. Read more from Marc Champion and John Follain.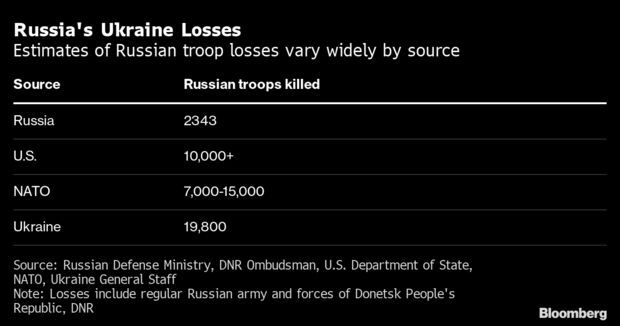 Treasury Secretary Janet Yellen has sketched out her vision for a new era of economic cooperation among nations that share key values and principles, in a sweeping speech that laid down a stern challenge to Beijing. Yellen, speaking a week before global finance chiefs meet in Washington, called China to account for its deepening relations with Russia and blasted the government in Beijing for practices that "unfairly damage" the national-security interests of others. Yellen alluded to the use of market positions—China is a key provider of crucial rare-earth metals—for "geopolitical leverage." Christopher Condon and Eric Martin have more.
Yellen will convene a meeting of top international financial officials next week to address a global food-security crisis, with the heads of institutions including the IMF urging action to address dire consequences of record price surges caused by Russia's invasion of Ukraine. Condon has the latest.
MORE ON THE WAR IN UKRAINE:
The Biden administration is weighing sending a high-level official to Kyiv to meet with Ukrainian President Volodymyr Zelenskiy and show further support for Ukraine, Politico reported, citing two U.S. officials. Officials say it is far more likely a cabinet member such as Secretary of State Antony Blinken or Defense Secretary Lloyd Austin would be dispatched, Politico reports. Biden himself and Vice President

Kamala Harris

remain candidates as well. Read more from Politico.
Russia is introducing retaliatory sanctions against 398 House lawmakers, according to the Ministry of Foreign Affairs. It had previously sanctioned other members including House Speaker

Nancy Pelosi

(D-Calif.). The measures come in response to those levied by the White House on March 24 against delegates of Russia's Duma. The Kremlin is also imposing counter-measures against senators of Canada's Parliament. Read more.
Finland started a process expected to lead Russia's Nordic neighbor into NATO in response to the attack on Ukraine, while Swedish media reported its ruling party now plans to follow such a move. Finnish Prime Minister Sanna Marin said Wednesday a bid to join NATO could be decided "in coming weeks" after the release of a report that cited better security guarantees via alliance's mutual defense clause. Read more from Leo Laikola, Kati Pohjanpalo and Jonas Ekblom.
Russia threatened to deploy nuclear weapons in and around the Baltic Sea region if Finland and Sweden join the North Atlantic Treaty Organization as tensions fueled by President Vladimir Putin's invasion of Ukraine spread. Read more.
Policy, Politics & Probes
Supporters of legal status for immigrant farmworkers are holding out hope that Congress will prioritize the agricultural labor force in nascent bipartisan immigration negotiations after previous efforts fell apart. Advocates see this year as a critical window of opportunity, with only eight months left in the congressional session, and immigration politics will likely get more fraught after new members take their seats next year. The effort to create a path to legal status for farmworkers got additional attention amid broader worker shortages, supply chain snafus, and new stress to the global food system stemming from Russia's war in Ukraine.
Sens. Mike Crapo (R-Idaho) and Michael Bennet (D-Colo.) have renewed conversations on proposals to secure the agricultural workforce and overhaul guestworker visas, Crapo said. He said that he's anxious for the Senate's top immigration negotiators to work out overarching issues so farmworker measures can move forward as part of a broader prospective package. "Bennet and I continue to basically wait for those guys to get things ironed out so that we can engage," he said, referring to Sens. Dick Durbin (D-Ill.) and John Cornyn (R-Texas). Read more from Ellen M. Gilmer.
For tourism, seafood, landscaping, and other industries, the release of 35,000 additional H-2B seasonal work visas by the Biden administration will be a boon for hiring prospects. But the availability of new visas will be swiftly outstripped by new demand from employers who say they can't find American workers to fill positions. Firms that have traditionally made use of the program say they're facing new competition for the visas, which has a yearly cap of 66,000 with about 65,000 more that can be released on a discretionary basis. Andrew Kreighbaum has more.
The chief executives of Tyson Foods, Cargill, JBS and National Beef Packing will testify at a House Agriculture Committee hearing on beef prices and competition in cattle markets, Mike Dorning reports. "It is very important, very vital, and very urgent that we hear the perspectives from the CEOs at these companies and get the full picture of why prices have gone up for consumers and down for ranchers," House Agriculture Committee Chairman David Scott (D-Ga.) said in a statement.
Texas will halt some vehicle inspections at the U.S.-Mexican border after Gov. Greg Abbott's (R) crackdown provoked protests that halted crucial food and equipment shipments. Abbott said Wednesday that the state government of Nuevo Leon in northern Mexico agreed to conduct safety inspections before U.S.-bound trucks reach the border. Inspections will continue in other sectors of the U.S.-Mexico line. Abbott said they're needed because of what he called Biden's failure to halt undocumented migration and drug smuggling. Read more from Shelley Hagan.
Republicans are eyeing a special election in a heavily Hispanic Texas district as a bellwether ahead of the elections that may deliver them the House majority. The June 14 contest in Texas's 34th District, an 84% Hispanic area that abuts the Mexico border, is an inviting target for Republicans. In a longtime Democratic stronghold, the district voted for Biden over Donald Trump by just 4 percentage points in 2020, when the GOP made unexpected major gains in the Rio Grande Valley. The election "could be a real pre-election barometer of how Hispanic voters have moved," one analyst said. Read more from Greg Giroux.
What's Next for Congress—BGOV Webinar: Join our webinar for insights on the key policy items Congress plans to tackle as it returns from its spring recess. Bloomberg Government's analysts will discuss what House and Senate leaders plan to prioritize for the remainder of the year, with an eye on what can be accomplished before the midterm elections or possibly left to a lame-duck session. They'll talk about the latest on bills to bolster U.S. manufacturing to compete with China, proposals to reauthorize key programs that committees are exploring, and whether there's any chance for a budget reconciliation. Register here.
Around the Administration
BIDEN'S SCHEDULE:
Biden travels to Greensboro, N.C., where he'll deliver remarks on the U.S. supply chain at 2:15 p.m.
The president is scheduled to arrive at Camp David after 5 p.m.
The Biden administration is warning that hackers are attempting to access and disrupt industrial control systems, using custom-built malicious software to target organizations in the energy sector. A bulletin released Wednesday by the Federal Bureau of Investigation, the National Security Agency, the Department of Homeland Security and the Energy Department said so-called advanced persistent threat actors, a phrase often used to describe state-backed hackers, are able to breach industrial networks and then exploit weaknesses in devices that control those facilities. Read Jack Gillum's latest for more.
Biden on Wednesday signed into law a bill directing a congressional panel overseeing the Library of Congress to honor the first two female justices on the Supreme Court—Sandra Day O'Connor and Ruth Bader Ginsburg—in the Capitol building or on the Capitol grounds. The bipartisan legislation (S. 3294) from Sen. Amy Klobuchar (D-Minn.)—and sponsored by Sens. Lisa Murkowski (R-Alaska), Kyrsten Sinema (D-Ariz.) and Susan Collins (R-Maine), and leaders of the Democratic Women's Caucus—would require the Architect of the Capitol to install statues of the women in either setting.
Biden is pressing ahead with efforts to improve the health coverage affordability, moving forward with a proposal to revisit a long-criticized regulatory stumbling block. The "family glitch," part of a 2013 rule implementing the Affordable Care Act, makes it harder for many families to qualify for the subsidies that help make Obamacare plans affordable. The Kaiser Family Foundation said in 2021 that "more than 5.1 million people fall in the family glitch." The 2013 rule says if individuals are eligible for affordable and ACA-compliant employer coverage, they and their family can't get premium tax subsidies. Sara Hansard has more.
A new plan by the U.S. Export-Import Bank could yield a flood of financing for U.S. energy ventures, including wind and solar projects, battery manufacturing and terminals to sell LNG overseas. While the credit agency has long provided financing and insurance to boost sales of U.S. products, the bank's board is set to vote Thursday on a formal policy shift encouraged by the Biden administration that would extend support to manufacturing and infrastructure projects that facilitate exports. Ari Natter and Jennifer A. Dlouhy have the latest.
Kathi Vidal pledged to engage with those who've lacked equitable access to the American intellectual property economy as she was sworn-in as the new Patent and Trademark Office chief. Vidal, who also carries the title of undersecretary of commerce for intellectual property, said she would engage with stakeholders over the next months. Vidal also laid out some goals, such as fostering innovation in emerging technologies like biotechnology, artificial intelligence, quantum computing, green technology, and semiconductors. Read more from Riddhi Setty.
To contact the reporters on this story: Giuseppe Macri in Washington at gmacri@bgov.com; Brandon Lee in Washington at blee@bgov.com
To contact the editor responsible for this story: Loren Duggan at lduggan@bgov.com