What to Know in Washington: Russia Says U.S. Troop Decision
Russia bristles at U.S. plans to put troops on alert for Europe
Biden targets consolidation to fight inflation, Fed set to meet
The U.S. is putting as many as 8,500 troops on heightened alert for deployment to bolster NATO forces in Eastern Europe if needed as Russian troops mass on Ukraine's borders, offering a show of military force alongside diplomatic efforts to defuse the crisis.
"It's very clear that the Russians have no intention right now of de-escalating," so it makes "prudent sense" to give U.S. military personnel time to prepare if NATO activates its Response Force along the alliance's eastern flank, Defense Department spokesman John Kirby told reporters yesterday at the Pentagon, Larry Liebert and Tony Capaccio report.
Kirby repeatedly said the troops aren't being deployed yet and wouldn't be sent into Ukraine. He said "there is time and space" for diplomacy but that Russia continues to increase the forces arrayed along its border with Ukraine—which top 100,000—and in Belarus.
The readiness alert indicates that President Joe Biden, who conferred with his national security advisers over the weekend, wants to send a stronger military message to Russian President Vladimir Putin even though his administration has repeatedly said the U.S. would respond to an invasion with stringent economic sanctions rather than by sending troops into Ukraine. Russia has denied it intends to invade.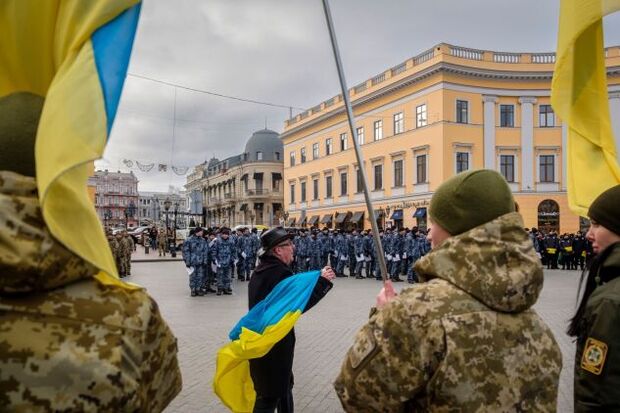 The U.S. troop move "exacerbates tensions" and Russia is monitoring the situation "with great concern," according to Kremlin spokesman Dmitry Peskov.
Russia still expects to receive written U.S. responses to its security demands this week, after which it will decide on prospects for future diplomacy, Peskov said today on a conference call with reporters. Among other things, Russia is demanding that NATO pull back military infrastructure from its periphery, something the alliance has so far refused to do. Follow the latest from Bloomberg News here.
The administration plans to hold two classified briefings today for congressional leadership aides and committee staff on Ukraine, Punchbowl news reported. The administration is also working on briefings for all members of the House and Senate when Congress returns next week, according to Punchbowl. Both House Speaker Nancy Pelosi (D-Calif.) and Senate Majority Leader Chuck Schumer (D-N.Y.) yesterday requested briefings from the White House for all members.
BIDEN'S SCHEDULE:
The president has no public events scheduled today. White House Press Secretary Jen Psaki will give a press briefing at 12:15 p.m.
Biden Says Consolidation Fight Will Help Inflation
Biden yesterday said his administration's efforts to discourage greater corporate consolidation would help tame inflation, with the fastest price increases in four decades threatening the Democrats' political future.
At a meeting with economic advisers the White House has dubbed his Competition Council, Biden promoted programs to reduce the prices of hearing aids and make it easier for consumers to repair their own telephones and other devices. "Capitalism without competition is not capitalism. It's exploitation," Biden said. He said his administration plans to combat non-compete clauses one in five workers are asked to sign, even when they're not given access to particularly sensitive information about their employers.
The council was formed to help enact an executive order on competition Biden signed in July. His administration has also worked with ports, truckers and labor unions to ease supply-chain bottlenecks that have contributed to rising prices, though the president's top economic advisers concede the government can't do much to influence the basic forces of supply and demand. Read more from Jennifer Epstein.
Biden called a Fox News reporter a "stupid son of a b—-" after the journalist, Peter Doocy, tried to question him about inflation at a meeting with economic advisers at the White House yesterday. "Do you think inflation is a political liability in the midterms?" Doocy asked. "No — that's a great asset," Biden deadpanned. Doocy, appearing later on Sean Hannity's Fox program, said Biden had called to apologize. "He cleared the air, and I appreciate it," Doocy added. "We had a nice call." Read more from Justin Sink and Jennifer Epstein.
The Justice Department's new antitrust chief favors filing lawsuits to block problematic mergers rather than accept settlements that allow companies to proceed with their deals. Jonathan Kanter said last night at a New York Bar Association event that the settlements that are frequently negotiated with government antitrust officials often suffer from "significant deficiencies" and fail to protect competition in markets. Read more from David McLaughlin.
A loose labeling practice on beef has grabbed Biden's attention as he and anti-trust regulators set their sights on giant meatpacking conglomerates. Hamburger or a steak marked "Product of the USA" may contain beef from cattle raised as far away as Australia. The long-simmering fight over the label, which consumer advocates and ranchers consider misleading, evokes grievances among cattle producers over the lopsided market power of the four companies that control 85% of U.S. beef-processing. Producers have been growing increasingly frustrated at the diminished share they receive of soaring grocery-store prices even as they grapple with drought and higher feed costs. Read more from Mike Dorning.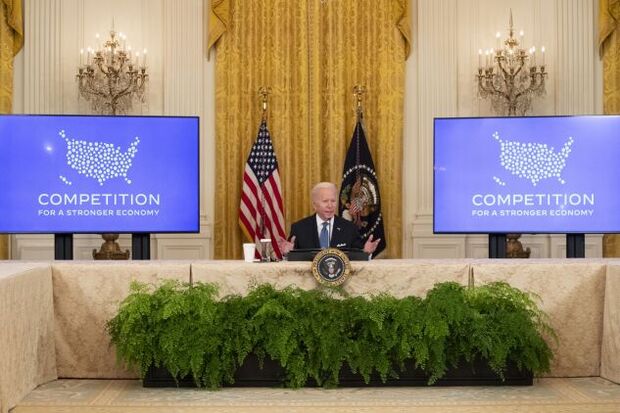 Jerome Powell's first four years as Federal Reserve chair were defined by saving the U.S. economy from the historic challenge of the pandemic. His second term — and his legacy — will be about saving the economy from overheating. Powell and his colleagues on the Federal Open Market Committee, who meet today and tomorrow, are wrestling with how to quell the highest inflation in a generation without stalling labor market gains. The risks of error in this quest for a soft landing are big: move too fast and the economy tips back into recession. Go too slow and inflation gets entrenched. Read more from Craig Torres and Olivia Rockeman.
ALSO AROUND THE ADMINISTRATION:
Lawmakers who support the rival petroleum and ethanol industries have joined forces to oppose the administration's push to electrify the federal vehicle fleet, marking a rare moment of unity between oft-warring interests. Fifty Republicans—including 17 from oil-rich Texas and 21 from the U.S. Corn Belt—warned Biden that his executive order requiring the federal government to purchase only zero-emission vehicles risks forfeiting climate progress and will make the U.S. dangerously dependent on China. Read more from Jennifer A. Dlouhy.
Hospitals pressed Congress to give them another $25 billion and hand out all previously allotted funds to shore up facilities ravaged by the omicron outbreak. The money would pay for training and extra security, as hospitals cope with staff shortages, higher costs and lost revenue, the American Hospital Association said in a letter to congressional leaders. Lauren Coleman-Lochner has more.
The letter comes as lawmakers consider additional Covid-19 aid to address omicron, even as Republicans raise questions about money left over from prior pandemic relief laws. Democratic leaders said they're expecting a request from the Biden administration for more virus aid, which could hitch a ride on fiscal 2022 spending legislation. Read more from Bloomberg Government legislative analyst Michael Smallberg.
The Transportation Department can't implement all parts of the infrastructure law because government funding is constrained at last year's levels, said a top official at the department. Several programs authorized by the new infrastructure law are largely in limbo under a stopgap spending law, which ends Feb. 18. As long as Congress continues to pass short-term continuing resolutions, some programs—endorsed by a bipartisan group of lawmakers—will remain "hampered," said Carlos Monje, undersecretary for policy at the Transportation Department. The stopgap has also prevented officials from using administrative expenses to start the new programs, which means that they are "struggling with staffing," he said. Read more from Lillianna Byington.
Some spending from the law is already underway and the EPA is creating a new program to make sure the $50 billion it got in the bipartisan infrastructure package isn't frittered away or misused, according to the official responsible for overseeing how it's spent. The new program from the EPA's Office of the Chief Financial Officer is an "agency-wide program integrity framework" that addresses risk management, internal controls, and payment integrity, Zealan Hoover, senior adviser to Administrator Michael Regan, told Bloomberg Law. Read more from Stephen Lee.
Significant EEOC policy changes that would align with Biden administration priorities are in a holding pattern while Republicans maintain a majority on the agency's leadership panel. But day-to-day decisions over which lawsuits to pursue have largely avoided partisan gridlock because of GOP Commissioner Andrea Lucas. U.S. Equal Employment Opportunity Commission Democratic Chair Charlotte Burrows is unlikely to press for substantive regulatory actions and other moves while three out of five commissioners are Republicans, agency watchers said. That means delays on rules for employer wellness plans that have taken on heightened significance during the Covid-19 pandemic, on sexual harassment guidance that's been in limbo since 2017, and on pushes for employer pay data reporting. Read more from Shira Stein.
Biden's trade chief is reviewing nationalist energy policies of his Mexican counterpart to see how they relate to the country's commitments to their 2020 North American deal. The Office of the U.S. Trade Representative and the departments of Commerce and Energy "remain committed to ensuring fair treatment for U.S. exporters and investors," the agency's leaders said in a letter to Rep. Buddy Carter (R-Ga.). Nacha Cattan and Eric Martin.
Redistricting Turns Allies Into Rivals
Redistricting has already produced a handful of awkward clashes between House incumbents from the same party, and more may be on the way.
Three Democratic and two Republican primaries between congressional colleagues are underway in four states: Georgia, Michigan, and West Virginia, and two in Illinois. There were 11 such races in 2012.
These intraparty pairings can become uncomfortable beyond races between Democratic and Republican incumbents, who have a built-in partisan dividing line. They strain relationships between colleagues and friends who vote the same way, collaborate on regional projects and priorities, and share flights to and from Washington. Read more from Greg Giroux, Zach C. Cohen and Emily Wilkins.
New York's independent redistricting commission was impeded by partisanship and signaled it won't send revised state legislative and congressional district lines to the state legislature by today's deadline, effectively giving Democrats the chance to draw their own lines. Four Democratic commissioners and one who is not affiliated with either party, in a statement yesterday blamed the Republican commissioners for failing to agree to a meeting before the deadline for resubmitting maps. Read more from Keshia Clukey.
To contact the reporters on this story: Zachary Sherwood in Washington at zsherwood@bgov.com; Brandon Lee in Washington at blee@bgov.com
To contact the editors responsible for this story: Giuseppe Macri at gmacri@bgov.com; Loren Duggan at lduggan@bgov.com; Michaela Ross at mross@bgov.com