What to Know in Washington: Russia Says Some Troops Withdrawing
Russia announced the start of a pullback of some forces after drills that raised U.S. and European alarm about a possible military assault on Ukraine, a potential sign of de-escalation by Moscow amid a major diplomatic push following weeks of warnings from the U.S. and Europe about the risks of a conflict.
Units of the Western and Southern military districts are already loading equipment on road and rail transport after completing their drills and will start returning to their permanent bases today, Defense Ministry spokesperson Igor Konashenkov says in a video posted on its website. Other military units are continuing drills at training grounds in Russia and "as soon as the combat training activities are completed, the troops, as always, will" return to their bases, he said.
The U.S. and NATO have warned that Russia has massed some 130,000 troops near the border with Ukraine in preparation for a possible invasion and demanded a withdrawal to ease tensions. Russia has rejected the accusations while saying movements of forces on its own territory are an internal matter. Moscow is continuing its largest drills in years in neighboring Belarus that are due to finish on Feb. 20 and is conducting naval exercises in the Black Sea that are scheduled to wrap up on Sunday.
Putin has called for the U.S. and its allies to give sweeping security guarantees, including a ban on further expansion of the North Atlantic Treaty Organization that would include a refusal of future membership for Ukraine. They have rejected his demands, but offered talks on other security issues including on missile restrictions and measures to build confidence. Russian Foreign Minister Sergei Lavrov described those proposals as "constructive."
The pullback was announced hours before Putin is due to meet in Moscow with German Chancellor Olaf Scholz, the latest leader from the West to hold talks with him on the crisis. Putin had separate phone calls on Saturday with President Joe Biden and French President Emmanuel Macron, who also traveled to Moscow this month for almost six hours of talks with the Kremlin leader. Read more from Henry Meyer.
Back in Washington, the White House said it's discussing with countries and energy firms how to avoid shortages of natural gas in case Russia does invade Ukraine, including temporary production increases. "We're working with countries and companies to ensure the supply and mitigate against price shocks affecting the American people, Europe and the global economy," deputy White House press secretary Karine Jean-Pierre told reporters yesterday. Jennifer Jacobs and Jennifer Epstein have more.
On the Hill, senators who are struggling to find a deal on Russia sanctions acknowledged yesterday they're considering instead a non-binding resolution expressing support for Ukraine. Democrats have given Republicans another offer, but the Senate plans to take recess at the end of this week. "So either we're going to have the sanctions package that somehow can be, with consent, brought to the floor," Senate Foreign Relations Chair

Bob Menendez

(D-N.J.) said, "or we should express the Senate's position vis-a-vis the support of Ukraine at a minimum before we leave." Daniel Flatley has more.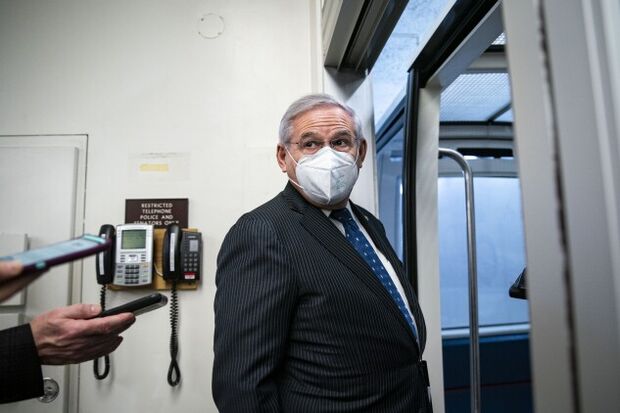 Also Happening on the Hill
CONGRESS'S SCHEDULE:
The Senate meets at 10 a.m. to consider Robert Califf for FDA administrator.
The House holds pro forma session at 10 a.m.
Robert Califf is on the verge of leading the Food and Drug Administration once again with the Senate set to vote on his confirmation today. Senators voted 49-45 last night to end debate on Califf's nomination, setting up a final vote this afternoon. The vote indicates the FDA nominee has enough support be confirmed to helm the agency. The FDA remains without a Senate-confirmed leader more than a year into the Biden administration, Celine Castronuovo reports.
Record TSA Gun Seizures at Airports Under Scrutiny: Record gun seizures last year at U.S. airports, even as passenger travel lagged pre-Covid figures, are coming under scrutiny by a House panel that oversees the Transportation Security Administration. The Homeland Security's Subcommittee on Transportation and Maritime Security will hold a virtual hearing this afternoon on the surge and question airport and law enforcement leaders, among the witnesses. TSA officers found 5,972 firearms at 268 airport security checkpoints across the country in 2021, about an 83% spike from the year before. Lillianna Byington has more.
Politics & Influence
The Trump Organization's longtime accounting firm, Mazars, said a decade of financial statements for Donald Trump should no longer be relied upon and that it won't do any new work for the company, according to a New York court filing. The firm notified Alan Garten, the chief lawyer for the Trump Organization, of its decision last week in a letter, which was filed in court yesterday by New York Attorney General Letitia James. The state has been investigating what it says was a pattern of potential fraud involving the manipulation of valuations of key Trump Organizations properties. Read more from Christian Berthelsen.
Texas Gov. Greg Abbott (R) has a 10-point lead over Democrat Beto O'Rourke ahead of November's general election, according to a new poll of registered voters. Both Abbott and O'Rourke are poised to win their March 1 primary races without going to a run-off, results of a University of Texas and Texas Politics Project poll released yesterday show. In a hypothetical race between Abbott and O'Rourke, 47% of voters would pick the Republican incumbent versus 37% for his challenger, according to the survey. Read more from Shelly Hagan.
A federal judge said he would rule against former Alaska Gov. Sarah Palin in her defamation suit against the New York Times, effectively taking the case out of the hands of the jury. U.S. District Judge Jed Rakoff in Manhattan said yesterday that Palin failed to present enough evidence to prove that the the newspaper knowingly or recklessly published falsehoods about her. The judge said he would allow the jury, which began deliberations in the case on Friday, to reach a verdict but would dismiss the case afterward regardless of its decision. Read more from Bob Van Voris.
Around the Administration
BIDEN'S SCHEDULE:
Biden will speak to a bipartisan group of officials at the National Association of Counties' 2022 Legislative Conference at the Washington Hilton Hotel at 2 p.m.
Press Secretary Jen Psaki holds a press briefing at 3 p.m.
The DOD plans to toughen oversight of mergers among defense contractors and take other steps to bolster competition in the industry, saying substantial consolidation among suppliers poses a threat to national security. The Pentagon outlined a series of recommendations in a report released today to combat what it said was three decades of mergers and acquisitions among contractors that have left the Defense Department reliant on just a handful of companies. "Having only a single source or a small number of sources for a defense need can pose mission risk," it said, David McLaughlin, Roxana Tiron, and Tony Capaccio report.
The Biden administration plans to spend over $9 billion to bolster hydrogen as part of its effort to reduce emissions in U.S. manufacturing. The White House said the Department of Energy will spend $8 billion to create regional hubs to expand the use of hydrogen in industry. Another $1 billion will go toward cutting the cost of hydrogen produced from clean electricity, and $500 million for initiatives to support equipment manufacturing and domestic supply chains. The funds for the hydrogen projects are coming from the bipartisan infrastructure bill passed by Congress in November. Read more from Keith Laing.
Biden's effort to vaccinate the world against Covid-19 is falling short, echoing the faltering campaign to inoculate Americans and raising the risk that more dangerous variants of the virus will yet emerge. Secretary of State Antony Blinken acknowledged in a virtual meeting with other nations yesterday the world is not on pace to meet a goal of vaccinating 70% of the entire human population by later this year, a target set in 2021 both by Biden and the World Health Organization. Josh Wingrove has more.
On the U.S.-Canada border, demonstrators against vaccine mandates halted traffic at two major crossings and some vowed to stay as Prime Minister Justin Trudeau used a law giving his government emergency powers to end blockades. The main border posts in Alberta and Manitoba were shut down yesterday, with commercial traffic to the U.S. blocked by semi-trailers and farm equipment driven there by people opposed to vaccine rules. Jen Skerritt and Robert Tuttle have more.
The administration's interest in imposing more corporate monitorships has white-collar attorneys hustling for a lucrative gig for which luck and connections matters as much as qualifications. The role can mean substantial billings for Big Law attorneys appointed by the Justice Department to probe lawbreaking companies post-settlement, correcting their compliance systems to prevent recurring misconduct. Costs can easily reach tens of millions of dollars and possibly nine figures for particularly lengthy and complex monitorships. Read more from Ben Penn.
The U.S. is continuing trade conversations with China despite Beijing's failures to abide by an agreement reached during the Trump administration, but that process could soon come to an end, according to people familiar with the matter. Biden administration officials, running out of patience after months of talks on shortfalls in the so-called phase-one trade agreement, are trying to assess Beijing's willingness to make any further concessions but consider that unlikely, the people said. The White House plans, however, to let the talks play out before the Biden team considers next steps on how to respond. Read more from Jenny Leonard.
To contact the reporters on this story: Zachary Sherwood in Washington at zsherwood@bgov.com; Brandon Lee in Washington at blee@bgov.com
To contact the editors responsible for this story: Giuseppe Macri at gmacri@bgov.com; Loren Duggan at lduggan@bgov.com