What to Know in Washington: Russia Barrages Ukraine With Attacks
Russia began a full-scale invasion of Ukraine after President Vladimir Putin vowed to "demilitarize" the country and replace its leaders, triggering the worst security crisis in Europe since World War II and prompting the West to threaten further punishing sanctions in response.
Russia launched a barrage of missile, artillery and air attacks early today, with Ukraine reporting dozens of casualties. Ukraine's border guard said that it was being shelled from five regions, including from Crimea in the south and Belarus to the north, and that Russian tank columns were moving into the country.
The Interior Ministry said the capital, Kyiv, was under attack and urged citizens to go to shelters. "Russian military vehicles breached into the Kyiv region" that borders Belarus, Ukraine's Border Guard Service said in statement. "Border guards and soldiers are fighting."
Kremlin spokesman Dmitry Peskov today declined to comment on how long the military operation in Ukraine will last, whether Russian troops will move into the entire country and whether Moscow aims to install a new government there.
"Ideally, we need to liberate Ukraine," Peskov said on his daily news call, Andrey Biryukov reports.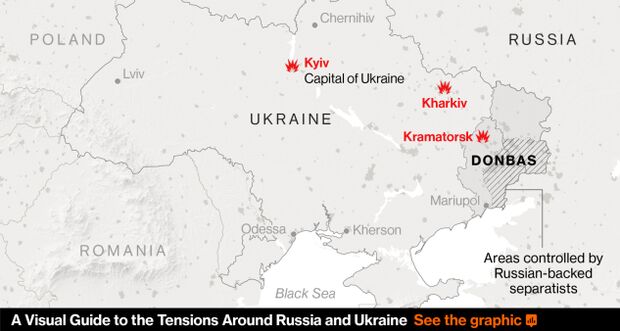 In a nationally televised address ahead of the offensive, Putin said that Russia doesn't plan to "occupy" its neighbor but said the action was necessary after the U.S. and its allies crossed Russia's "red lines" by expanding the NATO alliance.
In a speech laden with unsupported claims, the Russian leader made clear that Moscow seeks the ouster of what he called "the Kyiv regime." He called on Ukrainian troops to lay down their arms but vowed to bring to justice those who carried out "multiple bloody crimes against civilians"—a reference to the current government. Read more from Daryna Krasnolutska and Vladimir Kuznetsov.
President Joe Biden announced in a statement early today he would impose "severe sanctions" on Russia after Putin ordered the military assault, which Biden condemned as an "unprovoked and unjustified attack."
Biden said he would outline the punishments in an address to the American people today, after discussing the unfolding crisis with other Group of Seven leaders at 9 a.m. this morning. Administration officials last night were still deciding what the next round of penalties would look like, according to a White House official.
Biden said in that statement he had spoken with Ukrainian President Volodymyr Zelenskiy by telephone and "he asked me to call on the leaders of the world to speak out clearly against President Putin's flagrant aggression, and to stand with the people of Ukraine." Biden also said that he had briefed the Ukrainian leader "on the steps we are taking to rally international condemnation."
"President Putin has chosen a premeditated war that will bring a catastrophic loss of life and human suffering," Biden said in a statement. "Russia alone is responsible for the death and destruction this attack will bring, and the United States and its Allies and partners will respond in a united and decisive way." Read more from Jordan Fabian.
Senators will get an unclassified briefing on Ukraine later today, according to a Senate aide.
Biden's Schedule:
At 9 a.m., Biden is to participate in a G-7 Leaders' meeting to discuss Russia and Ukraine. U.S. Secretary of State Antony Blinken and Treasury Secretary Janet Yellen are also scheduled to attend.
The president later in the day will address the American public and outline a new set punishments on Russia in response to the attack, according to a statement.
At 2 p.m., White House Press Secretary Jen Psaki is set to give a press briefing.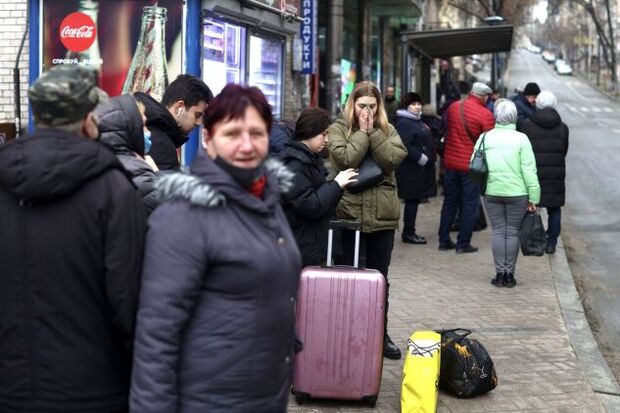 U.S. officials spent hundreds of hours over five months debating, crafting and then touting a punishing array of economic sanctions to try to scare Putin off invading Ukraine, but almost from the beginning, many shared the same view: This strategy probably won't work.
More than a dozen current and former U.S. officials, many of whom helped assemble the response, told Bloomberg News they've been deeply dubious that sanctions would change Putin's behavior. Yet after Biden made clear last year that the U.S. would not send troops or heavy weapons to Ukraine, there were no other solid options. It was left to his team to try to prove, for the first time, that the threat of economic warfare against a major adversary like Russia would suffice when military deterrence wasn't an option. Read more from Nick Wadhams.
Russia's invasion of Ukraine risks jeopardizing diplomacy to restore Iran's nuclear deal at the final hurdle, as world powers at the negotiating table find themselves on opposite sides of Europe's biggest security crisis since World War II.
Envoys have suggested a successful conclusion to the talks could be just days away after 10 months of stop-start progress in Vienna. But Iran and the U.S. still have to bridge remaining key differences at a time when mediators in Europe and Russia have been plunged into conflict.
Diplomats warned Tehran's government publicly over the weekend that Iran needed to reach a swift decision on resurrecting the 2015 accord, which gave the Islamic Republic sanctions relief in exchange for reining in its nuclear activities. Read more from Jonathan Tirone and Golnar Motevalli.
More Coverage:
MORE DEFENSE & FOREIGN AFFAIRS:
China refused to condemn Russia's attack on Ukraine, instead urging restraint by "all parties" and repeating criticism that the U.S. was to blame for "hyping" the prospect of war in Eastern Europe in recent days. Read more from Bloomberg News.
For years, Washington has accused Beijing of instigating cyberattacks against the US. and its allies. Now, a Chinese cybersecurity firm says it has identified hacking within China by a group linked to the National Security Agency, hinting at a rethink of how Beijing handles its geopolitical rival. Read more from Bloomberg News.
Also on Lawmakers' Radars
House members set a hearing on whether to recognize a congressional staff union. The hearing, set for Wednesday, comes as a group of anonymous workers started a petition this month to form a union, hoping to address what they say is low pay and high turnover on Capitol Hill. Legislative staff have had the ability to unionize since 1996 under the Congressional Accountability Act, but it has never been used. House Administration Chair Zoe Lofgren (D-Calif.) has said the Office of Congressional Workplace Rights told her no legislative changes are needed for Congress to bargain with a union. Read more from Ian Kullgren.
The Congressional Workers Union with the backing of senior Democrats is pushing to unionize Capitol Hill staff to negotiate issues such as pay, harassment and retention. Though a 1995 law created a framework for legislative branch workers to organize under labor relations laws that apply to most of the federal workforce, Congress hasn't approved regulations that were issued in 1996 to implement the unionization procedures. Naoreen Chowdhury breaks down the unionization bid on the Hill in a BGOV OnPoint.
Lobbyists still face challenges maintaining relationships and communications with House and Senate lawmakers and staff, two years after the pandemic forced the closure of the Capitol. But with Covid-19 cases waning and important legislative issues on the agenda, some lobbyists and industry associations are resuming their trek to Washington and have devised workarounds to deal with continued restrictions on entering the Capitol complex. The lobbying rush comes ahead of a busy work period this spring in which Democratic leaders hope to complete a $1.5 trillion spending package and Biden's sweeping economic agenda.
More than 50 different business groups plan Washington trips, with industry fly-ins beginning March 2, said Ed Mortimer, a U.S. Chamber of Commerce vice president. He said the visits will be complemented with Zoom and Teams chats as well as traditional meetings with lawmakers when they're back in their states. "We'll use whatever we have at our disposal in lieu of being able to go up to the Capitol and be able to walk the halls and talk to people," Mortimer said. Nancy Ognanovich has more.
Senate Democrats are testing whether a cap on what Americans pay for insulin medication can muster bipartisan support, even as advocates for reining in drug prices differ on strategy. Some vocal advocates for Democrats' sweeping changes to drug pricing say they're worried that action on one measure may mean leaving the rest of the agenda behind. Broad measures were included in the Build Back Better bill (H.R. 5376) that's stalled in the Senate. Others say the insulin bill simply isn't enough to lower Americans' drug costs in a meaningful way. Read more from Alex Ruoff.
Two House Democrats have a new plan to provide a more generous SALT deduction, the latest in a string of such proposals that've largely been stymied along with the rest of Biden's economic agenda. The latest state and local tax deduction bill, from Reps. Tom Malinowski (D-N.J.) and Katie Porter (D-Calif.), would remove the current $10,000 cap entirely for those making less than $400,000 a year and raise the deduction limit to $60,000 for taxpayers making more than $400,000. The cap would drop by $10,000 for each additional $100,000 in earnings, which would phase it out for those earning over $1 million. Read more from Laura Davison.
The DOT should prevent federal infrastructure funding from going to drones made by certain foreign companies, according to a bipartisan group of senators. The infrastructure law created a new program providing competitive grants for transportation technologies, such as drones that examine infrastructure or monitor traffic. DOT officials should block funding to drones made by companies subject to government control, including from China they said. DOT "should prevent funding from being used on drones manufactured by companies that pose a security risk," they said. Read more from Lillianna Byington.
Elections, Politics & Probes
The two prosecutors leading the Manhattan district attorney's criminal case against the Trump Organization and longtime chief financial officer resigned unexpectedly, according to a person familiar with the matter. Carey Dunne and Mark Pomerantz, who have led the criminal investigation in the Trump Organization, resigned the office yesterday, the person said, less than two months after Manhattan District Attorney Alvin Bragg took office. Bragg inherited the investigation from his predecessor, Cyrus Vance, who brought the politically charged case just before he left office after 10 years on the job. Erik Wasson has more.
People are increasingly moving between jobs in crypto and the agencies policing that industry, raising potential conflicts of interest that could undermine efforts to rein in the sector, according to a watchdog group. There have been nearly 240 instances of crypto's "revolving door," where employees leave the government for the private sector and vice versa, according to a report by the Tech Transparency Project. Dozens of former top officials from the U.S. Securities and Exchange Commission to the White House are now employed by or are working on behalf of companies like Coinbase, the report found. Allyson Versprille has more.
Former Alaska Gov. Sarah Palin is seeking a new trial and judge in her defamation lawsuit against The New York Times in the wake of a Bloomberg report that several jurors learned via phone notifications that the judge presiding over the trial had already said he'd rule in favor of the newspaper. U.S. District Judge Jed Rakoff said lawyers for the former Alaska governor are seeking to file requests for a new trial, to reverse his ruling in favor of the Times, to disqualify himself from the case, to interview the jurors, and to disclose any contacts with the media during the trial, Bob Van Voris reports.
Around the Administration
The Biden administration announced several new actions today intended to ease supply-chain disruptions that have plagued the economy during the coronavirus pandemic. The moves by the White House and several cabinet departments would aid domestic manufacturers in order to reduce the U.S. reliance on foreign imports in the coming years, though senior administration officials cautioned that Congress must enact more sweeping changes.
The White House said in a statement that it plans to issue a new "Buy American" rule that would allow the federal government to pay more for certain "critical" domestic-made products. The Export-Import Bank's board will also vote this spring on a new initiative to provide financing to U.S.-based makers of semiconductors, biotech and biomedical products as well as renewable energy companies. Read more from Jordan Fabian and Jenny Leonard.
The White House is also looking to ease supply chain bottlenecks by backing moves to increase truck parking, and exploring the possibility of increasing U.S. flagged ships. The Department of Transportation is offering more than 60 recommendations after assessing challenges since the pandemic restricted the flow of goods. "These recommendations are meant not only to respond to the current disruptions, but to stand the test of time by building supply chains resilient to future disruptions," the DOT said in a report today. Read more from Lillianna Byington.
The Biden administration has asked a federal court to stay an injunction blocking it from using a metric known as the "social cost of carbon" to assess how government rules, project approvals, and other decisions impact climate change. The move comes as the Justice Department appeals the injunction from a Louisiana-based federal court. The DOJ has said the injunction will affect 21 rules being crafted at the Energy Department, five at the EPA, nine at the Transportation Department, and three at the Interior Department, Laurel Calkins reports.
Covid-19 vaccines, drugs and tests are putting the U.S. in an improved position to pull back restrictions such as masking that were enacted to limit the coronavirus' spread, White House medical adviser Anthony Fauci said. Covid drugs like Pfizer's Paxlovid that keep high-risk patients from hospitalization and death are becoming plentiful as production ramps up, Fauci told Bloomberg TV. Many states have already dropped rules on mask-wearing, and CDC officials are poised to update federal masking guidelines as cases driven by the omicron variant plummet across the country. Read more from Fiona Rutherford.
Health-care providers who unlawfully claim Covid-19 relief funding, managed care companies that overbill Medicare, and telemarketers that talk patients into services they don't need are all investigative priorities for the Department of Health and Human Services' top watchdog. The HHS Office of Inspector General is pursuing civil monetary penalty cases for fraud on the Covid-19 Provider Relief Fund, Gregory Demske, chief counsel to the HHS IG, said at a Federal Bar Association's conference on Wednesday. It already has settled five such cases, he said. Read more from Lydia Wheeler.
To contact the reporters on this story: Michaela Ross in Washington at mross@bgov.com; Brandon Lee in Washington at blee@bgov.com
To contact the editor responsible for this story: Giuseppe Macri at gmacri@bgov.com