What to Know in Washington: Roy Versus Stefanik for Cheney Post
Rep. Chip Roy (R-Texas) is planning to challenge Rep. Elise Stefanik (R-N.Y.) for the job of No. 3 House GOP leader, bucking both Minority Leader Kevin McCarthy (R-Calif.) and former President Donald Trump, according to two Republican officials with knowledge of his plans.
Stefanik was the top choice of party leaders to replace Rep. Liz Cheney (R-Wyo.) after she was booted this week over her high-profile criticism of Trump for his false claims about the 2020 election. Stefanik has been a strong defender of Trump, who still has sway over GOP voters and regularly attacks critics such as Cheney.
Roy and Stefanik addressed a closed-door session of House Republicans last night ahead of a vote this morning to select Cheney's replacement as GOP conference chair. Afterward, Roy and Stefanik emerged with the prediction that House Republicans would be united no matter who won. Stefanik described the session as "great — great discussion. Great questions from members."
"We're in a strong place," she said of her vote-counting in the race.
Asked whether he had a real chance of winning, Roy said only, "it's up to the conference."
While Stefanik appears to have support from most Republicans in the House, her moderate stances on many issues and her voting record has angered some conservatives. Roy, who was first elected in 2018, circulated a memo to colleagues earlier this week urging the party not to rush into electing Stefanik, who he depicted as not conservative enough. Read more from Billy House.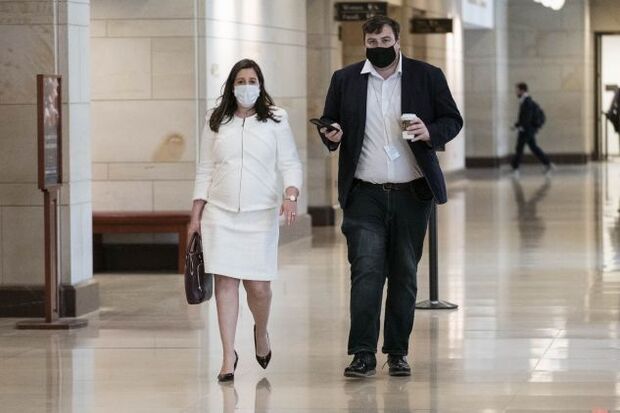 Trump Plans to Resume Rallies in June: Trump expects to resume rallies with two events next month and one around the July 4 holiday, a person familiar with his plans confirmed. Trump's team is still determining the venues for the rallies, the person said. The planned resumption was first reported by the New York Post. With the former president reduced largely to calling into friendly conservative television programs and issuing press releases after being banned from Twitter, Facebook and other social media sites, the rallies will give Trump the biggest platform since he spoke at the Conservative Political Action Conference in February. Read more from Mark Niquette.
Happening on Hill
Today's Agenda:
The House is scheduled to vote today on a bill to require certain employer-provided accommodations for pregnant employees.
The House Armed Services Subcommittee on Cyber, Innovative Technologies, and Information Systems scheduled a hearing on cyberspace operations and building cyber capabilities across the Defense Department.
Republicans See Possible Infrastructure Deal After Talks: Republican senators say they're encouraged about the prospects for agreement with the White House on its $2.25 trillion infrastructure proposal after an Oval Office meeting with President Joe Biden to negotiate over significant areas of disagreement. Sen. Shelley Moore Capito (W.Va.), one of several senators who attended the talks, called the discussion "productive" and said "we're very encouraged."
While there's broad GOP opposition to the scope of Biden's plan and the tax increases he's proposed to finance it, the Republicans said they also see a possible middle ground. "We're getting somewhere," said Roger Wicker (R-Miss.) after the meeting. Biden himself expressed hope. "We had a very, very good meeting," he told reporters in the Rose Garden. Read more from Josh Wingrove, Erik Wasson, and Jennifer Jacobs.
Senate Passes Measure to Boost Alaskan Cruise Industry: The Senate passed legislation yesterday to revive cruise operations in Alaska by helping ships temporarily avoid Canadian port closures, Lillianna Byington and Nancy Ognanovich report. The bill, which would still need to be passed in the House, would expire when either Canada lifts restrictions or by March 31, 2022.
Pipeline Hack Spurs Focus on Infrastructure Security: The ransomware attack on Colonial Pipeline shows why cybersecurity defenses must be "a core priority" for critical infrastructure, Deputy Transportation Secretary Polly Trottenberg told lawmakers. She called the cyberattack a good "learning experience," reminding the administration of the importance of partnering with private companies to protect critical infrastructure beyond traditional threats, including extreme weather events. Read more from Lillianna Byington.
Masks to Stay on House Floor: Speaker Nancy Pelosi (D-Calif.) said masks will still be required for members of Congress and staff on the House floor despite the new CDC guidance. She isn't easing the requirement because its not known how many House members and their staffs are vaccinated, said her spokesman, Drew Hammill. Read more from Erik Wasson and Billy House.
Around the Administration
Today's Agenda: Biden holds a meeting on his immigration plan this afternoon. The president is scheduled to meet at 3 p.m. at the White House with six immigrants, known as Dreamers, who arrived illegally in the country as children and stayed through the Deferred Action for Childhood Arrivals program. The individuals now work in health care, education, and agriculture, and will discuss their experiences with Biden, according to the White House schedule.
Approach to Virus Border Rules Irks Both Parties: The Department of Homeland Security is relying on public health restrictions as it develops a new plan to address the migration surge at the Mexico border, to the frustration of Democrats and Republicans alike. Some Democrats on the Senate Homeland Security and Governmental Affairs Committee want the White House to end the public health restrictions at the border, called "Title 42." The Trump administration used the law to close the border to migrants and asylum-seekers at the start of the pandemic. Read more from Shaun Courtney.
Vaccine Making Said to Need Dedicated Funding: Drug companies won't continue to partner with the federal government to develop the sorts of technologies that led to the fast creation of Covid-19 vaccines and treatments if it doesn't keep and boost its commitment to pandemic preparedness, a top health official said. The Biomedical Advanced Research and Development Authority needs dedicated and consistent funding to make investments for future pandemics and "ensure the highest probability of success," its leader, Gary Disbrow, said. Shira Stein has more.
Senate Confirms Agriculture Deputy Secretary: The Senate by voice vote yesterday approved Jewel Bronaugh for deputy secretary of the Agriculture Department, Megan U. Boyanton reports. Bronaugh is the first Black woman in the post, and will serve as deputy to Agriculture Secretary Tom Vilsack. She received bipartisan support in a Senate committee vote earlier this week.
Climate Migration Poses Questions for White House: The White House has taken the first steps to grapple with the massive issue of climate migration, as drought, storms, and rising seas displace millions of people worldwide. The Biden administration plans to release a report in August on the impacts of climate change on forced migration, mandated by an executive order. Migration advocates, who have long called for safeguards that address displacement from global warming impacts, have welcomed the progress. But there's a lack of U.S. policy to protect climate-displaced people. Read more from Jennifer Hijazi and Stephen Lee.
Shields for LGBT Health, Religion Set to Clash: New guidance from the Biden administration shielding LGBT people from discrimination in health care is poised to collide with the strongly held religious beliefs of some doctors and federal law in place to protect them. Under Section 1557 of the Affordable Care Act, doctors and insurers taking federal funds are prohibited from denying a person care or health coverage based on their race, color, national origin, sex, age, or disability. The new administration interprets "sex" to include sexual orientation and gender identity—but religious freedom advocates aren't buying it. Lydia Wheeler has more.
IRS Pulls $20 Million From Crypto Enforcement: The IRS has pulled in more than $20 million in revenue from recent initiatives to enforce taxes on cryptocurrency transactions, an agency official said yesterday. The IRS made roughly $13 million in tax assessments based on returns amended after it sent warning letters to more than 10,000 cryptocurrency holders in July 2019, said Carolyn Schenck, counsel for the IRS Office of Chief Counsel. Allyson Versprille has more.
Israeli Artillery Fires on Gaza as Fears Grow of Ground Assault: Israel's ground forces fired artillery into the Hamas-run Gaza Strip early today after a blistering four-day air assault failed to quell militant rocket attacks, sweeping aside international appeals for de-escalation and possibly preparing for an assault by troops. Read more from Amy Teibel and Yaacov Benmeleh.
Iran Inspections Show High Stakes for Nuclear Diplomacy: A global nuclear watchdog carried out around three snap inspections of Iranian atomic facilities a month last year, underscoring the pressure on world powers as talks to rescue their landmark 2015 deal with Tehran approach next week's expiry of a key monitoring agreement. The International Atomic Energy Agency's overall inspections in Iran also held near record levels in 2020, according to a restricted report circulated to diplomats and seen by Bloomberg. A fifth of the 161 snap inspections called worldwide last year took place in Iran, according to the report. Read more from Jonathan Tirone.
To contact the reporters on this story: Zachary Sherwood in Washington at zsherwood@bgov.com; Brandon Lee in Washington at blee@bgov.com
To contact the editors responsible for this story: Giuseppe Macri at gmacri@bgov.com; Loren Duggan at lduggan@bgov.com; Michaela Ross at mross@bgov.com