What to Know in Washington: Roberts Will Struggle to Hold Center
Chief Justice John Roberts' efforts to rein in his conservative colleagues and slow walk major changes in U.S. law will be more difficult after the death of Justice Ruth Bader Ginsburg.
Roberts, 65, begins his 16th term leading the court on Oct. 5, and has recently emerged as its ideological center. Mostly voting with conservatives, he has sometimes crossed over to vote with his liberal colleagues and at other times restrained his fellow Republican-appointed justices, creating narrow rulings that avoided sweeping legal proclamations.
But without the liberal icon, conservatives will hold a two-seat majority when oral arguments start and a three-seat cushion once a new justice is seated, barring unforeseen developments. The court's new composition will make it harder for Roberts to strike a balance between competing factions.
"By removing one of the members of the liberal coalition, you now to some degree deprive the chief justice of the ability to sand off some of the rougher edges of the conservative coalition," Washington University law professor Dan Epps said.
His quest to guard the Supreme Court's reputation and keep it out of politics will also be challenged by the convergence of electoral and confirmation politics triggered by Ginsburg's death. And the tools Roberts normally uses to shape the direction of the court—blocking risky or politically charged cases from being heard, assigning himself opinions, and threatening to or actually switching sides—are all blunted on a 6-3 court. Read more from Kimberly Strawbridge Robinson.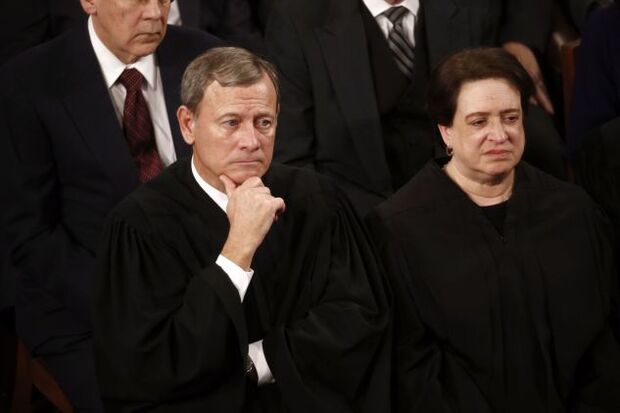 Kavanaugh Emerges as Hope for Swing Vote: Justice Brett Kavanaugh remains anathema to many liberals. Ginsburg's death means he also may soon be their best hope to save abortion rights and Obamacare.
Kavanaugh, who prefers narrower rulings than some of his conservative colleagues, would find himself at the court's ideological center if President Donald Trump succeeds in replacing Ginsburg with a staunch conservative. From there he could decide how far, and how quickly, it turns to the right on some of the country's most divisive issues.
"Kavanaugh would by default become the most logical person to play the pivot role," said Carter Phillips, a lawyer at Sidley Austin who has argued 79 Supreme Court cases.
That would mean to some degree supplanting Roberts, who has held the balance of power for the past two years. Read more from Greg Stohr.
Trump Court Plan Quickens: Trump's plan to replace Ginsburg gained momentum yesterday after Senate Republicans all but quashed Democrats' hopes of stalling a nominee until Inauguration Day. Trump said he'll likely announce his pick at 5 p.m. on Saturday in Washington, setting an accelerated timetable.
Senate Majority Leader Mitch McConnell (R-Ky.) hasn't publicly committed to a timetable for a vote. After leaving a meeting of GOP senators where they discussed strategy, he said only that Senate Judiciary Chairman Lindsey Graham (R-S.C.) will lay out a plan for hearings once Trump formally makes his choice.
Graham said he expects that his committee's confirmation hearings will last as long as they typically do, which is a total of four days. "We're going to try to keep the process like we've had it before," Graham said.
Trump is moving toward nominating Amy Coney Barrett, a judge on the Seventh Circuit Court of Appeals based in Chicago, people familiar with the matter said, despite the president saying Monday he's considering as many as five candidates. Read the latest from Steven T. Dennis, Laura Litvan and Justin Sink.
Happening on the Hill
House Passes Stopgap Funding Measure: The House passed a stopgap funding bill to keep the government operating through Dec. 11 after both parties in Congress and officials at the White House struck a deal to provide aid to farmers and food assistance for low-income families. The 359-57 vote now sends the temporary spending bill to the Senate for a vote before the fiscal year ends on Sept. 30. Final passage would avert a government shutdown just before the Nov. 3 general election.
In addition to funding most government agencies, the bill would provide $30 billion for the Department of Agriculture's Commodity Credit Corporation that the Trump administration and farm-state lawmakers sought. Democrats got almost $8 billion for a pandemic program to feed children who normally receive school lunches. That's an increase from the $2 billion Democrats initially suggested they could accept on Friday. Read more from Erik Wasson and Jack Fitzpatrick.
BGOV Bill Summary: H.R. 8337, Stopgap Funds & Program Extensions
As Republicans and Democrats in Washington settled the dispute over agriculture relief, a study showed the bulk of billions of dollars in U.S. subsidies going to the nation's richest and biggest farms. In the 2018 to 2019 crop years, more than half of about $23 billion in payments from the Market Facilitation Program went to the top 10% of farms, according to the Environmental Working Group, a critic of agribusiness subsidies. Read more from Kim Chipman.
Two Republicans Confirmed to EEOC: Republican nominees Andrea Lucas and Keith Sonderling were approved to serve on the Equal Employment Opportunity Commission in separate confirmation votes yesterday, locking down Republican control of the workplace civil rights agency until at least the middle of 2022. The Senate voted 49-44 to confirm Lucas, a lawyer with Gibson, Dunn & Crutcher in Washington, and later signed off on Sonderling, a Labor Department official, by a vote of 51-42. Read more from Paige Smith.
Airlines, Unions Mount Lobby Blitz: Air carriers and their unions ratcheted up pleas for an extended Covid-19 relief measure to forestall layoffs, but a sudden Supreme Court vacancy and partisan rancor are dimming the prospects. "At this point, it looks like everything is pretty much frozen," former Sen. Byron Dorgan, who served on the committee overseeing transportation policy, said. "It doesn't look like anything is going to happen." Read more from Alan Leivn, Billy House, and Keith Laing.
Trump Media Agency Chief to Defy Subpoena: The head of the agency that oversees the Voice of America and other government media outlets won't appear at a House Foreign Affairs Committee hearing later this week, defying a subpoena to testify about changes at the agency, according to a person familiar with the matter. Michael Pack, who was appointed by Trump to lead the U.S. Agency for Global Media, was supposed to appear tomorrow before the committee voluntarily, but withdrew on Sept. 18. Panel Chairman Eliot Engel (D-N.Y.) said Pack failed to provide alternative dates or offer an acceptable excuse, and issued a subpoena to force his testimony. Read more from Daniel Flatley.
China Says Xinjiang Bill 'Smears' Rights Record: China slammed the passage of a forced labor bill in the House that would ban imports from Xinjiang, accusing it of "smearing" human rights conditions in a province at the center of global criticism over Beijing's clampdown on ethnic Muslims. "Xinjiang is entirely China's internal affairs and the U.S. is in no place to interfere," Chinese Foreign Ministry spokesman Wang Wenbin told a daily briefing today. "We urge the U.S. to face the facts and immediately stop hyping up the so-called 'forced labor' issue."
The Uighur Forced Labor Prevention Act would ban goods imported from Xinjiang or produced by forced labor. The House vote was 406-3. Read more from Karen Leigh.
Elections & Politics
Pompeo Hits Campaign Trail for Trump: Secretary of State Michael Pompeo is ramping up his domestic appearances before overwhelmingly Republican audiences, raising criticism that he's going on the campaign trail for Trump by taking part in events that previous top U.S. diplomats would have avoided. Pompeo will be in Wisconsin today to address the Republican-controlled state legislature in a speech billed as warning of the threat that states face from China's Communist Party. He's following a string of Republican visitors to the battleground state including Trump, Vice President Mike Pence and Attorney General William Barr. Read more from Nick Wadhams.
Poll Reveals Tight Race in Florida, Arizona: Trump and former Vice President Joe Biden are in close races in Florida and Arizona, according to a Washington Post-ABC News poll, Deana Kjuka reports. Biden is leading Trump 48% to 47% in Florida among registered voters, while Trump is leading 51% among likely voters to Biden's 47%. In Arizona, Biden is at 49%, compared to Trump's 47% among registered voters, while Trump is leading at 49% to Biden's 48% among likely voters.
Agencies Warn of Disinformation on Delayed Results: Foreign actors and cybercriminals are likely to try to spread false information about the election, including questioning any results that aren't published on Nov. 3, by creating fake websites, altering existing websites or creating and sharing social media content, federal authorities warned. The intent of such meddling would be to discredit the electoral process and undermine confidence in institutions, the FBI's public service announcement says. Alyza Sebenius has more.
Harris Downplays Debate Skills: Kamala Harris's team is working to manage public expectations that her upcoming debate with Vice President Mike Pence will present her with an easy opponent, despite her withering attacks on Democratic rivals in prior presidential primary debates. As the vice-presidential nominee readies for the faceoff on Oct. 7 in Salt Lake City, Harris' team has cast former campaign rival Pete Buttigieg to play Pence in mock debates, according to two people familiar with the preparations. Read more from Tyler Pager.
Trump Lawyer Agrees No Fraud in Montana Race: Trump's campaign agreed with a Montana judge that the state's June primary didn't lead to any fraud even though it was conducted almost entirely over mail, contradicting a theme being pressed by Republicans in national litigation over the expanded use of absentee ballots. The campaign is seeking a court order blocking Gov. Steve Bullock's (D) plan to automatically mail ballots to all registered voters for the Nov. 3 election. Read more from Erik Larson.
N.C. Extends Ballot Count Deadline: North Carolina election officials agreed to count all ballots received by Nov. 12 as long as they are postmarked by Election Day, giving another boost to Democrats in a critical state and resolving a lawsuit brought by a group representing retirees. The state also agreed to set up ballot drop-off stations and to allow North Carolina voters to correct errors on mailed-in ballots, according to a copy of a consent decree. Read more from Erik Larson.
What Else to Know Today
Trump Seeks Health-Care Wins: The White House is planning to roll out executive orders to protect Americans from surprise medical bills and require insurers to cover pre-existing conditions, according to two people familiar with the planning. The executive orders would let Trump claim he's tackling major health-care issues, but their immediate effect will be limited because they will likely just provide directions to federal agencies. It's unclear how the administration could substantially address either issue without Congress, one congressional source said.
Trump is expected to announce the moves tomorrow, when he's set to host an event in Charlotte, N.C., which the White House has billed as an opportunity for him to lay out his health-care vision, the people said. Read more from Alex Ruoff.
Trump Redirects Testing, Mask Funds: The Trump administration has shifted billions of dollars previously allocated to public-health programs into its Operation Warp Speed vaccine push, reflecting the U.S. government's increasing focus on a medical solution to ease the Covid-19 pandemic. The transfers, disclosed in a government audit, reported by Bloomberg News and described by congressional aides, have grown the budget of the Warp Speed program to as large as $18 billion, much larger than the $10 billion figure the administration has routinely cited in public.
One of the biggest transfers came in August, with $6 billion pulled from $16.7 billion that had been allocated to the U.S. Strategic National Stockpile, which buys, holds and distributes crucial medical supplies in times of national crisis. The money was originally meant to replenish stocks of medical protective gear, ventilators, and Covid-19 testing supplies, all of which experienced shortages at points during the pandemic. Read more from John Tozzi, Riley Griffin and Shira Stein.
Economists Not Ready to Declare Recession Over: The panel of elite economists who judge the dates of U.S. recessions is finding that declaring an end to this year's downturn is tougher than calling its start. The National Bureau of Economic Research's business cycle dating committee announced in June that the Covid-19 recession began just four months earlier in February — the shortest time yet for a decision that can take a year or more. Most broad indicators including jobs, consumer spending and manufacturing have turned positive since May, suggesting the slump could already be over. Read more from Steve Matthews.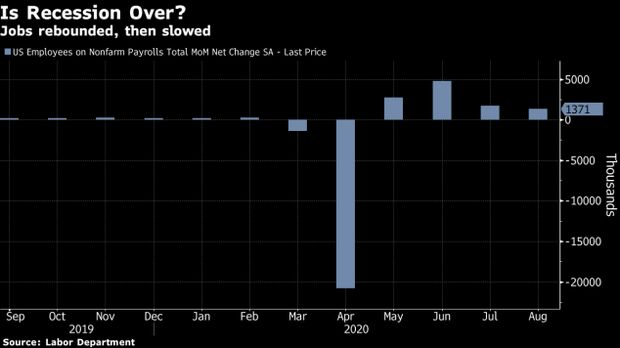 Army Grounds Upgraded Boeing Copters: The U.S. Army has grounded 12 upgraded Apache AH-64 helicopters while it reviews quality procedures at a Boeing plant after the contractor alerted the service to improperly performed inspections, according to officials. A technician who has since been dismissed "failed to perform required process control checks" to make sure equipment functions properly, according to an Army document to Congress. Read more from Tony Capaccio.
China Threatens to Kill TikTok Deal: Just a few days ago, the TikTok deal looked like a win for China. Now its state-run media are denouncing it as "an American trap" and a "dirty and underhanded trick." The quick shift in sentiment shows the complications of concluding an agreement that is about much more than finding a proper valuation for an addictive video app that has enthralled teenagers around the world. It also has big ramifications for how the world's biggest economies handle security threats related to new technologies that will drive growth over the next few decades. Read more.
Eric Trump Gave 'False' Reason for Dodging Deposition, N.Y. Says: Trump's son Eric gave a judge a "false" explanation for why he backed out of a July deposition in a civil probe of the family business, New York's top law enforcement officer said in a court filing. The state has been seeking sworn testimony from Eric Trump for months as part of a probe of asset valuations at the Trump Organization, where he's an executive vice president. After New York took legal action in August to enforce a slate of subpoenas, Trump's lawyer said his client had simply adjourned the deposition to get "certain assurances first." Read more from Erik Larson.
To contact the reporters on this story: Zachary Sherwood in Washington at zsherwood@bgov.com; Brandon Lee in Washington at blee@bgov.com
To contact the editors responsible for this story: Giuseppe Macri at gmacri@bgov.com; Loren Duggan at lduggan@bgov.com; Michaela Ross at mross@bgov.com