What to Know in Washington: Ro Khanna Plays Donor Matchmaker
Bloomberg Government subscribers get the stories like this first. Act now and gain unlimited access to everything you need to know. Learn more.
The Silicon Valley district of Rep. Ro Khanna offers something of an embarrassment of riches when it comes to affluent campaign donors. The California Democrat says, this cycle, he's working to share the wealth.
Khanna, who passed on a run for his state's open Senate seat next year but is viewed as still harboring political ambitions, said he plans to serve as a matchmaker between his Bay area donor base and his pick of liberal politicians around the country. His 17th congressional district, south of San Francisco, is a hub for the high tech sector including Intel, Apple, LinkedIn, and Yahoo, and home to many others who work in the industry.
He'll put a particular focus on boosting candidates of color, women running for office, and those in political battlegrounds. Khanna, who supports an overhaul of campaign finance laws and public financing of elections, said he hopes that helping connect candidates from less affluent enclaves to wealthy individuals might reduce the influence of corporate interests and political action committees among Democrats.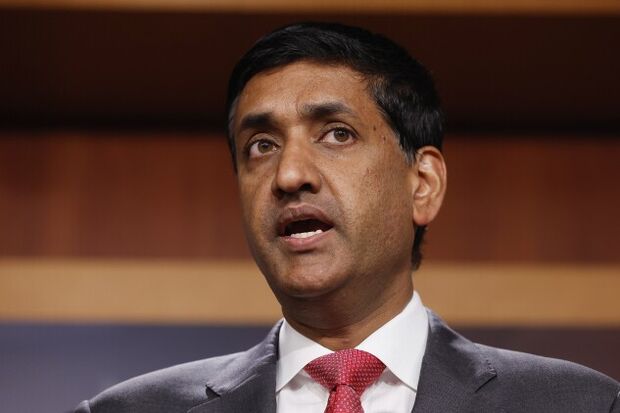 Khanna gets something out of the arrangement too. In addition to the obvious goal of helping Democrats regain control of the House, assisting other candidates fundraise may win future allies and potentially give him sway over the direction of the party and the candidates deemed viable up and down the ballot.
Silicon Valley donors want to know where they can fund competitive candidates, ideally in swing races. Many of them get a lot of solicitations and seek Khanna's help in identifying promising candidates. Khanna's effort of connecting lawmakers with big donors is something of a twist on where the party has sought to fund its campaigns, largely with a big influx of small contributions. It mirrors Khanna's own fundraising, which is heavily skewed toward larger donations. Kate Ackley has the full story.
BGOV Webinar — The Debt Limit: Outlook, Concerns, and Strategies: On Thursday, join BGOV's experts for a discussion about the debt limit crisis and how organizations can prepare for possible disruptions. BGOV's reporters and analysts will dive into possible outcomes and how they could affect strategies, budgets, government programs, and federal contracting. Register here.
CONGRESS AGENDA
The House is back at noon to vote on a resolution to block the EPA's new trucking emissions standards.
BIDEN'S SCHEDULE
President Joe Biden and Vice President Kamala Harris are scheduled to have lunch at 12:15 p.m.
White House Press Secretary Karine Jean-Pierre gives a briefing at 2:30 p.m.
Debt Limit Latest
Biden and Speaker Kevin McCarthy (R-Calif.) remained without a deal on the debt limit after meeting at the White House for more than an hour Monday evening, though they called their discussions productive and vowed to keep negotiating to avert a catastrophic default.
Democrats have floated the idea of using a rarely used legislative maneuver, known as a discharge petition, to raise the debt ceiling if negotiators cannot reach a bipartisan accord. Read more.
Treasury Secretary Janet Yellen said it's now "highly likely" that her department will run out of sufficient cash in early June, and repeated her warning that the moment could come as soon as June 1.
Investment bank clients are peppering Wall Street with questions about what happens if the Treasury runs out of cash and does the unthinkable — failing to make payments due on Treasury securities, the bedrock of the global financial system.
What Else We're Reading
The trade group representing the nation's top pharmacy benefit managers is redoubling criticism of congressional scrutiny into the industry, taking aim at a House panel for not inviting the organization's members to testify in a hearing today.
Delaware Democrat Sarah McBride, who in 2020 became the first openly transgender state senator in US history, is "quite likely" to run for Delaware's at-large House seat, according to an adviser to McBride's nascent campaign who spoke on condition of anonymity to discuss early plans.
Serious incidents on US runways, which earlier this year prompted multiple investigations and calls for new safety measures, have fallen in the past two months, the FAA says.
Bipartisan legislation to figure out what to improve about the system that led to a rare grounding of all flight departures earlier this year is headed to Biden's desk. Read more.
Teenagers from 13 to 17 years old will be allowed to use the TSA PreCheck lane at US airports with their parents who are enrolled in the screening program, the TSA announced Monday. Read more.
TikTok is "on track" with its undertaking to have all US user data hosted and overseen by Oracle, as the Chinese tech behemoth struggles to win over critics worried about the national security implications of its hit video app.
Three years ago, a global pandemic triggered a so-called "she-cession," as millions of women lost their jobs or left the workforce to care for loved ones. Now, they're leading the recovery.
Indonesia will host one of its largest American trade delegations yet as the US seeks to counterbalance China's fast-growing presence in Southeast Asia's largest economy.
To contact the reporters on this story: Giuseppe Macri in Washington at gmacri@bgov.com; Michaela Ross in Washington at mross@bgov.com
To contact the editor responsible for this story: Kayla Sharpe at ksharpe@bloombergindustry.com
Stay informed with more news like this – from the largest team of reporters on Capitol Hill – subscribe to Bloomberg Government today. Learn more.