What to Know in Washington: Republicans Spurn Jan. 6 Riot Probe
Republican leaders' rejection of a Democratic plan to independently probe the deadly U.S. Capitol insurrection highlights the grip former President Donald Trump has on the GOP as well as the risk that his polarizing presence could cloud the party's political prospects.
Legislation to establish the bipartisan panel passed the Democratic-controlled House yesterday on a 252-175 vote, with 35 GOP lawmakers breaking with Trump and their leadership. But chances for passage in the Senate dimmed earlier in the day when Senate Minority Leader Mitch McConnell (R-Ky.) announced his opposition.
McConnell joined his House counterpart, Kevin McCarthy (R-Calif.), in citing the existing law enforcement and congressional investigations into the Jan. 6 riot, making a separate inquiry unnecessary. McCarthy on Tuesday said an inquiry should also look at other "political violence," referring to unrest in some cities amid protests against racial injustice and police brutality last summer.
Neither mentioned Trump, who called the commission a "Democrat trap" and urged Republicans to "get much tougher and much smarter."
"Hopefully, Mitch McConnell and Kevin McCarthy are listening!" he concluded in a statement Tuesday night.
There also is the political overhang from the assault on the Capitol by a mob of Trump supporters and the former president's persistent and false claims that the 2020 election was stolen from him, which has already deeply divided the GOP. While many Republican voters are sticking with Trump, those that are turned off could be decisive in close races in next year's midterm elections, where control of the House and Senate will be at stake. Read more from Laura Litvan and Billy House.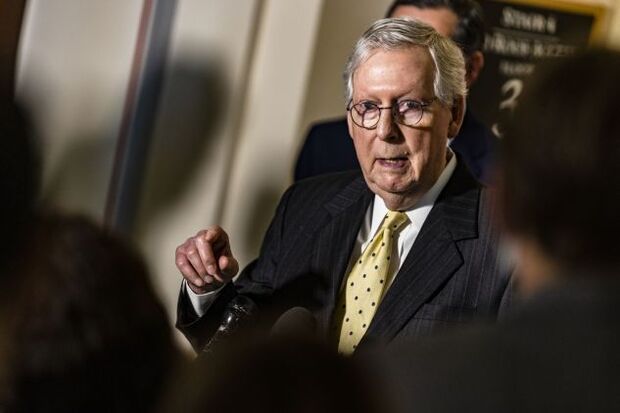 Happening on the Hill
Today's Agenda:
Presidential Ambitions Collide With Judiciary Agenda: Intensifying culture wars and presidential politics threaten deal-making at the Senate Judiciary Committee, as Chair Dick Durbin (D-Ill.) seeks to shepherd Biden's nominees and advance legislation on contentious issues such as immigration and policing. Durbin's resolve and political skills will be tested today when the committee plans to vote on the first batch of Biden's judicial picks. It's only the start of what's likely to be a contentious term, particularly if there is a Supreme Court vacancy. Read more from Nancy Ognanovich.
Defense Policy Bill to Slip Into September, Hoyer Says: The House likely will delay consideration of the annual must-pass defense authorization bill to September because Biden's first budget request is coming "so late," Majority Leader Steny Hoyer (D-Md.) said in an interview, Emily Wilkins and Roxana Tiron report.
Senators Push for Medical Stockpile Revamp: Pressure to reform and rebuild the nation's stockpile of emergency medical supplies is mounting after shortages early in the pandemic. Sens. Michael Bennet (D-Colo.) and Thom Tillis (R-N.C.) will try this week to attach a measure to overhaul the Strategic National Stockpile to a broad package of China competition legislation on the Senate floor, congressional aides for the two senators said. Read more from Alex Ruoff.
Drug Bill Savings Estimated at $195 Billion for Employers: Legislation empowering the federal government to negotiate drug prices would save $195 billion for employers and $98 billion for workers by 2030, according to a new study released today. Democrats are pushing legislation that would allow Medicare to directly negotiate prices with drug manufacturers for some drugs and make those same negotiated prices available to those covered by private insurance. Read more from Sara Hansard.
House Hopefuls Launch Campaigns Before New Lines Are Drawn: The late-starting congressional redistricting process is serving as a wet blanket on the campaign planning of most prospective House candidates, who are left guessing about the exact confines and the competitiveness of the areas they hope to represent. Some are eschewing formal campaigning until the lines are drawn and new districts are in place. In most states that will be late this year or even early next year because of pandemic-related delays in the collection of 2020 census data. That's months later than at a comparable point in the previous redistricting cycle a decade ago. Read more from Greg Giroux.
Biden's Economic Agenda
Biden's Tax Math Runs Into Congress Scorekeepers: Biden's $4 trillion economic agenda is at risk of getting tangled up in the calculations of Congress's budget scorekeepers.
Where the Treasury Department sees improved tax collection generating $700 billion in new revenue over a decade to help pay for programs, the Congressional Budget Office's guidelines and own estimates may result in the legislative agency projecting nowhere near that. And while that gap may seem modest by the gargantuan numbers of Washington spending, it threatens a host of political difficulties, not least of which is making it harder for the White House to pass the plan without the support of Republicans. Read more from Allyson Versprille and Colin Wilhelm.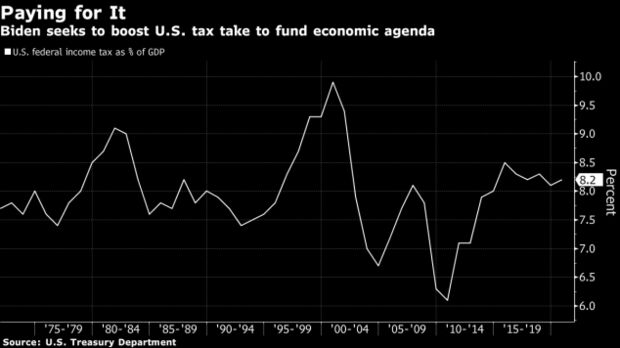 Democrats Mull Weakening Biden Tax on Capital Gains for Estates: The Biden administration's proposal to dramatically expand the inheritance tax bill for wealthy Americans is running into some headwinds with Democrats on Capitol Hill, showcasing nervousness about the scope and size of elements of the White House's ambitious tax plans. Instead of hitting heirs with a hefty tax payment at the time of the death of their benefactor, staff for House Ways and Means Chair Richard Neal (D-Mass.) have floated allowing the beneficiaries to defer the bill as long as they hang on to the asset, according to people familiar with the matter. Read more from Nancy Cook and Laura Davison.
Around the Administration
Today's Agenda: Biden will deliver remarks and sign legislation at the White House at 2 p.m. that aims to combat hate crimes against Asian Americans after a wave of attacks following the spread of Covid-19. The House passed the measure on Tuesday, following Senate passage in April. For more on the measure, read the BGOV Bill Summary by Adam M. Taylor.
North Korea Tops Agenda at Biden-Moon Meeting: South Korean President Moon Jae-in is set to make a last-ditch attempt to bring the U.S. and North Korea together under his watch when he meets Biden at the White House tomorrow, trying to revive dormant nuclear talks in his final year in office. But Pyongyang, which has displayed disdain for both leaders, has shown no interest in their diplomacy. That raises the stakes for tomorrow's summit as Moon tries to find fresh enticements to lure his neighbor back to table and the Biden administration undertakes a new strategy to end a nuclear program it sees as a serious threat to America and the world. Read more from Jon Herskovitz, Justin Sink and Jennifer Jacobs.
Israel, Hamas Near Possible Cease-Fire After Biden Pressure: Israel and Hamas were near a possible cease-fire deal, media reports said, after Biden urged Israeli Prime Minister Benjamin Netanyahu to wind down the conflict. The two sides could reach an agreement to pause fighting within two days, the New York Times reported, citing a senior Israeli official and two others who corroborated the account. Read more from Josh Wingrove, Jennifer Epstein and Yaacov Benmeleh.
U.S. Calls Halting Nord Stream 2 a Long Shot: The Biden administration said stopping Nord Stream 2 is a long shot now that the gas pipeline from Russia to Germany is 90% complete, a shift in tone that came as the U.S. held off on sanctioning the firm overseeing its construction. In a report to Congress yesterday, the State Department said that Nord Stream 2 AG and CEO Matthias Warnig are engaged in sanctionable activity under U.S. law but that the White House will drop penalties for national security reasons. Daniel Flatley and Nick Wadhams have more.
U.S. Seeks to Expand Carbon Offsets by Farmers: Agriculture Secretary Tom Vilsack said his department will try a range of approaches to expand sales of carbon offsets by U.S. farmers as part of the Biden administration's climate initiatives. The Department of Agriculture will release a progress report today on its climate change strategy describing efforts including adjusting existing conservation programs to focus on climate impact, better tools to measure climate impact and stepped-up efforts to control forest fires. Read more from Mike Dorning.
NTSB Board Member Homendy Nominated to Serve as Agency Chair: Jennifer Homendy, a member of the National Transportation Safety Board since 2018, has been nominated by the White House to become the accident-investigation agency's chairwoman. Homendy, who worked more than 14 years as a Democratic staff director for a House Transportation & Infrastructure Committee subpanel, must be approved by the Senate. Read more from Alan Levin.
Border Agency Sees End of Virus Immigration Rules: U.S. Customs and Border Protection is sending more staff and resources to the border for the "eventuality" that Covid-19 restrictions on immigration end, the acting agency head said yesterday. The public health move known as "Title 42″ permitted the agency to quickly boot over 62% of the migrants who illegally entered the U.S. in April. Troy Miller, the senior official performing the duties of the CBP commissioner, told a House panel that the restrictions will be lifted "soon." Read more from Shaun Courtney.
Project Reviews May Include Environmental Justice: A potential Biden White House rewrite of Trump-era restrictions on project reviews could include language on environmental justice, a White House official said. The White House Council on Environmental Quality is examining a 2020 rule issued under the National Environmental Policy Act which limits the scope of reviews for large projects such as highways and bridges. Read more from Stephen Lee.
To contact the reporters on this story: Zachary Sherwood in Washington at zsherwood@bgov.com; Brandon Lee in Washington at blee@bgov.com
To contact the editors responsible for this story: Giuseppe Macri at gmacri@bgov.com; Loren Duggan at lduggan@bgov.com; Michaela Ross at mross@bgov.com