What to Know in Washington: Republicans Set to Advance Barrett
Senate Republicans are steaming ahead with plans to elevate Amy Coney Barrett to the Supreme Court by early next week, with the Senate Judiciary Committee set for a vote today that will advance the conservative judge's confirmation to the full Senate.
Democrats are planning to boycott the committee's debate and vote, but Republican unity and their 12-10 advantage on the panel mean Barrett's nomination is cruising toward a rapid finish next Monday, eight days before the Nov. 3 election.
Barrett's confirmation is proceeding over Democratic objections to what they say is a rushed process and their concerns about her potential impact on rulings including those related to the Affordable Care Act, civil rights, abortion and lawsuits that might erupt from the 2020 elections.
Senate Majority Leader Mitch McConnell (R-Ky.) plans to hold a Senate vote tomorrow advancing the nomination to the Senate floor, and the chamber will remain in session through the weekend as Republicans run down the amount of time required for debate. McConnell says he's aiming for a final vote on confirmation Monday.
Barrett, a 48-year-old appellate court judge, mother of seven, devout Roman Catholic and former clerk to the late Justice Antonin Scalia, is President Donald Trump's nominee to replace Ruth Bader Ginsburg and is the late liberal justice's ideological opposite.
Her installation on the Supreme Court would cap a conservative transformation of the U.S. court system under Trump, with the Senate already having confirmed Justices Neil Gorsuch and Brett Kavanaugh, along with 53 appellate court and 161 district court judges. Read more from Laura Litvan.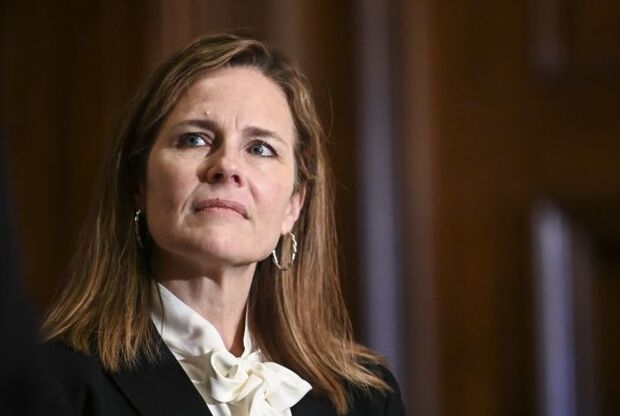 Groups Pour $30 Million Into Barrett Confirmation: Conservative non-profit groups plan to spend about $30 million by month's end advocating Barrett's confirmation, according to people familiar with the activities. The money has financed a barrage of advertising and grass-roots activity — mostly in battleground states — that's saturating television screens, social media feeds, Senate offices and roadside stops in the weeks leading to the Nov. 3 election.
The goal is to ensure Barrett's Senate confirmation to the high court, but with Democrats all but powerless to block a vote, conservative groups have have sought to turn Barrett into an political asset for Trump. Read more from Jordan Fabian.
Trump Names Pick for Barrett Replacement: Trump plans to nominate Thomas L. Kirsch, the U.S. attorney for the Northern District of Indiana, to the seat previously occupied by Barrett on the U.S. Court of Appeals for the Seventh Circuit, the White House announced yesterday. Read more from Madison Alder.
What to Watch in Congress
Senate Floor: The Senate is scheduled to meet at noon. At 1 p.m., the chamber will vote whether to invoke cloture, or limit debate, on the nomination of Michael Jay Newman to be a judge for the U.S. District Court for the Southern District of Ohio.
More Senate Judiciary Nominations: The Senate Judiciary Committee will also vote on judicial nominations for U.S. district courts including Benjamin J. Beaton to the Western District of Kentucky; Kristi Haskins Johnson and Taylor B. McNeel to the Southern District of Mississippi; Kathryn Kimball Mizelle to the Middle District of Florida; and Thompson M. Dietz to be a judge on the U.S. Court of Federal Claims.
Chairman Lindsey Graham (R-S.C.) last week said the panel will subpoena social media companies to explain their actions affecting their platforms' distribution of a New York Post article linking Joe Biden and his son Hunter to a Ukrainian energy company. The committee is scheduled to consider authorization for such subpoenas today, according to its website.
Pelosi, Mnuchin to Talk Stimulus Again: Speaker Nancy Pelosi (D-Calif.) and Treasury Secretary Steven Mnuchin will pick up discussions for a stimulus package again today with time running ever shorter for a deal before the election, with Trump seeking to blame Democrats for any failure. The two sides "are better prepared to reach compromise on several priorities" after yesterday's call between the main negotiators, Pelosi spokesman Drew Hammill tweeted. Pelosi and Mnuchin will speak again today as they seek to "resolve open questions," he said.
Senate Republicans remain the ultimate roadblock to enacting a roughly $2 trillion deal being negotiated by Pelosi and Mnuchin. McConnell has made no promises on when the Senate might take up any compromise agreement, and some senior GOP lawmakers expressed skepticism whether the chamber would vote on one even after the election.
Funding for state and local governments, a key issue dividing Democrats and Republicans going back to the summer, was singled out by both sides as a remaining stumbling block. Trump and his allies have characterized large-scale aid to local authorities as an effort to bail out poorly run, Democratic states. Read more from Erik Wasson and Billy House.
Elections & Politics
Biden, Trump Face Off in Final Debate: Trump and Democrat Joe Biden will square off for 90 minutes in their final debate tonight, but the biggest risk for each candidate comes more from their own weaknesses and less from each other. In one of the last potential turning points of the 2020 election, both men will seek to improve their performances at 9 p.m. Washington time in what political consultants from both parties say was a disastrous first meeting.
Trump faces the bigger challenge, as he will need to tamp down his aggressive posture from the first encounter, which cost him some support, and make the case for a second term, a line of argument he has struggled with in the past. Biden, who is ahead by nearly 8 percentage points in the RealClearPolitics average of polls, has the simpler task of avoiding any debate-defining gaffes that change the status quo. And he needs to minimize reactions to Trump's provocations.
The debate, at Belmont University in Nashville, will have one twist after Trump talked over Biden repeatedly during the last face-off, in Cleveland. Moderators will now mute each candidate while the other gives his initial two-minute response on each topic. It is unclear if that helps Biden, who struggled to get out his message when Trump interrupted him, or Trump, who could play up the appearance of being silenced. Read more from Ryan Teague Beckwith.
U.S. Accuses Iran, Russia of Election Interference: The top U.S. spy chief accused Iran of making its most direct efforts to interfere in the closing days of the presidential election, saying the Islamic Republic faked a series of intimidating messages to Democratic voters. John Ratcliffe, the director of national intelligence, said both Iran and Russia had obtained voter registration information and that Tehran was already using it to send threatening emails. The spy chief — a loyal ally of Trump — didn't provide details of what Russia may have been up to, but said the Iranian effort was meant to undermine Trump, without explaining how he reached that conclusion. Last night's hastily arranged announcement by Ratcliffe and FBI Director Christopher Wray drew bipartisan warnings against foreign interference and added to the turbulence in Americans politics less than two weeks before the Nov. 3 presidential election.
"We cannot allow voter intimidation or interference efforts, either foreign or domestic, to silence voters' voices and take away that right," Pelosi said in a joint statement with House Intelligence Chairman Adam Schiff (D-Calif.). Read more from Chris Strohm.
Michigan GOP Scores Win on Voter Transportation: Michigan Republicans scored an appeals court victory in their effort to enforce an election law in the swing state that makes it a crime to pay for transportation of voters to the polls unless they're physically unable to walk there. The Michigan appeals court said there are other ways to transport voters without violating state law, such as driving them for free. Read more from Erik Larson.
Supreme Court Stops Curbside Voting in Alabama: A divided U.S. Supreme Court blocked the use of curbside voting in Alabama, reinstating a ban imposed by the state's Republican secretary of state. A federal trial judge had ordered the prohibition lifted so that counties could use curbside voting to protect against the spread of the coronavirus. The judge said the ban, challenged by voters and advocacy groups, violated a federal disabilities law. Read more from Greg Stohr.
BGOV OnPoint: 2020 Early Voting Surges, Campaign Cash Flows
Trump Rhetoric Stirs Voter Intimidation Suit: Trump should be blocked from encouraging his supporters to intimidate and harass voters at polling places and ballot drop box locations, a voting rights group said in a new lawsuit. Mi Familia Vota Education Fund compiled months of Trump's tweets and remarks about the upcoming election in support of its argument that the president is unlawfully interfering with the voting process. Read more from Porter Wells.
Trump Order Draws Little Concern from Judge: A federal judge expressed skepticism about interfering in Trump's attempt to restrict social platforms after Twitter started fact-checking his posts. Rock the Vote, Voto Latino and other nonprofits encouraging voter registration asked for a court order protecting the rights of Twitter, Facebook and other online platforms to rebut the president's unproven claims that, among others, mail-in ballots are fraudulent. The groups were responding to an executive order Trump issued in May that threatened to strip the platforms of liability protections and — the groups argue — muzzle their free-speech rights to comment on user posts. Read more from Joel Rosenblatt.
Facebook Blames Glitch for QAnon Issue: Facebook said an initiative to clean up conspiracy content on its social network was thwarted by a "glitch" that showed users information about QAnon even when they weren't searching for it. The company started a plan to redirect users looking for QAnon conspiracy content to the Global Network on Extremism and Technology, to "help inform them of the realities of QAnon and its ties to violence and real world harm," the company said in a blog post. Read more from Sarah Frier.
DOJ Rescue of Trump From Rape Suit Hits Snafu: A snafu involving New York's travel ban against visitors from states with rising coronavirus infection rates risked derailing a hearing in a New York advice columnist's defamation suit against Trump. The Justice Department, which is fighting to substitute the government for Trump as the defendant in the suit, said in a letter to U.S. District Judge Lewis Kaplan that the lawyer selected to present arguments was denied entry to the federal courthouse in Manhattan because he traveled from his home in Virginia. Read more from Erik Larson.
What Else to Know
Budget Tool Gives Climate Bill a Path Forward: Democrats see a path to pass climate change legislation in the next Congress if they gain control of the Senate and Joe Biden is elected president, Sen. Sheldon Whitehouse (D-R.I.) said yesterday. Whitehouse suggested using budget reconciliation, which was used by Republicans to pass 2017's tax reform and allows senators to pass legislation that would change spending and tax laws with only a simple majority. Read more from Kellie Lunney.
Biden Can't Ban Fracking but Can Limit It: While Joe Biden has called for prohibiting new oil and gas projects on federal land, he's said he does not support a widespread ban on fracking, which involves pumping water, sand and chemicals underground to free oil and gas from dense rock formations. Even if Biden wanted to, he couldn't unilaterally ban fracking on private land. Under a 2005 law, the EPA has almost no regulatory power on fracking. Changing that would require an act of Congress. But there are ways he could restrict it. Read more from Ari Natter.
Grenell Sought to Secretly Negotiate Maduro's Exit: A senior Trump administration official secretly met with a representative of Nicolas Maduro's regime in Mexico City in September to try to negotiate the Venezuelan leader's peaceful exit from power. Ric Grenell, former acting U.S. director of national intelligence and U.S. ambassador to Germany, and Jorge Rodriguez, a Venezuelan politician who is close to Maduro, met in the Mexican capital, according to three people familiar with the matter. Read more from Jennifer Jacobs and Ben Bartenstein.
Trump Commutes Sentences for Five People: Trump yesterday commuted prison sentences of four individuals convicted of drug-related crimes and another who was involved in a public-benefits fraud scheme. The White House said in a statement that the president granted the clemency "in light of the decisions these individuals have made following their convictions to improve their lives and the lives of others while incarcerated." Read more from Joshua Gallu.
Trump Tweaks Some Federal Worker Rules: Trump signed an executive order creating exceptions to rules that govern the hiring and firing of federal workers, according to a statement from the White House. The order gives federal agencies more flexibility "to hold career employees in critical positions accountable,"Max Reyes reports.
With assistance from Nancy Ognanovich
To contact the reporters on this story: Zachary Sherwood in Washington at zsherwood@bgov.com; Brandon Lee in Washington at blee@bgov.com
To contact the editors responsible for this story: Giuseppe Macri at gmacri@bgov.com; Loren Duggan at lduggan@bgov.com; Michaela Ross at mross@bgov.com