What to Know in Washington: Republicans Seek Weapons for Ukraine
GOP senators ask Biden for more arms, production
Zelenskiy to address Congress, seek additional aid
The top GOP senators on the defense, intelligence, and foreign affairs panels called on the Biden administration to expedite the delivery of arms and equipment to Ukraine, as well as tap into industry to surge production, using $13.6 billion in emergency funding.
Legislation signed by President Joe Biden on Tuesday included over $3 billion for additional direct military assistance—on top of $600 million in recent presidential drawdown authority for equipment that's nearly all delivered. In a letter on Tuesday, the lawmakers suggest a long list of equipment in addition to more high-profile Stinger anti-aircraft and Javelin anti-armor missiles.
That list sent by Sens. Jim Inhofe (Okla.), Marco Rubio (Fla.) and others includes grenade launchers, small drones, secure communications, artillery, mortar and multiple-launch rocket systems, and protective clothing, according to a letter sent to Biden. They also want Secretary of State Antony Blinken and Defense Secretary Lloyd Austin to tap U.S. industry with hopes of boosting the availability of non-lethal equipment, such as armor. Tony Capaccio has more.
The request came ahead of Ukrainian President Volodymyr Zelenskiy's address to both chambers of Congress Wednesday to plead for more aid as Ukrainian and Russian delegations continue negotiations, Billy House reports.
A Kremlin spokesman said that a neutral Ukraine with its own army could be a possible compromise in the current crisis, as the two sides are scheduled for another round of talks on Wednesday. Ukrainian President Volodymyr Zelenskiy said Russia's "positions in the negotiations sound more realistic," but Russian President Vladimir Putin said earlier that Ukraine's leadership wasn't "serious" about resolving the conflict.
Biden on Wednesday will also discuss additional support for Ukraine. Read the latest in the Bloomberg News Ukraine Update.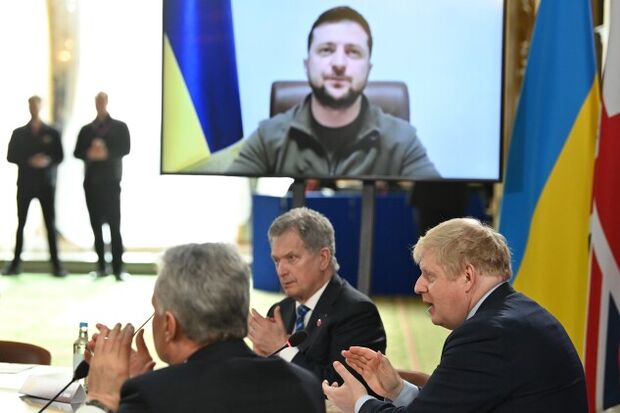 MORE ON THE WAR IN UKRAINE:
China's support for Russia in the conflict in Ukraine is showing its limits, as the domestic costs for President Xi Jinping begin to outweigh the benefits of confronting the U.S. Whether a trade war or a real one as in Ukraine, China has shown it will try to prevent its geopolitical struggles with the U.S. from hurting the domestic economy. A rapidly worsening Covid-19 situation and the need to maintain stability in a pivotal year for Xi make it less likely the Chinese leader could accept Putin's war blowing back at home. Read more from Bloomberg News.
The U.S. could have implemented a full ban on exports to Russia but opted on hobbling the nation's military instead of the broader population by depriving the armed forces of technology, Commerce Secretary Gina Raimondo said at an event at Brown University. Export controls are proving effective, Raimondo said. Russian troops are having trouble repairing their military equipment and jets because they can't buy parts coming from U.S. or Europe. Sanctions and export controls won't stop until Putin ends the war, she said, Eric Martin reports.
Treasury Secretary Janet Yellen will host Attorney General Merrick Garland Wednesday for the launch meeting of a "Russian Elites, Proxies, and Oligarchs (REPO) multilateral task force," according to a Treasury Department statement, Chelsea Mes reports. The virtual meeting will also include representatives from NATO allies. The task force, announced Feb. 26, will aim to "leverage authorities in member countries to collect and share information against Russian targets, including sanctions, asset freezing, and civil and criminal asset seizure," according to Treasury.
Also Happening on the Hill
CONGRESSIONAL SCHEDULE:
Zelenskiy will deliver remarks virtually to lawmakers at 9 a.m.
The Senate is in at 10:30 a.m. to work through a dozen nominees to the federal judiciary.
The House is in at noon to set rules for debate on legislation targeting arbitration agreements and hair-based discrimination.
The Pentagon will request 61 F-35s in its next budget, 33 fewer of the stealth jets from Lockheed Martin than previously planned, according to people familiar with the spending blueprint. The U.S. Defense Department had planned to fund 94 of the fighters in fiscal 2023, up from the 85 in this year's budget, according to the most recent "Selected Acquisition Report" on its costliest program.
The proposed reduction for the F-35 may be the most controversial procurement item in a national security budget request that's expected to top $770 billion for the year that begins Oct. 1. The F-35 is currently being deployed to Eastern Europe in response to Russia's invasion of Ukraine. Six F-35s from the Air Forces 34th Fighter Squadron are flying "air policing" missions from Estonia and Romania. German Defense Minister Christine Lambrecht announced Monday that Germany would buy 35 of the warplanes. Read more from Tony Capaccio.
House leaders are reviewing legislation to make daylight saving time permanent, a proposal that has gotten bipartisan support in the House and passed the Senate on Tuesday. Rep. Frank Pallone (D-N.J.), chair of the House Energy and Commerce Committee who held a hearing last week on the subject, said on Twitter the hearing "showed there is widespread agreement on coming up with a permanent solution." Republican Minority Leader Kevin McCarthy (R-Calif.) told Bloomberg Government he'd be supportive of the Senate-passed bill and other House Republicans would as well, Emily Wilkins reports.
Companies want the government to maintain a steady supply of spectrum to meet the booming U.S. demand for wireless technology. The Federal Communications Commission, the Department of Commerce's National Telecommunications and Information Administration, and lawmakers need to release new spectrum bands, industry representatives plan to tell a House Energy and Commerce subcommittee Wednesday. Representatives from Cisco Systems and Intel, among others, will testify, as the U.S.'s finite spectrum supply, used for radio, satellite, and internet, is increasingly crowded. Maria Curi has more.
Senate Republicans rebuffed the White House's claim that Covid response programs are going bankrupt, demanding details about the federal stockpile of drugs, countermeasures and unspent money. "You can no longer just take somebody's word they need more money," Sen. Richard Burr (R-N.C.) said. Burr and other key Republicans want an accounting of how many vaccines, tests, and treatments the government currently has in stock, and where earlier pandemic spending has gone. "I don't know if they need more money," Sen. Richard Shelby (Ala.) said. Read more from Alex Ruoff.
The Senate backed legislation to end the federal mask mandate on public transportation in a largely symbolic vote showing GOP opposition to White House's pandemic policies. Senators on Tuesday afternoon voted 57-40 to pass the measure from Sen. Rand Paul (R-Ky.) to end the mask mandate on airplanes and trains, with eight Democrats voting in favor. Republicans hope bipartisan opposition will nudge the White House to rethink the requirement, which was set to expire on March 18 but last week was extended to April 18. Read more from Lillianna Byington.
Employers are struggling to keep top foreign talent, and protracted green card application backlogs also threaten the long-term legal status of the children of temporary visa holders, witnesses told the Senate Judiciary Committee's immigration panel Tuesday. After hearing testimony, Senate Judiciary Chairman Dick Durbin (D-Ill.) told Republican colleagues he wants the panel to advance bipartisan legislation to tackle those lengthy backlogs. "Let's put a bill before this committee," he said. "I don't want to be guilty of not trying." Read more from Andrew Kreighbaum.
Legislation to reform how diagnostic tests are regulated will be part of the FDA's must-pass user fee bills, Sen. Patty Murray (D-Wash.) said on Tuesday, a move that could settle a longstanding debate about the agency's authority over laboratory-developed tests. She and Sen. Burr are "working on a bipartisan policy to try and improve the regulation of laboratory-developed tests," Murray said while presiding over a Senate Health, Education, Labor, and Pension Committee hearing. Lab-developed tests are those that are designed, manufactured, and used in a single laboratory. Read more from Jeannie Baumann.
Two Democrats called on the Justice Department to investigate Ticketmaster-Live Nation over the state of competition in the live entertainment and ticketing industry. Sens. Richard Blumenthal (Conn.) and Amy Klobuchar (Minn.) told Assistant Attorney General for the Antitrust Division Jonathan Kanter in a letter that the department should "take action, as appropriate, to enforce the antitrust laws and restore competition to these important markets." Their letter comes after House lawmakers launched their own investigation of Ticketmaster in November. Read the letter here.
Around the Administration
BIDEN'S SCHEDULE:
The president is scheduled to deliver remarks on U.S. assistance to Ukraine at 11:45 a.m.
Biden will discuss the reauthorization of the Violence Against Women Act at 1:45 p.m.
Pfizer said it has asked U.S. regulators for clearance of an additional booster shot for seniors in a bid to protect vulnerable adults as immunity provided by the first three doses wanes. The New York-based drugmaker and its German partner, BioNTech, said they have sought an emergency authorization from the Food and Drug Administration for a second booster of the vaccine, Comirnaty, for those 65 and up who have already received a booster dose. Pfizer-BioNTech said they submitted data to the FDA from Israel, which began offering a fourth shot to seniors and health-care workers. Read more from Riley Griffin.
North Korea's latest missile test appeared to have "failed" shortly after launch, South Korea's military said, with the incident just days after reports signaled that Kim Jong Un's regime was preparing to fire its first ICBM in years. The unidentified projectile appeared to have been launched Wednesday from an area near Pyongyang's international airport, the Joint Chiefs of Staff said. The rocket appears to have exploded before reaching an altitude of 12 miles, the Yonhap News Agency said separately, citing an unidentified South Korean military official. Read more from Jeong-Ho Lee and Shinhye Kang.
A potential Commerce Department probe of solar imports from Southeast Asia has the potential to freeze investment in the U.S. industry leaders warned on Tuesday. The agency is set to decide by March 25 whether to formally investigate whether solar products from Malaysia, Thailand, Vietnam, and Cambodia circumvent longstanding solar tariffs. An investigation might expose the imports to retroactive duties of 50% to 250%, the Solar Energy Industries Association said. The four countries supply around 80% of U.S. solar imports and the risk of trade restrictions could drag down shipments. Jennifer A. Dlouhy has more.
Philippine presidential frontrunner Ferdinand "Bongbong" Marcos Jr. said he would maintain the nation's alliance with the U.S., and tread carefully with Beijing over territorial disputes. Military deals between the U.S. and Philippines "are advantageous to both countries," Marcos told a virtual forum on Wednesday. The alliance between the two countries is "a special relationship," and the U.S. "can do many things" to help the Philippines, he said. But Marcos said he rejects the idea of aligning with only one country, and said the Philippines should carefully navigate its tensions with China. Read more from Andero Calonzo.
The U.K. said it will step up discussions to deepen commerce with the U.S., even as official negotiations on a free-trade deal remain parked. International Trade Secretary Anne-Marie Trevelyan will fly to Baltimore for the first in a new set of transatlantic dialogs on March 21-22, according to an emailed statement from her office on Wednesday. U.S. Trade Representative Katherine Tai will also be there, and a second round of discussions will take place in the U.K. later in the spring, Trevelyan's office said. The discussions aim to bring ministers, officials, trade unions and businesses from both countries together to devise ways to deepen trade between the U.K. and U.S. Read more from Alex Morales.
Most U.S. firms aren't disclosing if they're analyzing gender pay gaps in their staff, and even fewer are publicly sharing what that gap is. That's according to a new report from the nonprofit Just Capital, which found that less than one-quarter of 954 major U.S. companies disclosed conducting the analysis. Of those that do say they're looking at the numbers, almost half don't release any information about their actual performance on gender pay equity matters, the group found. Only 75 companies in the study reported the exact pay ratios between women and men. Read more from Ella Ceron.
To contact the reporters on this story: Giuseppe Macri in Washington at gmacri@bgov.com; Brandon Lee in Washington at blee@bgov.com;
To contact the editors responsible for this story: Loren Duggan at lduggan@bgov.com; Michaela Ross at mross@bgov.com; Zachary Sherwood at zsherwood@bgov.com