What to Know in Washington: Republicans Embrace Earmarked Cash
Bloomberg Government subscribers get the stories like this first. Act now and gain unlimited access to everything you need to know. Learn more.

Museums are out, locks and dams are in, and leading progressives such as Rosa DeLauro are taking home less earmarked cash than Freedom Caucus Republicans like Matt Gaetz via a process the GOP considered scrapping as recently as last year.
House Republicans now embrace earmarks since obtaining the majority, with Gaetz (R-Fla.) and other Freedom Caucus conservatives aiming to net tens of millions of dollars more than any Democrat. But they've also changed the rules, banning earmarked funds from some appropriations bills and barring funds for museums — moves that angered Democrats and created a growing rift between the House and Senate approaches to spending on local projects.
A comparison of the two chambers' earmarks included in fiscal 2024 appropriations bills shows a greater House GOP focus on water infrastructure and police funding, as the House's approach limits funds for hospitals, colleges, and workforce development initiatives.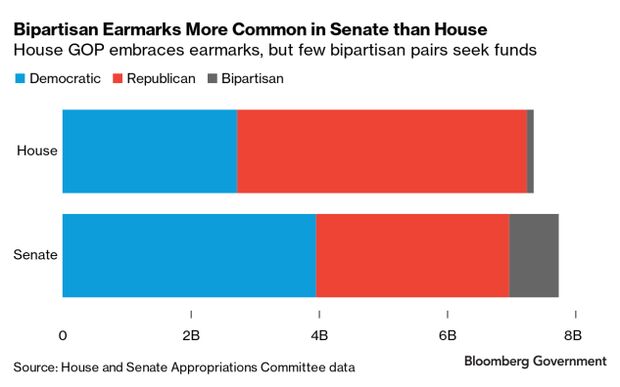 House Republicans stand to take home $4.5 billion of the $7.4 billion in earmarks included in the chamber's appropriations bill for fiscal 2024, compared to Democrats' $2.7 billion, according to a Bloomberg Government analysis. Another $107.9 million was requested by bipartisan groups of lawmakers.
The Senate's partisan breakdown was less lopsided. Of the Senate's $7.7 billion in earmarks, nearly $4 billion were requested by Democrats, $3 billion requested by Republicans, and $772.5 million by bipartisan pairs or groups. The tally includes independent Sens. Angus King (Maine), Bernie Sanders (Vt.), and Kyrsten Sinema (Ariz.) — who have all at some point caucused with Democrats — under the Democratic total.
Readers can access a central Excel document containing all 4,714 House earmarks here, compiled from PDF documents published by the House Appropriations Committee. They can access a document with all 3,739 Senate earmarks here. Jack Fitzpatrick highlights the biggest trends — read more.
BIDEN'S AGENDA
President Joe Biden has no public events scheduled.
CONGRESS' SCHEDULE
The House returns at 2 p.m. to take up noncontroversial bills under expedited procedure.
Senators meet at 10 a.m. to vote on judicial and VA nominees and take up a spending bill package.
For the full detailed agenda read BGOV's Congress Tracker.
Happening on Capitol Hill
The looming government shutdown risks shuttering most national parks, upending America's annual $800 billion outdoor recreation economy, and harming small businesses. The closure of popular outdoor recreation sites and natural wonders is among the most visible impacts of congressional inaction.
Schumer has touted the various backgrounds coming to tomorrow's AI meeting and said on the Senate floor that the series of forums will "be high-powered, diverse, but above all, balanced."
Sen. Elizabeth Warren (D-Mass.) is demanding an investigation into SpaceX after Elon Musk acknowledged he had blocked Ukraine from extending the private Starlink satellite network for an attack on Russian warships near the Crimean coast.
The Senate Finance Committee's recent interest in the nuances of taxing digital assets has sparked hope among cryptocurrency businesses for a holistic approach that won't cripple the ecosystem.
More than a dozen conservative groups called for lawmakers to pass the GOP tax package that's been stalled by Republicans from states with heavy tax loads.
People, Power, and Politics
Speaker Kevin McCarthy (R-Calif.) plans to tell House Republicans this week that launching an impeachment inquiry into Biden is the "logical next step" in the party's probes of the president and his son Hunter, Punchbowl reports, without saying where it got the information from.
Donald Trump sought to disqualify the federal judge presiding over his election obstruction case, arguing she'd made negative comments about the former president that "unavoidably taint" his right to a fair trial.
A New York judge indicated he may be willing to delay Trump's hush-money trial after the former president's lawyers complained it'll conflict with a federal trial in Washington.
Rep. Zach Nunn's (R-Iowa) focus on more mainstream issues allowed him to flip Iowa's third congressional district, which contains the decidedly blue city of Des Moines, in 2022, in part by appealing to independent voters.
Alabama asked the Supreme Court to reinstate a Republican-drawn congressional map, saying the state doesn't have to create a second near-majority Black district even after losing a high court ruling earlier this year.
A judge ordered a high-stakes family feud over the finances of Sen. Dianne Feinstein (D-Calif.) to be moved out of court for private negotiations.
Defense and Foreign Policy
The US cleared the way for $6 billion in oil proceeds to be returned to Iran and agreed to release five Iranians as part of a secretly negotiated deal that will clear the way for five American citizens detained in Iran to return home.
European limits on the amounts of PFAS allowed in food are the first of several policies that analysts expect will affect US exports and the domestic food supply.
What Else We're Reading
The United Auto Workers has lowered its pay increase demand to 36% from 40%, but Detroit's automakers don't think much of the offer, according to people familiar with the offer.
Nvidia will join IBM and Salesforce at the White House today as a second group of AI companies promise to adopt the administration's voluntary safety principles to apply guardrails to the technology.
Google's defense team in the biggest tech monopolization case of the modern era includes veterans of a similarly historic US antitrust case. But back then they were on the government's side.
To contact the reporters on this story: Giuseppe Macri in Washington at gmacri@bgov.com; Brandon Lee in Washington at blee@bgov.com
To contact the editor responsible for this story: Kayla Sharpe at ksharpe@bloombergindustry.com
Stay informed with more news like this – from the largest team of reporters on Capitol Hill – subscribe to Bloomberg Government today. Learn more.