What to Know in Washington: Reports to Judiciary Panel This Week
The House Judiciary Committee plans a hearing tomorrow to discuss the constitutional grounds for impeachment as the next step of the inquiry into President Donald Trump.
However, a House Intelligence official said the committee won't send impeachment inquiry reports by the Democratic majority and the Republican minority to the Judiciary Committee in time for tomorrow's first public hearing, Billy House reports.
House Intelligence members met yesterday to review the Democrats' report and will meet again today to vote on it, the official said.
Republican members of the Intelligence Committee yesterday publicly released their findings from the panel's two months of interviewing witnesses and gathering evidence.
The 110-page report from Republicans concludes that the Democratic House inquiry into Trump failed to establish any impeachable offenses and instead paints a picture of "unelected bureaucrats" disagreeing with the president's style, world view and foreign policy decisions.
Republicans on the Intelligence Committee released their conclusions yesterday. The panel's Democrats are letting members review the majority report after two months of gathering evidence and interviewing witnesses to understand Trump's actions regarding Ukraine.
The Republican lawmakers say evidence gathered during the inquiry doesn't establish that Trump withheld U.S. security assistance to pressure Ukraine to investigate the president's political rivals for the purpose of benefiting him in the 2020 election campaign, or that he sought to obstruct the House's investigation of those charges.
House Intelligence Chairman Adam Schiff (D-Calif.) said in an emailed statement that the Republican report "ignores voluminous evidence" that Trump withheld military aid and a White House meeting while pressuring Ukraine to investigate his political rival.
The Judiciary Committee will hear tomorrow from Harvard law professor Noah Feldman, Stanford law professor Pamela Karlan, University of North Carolina law professor Michael Gerhardt and George Washington University law professor Jonathan Turley. The first three are being called to testify by Democrats, while Turley has been called by the panel's Republican members. Feldman is a Bloomberg Opinion columnist. Read more.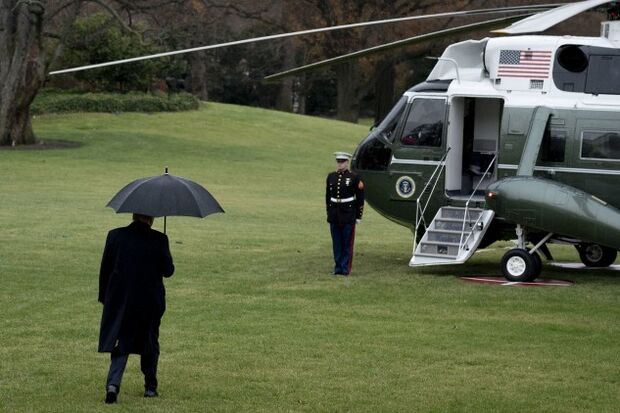 Happening on the Hill
Schumer Says Progress Made on Spending Bills: Senate Minority Leader Chuck Schumer (D-N.Y.) said lawmakers are working to finish fiscal 2020 spending bills by the end of the year, after reaching an agreement on the top-line amounts for the 12 bills. Schumer, speaking in opening floor comments, said Democrats will insist on resources to fight opioid addiction and gun violence, investments in infrastructure and election security and will continue to oppose any effort to take money from military projects to pay for Trump's border wall.
Lawmakers are negotiating to meet a Dec. 20 deadline to continue funding the government.
In anticipation of walking right up to that deadline, House Majority Leader Steny Hoyer (D-Md.) has officially updated that chamber's December schedule. The House will officially be in session the week of Dec. 16, with last votes expected on Dec. 20, possibly after 3 p.m., according to the update. The House had previously planned to leave for recess on Dec. 12.
Trade, Health Care Among Trump's Legislative Priorities: Action on trade, prescription drugs, government spending bills and a plan to create a new Space Force are among the top priorities for Trump as Congress works to wrap up its business this year, White House legislative affairs director Eric Ueland said yesterday in an interview. Trump supports House and Senate appropriators' efforts to finish a set of 12 "full year" spending measures and is closely monitoring the process, Ueland said. Trump is continuing to push for border wall funds and other items in the appropriations process, Ueland said, Nancy Ognanovich reports.
Grassley Cites Need for Deal on USMCA: If a deal on the U.S.-Mexico-Canada Agreement isn't reached by the end of this week, "I do not see how the USMCA can be ratified in the year we're in," Senate Finance Chairman Chuck Grassley (R-Iowa) said on the Senate floor yesterday. "By all accounts, the deal is close," Grassley said, adding that he urges House Democrats "to act quickly" and "be reasonable so that we can finally deliver certainty on this issue to the American people," Megan Howard and Laura Litvan report.
Hedge Fund Lawyer Poised to Become Federal Judge: A hedge fund general counsel is expected to be confirmed today as a federal judge in New York as the Senate looks to act on a number of Trump's judicial selections in coming days. Lawmakers voted 81 to 5 yesterday to invoke cloture, or limit debate, on the nomination of Eric R. Komitee for the U.S. District Court for the Eastern District of New York, which includes Brooklyn. That procedural step sets up final consideration.
Komitee would become only the second district court judge in New York confirmed under Trump. A former federal prosecutor and the general counsel for Viking Global Investors, Komitee is one of eight trial court nominees who were primed for floor votes as the Republican-led Senate kicked off another judicial push with 2019 closing fast. Read more from Madison Alder.
Brouillette Confirmed: The Senate's confirmation of Dan Brouillette to succeed Rick Perry as secretary of the Energy Department still leaves a host of energy, environment, and climate science positions unfilled with just weeks to go in the first session of the 116th Congress. The Republican Senate moved relatively quickly in filling Perry's position, voting 70-15 to confirm Brouillette to be Trump's second energy chief in less than three years. Read more from Dean Scott.
Lawmakers Tackle Privacy Protections: Senate Commerce, Science and Transportation Chairman Roger Wicker (R-Miss.) is open to the possibility of a narrowly focused private right of action for consumers when companies violate their privacy, as lawmakers work to refine their negotiating points ahead of a hearing on privacy legislation this week. Wicker said he could consider a very narrow private right of action, such as injunctive relief, in legislation his panel is discussing, a change in his previous stance on the issue. He had opposed a federal privacy bill with any private right of action, which would allow consumers to sue companies if their private data is violated. Read more from Rebecca Kern.
Banking Panel's Slow Pace: Frustration within the Senate Banking Committee is building over how slowly legislation is moving, with the bottleneck blocking bills aimed at increasing shell company transparency and improving access to financial services for marijuana businesses. The committee, led by Chairman Mike Crapo (R-Idaho), has debated and approved just one bill this year, and has no markups scheduled through the end of December. Read more from Lydia Beyoud and Jacob Rund.
Foreign Affairs
Trump May Meet Again With Erdogan: Trump said he's willing to sit down in London this week with Turkish President Recep Tayyip Erdogan, even though their meeting last month on Syria touched off outrage in Washington. Trump told reporters today in London — where he's attending a summit for the 70th anniversary of NATO — that Turkey was an important U.S. ally, especially in the fight against Islamic State, and was a country the U.S. had good ties with. "I like Turkey," Trump said. He added he was not sure if a chat with Erdogan was already planned. The president's formal schedule does not currently include a meeting with the Turkish leader.
Turkish officials have said they hope for some sort of interaction. But even if they don't cross paths, the relationship between Erdogan and Trump will be closely watched. Read more from Justin Sink and Selcan Hacaoglu.
The U.K. is hosting NATO leaders to mark the military alliance's 70th anniversary. The timing is delicate as tensions abound among the allies. Follow the latest coverage of the event here.
France Vows to Retaliate Over U.S. Tariff Threat: France's government said the European Union would retaliate if the U.S. follows through on a threat to hit about $2.4 billion of French products with tariffs over a dispute concerning how large tech companies are taxed. "It's not worthy of an ally, and it's not the behavior we expect from the U.S. toward one of its main allies, France, and more generally, Europe," French Finance Minister Bruno Le Maire said on Radio Classique today. "If there were new U.S. sanctions, the EU would be ready to retaliate."
The office of the U.S. Trade Representative said yesterday that France's digital services tax — a levy that hits the revenues of large American tech companies including Google, Apple, Facebook and Amazon — "discriminates against U.S. companies." The American tariffs would be imposed after a public comment period concludes in early 2020 and could target sparkling wine, cheeses, handbags and makeup. Read more from William Horobin, Jenny Leonard and Laura Davison.
Trump Says No Deadline for China Deal: Trump signaled he would be willing to wait for another year before striking a trade agreement with China, casting doubt on the likelihood of a phase-one accord between the U.S. and China within weeks. Trump told reporters in London he has no deadline for a potential deal, suggesting that in some ways it could be better to wait even until after the U.S. presidential election in November, 2020. However, he said China wants to do a deal now, and he would see if the deal was right. Read more from Derek Wallbank and Jordan Fabian.
North Korea Gives Trump Veiled Threat: North Korea said it was preparing a choice of "Christmas" gifts for Trump, in the country's latest effort to pressure the U.S. to offer more concessions in nuclear talks before the new year. Top North Korean diplomat Ri Thae Song said in a statement today that the onus was on the U.S. side to determine how the regime would behave through the holiday season. Ri also accused the Trump administration of attempting to drag out talks and "use it in favor of the political situation and election in the U.S.," according to the state-run Korean Central News Agency. Read more from Jihye Lee.
All-In Trump Bet Backfires for Bolsonaro: Brazilian President Jair Bolsonaro is learning the cost of partnering with Trump the hard way. During his first year on the job, Bolsonaro assiduously courted the American president, parroting his hard-line policies on Venezuela and Hezbollah while breaking with diplomatic protocol by predicting a Trump victory in 2020 during a visit to the White House. Yet his all-in bet on Trump is quickly souring as signs mount that the alliance isn't delivering real benefits to Brazil. Read more from David Wainer and Samy Adghirni.
Elections, Politics & Policy
How Warren Could Get a Wealth Tax Passed: Democratic presidential candidates Elizabeth Warren (D-Mass.) and Bernie Sanders (I-Vt.) want to enact a wealth tax to pay for their large government programs. The biggest barrier may not be Congress, but the Constitution. The Constitution says the federal government is prohibited from imposing "direct taxes," except for income tax, without distributing the money among the states according to population. The progressive candidates' wealth taxes would be used for federal programs such as free health care, free public-college tuition and universal day care.
Even if Democrats manage to win control of the House, the Senate and the White House, wealth-tax supporters have become increasingly worried that their policy plans could be stymied by a constitutional challenge. This was a concern even before Trump installed two new members of the Supreme Court. So left-leaning tax experts are working on ways to put a wealth tax on a more solid constitutional footing. And there is no shortage of ideas. Read more from Ben Steverman and Laura Davison.
Biden Doesn't See 'Enthusiasm' for Warren: Former Vice President Joe Biden dismissed the suggestion that his rivals Warren and South Bend Mayor Pete Buttigieg are garnering real enthusiasm from voters during a blunt conversation with reporters yesterday. "You don't see that with Warren. Stop kidding a kidder. OK, come on, man, give me a break," Biden said of Warren, who's drawing large crowds, though she's fallen from her highs in state and national polls. "Look at the polling everywhere. OK. Tell me. Tell me where this great enthusiasm is manifesting itself." Jennifer Epstein has more.
Around the Administration
SCOTUS Asked to Allow Executions to Resume: Trump's administration asked the U.S. Supreme Court to clear the federal government to resume executions as soon as next week. The emergency filing yesterday urged the court to lift a hold that a trial judge placed on the federal death penalty last month. Trump's Justice Department wants the hold lifted in time for Daniel Lewis Lee to be put to death on Dec. 9. Attorney General William Barr said in July that the federal government would end a 16-year hiatus on imposition of the death penalty. Barr said at the time that execution dates had been set for five men, starting with Lee. Read more from Greg Stohr.
Max Disasters Fuel Outcry Over FAA: After his daughter Samya died in the crash of a Boeing 737 Max in Ethiopia, Massachusetts lawyer Michael Stumo was stunned to learn that key decisions on the plane's design were approved by the company. Under a decades-old system that was expanded several times since 2005 by Congress, aviation regulators delegate some certification work to aircraft manufacturers, and that was the case on significant elements of the 737 Max system implicated in two fatal crashes.
Now, as fixes to the plane are nearing completion, the fatal crashes have fueled momentum to revise the Federal Aviation Administration's process for certifying aircraft. Following the public outcry from family members of victims, U.S. lawmakers and the nation's top aviation regulator have embraced change after a series of reports highlighted how risks in the plane were underestimated. Read more from Alan Levin and Ryan Beene.
Pipeline Across Appalachian Trail: The U.S. Forest Service has full authority to allow natural gas pipelines to cross the Appalachian Trail, industry lawyers and the Trump administration told the Supreme Court in a pair of filings yesterday. Government and industry lawyers say a lower court got it wrong when it ruled that only the National Park Service can oversee development across the trail. "Simply put, there is no basis in any federal statute to conclude that Congress intended to convert the Appalachian Trail into a 2,200-mile barrier separating critical natural resources from the eastern seaboard," lawyers for Atlantic Coast Pipeline told the court in a brief. Read more from Ellen M. Gilmer.
To contact the reporters on this story: Zachary Sherwood in Washington at zsherwood@bgov.com; Brandon Lee in Washington at blee@bgov.com
To contact the editors responsible for this story: Giuseppe Macri at gmacri@bgov.com; Loren Duggan at lduggan@bgov.com