What to Know in Washington: Relief Talks, Funding Bill Delayed
Bipartisan talks on a nearly trillion-dollar pandemic relief bill in Congress are hung up on differences between Republicans and Democrats on shielding companies from virus-related lawsuits, raising doubts about a deal and risking dragging negotiations past next week.
While Republicans and Democrats are closer than ever to agreeing on a price tag for a stimulus measure — coalescing around a $900 billion figure — there's no sign they can get a deal anytime soon.
Senate Majority Leader Mitch McConnell (R-Ky.) is urging lawmakers to drop aid for state and local governments and liability protections, and to proceed with a smaller bill without either. That pitch continues to be rejected by Speaker Nancy Pelosi (D-Calif.) and other top Democrats who are open to a pause in liability lawsuits in exchange for the $160 billion in state aid floated by a bipartisan group of negotiators.
A group of Republican and Democratic senators trying to forge a compromise was able to agree to a formula for distributing state and local aid yesterday, but talks have bogged down on liability.
"It's pretty difficult," Sen. Mitt Romney (R-Utah), a member of the group, said last night. "We've got a week left to be able to resolve all the issues," and it's a "very broad area," he said. Erik Wasson and Laura Litvan have the latest.
Funding Vote Today: The Senate yesterday postponed a vote on a one-week stop-gap bill to keep the government running past tonight amid wrangling over demands for amendments to the bill and to an unrelated defense policy measure. An agreement to stage the vote in time for President Donald Trump to sign the measure before tonight's deadline still is seen as likely.
One reason for the holdup is an attempt by Sens. Bernie Sanders (I-Vt.) and Josh Hawley (R-Mo.) to get consent to vote on an amendment granting most Americans a $1,200 stimulus payment. Sen. Rick Scott (R-Fla.) is also holding up the vote, which requires unanimous consent of all senators to proceed, seeking a vote on a bill to withhold lawmaker pay for failure to pass a budget.
If the deadline is missed, the White House budget office has some discretion to hold off on shutting federal agencies and furloughing workers over the weekend if a stopgap is expected to pass, Wasson reports.
The Senate could vote on the measure today, along with the annual defense policy bill that was also delayed. The defense bill was delayed by a dispute over Trump's ability to withdraw U.S. troops from Afghanistan without congressional consent, Daniel Flatley and Roxana Tiron report.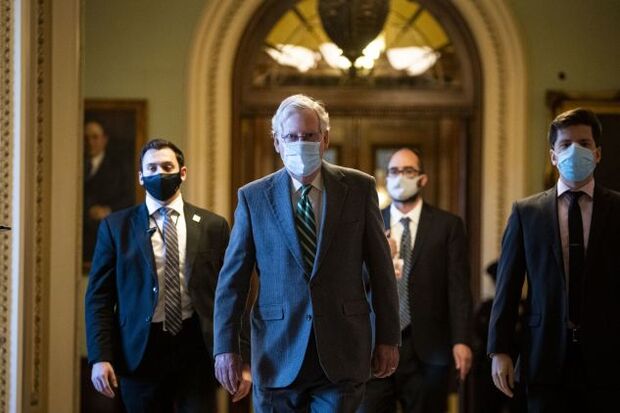 Also Happening on the Hill
Fate of Broadcast Mergers Hinges on Senate Control: Tightening rules for acquiring broadcast TV stations is high on FCC Democrats' to-do list, but how fast they can move may depend on the political drama unfolding in Georgia. Democrats want to undo a rule under which certain TV stations count less toward a national ownership cap which has allowed Nexstar Media Group to significantly expand its reach in markets across the country. The GOP-led agency reinstated the UHF discount in 2017, after the Democratic-controlled FCC scrapped it during the Obama administration. Democrats will need a majority at the five-member commission to enact their agenda, and a Republican-led Senate could block confirmation of a third Democrat to tip the balance. Senate control will be determined by the results of the Georgia runoffs for that state's two seats. Read more from Jon Reid.
Tillis Unveils Bill Aimed Against Illegal Streaming: Sen. Thom Tillis (R-N.C.) announced legislation meant to crack down on large-scale streaming services that illegally stream copyrighted material. The measure would allow federal prosecutors to bring felony charges against commercial piracy services that steam movies, television shows, live sports, and other protected content. Individuals who stream pirated content wouldn't be punished. Read more from Matthew Bultman.
Inhofe Calls Trump's Western Sahara Move 'Shocking': Trump's announcement that he was recognizing Morocco's sovereignty over Western Sahara in return for its establishment of diplomatic ties with Israel is "shocking and deeply disappointing," said Senate Armed Services Chairman Jim Inhofe (R-Okla.). "I am saddened that the rights of the Western Saharan people have been traded away," Inhofe said in a statement, Teaganne Finn reports.
The Presidential Transition
Board Job Likely Bars Austin From Some Arms Deals: Lloyd Austin, President-elect Joe Biden's choice for defense secretary, may have to stay out of decisions on the Pentagon's costliest weapons system, the F-35 Joint Strike Fighter, because of his ties to its engine-maker, Raytheon Technologies.
Supporters of Austin have focused on the historic role he would occupy as the first Black defense secretary, leading a force that Biden notes is 40% people of color. Critics have questioned whether Congress should grant the retired Army general a waiver from a law barring officers from leading the Pentagon within seven years of leaving the military. But debate during Austin's Senate confirmation process will also touch on the revolving door between the Pentagon and its multibillion-dollar contractors, a lucrative tradition that also benefited his most recent predecessors in the name of sharing their wisdom about the needs of the Pentagon and its warfighters. Read more from Roxana Tiron, Tony Capaccio and Billy House.
Yellen Could Bring Treasury Into Climate Fight: Janet Yellen has promised to make fighting climate change a priority as Treasury secretary, spurring hope among activists she will put the issue at the center of U.S. economic policy for the first time. Yellen, Biden's nominee to lead the Treasury Department, has already endorsed a tax on carbon dioxide emissions and urged countries to set up independent councils that can pursue aggressive climate policies without political interference.
Advocates are appealing for her to go even further if confirmed, seizing her role as one of the most powerful people in finance to wield fiscal policy in the campaign against global warming. Some have outlined plans for how Yellen could trigger tighter regulation of oil and gas company finances under the Dodd-Frank Act — even going so far as to require them to sell off fossil fuel assets. Read more from Saleha Mohsin and Jennifer A. Dlouhy.
Tougher Wildfire, Energy Issues Await Vilsack: If Tom Vilsack is confirmed to reprise his post as Agriculture secretary, his approach to energy and environment across 193 million acres of national forests can't mirror his eight years in the Obama administration, ex-Forest Service officials and advocacy groups say. "The challenges are very different today," said Jim Furnish, a consulting forester and former deputy Forest Service chief under former President Bill Clinton. Read more from Bobby Magill.
White House Hints at Transition With Memo: The White House has directed staff to retain certain records to ensure a "smooth transition," the latest sign the government is preparing for Biden to take office even as Trump refuses to concede. In a Dec. 10 memo issued by the White House counsel and chief of staff and obtained by Bloomberg News, aides are being directed to comply with the Presidential Records Act so that they can be transferred to the National Archives "at the end of President Trump's administration." Read more from Jennifer Jacobs and Jordan Fabian.
The Coronavirus Pandemic
Pfizer Vaccine Gets FDA Advisers' Nod: The first Covid-19 vaccine expected to be deployed in the U.S. won the backing of a panel of government advisers, a step that will likely help quickly clear the way for emergency authorization by the Food and Drug Administration. A Food and Drug Administration advisory panel voted 17 to 4, with one abstention, that the benefits of the vaccine from Pfizer and BioNTech outweigh the risks for use in people ages 16 and older. The FDA doesn't have to follow the recommendation, though often it does agree with its advisers. Read more from Anna Edney.
National Struggle to Get PPE to Frontline Workers: The U.S. likely is producing enough masks, gowns, and other personal protective equipment. The supplies just aren't getting to all the health-care workers who need them most. Federal money and real-time data sharing have helped manufacturers boost domestic production of gear seen as critical for essential workers during the coronavirus pandemic. But a lack of a national centralized database to track supply and demand—in particular, who needs what and where—means many of those workers will continue to go without, lawmakers and policy consultants say. Read more from Shira Stein.
States Grapple With Worker Priority: Some of the most populous and most stricken U.S. states are still working out who—after health-care workers—will be at the front of the line for inoculation when the first coronavirus vaccines arrive. While the federal Centers for Disease Control and Prevention advocates vaccinating health-care workers first along with people living in long-term care facilities, who in the U.S. workforce comes next largely remains an open question with special interest groups jockeying for position. Read more from Andrew Harris and Bruce Rolfsen.
CDC Chief Says He Told Staff to Ignore Email From Trump Official: The head of the CDC said he told staff to ignore an email by a top Trump administration health official who had sought changes to a scientific report on Covid-19's risk to children. The email in question was written by Paul Alexander, a senior adviser to Health and Human Services Secretary Alex Azar. Charlotte Kent, the editor of the CDC's Morbidity and Mortality Weekly Report, told congressional investigators that while on vacation in August she received instructions to delete the email. "I instructed CDC to ignore Dr. Alexander's comments," CDC Director Robert Redfield said yesterday at a virtual event held by the Council on Foreign Relations. He also said he instructed staff that they didn't need to reply to the message. "I would never delete an email," he said. Read more from Kristen V. Brown.
What Else to Know Today
Trump Reaps $207.5 Million After Loss: Trump and his party raised $207.5 million in a less than three-week stretch after the U.S. election, fueled by outrage-filled solicitations to donors as he waged an unsuccessful challenge of the results. Money flooded into Trump's coffers at a much higher rate after he began to seek contributions to fight widespread voter fraud and election rigging, despite no evidence of either, after his loss to Biden, according to filings with the Federal Election Commission. The bulk of the cash — $121.7 million — came to the Trump Make America Great Again Committee via WinRed, the Republican platform for gathering smaller donations online. In the 20 days leading up to and including Election Day, those donors gave $44.8 million. Read more from Bill Allison.
The International Brotherhood of Teamsters has parted ways with Joseph diGenova, a former federal prosecutor who waded into political controversy as a member of Trump's legal team seeking to overturn the results of the 2020 election. In a letter Wednesday, Teamsters President James P. Hoffa said he wouldn't reappoint diGenova to another five-year term as the union's independent ethics officer, ending his nearly 20-year involvement with the union's oversight efforts, which began with a probe of Hoffa's political foe, Ian Kullgren and Andrew Wallender report.
Farm Groups Blast Trump Competition Rule: Farm groups say a final rule from the Trump administration aimed at regulating meatpackers' conduct ignores their grievances and favors agribusiness corporations over producers. The final rule is a long-awaited result of the 2008 farm law. It would establish four criteria for the Department of Agriculture to consider when deciding if a packer, swine contractor, or poultry dealer gave an "undue or unreasonable preference or advantage" to a producer and violated the Packers and Stockyards Act, an antitrust law. Read more from Megan Boyanton.
Small Airlines Seen Harmed by Slow Loan Approvals: The Treasury Department's lag in reviewing and approving federal airline loan applications from smaller air carriers limited the help they received and may have led those companies to lay off workers or cease operations, a government watchdog found. The Government Accountability Office study said that Treasury Department didn't share loan agreements with small carriers until mid-August, months after Congress directed Treasury to administer $25 billion in air carrier loans to passenger airlines under a March coronavirus relief package. Read more from Courtney Rozen.
U.S. Plans to Sanction Turkey: The U.S. plans to impose sanctions on Turkey over its purchase of S-400 missiles after years of drama that began with the NATO ally's decision to buy the air-defense system from Russia in 2017. Trump has signed off on a package of measures recommended by Secretary of State Michael Pompeo, according to two people familiar with the matter. The people didn't say what the sanctions would include. Read more from Jennifer Jacobs and Onur Ant.
U.S. Urges Withdrawal of Eritrean Troops From Ethiopia: The U.S. called for the immediate withdrawal of Eritrean troops from neighboring Ethiopia's Tigray region, following "credible" reports of their involvement in a civil conflict. The reports relate to an assault that Ethiopian Prime Minister Abiy Ahmed ordered on the northern regional state Nov. 4, after blaming it for an attack on a military base to try and steal weapons. Eritrea's involvement would confirm that the conflict has become regional. Read more from Simon Marks.
To contact the reporters on this story: Zachary Sherwood in Washington at zsherwood@bgov.com; Brandon Lee in Washington at blee@bgov.com
To contact the editors responsible for this story: Giuseppe Macri at gmacri@bgov.com; Loren Duggan at lduggan@bgov.com; Michaela Ross at mross@bgov.com