What to Know in Washington: Relief Bill is Schumer's First Test
Chuck Schumer confronts his first major test as Senate majority leader with the chamber set to take up President Joe Biden's $1.9 trillion Covid relief package this week despite simmering tension between the Democratic Party's moderate and progressive factions.
Schumer (D-N.Y.) said he wants to bring the legislation to the Senate floor by mid-week, but yesterday Democrats were still wrangling over some details of the bill, a version of which the House passed early Saturday on a narrow party-line vote.
The package includes $1,400 payments to millions of Americans along with extended supplemental unemployment benefits and aid to small businesses, though who gets the payments and how big the jobless benefits will be in the final Senate bill is the subject of negotiations among Democrats.
"We're looking for a targeted bill," said Sen. Joe Manchin (D-W.Va.), a pivotal vote needed for passage in the 50-50 Senate. "We want it to be very targeted, helping the people that need help the most."
Once the Senate passes the legislation it will return to the House, where Republicans are united in opposition and progressive Democrats are protesting the exclusion of a provision to raise the federal minimum wage to $15 an hour.
Democrats have set a deadline of getting the legislation to Biden's desk before the expanded unemployment benefits that were in the last pandemic relief bill begin running out on March 14. Read more from Laura Litvan and Erik Wasson.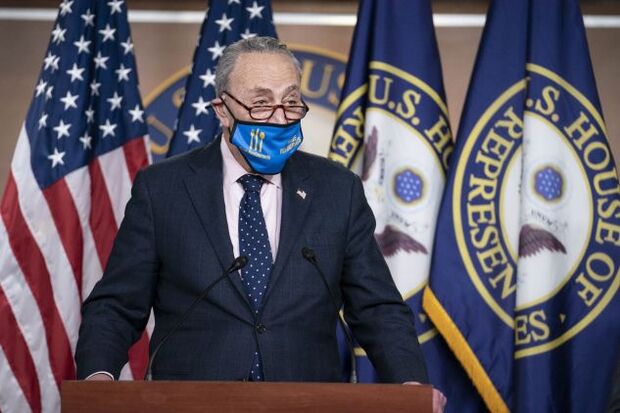 Sanders Seeks Amendment Vote on Minimum Wage: Senate Budget Chairman Bernie Sanders (I-Vt.) will force a vote on an amendment that would add the $15 minimum wage measure back into the relief bill, he said in a statement yesterday. The measure is likely to fail because Republicans and some Democrats have said they oppose the measure, but it will serve to put members on the record on the issue.
Sanders also said he thinks senators should overrule the parliamentarian and eliminate the 60-vote threshold to end debate in the Senate. "My own personal view is that the Senate should ignore the parliamentarian's advice, which is wrong in a number of respects," Sanders said. "I am not sure, however, that my view at this point is the majority view in the Democratic Caucus."
The package's measures on pensions and COBRA health insurance have been approved by the parliamentarian, Senate Finance Chairman Ron Wyden (D-Ore.) said in a statement yesterday.
Happening on the Hill
FBI Chief to Set Out Extremist Threat to U.S.: Violent extremists motivated by racial and anti-government ideology have emerged as the biggest domestic terrorism threat, FBI Director Christopher Wray will tell senators in his first public testimony since Biden took office. Wray will face a barrage of questions from the Senate Judiciary Committee today about whether intelligence and law enforcement agencies were aware of the danger facing lawmakers when violent supporters of President Donald Trump stormed the Capitol on Jan. 6.
"There are obvious questions: What did he know and when did he know it and who did he tell?" Sen. Dick Durbin (D-Ill.), the committee's chairman, told reporters yesterday. "Those are questions which have been raised in other hearings, but he is the man of the hour. As the head of the FBI, I think he has a special position, place, to answer that question." Read more from Chris Strohm.
Drama for Biden's Budget Pick Shines Light on Deputy: Bipartisan opposition to Biden's budget director nominee, Neera Tanden, is drawing attention to his choice for the deputy role: a little-known House staffer named Shalanda Young. Young has emerged as a strong contender for the top job at the White House Office of Management and Budget if Tanden fails to convince at least one Republican to save her nomination after Sen. Joe Manchin (D-W.Va.) said he would oppose her. The Senate Budget Committee will hear from Young today to evaluate her nomination as the OMB deputy. Read more from Erik Wasson and Nancy Ognanovich.
H-1B Push Cut If Immigration Bill Divided: Increases in visas for highly skilled foreign workers could fall by the wayside this year if Democrats decide to overhaul immigration through a series of small bills instead of the sweeping one put forward by Biden. Biden's immigration plan calls for dramatically boosting the number of green cards and expanding other avenues for high-skilled workers, a move welcomed by business interests, which have long sought reform of the H-1B visa and other programs. But House Democrats are weighing a piecemeal approach to immigration that could reduce leverage to push through increases in immigration for skilled workers. Read more from Ryan Teague Beckwith, Jordan Fabian and Laura Litvan.
Depleted IRS Gains Momentum for Funding Boost: The IRS is experiencing a unique moment where Democrats and Republicans are open to funding increases for the agency—but the question remains how much and for how long. Read more from Allyson Versprille, Kaustuv Basu and Colin Wilhelm.
Warren Says Wealth Tax Bill Could Help Pay for Health: Sen. Elizabeth Warren (D-Mass.) said her proposed wealth tax on households worth over $50 million could help pay for investments in childcare and health reforms as part of Biden's priorities to "Build Back Better" after the coronavirus pandemic that's disproportionately hurt low-income families. Read more from Erik Wasson.
Oshkosh Order Should Be Halted, Democrats Say: Ohio lawmakers are asking Biden to halt a $6 billion award to Oshkosh for a new fleet of Postal Service trucks, after a company based in their state was passed over for the deal. Reps. Tim Ryan (D) and Marcy Kaptur (D), as well as Sen. Sherrod Brown (D), argued that a review is needed into whether "inappropriate political influence was involved in the decision" to award the order to Wisconsin-based Oshkosh, Ari Natter reports.
Around the Administration
Cardona Confirmed as Education Secretary: The Senate confirmed Biden's Education secretary pick, Miguel Cardona, who's pledged to provide leadership to schools deciding how to open up during the pandemic. Cardona, Connecticut's education commissioner since 2019, was confirmed on a 64-33 vote yesterday. He won support from Senate Democrats, as well as Richard Burr (R-N.C.), the ranking Republican on the Health, Education, Labor, and Pensions Committee, and 13 other Republicans. Read more from Andrew Kreighbaum.
Rail Industry Gets Boost From Buttigieg: New ways of funding rail transportation are getting a boost from advocates, Democratic lawmakers, and the U.S. transportation chief as part of the debate over the forthcoming infrastructure package. The freight rail industry ramped up its push for dedicated funding yesterday with a proposal from the Association of American Railroads that includes new fees on vehicles. Passenger rail advocates have also been calling for Congress to provide more predictable funding. The lobbying comes after Transportation Secretary Pete Buttigieg floated the possibility of Congress creating a dedicated trust fund for rail. Read more from Lillianna Byington.
U.S. Calls Biden Saudi Stance Recalibration, Not Rupture: Biden's approach to Saudi Arabia represents a "recalibration" and not a break in historically close ties, as the U.S. plans to make respect for human rights more central to its posture toward the kingdom, according to a State Department spokesman. Nick Wadhams has more.
Biden and Mexico's AMLO Discuss Virus, Immigration: Biden and the president of Mexico, Andres Manuel Lopez Obrador discussed the response to the coronavirus pandemic, migration and climate change in a video meeting yesterday. "Both presidents reaffirmed the importance of close collaboration to respond to the Covid-19 pandemic, particularly in areas related to economic and health cooperation," their governments said in a joint statement released last night. "They agreed to deepen cooperation on pandemic response, including by enhancing public health capabilities, information sharing, and the development of border policies." Read more from Jordan Fabian and Nancy Cook.
DOJ Says Trump 'Lawfully' Killed Solar-Tariff Loophole: The climate-focused Biden White House said the previous administration "acted lawfully and fully within his authority" when Trump canceled a tariff exemption for two-sided solar panels, marking a potential setback to clean-power developers. Brian Eckhouse and Susan Decker have more.
Vaccine Task Shifts From Supply to Demand: With three approved vaccines for Covid-19, the U.S. will be able to increase supply in the coming weeks but still has work to do in persuading the American public to take the shots, said David Kessler, the new chief science officer for the federal government's coronavirus response. "We are going to go from a supply problem to a demand problem," he said yesterday in a conversation with Judy Woodruff of PBS NewsHour. Read more from Marie Patino.
What Else to Know Today
Progressive Judges Wish List Heavy on ACLU: If progressive activists had their way, Biden would appoint more judges who represented criminal defendants as well as workers, consumers, and civil rights plaintiffs. Wish lists assembled by two progressive groups, Demand Justice and the People's Parity Project, provide a window into what exactly their vision for the federal bench looks like. Read more from Madison Alder.
Trump Investigators Seek Info About CFO Weisselberg's Sons: New York prosecutors investigating Donald Trump and the Trump Organization have questioned witnesses about the two sons of the company's longtime chief financial officer, Allen Weisselberg, according to people with knowledge of the matter. Read more from Greg Farrell.
Trumps Privately Got Vaccinated Before Leaving the White House: Trump privately received at least one dose of a coronavirus vaccine while still in office in January, aides familiar with the matter say, at a time when other public officials took shots on-camera to boost public confidence in the vaccines. Trump and his wife, Melania, have now received both doses of vaccine, said one of the aides, who spoke on condition of anonymity. Read more from Josh Wingrove.
Cuomo Faces Democratic Calls to Resign: Andrew Cuomo faces more calls to resign from fellow Democrats after a third woman came forward to accuse the New York governor of inappropriate behavior yesterday. Rep. Kathleen Rice (D-N.Y.) became the first Democratic member of Congress to call for Cuomo to resign, saying yesterday, "the time has come." Read more from Shelly Banjo, Erik Larson and Ryan Teague Beckwith.
To contact the reporters on this story: Zachary Sherwood in Washington at zsherwood@bgov.com; Brandon Lee in Washington at blee@bgov.com
To contact the editors responsible for this story: Giuseppe Macri at gmacri@bgov.com; Loren Duggan at lduggan@bgov.com; Michaela Ross at mross@bgov.com