What to Know in Washington: Redistricting Restarts Ahead of 2024
Bloomberg Government subscribers get the stories like this first. Act now and gain unlimited access to everything you need to know. Learn more.
The new district lines that helped Republicans win slim control of the US House could be changed in more than a dozen states before the 2024 election, potentially giving the GOP a stronger foothold for years to come.
North Carolina and Ohio — two of the nation's most populous states, with 29 districts between them — used sure-to-be-changed interim maps in 2022. In addition, lawsuits alleging illegal gerrymandering are wending through the judicial process, and the US Supreme Court is considering whether to upend ground rules for redistricting.
"The maps could change enough that the dynamics of who has the upper hand in winning the House could change as well," said Michael Li, a redistricting expert at the Brennan Center for Justice at New York University School of Law.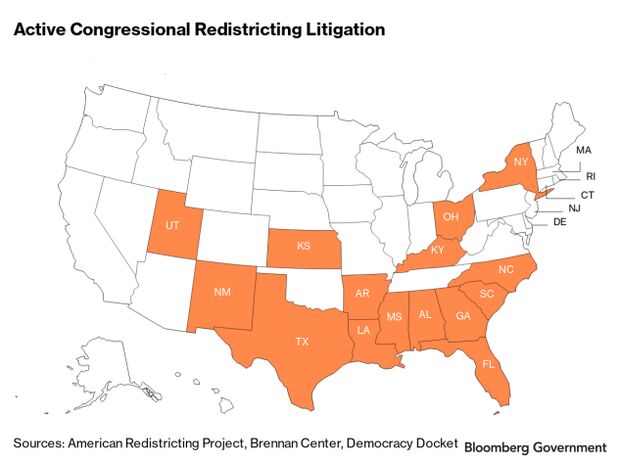 That inherently contentious process could amplify the partisan divide in Congress and statehouses as each party seeks to draw lines in its favor.
The stakes are high, and the landscape has a lot of uncertainty that makes it hard to predict whether Republicans might expand their 222-212 edge. Greg Giroux breaks out the states to watch here.
Happening on the Hill
CONGRESS' SCHEDULE
The House returns at 9 a.m. to consider two measures, including a resolution condemning China for deploying a surveillance balloon over the US.
Senators meets at 10 a.m. to vote on judicial nominations.
The new top Democrat on the House Budget Committee said he's open to the creation of a bipartisan commission to explore extending Social Security solvency — a different stance from the White House, which compared the idea to a "death panel" for entitlement programs.
Republicans on the House Budget Committee on Wednesday floated a list of sample budget cuts they could back in exchange for raising the nation's debt ceiling. Read more.
President Joe Biden hit back at Republicans who heckled him during his State of the Union address over his assertion that some GOP lawmakers want to curb Social Security and Medicare benefits. Read more.
The acting head of the Federal Aviation Administration Billy Nolen will testify at a Senate Commerce, Science and Transportation Committee hearing on Feb. 15, according to a statement from the committee.
The new House subcommittee chairman overseeing US train transportation wants to crack down on Amtrak's spending and security as more money goes to the rail corporation.
National security depends on the US working with allies to increase manufacturing capacity even as Biden used the State of the Union stage to push new made-in-America standards, defense industry participants testified to the House Armed Services Committee Wednesday.
In the wake of the police killing of Tyre Nichols, a new bill in Congress would incentivize US cities and states to take police out of traffic enforcement.
Lawmakers should hold off on setting guardrails around online content until they better understand how social media companies work, a former Twitter official said Wednesday.
Democrat Peter Welch (Vt.), the newest member of the Senate Judiciary Committee, shares something in common with many of Biden's judicial nominees: a public defender background.
Democratic Senator John Fetterman (Pa.) was taken to George Washington University Hospital after feeling lightheaded, according to an aide.
Elections, Politics & Probes
The president dismissed concerns about his age ahead of an expected 2024 reelection campaign, citing his performance in Tuesday night's State of the Union address.
Biden downplayed materials — including classified documents — discovered at his Delaware home and personal office in Washington, saying his understanding was federal agents took "stray papers" and items that dated to the 1970s.
Chad Wolf, former acting homeland security secretary, has been interviewed as part of a special counsel's probe into efforts by Donald Trump and his allies to overturn the 2020 election, according to a person familiar with the matter.
Around the Administration
BIDEN'S AGENDA
Biden at 1:30 p.m. gives a speech in Tampa, Florida about protecting Social Security and Medicare and lowering healthcare costs.
The US national cyber director, Chris Inglis, plans to leave his position next Wednesday, according to two people familiar with the matter.
The Biden administration has relied too long on career official Tae Johnson to lead US Immigration and Customs Enforcement in the absence of a Senate-confirmed leader, a federal watchdog said in a decision that threatens to cause fresh legal headaches for the agency.
Biden denied that relations with Beijing have suffered a serious blow after the US downed an alleged Chinese spy balloon that flew across the continental US.
At a news conference Wednesday, Secretary of State Antony Blinken said the US had briefed dozens of countries about the full extent of a years-long Chinese surveillance program that developed the high-altitude balloon that crossed over the country last week. "The United States was not the only target of this broader program, which has violated the sovereignty of countries across five continents," Blinken said. Read more.
Treasury Secretary Janet Yellen said she still aims to visit China, though has no specific plans after the recent diplomatic spat over an alleged Chinese spy balloon over US airspace. Read more.
The US government continues to resist calls to provide Ukraine with fighter jets, but Blinken stopped short of categorically ruling out such assistance down the road.
Biden's top adviser on Russia at the National Security Council is leaving his post as the US continues to grapple with the Kremlin's war in Ukraine.
To contact the reporters on this story: Brandon Lee in Washington at blee@bgov.com; Michaela Ross in Washington at mross@bgov.com
To contact the editor responsible for this story: Giuseppe Macri at gmacri@bgov.com
Stay informed with more news like this – from the largest team of reporters on Capitol Hill – subscribe to Bloomberg Government today. Learn more.