What to Know in Washington: 'Red-Flag' Law to Start Gun Talks
Revived gun law push follows Texas massacre
Biden calls for revamped policing
The massacre at a Texas school has revived discussions of so-called red-flag laws as one potential compromise between Democrats and Republicans, as lawmakers grasp for some response to yet another US mass shooting.
Red-flag laws allow law enforcement officials or family members to ask a court to temporarily remove firearms or prevent their purchase by someone deemed a danger. Still, less than 24 hours after a shooter killed 19 elementary students and two teachers at Robb Elementary School, divisions were already forming on the specifics of how that would work, raising questions about whether a compromise can be found.
House Majority Leader Steny Hoyer (D-Md.) tweeted Wednesday that the House, which is on recess until June 7, will debate a bill from Georgia Democrat Lucy McBath, whose son was killed in a shooting, that would create a federal red-flag law. The House Judiciary Committee approved in October on a party-line vote. Democrats could use their majority to pass it in the House, but in the Senate at least 10 Republican votes would be needed to move the bill forward.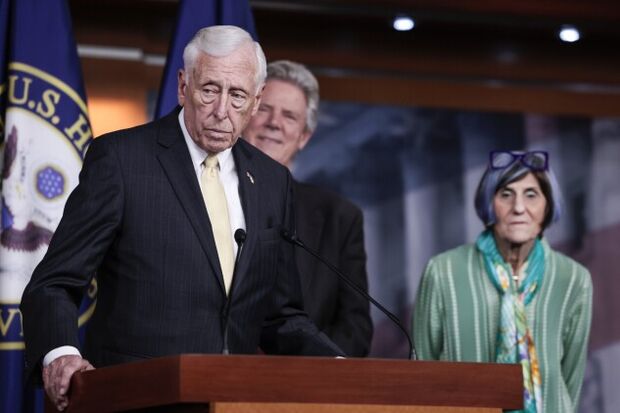 Several Senate Republicans have said they support providing incentives for states to enact red-flag laws. Sen. Marco Rubio (R-Fla.), who has proposed legislation doing just that, said Wednesday that the authority should be the purview of individual states.
Sen. Susan Collins (R-Maine) said Sen. Chris Murphy (D-Conn.), who was elected to the Senate one month before the Sandy Hook shooting, reached out to her and they discussed Maine's version of a red-flag law. Read more from Steven Dennis and Laura Litvan.
A majority of Americans support stricter gun control laws, but deep partisan distrust is likely to block cooperation. About 60% of voters in a Morning Consult poll last week—after a shooting in Buffalo, N.Y.—said they support stricter gun control laws. "The problem is, they don't trust the Democrats to administer it," said Frank Luntz, a Republican pollster. That's despite the fact that most people agree with Democrats on many specific gun measures, including expanded background checks and preventing people with mental illness from purchasing guns, Gregory Korte reports.
Related:
Biden Orders Revamp of Policing in Wake of George Floyd's Death
President Joe Biden marked the second anniversary of George Floyd's death by ordering a revamp of police use-of-force practices, with criticism of Republicans for blocking legislation that would have enacted broader changes.
During a ceremony at the White House on Wednesday, Biden said the measure would help "address profound fear and trauma exhaustion" that Black Americans have over racial bias in policing.
In his remarks from the East Room of the White House, Biden said he resorted to an executive order because Republican senators had "opposed any meaningful reform."
Related: Biden to Meet Families of Texas School Shooting Victims
Like gun control, legislation to impose broad-based policing changes has faltered in Congress. House Democrats passed a law-enforcement overhaul bill named after Floyd in March 2021, but bipartisan negotiations in the Senate collapsed in September in large part due to Republican opposition to allowing families of victims of police violence to sue officers for damages.
"There are those who seek to drive a wedge between law enforcement and people they serve, those who peddle the fiction of public trust and public safety are in opposition to one another. We know that's not true, but it occurs," Biden said. Jordan Fabian and Justin Sink have more.
Also at the ceremony, Biden challenged US lawmakers to swiftly toughen the nation's gun laws to stop the steady stream of deadly mass shootings. "Where's the backbone? Where's the courage to stand up to a very powerful lobby," Biden said. "We must ask when in God's name will we do what needs to be done?" Biden also urged the Senate to confirm his pick to head the Bureau of Alcohol, Tobacco, Firearms and Explosives, Steve Dettelbach. Justin Sink, Jordan Fabian and Courtney Rozen have more.
Happening on the Hill
CONGRESSIONAL AGENDA:
The Senate convenes at 10 a.m. and will consider taking up a bill targeting domestic terrorism.
Christopher Frey overcame criticism from Senate Republicans to win confirmation on Wednesday, becoming assistant secretary of the EPA's Office of Research and Development. Frey was confirmed on a 51-43 vote, Stephen Lee reports.
OSHA Assistant Secretary Doug Parker defended the agency's rulemaking efforts Wednesday during a heated appearance before the House Workforce Protections Subcommittee. Committee Democrats found the agency's efforts to enact rules covering Covid-19, heat stress, and workplace violence moving too slowly, and Republicans questioned OSHA's failed Covid-19 vaccination-or-test rule, Bruce Rolfsen reports.
Following the Food and Drug Administration's decision to stop contracting with McKinsey & Company after revelations that it contracted with both government clients and opioid manufacturers on related issues, the Senate Homeland and Governmental Affairs Committee approved a bill (S. 3905) to tackle federal contractors' conflicts of interest, Patty Nieberg reports.
A revolving fund of cash for government agencies to overhaul their outdated IT systems needs more money, government officials, including Dave Hinchman, acting director of IT and cybersecurity for the Government Accountability Office, told the House Oversight and Reform Committee subpanel Wednesday. Josh Axelrod has more.
A bipartisan group of senators are calling on Biden to not lift Section 301 tariffs, which currently target China "and their illegal and unfair trade practices." Rolling back the tariffs on China would "expose many U.S. companies and workers to a sudden flood of imports, and signal to China that waiting out the United States is preferable to changing their non-market behavior," they wrote in a letter, Alisa Parenti reports.
A detailed report on the April 20 emergency evacuation of the US Capitol raises new questions about poor communication at a command post designed to ensure security in the skies above Washington. A US Capitol Police official assigned to help monitor aircraft near Congress knew that the plane was authorized to be in the area and wasn't a threat, and tried to notify colleagues in a phone call, the report by the Federal Aviation Administration said, Alan Levin and Billy House report.
Elections & Politics
Texas Attorney General Ken Paxton was accused of being "dishonest" by the Texas Bar Association's disciplinary arm, a day after winning the Republican party's hotly contested primary run-off election. Paxton led the December 2020 US Supreme Court challenge against Biden's election victory in four key battleground states that Trump claimed without evidence were stolen from him by widespread fraud, Laurel Brubaker Calkins reports.
Swatting back his subpoena from the House committee investigating the Jan. 6, 2021 attack on the US Capitol, Republican Rep. Jim Jordan (Ohio) demanded the panel first turn over information to him. Jordan doesn't refuse to comply but argues in a four-page letter to Rep. Bennie Thompson (D-Miss.) and the panel's chairman that subpoenaing a sitting member of Congress "violates core Constitutional principles," Billy House reports.
Pennsylvania officials ordered a recount in the too-close-to call Republican US Senate race between celebrity physician Mehmet Oz and former Bridgewater Associates CEO David McCormick. Acting Pennsylvania Secretary of State Leigh Chapman said Oz currently has a lead of 902 votes over McCormick based on unofficial votes tallied so far, which by state law triggers an automatic recount, Mark Niquette reports.
Antonio Delgado was sworn in as New York's Lieutenant Governor Wednesday afternoon, shortly after 4 p.m., when the 45-year-old Democrat officially resigned the Hudson Valley Congressional seat he first won election to in 2018. New York will hold a special election to fill Delgado's vacant house seat on August 23rd, the same day as New York's Congressional primaries, Laura Nahmias reports.
A challenge to a Texas law imposing new restrictions on assisted voting and vote-by-mail applications will advance, after a federal judge in the state said the federal government plausibly alleged that the law violates the Voting Rights Act and the Civil Rights Act, Jacklyn Wille reports.
Sponsors of ads advocating election or defeat of political candidates would have to disclose their donors under a proposed rule set to be considered at a Federal Election Commission meeting today, Kenneth P. Doyle reports. It would be effective for the midterm elections if approved by a majority of the six FEC commissioners. Read more in BGOV's Congress Tracker.
Around the Administration
BIDEN'S SCHEDULE:
The president has no public events scheduled.
The White House will hold a press briefing at 3 p.m.
The Biden administration will soon propose a rule requiring major companies that supply goods and services to the federal government to disclose their greenhouse gas emissions, a White House official said Wednesday. The rule will be distinct from—but similar to—the US Securities and Exchange Commission's March proposal that requires publicly-traded companies to report their carbon emissions, Stephen Lee reports.
More than 16 months into Biden's tenure, Secretary of State Antony Blinken will deliver a long-awaited speech outlining US strategy toward China. But analysts, investors and markets looking for detailed guidance are likely to be disappointed: the top US diplomat is expected to use his remarks Thursday at George Washington University to explain existing policies rather than unveil any bold new direction. Iain Marlow previews the speech.
Brazil President Jair Bolsonaro said he and Biden will have their first bilateral meeting next month after the South American leader agreed to attend a regional summit in Los Angeles, according to CNN Brasil. Read more from Simone Iglesias and Daniel Carvalho.
Iran's foreign minister said Biden has to end his predecessor's "maximum pressure" strategy against Tehran in order to restore the 2015 nuclear deal. Read more from Golnar Motevalli.
Twitter has agreed to pay $150 million to settle allegations by the Federal Trade Commission that it misused users' phone numbers uploaded for security purposes to target advertising, according to court filings Wednesday, Leah Nylen reports.
Abortion-rights advocates vowed to ask the Oklahoma Supreme Court to block the state's near-total abortion ban within minutes of Governor Kevin Stitt signing the measure into law, Laurel Calkins reports.
With assistance from Kenneth P. Doyle
To contact the reporters on this story: Michaela Ross in Washington at mross@bgov.com; Brandon Lee in Washington at blee@bgov.com
To contact the editors responsible for this story: Giuseppe Macri at gmacri@bgov.com; Andrew Small at asmall@bgov.com