What to Know in Washington: Railroads, Unions Reach Agreement
Railroads and unions representing more than 100,000 workers reached a tentative deal, the government said, a breakthrough that looks to avert a labor disruption that risked adding supply-chain strains to the world's largest economy.
After 20 straight hours of talks, the companies and union negotiators reached a preliminary agreement balancing the needs of workers, businesses and the economy, according to a Labor Department statement early Thursday.
It was a "hard-fought, mutually beneficial deal," the emailed statement said. "Our rail system is integral to our supply chain, and a disruption would have had catastrophic impacts on industries, travelers and families across the country."
In early trading, shares of major freight railroads rose, with CSX gaining 2.1%, Norfolk Southern up 1.5% and Union Pacific advancing 4.7%.
The deal extends the so-called cooling off period, during which the two sides have been negotiating, until union members can ratify it, an administration official said.
Aside from the disruption to key freight from corn to cars, the prospect of a strike put President Joe Biden in a political bind: push explicitly for a deal and risk undermining his pro-union campaign promises, or side with labor during a strike and risk getting blamed for hurting an economy beset with soaring inflation and supply-chain snarls.
Biden weighed in late Wednesday night as the negotiations were ongoing, stressing during a call with negotiators the importance of avoiding harm to families, farmers and businesses, a White House official said. Read the latest from Ryan Beene, Rebecca Rainey and Josh Wingrove.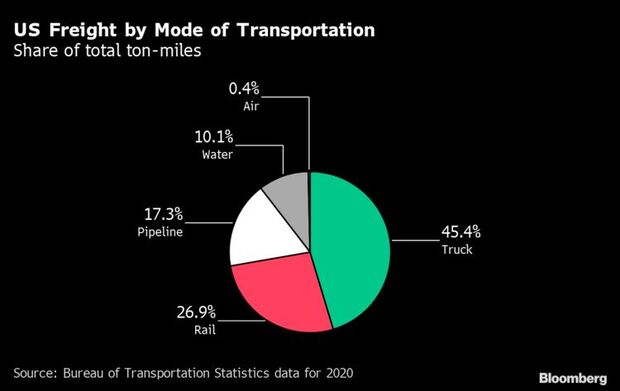 Happening on the Hill
CONGRESS' SCHEDULE
The Senate meets to consider a judicial nomination as well as the nomination for TSA administrator.
The House meets to consider legislation on federal worker protections, federal whistleblowers and the US Census.
One of Washington's most prominent business groups sent a warning about an impasse in Congress over a corporate tax break for research and development costs.
A national right-to-repair law aimed at helping consumers repair devices they own could encourage intellectual property violations, Republicans said during a House subcommittee hearing Wednesday.
Bank CEOs including Jamie Dimon of JP Morgan Chase and Brian Moynihan of Bank of America will testify at a House Financial Services Committee hearing on banking accountability on Sept. 21, according to a release from Chairwoman Maxine Waters (D-Calif.).
A Democrat-led Congressional Committee said internal documents from Exxon Mobil, Chevron, Shell and BP reveal that their public promises to fight climate change amount to greenwashing.
A top executive for the video app TikTok, which is owned by Chinese tech giant ByteDance, told a US Senate panel that it's negotiating with federal regulators on restricting access to user data for employees in China, but declined to commit to a total cutoff.
Elections & Politics
Senator Lindsey Graham's (R-S.C.) proposal for a nationwide abortion ban has jolted the Republican strategy for dealing with the contentious social issue and gives Democrats a new line of attack less than two months before the midterm elections.
Text messages between Secret Service personnel on the day of US Capitol assault are included in a substantial tranche of additional material recently obtained by the House committee investigating the insurrection.
Former White House Chief of Staff Mark Meadows has complied with a US Justice Department subpoena related to the Jan. 6, 2021 investigation, CNN reported, citing people familiar with the matter.
A new book's accusations of improper partisan interference inside former President Donald Trump's Justice Department puts Wilmer Hale in the uncomfortable position of having a congressional investigations partner the subject of a Senate probe.
Legal ethics prosecutions against Rudy Giuliani and Jeffrey Clark are progressing along with state, federal, and congressional probes exploring the role that they and others played in aiding Trump's effort to undo the 2020 election.
Campaigns Could Pay for Lawmakers' Cybersecurity Under FEC Draft
Elizabeth Warren and other congressional lawmakers would be able to use campaign donors' money for heightened cybersecurity in their homes under a draft ruling set for a vote Thursday. The Federal Election Commission is set to consider an advisory opinion requested by Warren's (D-Mass.) campaign committee that would further expand approved uses of donors' money to guard against both cyber and physical threats, Kenneth Doyle reports.
Increased threats have prompted the FEC to expand lawmakers' permissible uses of campaign money several times in recent years, including for cybersecurity, home alarm systems and even bodyguards. Warren's lawyers have pointed to testimony from national security officials that personal Gmail accounts of senators and other officials have been targeted by hackers, including agents of foreign governments. If approved, the terms of the FEC ruling would apply to all lawmakers.
Around the Administration
PRESIDENT'S SCHEDULE
Biden at 3:30 p.m. is scheduled to deliver a speech at the United We Stand Summit.
At 8:25 p.m., Biden is to attend the 45th Congressional Hispanic Caucus Institute Gala.
Technology giants including Microsoft, Instagram and Facebook parent Meta, Alphabet's YouTube, and Amazon's Twitch will announce new actions to combat hate crimes and racially-motivated violence at a summit hosted by Biden at the White House.
The Justice Department is launching three strike force teams to enhance its efforts against Covid-19 fraud, the DOJ said Wednesday.
The biomedical innovation center envisioned by Biden can now move forward in building its scientific agenda, even as influential lawmakers continue to press for changes in the agency's setup.
South Korea and the US are stepping up efforts to resolve a dispute over electric-vehicle subsidies, as they seek closer cooperation on Asia-Pacific supply chains, Seoul's top trade negotiator said.
Contractors, watchdogs, and lawmakers are missing key intelligence about procurement activities and individual programs under the Defense Department's landmark command-and-control integration initiative.
The Consumer Financial Protection Bureau is considering ways to bring consumer protection measures for credit cards to users of buy-now-pay-later products.
Treasury Secretary Janet Yellen will unveil some of the Biden administration's planned changes for the Internal Revenue Service, including efforts to dramatically bolster the capacity of in-person and call-in support services, during a speech Thursday at an IRS facility just outside Washington.
To contact the reporters on this story: Brandon Lee in Washington at blee@bgov.com; Michaela Ross in Washington at mross@bgov.com
To contact the editor responsible for this story: Giuseppe Macri at gmacri@bgov.com