What to Know in Washington: Rail Strike Threat Presses Congress
Bloomberg Government subscribers get the stories like this first. Act now and gain unlimited access to everything you need to know. Learn more.
Several powerful industry groups are urging Congress to step in and prevent a rail strike ahead of the holiday season if railway unions don't agree to a labor pact.
The nation's two largest railway unions held conflicting votes — whose results were announced Monday — on the labor deal, increasing the threat of a strike next month. Congress will need to step in if unions and railroads fail to reach an agreement before the cooling-off period ends in December, retail, agriculture, and consumer brands trade groups said Monday.
Members of Congress will have to decide what to do when they return from their Thanksgiving break. Democrats have been wary of intervening in labor disputes, but industries are warning of economic consequences if they can't move goods ahead of the holidays.
"I'm hoping the railroads will get reasonable, this is the 21st Century and to have skilled workers being denied sick leave, even unpaid sick leave, is unconscionable," Rep. Peter DeFazio (D-Ore.), chair of the House Transportation and Infrastructure Committee, said in an emailed statement Monday. "Freight rail companies are watching their record profits, 'Oh my God, if we give people paid sick leave our stock might drop by a dollar.' Give me a break."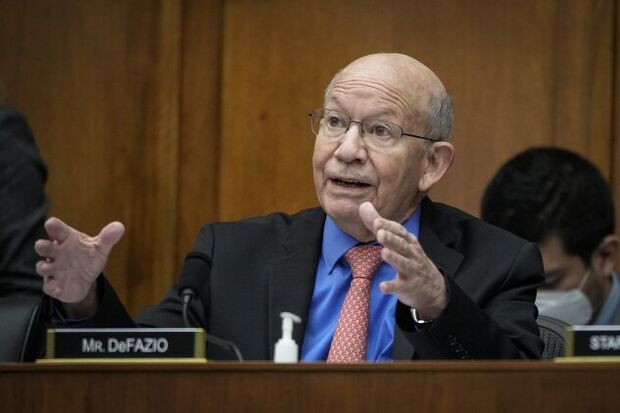 The US Chamber of Commerce used the rejected vote to urge Congress to act, arguing the issue should be lawmakers' top priority. The Consumer Brands Association, which represents packaged goods makers, and the National Grain and Feed Association also said Monday they want lawmakers to prevent a strike through legislative action.
"A voluntary agreement between the railroads and 12 unions remains a best-case scenario, but an increasingly unlikely one," Tom Madrecki, vice president of supply chain and logistics at the brands association, wrote to lawmakers. "Playing a game of chicken with consumers' access to everyday essential products is a risky proposition."
Congress can pass legislation to keep the railroads operating under the Railway Labor Act. Lawmakers have previously intervened in labor negotiations. Read more.
The rank-and-file union rejection may force the president to choose between organized labor and big business before a Dec. 9 strike date. In doing so, President Joe Biden and congressional Democrats risk betraying organized labor, a group that just helped them retain the majority in the Senate and will be crucial to Biden's re-election prospects in 2024.
"It's a vice of the Democratic Party's own making," said Ron Kaminkow, general secretary of Railroad Workers United, an independent group that opposes the tentative agreement and lawmakers' intervention. "If we're defeated, an injury to one is an injury to all."
Politics, Policy & Probes
Only two Republicans who voted to impeach Donald Trump for his role in the Jan. 6 Capitol attack made it through the primaries. Now both have won re-election.
The Associated Press on Monday called the race for Rep. David Valadao (R-Calif.), who was ahead with 52% of the vote. The other pro-impeachment Republican who sought re-election, Rep Dan Newhouse (R-Wash.), won with 68% of the vote.
Of the other eight GOP House members who concluded there were sufficient grounds to impeach Trump, four are retiring and four, including Rep. Liz Cheney (Wyo.), lost to Trump-backed opponents in their primaries.
Congressional Democrats are pushing for legislative action during the lame-duck session to shield recipients covered by the "Deferred Action for Childhood Arrivals" policy in light of litigation that could lead to its termination.
A trio of Democratic senators urged the Justice Department to unwind the 2010 merger of Live Nation Entertainment and Ticketmaster after the botched launch of Taylor Swift concert ticket sales last week.
The Biden administration is committed to the nomination of Eric Garcetti as the next ambassador to India and continues discussions with the Senate for his confirmation, White House Press Secretary Karine Jean-Pierre told reporters.
A federal jury on Tuesday will begin deliberating seditious conspiracy charges brought against five members of the right-wing Oath Keepers militia after their two-month trail stemming from the Jan. 6 attack on the US Capitol wrapped up.
Sam Bankman-Fried's FTX cryptocurrency empire was on the radar of federal prosecutors in Manhattan long before it collapsed this month.
Meanwhile, Tampa Bay Buccaneers quarterback Tom Brady and the Golden State Warriors' Steph Curry are among the celebrities that a Texas regulator is investigating for potential securities-law violations tied to their promotions of crypto exchange FTX. Read more
Civil rights leaders are urging major advertisers to stay away from Twitter after Elon Musk, the company's new billionaire owner, reinstated Trump over the weekend.
Around the Administration
PRESIDENT'S SCHEDULE
At 11:30 a.m., press secretary Karine Jean-Pierre holds a press briefing with Biden's Covid response leaders Ashish Jha and Anthony Fauci
At 6:20 p.m., the president and First Lady Jill Biden depart for Nantucket, Mass.
Renewable energy infrastructure and other projects could be more easily permitted under existing federal laws and regulations if federal agencies would more boldly use the authority they already have, natural resources lawyers say as Congress grapples with permitting changes.
The sweeping push to replace fossil fuel plants with clean energy is forcing US power grids to the brink of a twin crisis, making electricity unaffordable while raising the specter of more frequent blackouts, a member of the Federal Energy Regulatory Commission said.
The US Federal Trade Commission said Meta Platforms stifled competition when it halted plans to build its own virtual reality fitness app and opted to buy Within Unlimited instead.
While buyout firms have been busy protecting their lucrative carried interest fee structure in Congress, Biden administration securities, antitrust and broadcast TV regulators have quietly been undermining the industry's business model by proposing tough rules, slow-walking deals and scrutinizing acquisitions that would consolidate industries or result in job losses.
US Secretary of Defense Lloyd Austin urged China to avoid "destabilizing actions" toward Taiwan in his first face-to-face meeting with Defense Minister Wei Fenghe since House Speaker Nancy Pelosi's (D-Calif.) visit to Taipei in August.
The US and Russia urged Turkey to avoid escalating violence in northern Syria as Turkey's leader vowed a fresh incursion against Kurdish militants that could threaten existing cease-fire agreements.
The US continues to review its relationship with Saudi Arabia, even after the kingdom's crown prince was assessed as being immune in a legal case over the killing of columnist Jamal Khashoggi, according to Secretary of State Antony Blinken.
If you're planning on traveling by air Tuesday, bring a good book and a smartphone charger for what's likely to be the busiest day of flights during the Thanksgiving holiday week.
To contact the reporter on this story: Michaela Ross in Washington at mross@bgov.com
To contact the editor responsible for this story: Brandon Lee at blee@bgov.com
Stay informed with more news like this – from the largest team of reporters on Capitol Hill – subscribe to Bloomberg Government today. Learn more.