What to Know in Washington: Rail Dispute Tests Dems, Union Ties
Bloomberg Government subscribers get the stories like this first. Act now and gain unlimited access to everything you need to know. Learn more.
President Joe Biden's eleventh-hour push to head off a rail strike with a Congressional intervention may have cleared the House Wednesday, but the long-term consequences for Democrats' relationship with unions—not to mention the bill's future in the Senate—are anyone's guess.
The race to pre-empt a nationwide rail shutdown just before Christmas is fraying Democrats' relationships with one another and unions themselves, with left-leaning members smarting over what they see as a betrayal of their union base. Biden finds himself in the exact jam he sought to avoid in September, when he dispatched Labor Secretary Marty Walsh to broker a deal between unions and rail executives.
The House passed the legislation Wednesday on a 290-137 bipartisan vote, forcing implementation of a labor agreement hammered out by rail companies, labor leaders, and the Biden administration months ago but rejected by workers in four of 12 unions. Fear of another supply chain meltdown overcame opposition in the House, with 79 Republicans joining 211 Democrats to pass the stop-strike measure.
The House also voted 221-207 on that bill to revise the original deal to add seven days of paid sick leave.
Supporting an agreement that rail workers opposed put Democrats in an awkward position. While some found compromise in having the two bills voted on separately, eight Democrats voted against the tentative agreement, including influential pro-labor voices like Reps. Mark Pocan (D-Wis.), chairman of the Congressional Labor Caucus, and Alexandria Ocasio-Cortez (D-N.Y.), who insisted that any deal must include guaranteed sick days.
Skeptical Democrats said the tentative agreement, which offers a 24% raise, wouldn't solve the underlying dysfunction in the rail system that's left workers feeling burned out and mistreated.
"The government should not be interfering in union negotiations and contracts. It is a very slippery slope," Pocan said in a statement to Bloomberg Law after the vote. "Workers deserve the ability to use everything in their means to get benefits like paid sick time."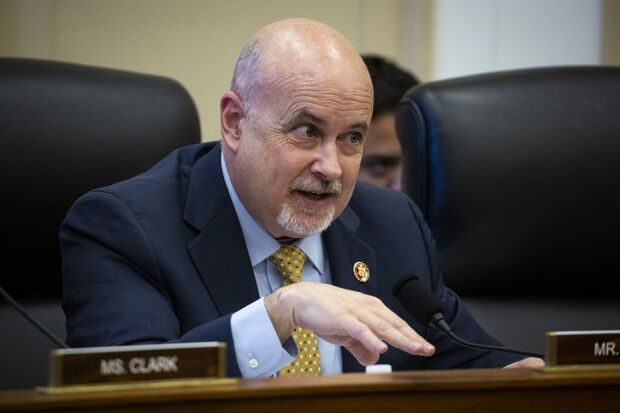 The unions struggled to coordinate a response to the fast-moving legislation. Groups that voted against the proposed labor contract were furious at the thought of Congress and the White House trampling over their members. Meanwhile, larger federations struggled to balance the competing interests of their member unions. Read more.
Happening on the Hill
CONGRESS' SCHEDULE
The House meets at noon and will vote on a pair of prison-related bills
The Senate at 10 a.m convenes to consider two judicial nominations and possibly a measure to prevent a freight-rail worker strike
Top Senate Democrats are aiming to defeat a proposed internal rule on Thursday that would bar them from both helming committees and leading the caucus in the next Congress.
Senate Democrats working to update federal law and prevent the subversion of future presidential elections said bipartisan leaders plan to attach a fix to a must-pass government spending package in December.
House Republicans voted to keep earmarks for annual spending bills when they take control of the House next year, marking a significant victory for appropriators and swing-district members and a defeat for conservatives intent on reining in spending on pet projects for lawmakers.
Developing nations won an historic deal at global climate negotiations in Egypt to establish a fund to help pay for catastrophic climate impacts, but meaningful US support is likely to face strong political headwinds with Republicans about to take control of the House.
US lawmakers are poised to back as much as $10 billion to bolster Taiwan's defenses against growing tensions and threats from China as part of a compromise annual defense authorization bill, according to a congressional aide familiar with the deliberations.
Americans are increasingly worried about the threat China poses to the US and the Pacific region, with 70% concerned Beijing will invade Taiwan in the next five years, a survey found. Read more.
House Democrats are installing a new generation of leaders and taking steps that they hope will strengthen their party ahead of the 2024 election cycle.
The Senate passed a pair of bills Wednesday night that would let the government buy real estate at lower prices instead of renting in certain situations, and establish a federal study of saline ecosystems in the Great Basin states.
The recurring imbroglio over the US borrowing limit poses risks to markets and the economy, and not just because it could spur a messy technical default.
Elections, Politics & Probes
Barack Obama's return trip to Georgia gives Democrat Raphael Warnock a unique advantage: The first Black US president wading into a rare statewide contest in which both contenders are Black men.
A US House committee can now get a look at six years of Donald Trump's tax returns, a week after the Supreme Court cleared the way for their release.
The House committee investigating the Capitol insurrection will discuss potential criminal referrals on Friday as it completes a final report on its probe.
The Justice Department wants all evidence collected by the panel as a new special counsel begins assessing whether former President Donald Trump should be charged with federal crimes. Read more.
New York's independent redistricting commission has until Friday to draft a state Assembly map, the last vestige of a process impeded by partisanship that helped Republicans narrowly clinch control of the US House starting in January.
Around the Administration
PRESIDENT'S SCHEDULE
Biden and First Lady Jill Biden meet French President Emmanuel Macron and Brigitte Macron at 9 a.m. at the White House
At 10 a.m., Biden and Macron hold a bilateral meeting, and at 11:45 a.m. they'll hold a press conference
At 7 p.m., the White House hosts the Macrons for a state dinner
The Biden administration's student loan forgiveness plan remains on hold, after the 5th US Circuit Court of Appeals denied a request from the federal government to temporarily reverse a lower-court order that blocked rollout of the plan.
Joe Biden and Emmanuel Macron will dine on lobster, caviar and an Oregon cheese named the best in the world while listening to Grammy-winner Jon Batiste at the US president's first state dinner on Thursday.
Venezuela President Nicolas Maduro urged the US to ease more sanctions on the country's beleaguered oil industry, saying a license allowing Chevron Corp. to increase production was a first step.
The US warned Turkey against a new military campaign into Kurdish-controlled parts of Syria, saying that some recent airstrikes had posed a threat to US personnel working with Syrian partners to defeat the Islamic State.
President Biden plans to greet the Prince and Princess of Wales in Boston on Friday, White House Spokeswoman Karine Jean-Pierre tells reporters during briefing.
US National Security Council Advisor Jake Sullivan says the US, South Korea, and Japan are working on new sanctions on North Korea to combat its expanding nuclear threats.
Withholding wages from US government employees required to work during a shutdown until after it ends doesn't violate timely pay laws, a divided Federal Circuit said Wednesday, overturning several lower court decisions.
The IRS and Congress should take further action to strengthen tax compliance around refundable tax credits and protect taxpayers claiming the credits from unscrupulous tax preparers, the Government Accountability Office said in a report published Wednesday.
Chair Jerome Powell cemented expectations that the Federal Reserve will step down from its aggressive pace of tightening in December and presented a case for achieving lower inflation without tipping the economy into a deep recession.
The Biden administration is committed to preserving community input and "won't cut corners" on getting feedback from disadvantaged communities as the US pursues a wave of clean energy projects, the White House clean energy czar said Wednesday.
The IRS and Treasury started the clock for when the labor requirements in President Joe Biden's tax-and-climate law go into effect—still leaving open questions on how to satisfy them.
The Biden administration is seeking to boost the amount of renewable fuels that oil refiners and importers must blend into their products over the next three years, according to people familiar with the matter.
Starbucks Corp. violated labor law by refusing to bargain with unionized workers at its Seattle mega-cafe, the US National Labor Relations Board ruled Wednesday.
New FDA programs to speed up access to novel therapies are underway now that billions of dollars in agency funding are reauthorized.
The US says it's working on additional sanctions against North Korea, as it struggles to find ways to pressure the regime back to the negotiating table amid resistance from China and Russia.
To contact the reporters on this story: Brandon Lee in Washington at blee@bgov.com; Michaela Ross in Washington at mross@bgov.com
To contact the editor responsible for this story: Katrice Eborn at keborn@bgov.com
Stay informed with more news like this – from the largest team of reporters on Capitol Hill – subscribe to Bloomberg Government today. Learn more.