What to Know in Washington: Putin Wants Armed Drones, U.S. Says
U.S. warns Europe that Russia sought armed drones from China
Lawmakers say technology-based defense alliances are needed
The U.S. has warned European allies that Russia asked China for armed drones in late February as it was beginning its invasion of Ukraine, according to people familiar with the matter.
The request has alarmed Biden administration officials who are seeking to prevent China—Russia's most powerful diplomatic ally—from coming to Vladimir Putin's aid in the war, according to the people, who described the matter on condition of anonymity.
On Monday, White House National Security Adviser Jake Sullivan and China's top diplomat, Communist Party Politburo member Yang Jiechi met for six hours in Rome to discuss a range of issues, including Ukraine. One U.S. official described the meeting as intense but declined to say whether the military aid request came up, while Yang after the meeting pressed all sides to exercise restraint in the conflict.
Before the Sullivan and Yang meeting, American officials began disclosing Russia's bid for military and economic assistance. Asked about the drone request a spokesperson for the Chinese Embassy in Washington on Monday night referred to an earlier statement from Foreign Ministry Spokesperson Zhao Lijian. "The U.S. has been maliciously spreading disinformation targeting China," he said Monday. "We have been playing a constructive part in promoting peace talks."
The Biden administration has sought to persuade Beijing to use its influence with Moscow to help end a conflict that's now entered its third week. The president's senior advisers have pressured China to enforce sanctions on Russia's economy imposed by the U.S. and its European and Asian allies. A top administration official acknowledged on Monday that the White House has deep concerns about Russia's alignment with China. Read more from Alberto Nardelli and Jennifer Jacobs.
At the same time, China wants to avoid being affected by U.S. sanctions, according to Foreign Minister Wang Yi in one of Beijing's most explicit statements yet on American penalties that are contributing to a historic market selloff. "China is not a party to the crisis, nor does it want the sanctions to affect China," Wang said. "China has the right to safeguard its legitimate rights and interests." Concerns were rising among investors that Chinese companies would face sanctions after U.S. officials warned that Russia requested military and financial assistance from Beijing. Read more from Bloomberg News.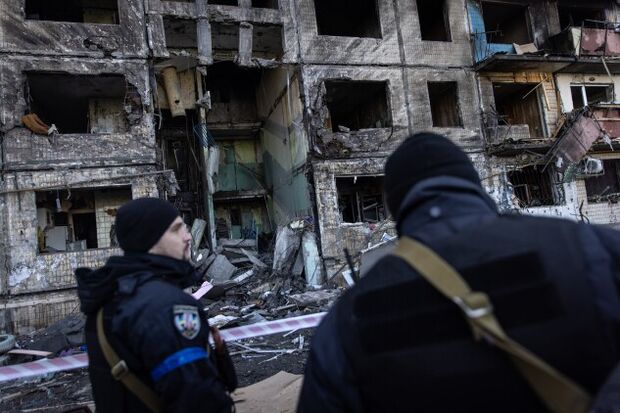 The U.S. must create defense alliances based on technology, instead of concentrating exclusively on geographic partnerships, said a key Democrat reviewing the status of recommendations a task force made two years ago. Such technology-based alliances would serve well in deterrence against China, Seth Moulton (D-Mass.), a co-leader of the Future Defense Task Force and member of the House Armed Services Committee, said. Moulton is pitching the international technology alliances as his task force releases a report on the progress that Congress and the Pentagon made on recommendations to shake up the security apparatus.
Russia's invasion of Ukraine has shown that such alliances are possible, he said, with Turkey sending armed drones that Ukraine has used to strike Russian tanks and disable multiple rocket launch systems. "There are interesting bedfellows around the world," Moulton said in an interview. The U.S. should reach out to the countries that lead the way in innovative technology and establish the norms for its use, he added. Read more from Roxana Tiron.
MORE ON THE WAR IN UKRAINE:
Happening on the Hill
CONGRESSIONAL SCHEDULE:
The Senate returns at 10 a.m., with a vote planned on Shalanda Young's nomination to lead the White House budget office.
The House returns at noon, with votes planned on 10 bills under expedited floor procedure.
The Capitol will begin reopening to small groups of tourists, students, and business visitors by March 28, and could be fully open to the public by Labor Day, according to people familiar with the planning. The opening would mark a return to normalcy after the Capitol closed to the public in March 2020 because of concerns about the spread of Covid-19. Other restrictions at the Capitol, such as a mask rule in the House chamber, have recently been dropped. The details for the reopening emerged after a meeting between committees, Sergeants at Arms, and the U.S. Capitol Police. Read more from Emily Wilkins and Billy House.
Senate legislation on a biomedical research agency, ARPA-H, aims to put distance between Washington and new, cutting-edge science, decreeing that the physical location of the entity isn't in the D.C. area. The bill instead nods to major biotech hubs like San Francisco or Boston, saying ARPA-H's director should consider "the characteristics of the intended location and the extent to which such location will facilitate advancement" of ARPA-H's purposes. The Health, Education Labor and Pensions Committee will debate the bill to authorize the office Tuesday, Chairwoman Patty Murray (D-Wash.), said. Jeannie Baumann has more.
Biden recently signaled he wants to strengthen enforcement of mental health parity rules. That push will include a demand that insurers offer an adequate network of behavioral health providers, including three visits for a patient each year without cost-sharing, and ask Congress to help improve parity. Mental health disorders show signs of worsening for many Americans, and the lack of adequate coverage exacerbates the issue, care advocates said. Almost 40% of U.S. adults reported symptoms of anxiety or depression in 2021, nearly quadruple the level in 2019, the Kaiser Family Foundation reported. Alex Ruoff has more.
Senators from states rich in the production of oil and renewable fuel urged Biden to stop pressuring the Postal Service to shift to electric vehicles, warning that the approach threatens to make the U.S. more reliant on critical minerals processed in China. The Biden administration's focus on "a single technology mandate to reduce emissions from the transportation sector" overlooks "the overwhelming evidence of economic, environmental and security benefits of liquid motor fuels" produced in the U.S.," Republican senators Chuck Grassley (Iowa) and John Cornyn (Texas) said in a letter, Jennifer A. Dlouhy reports.
A key House Democrat is warning Republicans may not fully fund the transit programs in last year's infrastructure law if they win control of Congress. Transportation and Infrastructure Chair Peter DeFazio (D-Ore.) is urging Biden's administration to dedicate as much transit funds as possible in 2022. The infrastructure law approved a surge in money for public transit over five years, but Congress has to appropriate much of it. About $29 billion could be at risk, DeFazio said. "I'm worried what will happen if the House and Senate change," he said at a American Public Transportation Association conference. Lillianna Byington has more.
The nomination of Alison Nathan, who's overseeing the sex-trafficking case of Ghislaine Maxwell, led a dozen judicial picks readied for Senate votes as members prepare for confirmation hearings for Ketanji Brown Jackson to the Supreme Court. Majority Leader Chuck Schumer (D-N.Y.) on Monday filed motions to invoke cloture on Nathan's nomination to the New York-based U.S. Court of Appeals for the Second Circuit and 11 others for district courts. The cloture votes could take place this week. Jackson's Judiciary Committee hearings are set to start March 21. Madison Alder has more.
What Else to Know
BIDEN'S SCHEDULE:
The president is scheduled to sign the fiscal 2022 omnibus spending package at a 2:15 p.m. White House ceremony.
Biden will then deliver remarks at 5:30 p.m. to commemorate Women's History Month at the White House.
The bulk of redistricting might be over, but Eric Holder, chairman of the National Democratic Redistricting Committee, wants officials and lawmakers to continue to address gerrymandering. The former attorney general told Bloomberg Government in an interview that he knows people at the Justice Department have concerns "about our process, our electoral infrastructure." "They have, as people serving in the department, a bully pulpit," he said. "That's one of the things I'd like to see them do more, just talk more about the concerns that I know they have."
Holder also said lawmakers should continue pushing voting rights legislation. While he conceded that it was "unrealistic" for wide-ranging bills (H.R 1, H.R. 4) to pass, he said he wants votes on smaller elements like a ban on partisan gerrymandering. "Give me a good reason why would you would not support a ban on partisan gerrymandering," Holder said. "Challenge people in Congress, the House as well as the Senate, on why they are not in support of that," he told BGOV's Emily Wilkins and Greg Giroux.
U.S. Work-Permit Cliff Is Costing Immigrants Their Jobs: Unprecedented delays in approving work-permit renewals are routinely leaving immigrants in limbo. The government doesn't keep statistics on how many people have had their permits expire while waiting for a renewal, but officials estimate that, at its worst in January and February, hundreds per day were losing permission to work. The average processing time listed online continues to increase—from 5½ months, to 7½, to 12½. Read more from Dara Lind.
Talks between U.S. and Chinese officials over North Korea's weapons program got a boost from a meeting between officials in Rome on Monday. U.S. National Security Adviser Jake Sullivan and Communist Party Politburo member Yang Jiechi agreed that their staffs should be in touch in the near future over concerns about Pyongyang's recent acceleration in missile tests, according to a U.S. official who briefed reporters on the six-hour conversation. The White House official cited North Korea's missile tests as an escalating situation demanding the attention of both Washington and Beijing. Jenny Leonard and Jennifer Jacobs have more.
To contact the reporters on this story: Giuseppe Macri in Washington at gmacri@bgov.com; Brandon Lee in Washington at blee@bgov.com
To contact the editors responsible for this story: Loren Duggan at lduggan@bgov.com; Michaela Ross at mross@bgov.com