What to Know in Washington: Putin Undeterred Continues Invasion
President Vladimir Putin shrugged off a barrage of sanctions imposed by the U.S and Europe and pressed deeper with the invasion of neighboring Ukraine, as Russian forces closed on the capital and its embattled leadership.
With the war in its second day, sirens warned Kyiv's residents to take shelter from early morning. Ukraine's armed forces said their units were engaging Russian armor to the north, while Ukrainian President Volodymyr Zelenskiy said that Russian aircraft were attacking residential areas of the capital.
In an early morning address today, Zelenskiy said that his intelligence services had identified him as Russia's top target, but that he is staying in Kyiv and his family will remain in the country. "They want to destroy Ukraine politically by destroying the head of state," he said.
Zelenskiy said 137 of his country's soldiers have been killed in fighting so far since Russia attacked early yesterday, Tass reported. He added 316 soldiers have been injured.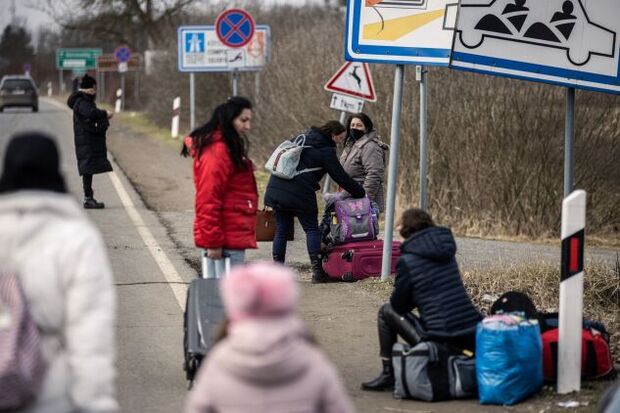 The offensive proceeded despite the U.S. and the European Union ratcheting up the pressure on the Kremlin with a coordinated set of sanctions aimed at inflicting a heavy toll on the Russian economy. Still, Russian markets rallied at the open after U.S. President Joe Biden and EU leaders shied away from the most drastic action, stopping short of barring Russia from the Swift international banking network and allowing exemptions for energy exports.
Leaders of the European Union discussed stronger options, including cutting Russia off the Swift international payments system, during their summit last night, according to an EU official.
Russia brushed off the sanctions, vowing to retaliate, as it defended its invasion. Putin has said that he wants to replace Ukraine's leadership, calling it a "junta."
Biden promised to inflict a "severe cost on the Russian economy" that will hamper its ability to do business in foreign currencies. Among the U.S. and EU penalties are export controls designed to cut Russia off from semiconductors and other advanced technology crucial to the military, biotechnology, and aerospace industries. Read more from Daryna Krasnolutska and Alan Crawford.
More Coverage:
Biden Has Made a Decision on Nominee to the Supreme Court
Biden has decided on a nominee for a seat on the U.S. Supreme Court, a person familiar with the matter said last night.
The person, who was granted anonymity to discuss the selection process, did not provide further details, including the name of the nominee or when the selection would be announced.
White House Press Secretary Psaki said early yesterday evening that Biden had not formally offered the job to anyone. The person declined to say whether the president had made an offer in the hours since then. The White House press office declined to comment.
The president said last month that he'd announce his choice to replace Justice Stephen Breyer, who is retiring, by the end of February, and that he'd use the opportunity to fulfill his campaign promise to nominate the first Black woman to the high court.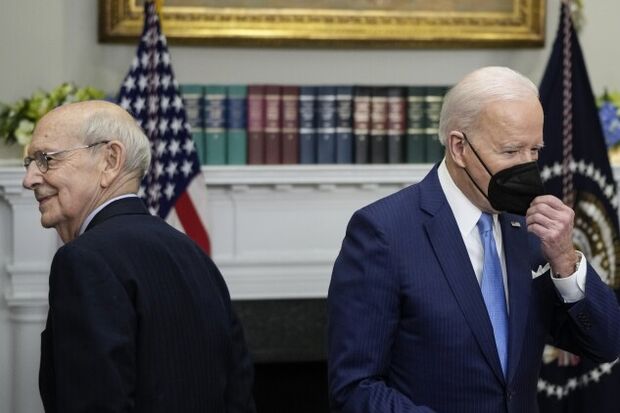 Vice President Kamala Harris had been scheduled to travel to Louisiana today, but her office said late yesterday that the trip had been postponed. Harris, a former California attorney general and member of the Senate Judiciary Committee, has advised Biden as he's considered candidates for the high court. CNN reported earlier that Biden had reached a decision.
The search has focused on Judge Ketanji Brown Jackson, 51, of the District of Columbia Circuit Court of Appeals and Justice Leondra Kruger, 45, of the California Supreme Court, as well as U.S. District Judge Michelle Childs, 55, who's backed by House Majority Whip James Clyburn, a South Carolina Democrat who played a crucial role in Biden's victory in the 2020 presidential primaries. Read more from Jennifer Epstein.
Biden's Schedule:
At 9 a.m. Biden plans to meet with NATO heads of state and government to discuss Ukraine's security situation.
At 2 p.m. Press Secretary Jen Psaki plans a briefing with reporters.
Elections, Politics & Probes
Former President Donald Trump's claim that Twitter was pressured by lawmakers to kick him off the social media platform was met with skepticism by a judge. U.S. District Judge James Donato questioned Trump's argument that the company violated his free-speech rights by suspending his account at the behest of lawmakers. "I read, reread and read again your complaint and I'm not seeing any coercive statements by state actors and that is the hook you are hanging your hat on," Donato said at the hearing in San Francisco over Twitter's request to throw out Trump's lawsuit seeking his reinstatement. Malathi Nayak has more.
Republican political operative Roger Stone sued to block the release of his phone records to a House committee investigating the Jan. 6 attack on the Capitol. The longtime adviser of Donald Trump claims the committee lacks subpoena power because it was not properly constituted by Speaker Nancy Pelosi (D-Calif.) He's the latest Trump ally to sue in an effort to block telecom providers from releasing phone records to the committee. Lawyers John Eastman and Sydney Powell and Arizona GOP Chairwoman Kelli Ward filed similar lawsuits. Read more from Robert Burnson.
Ohio is looking at holding two primaries because the state redistricting commission didn't do its job on time. The primary on May 3 will be held as scheduled for governor, U.S. Senate, and other elective offices unaffected by redistricting, unless lawmakers decide to hold one primary for statewide, congressional, and legislative offices at a later date, Secretary of State Frank LaRose said in a Feb. 22 letter to state legislative leaders. He said it was "impossible to foresee a scenario" in which district maps could be passed by the redistricting panel and approved by the state Supreme Court in time. Read more from Kenneth P. Doyle.
Around the Administration
The White House is redesigning a Trump-era Medicare pilot program opposed by dozens of congressional Democrats who viewed it as an effort to privatize the beloved health program for the elderly and disabled. The Centers for Medicare & Medicaid Services yesterday announced the global and professional direct contracting model will be replaced by the Accountable Care Organization realizing equity, access, and community health (REACH) model. The transition to the ACO REACH model will begin on Jan. 1, 2023. Read more from Tony Pugh and John Tozzi.
The Centers for Disease Control and Prevention plans to move away from counting new cases as its primary measure of how severe Covid-19 outbreaks are around the U.S., and instead focus on how many people are hospitalized, people familiar with the matter said. The changes, which are due to be announced today, would shift how the CDC assesses risk from Covid-19. With over 64% of Americans fully vaccinated and many having already been infected, it would emphasize the rate of severe cases and the burden that has on hospitals, as opposed to overall cases. Drew Armstrong and Josh Wingrove have more.
The Biden administration is still months away from unveiling what likely will be a downsized version of its first scorecard to rate whether federal agencies are making progress toward more equitable treatment of marginalized communities bearing the brunt of pollution. The scorecard—originally promised to be completed this month—is supposed to put teeth into Biden's pledge that 40% of overall benefits of clean energy, affordable housing, and other spending flow to disadvantaged communities. But it's also to gauge how agencies are incorporating environmental justice into their overall policies. Read more from Dean Scott.
To contact the reporters on this story: Michaela Ross in Washington at mross@bgov.com; Brandon Lee in Washington at blee@bgov.com
To contact the editors responsible for this story: Giuseppe Macri at gmacri@bgov.com; Loren Duggan at lduggan@bgov.com; Zachary Sherwood at zsherwood@bgov.com