What to Know in Washington: Push to Oust Trump Faces Long Odds
The rapidly growing calls among Democrats to oust President Donald Trump either by his own cabinet taking action or by another impeachment is quickly running up against the limits of time and Republican Party politics.
Trump yesterday appeared to be trying to quell the furor and head off any clamor for his ouster within the GOP. He released a video message in which he condemned the storming of the U.S. Capitol by his supporters on Wednesday and said he was prepared for a smooth transition to President-elect Joe Biden.
"A new administration will be inaugurated on Jan. 20th," Trump said. "My focus now turns to ensuring a smooth, orderly and seamless transition of power."
The president has been besieged on all sides since supporters he inspired vandalized the Capitol and disrupted the House and Senate during the certification of the Electoral College vote. Some administration officials have resigned in protest and several senior Republicans in Congress said he bears responsibility for ginning up the mob and refusing for weeks after the election to acknowledge Biden's victory.
Despite that, most Republicans haven't expressed an appetite for another drawn out political battle with the combative president who has just 12 days before he leaves office.
Last night, Speaker Nancy Pelosi (D-Calif.) held a conference call with other top House Democratic leaders, and discussed various options tied to the 25th Amendment and impeachment, and she plans a caucus-wide conference call at noon today to discuss what to do, officials said. Read more from Steven T. Dennis and Billy House.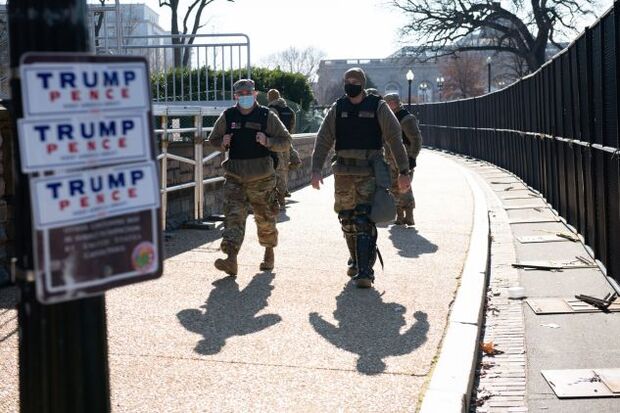 Aftermath of the Mayhem
Trump Averts Mass-Resignation Crisis: Trump risked losing much of his White House staff to mass resignations after inciting a riot at the U.S. Capitol on Wednesday, but top officials have decided to stay on to smooth the transition to Biden's administration. "Those who work in this building are working to ensure an orderly transition of power," White House press secretary Kayleigh McEnany said in a brief statement to reporters yesterday in which she condemned the storming of the Capitol.
Most of Trump's senior staff considered quitting following the incident at the Capitol, according to people familiar with the matter. But officials including National Security Adviser Robert O'Brien, White House Counsel Pat Cipollone and Deputy Chief of Staff Chris Liddell were concerned about what would unfold if they left early, the people said. Read more from Jennifer Jacobs and Nick Wadhams.
Education Secretary Betsy DeVos, however, did submit her resignation yesterday, becoming the second member of Trump's cabinet to quit. In a letter addressed to Trump, she squarely laid the blame for the mayhem in Washington at the feet of the president. "There is no mistaking the impact your rhetoric had on the situation, and it is the inflection point for me," she wrote. "Impressionable children are watching all of this, and they are learning from us. Read more from John Harney and Max Berley.
Trump Prepares Pardon List for Kin, Aides, Maybe Himself: Trump is preparing a sweeping list of individuals he hopes to pardon in the last days of his administration that includes senior White House officials, family members, prominent rappers, and potentially himself, according to people familiar with the matter. Trump is hoping to announce the pardons Jan. 19, his final full day in office, and his ideas are currently being vetted by top advisers and the White House counsel's office, the people said.
The biggest question facing his legal team may be whether the president has the authority to pardon himself, as he has explored in recent weeks with senior aides, according to the people familiar with his conversations. Trump has previously claimed the power, though it's a matter of legal dispute and has never before been attempted by a president. A self-pardon could also prove a major political liability and hamstring another presidential bid, with opponents sure to suggest the self-pardon amounted to an admission of something. Jennifer Jacobs, Justin Sink, and Josh Wingrove have more.
Trump's Role May Figure in Criminal Probe: The U.S. charged 55 people with crimes stemming from the siege of the Capitol, and Trump's actions ahead of the riot could be investigated by federal prosecutors. Asked whether the U.S. Attorney's office will scrutinize the president's role in inciting the chaos, Michael Sherwin, the acting U.S. Attorney in Washington, said at a press conference that "all actors" are being scrutinized. "Anyone that had a role, and the evidence fits the elements of a crime, they are going to be charged," said Sherwin. Read more from David Yaffe-Bellany and Chris Dolmetsch.
Capitol Police Intensely Scrutinized: The U.S. Capitol Police force, which uses a roster fit for a mid-sized city to defend a compact 270-acre campus, is under a type of scrutiny it's rarely seen in two centuries of existence. Outmatched officers failed to prevent a mob of Trump supporters from invading the Capitol Wednesday, sending lawmakers fleeing for safety. Capitol Police said one of its officers, Brian D. Sicknick, died last night from injuries suffered the previous day while engaging violent protesters. The fallout has been swift, with Capitol Police Chief Steven Sund saying he'll resign effective Jan. 16. Senate Sergeant at Arms and Doorkeeper Michael Stenger resigned last night. House Sergeant at Arms Paul Irving, who plays a role in overseeing the police, also quit. Even as the force defended its actions as heroic, lawmakers are calling for investigations and demanding answers for the force's failure. Read more from Todd Shields and David Yaffe-Bellany.
Tech Companies Face Calls to Ban Trump: Facebook, Twitter and Google are facing mounting pressure from lawmakers, activists and civil rights groups to enact tougher policies and more forcefully purge misleading content and accounts — including the ones held by Trump — after a mob of pro-Trump protesters stormed the Capitol. Coinciding with the imminent shift of power in Washington to the Democrats, social networks have taken their most aggressive steps yet to muzzle Trump over the last two days. But civil rights groups and lawmakers say the internet companies allowed misleading content to proliferate for too long, resulting in dangerous — and deadly — consequences. Read more from Naomi Nix, Ben Brody and Kurt Wagner.
Democrats Prepare for Power
What's After Georgia: Join Bloomberg Government's Emily Wilkins at noon for a Reddit AMA ('ask me anything') on what's next for Congress after the Georgia runoffs determine control of the Senate. Follow along on Reddit.
Schumer's New Role Will Face Problems on Left and Right: Sen. Chuck Schumer (D-N.Y.) is set to preside over the narrowest possible majority of the U.S. Senate, a task that will require him to keep his Democratic caucus united while luring Republican support for legislation central to Biden's priorities. Schumer rose to the pinnacle of Senate power on his capacity for political fundraising, heavily aided by ties to New York's lucrative financial industry. Now his success as incoming majority leader will hinge on building consensus in a chamber still reeling from Wednesday's mob violence and with Republicans divided over loyalty to Trump.
The storming of the Capitol prompted many Republicans to distance themselves from the president, who in the past was feared for his taste for retribution. The test for Schumer will be whether he can exploit Republicans' widening disaffection with Trump's divisive tactics. Once the Senate's 50-50 partisan divide is official, control will only be assured by incoming Vice President Kamala Harris's tie-breaking vote. The Senate has only been evenly divided three times before: in 1881, 1953 and 2001.
On most legislation, Schumer will need support from 60 senators to cut off debate and move to a vote, under Senate rules. Democrats will have a limited opportunity each year to fast-track a revenue-related bill to pass with just 51 votes. But even with legislation that requires only a simple majority, Schumer must either keep every Democrat on board or win over offsetting Republican support. Read more from Mike Dorning and Laura Litvan.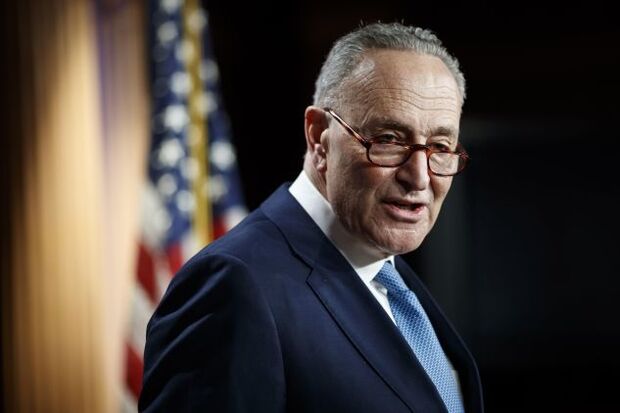 Climate Goals Get Greener Path: The slim edge Democrats won in the Senate renews hopes for limited legislation to combat climate change, such as measures to fulfill Biden's pledge to promote the use of electric vehicles and clean energy. But the ambitious Green New Deal, as well as controversial proposals to phase out fossil fuels and ban fracking, are still on ice. Jennifer A. Dlouhy, Josh Saul and Ari Natter have more.
Democrats Face Risky Bid to End Trump's SALT Cap: Democrats will soon have the balance of power required to repeal Trump's limitation on a prized tax deduction, but doing so will likely require a tricky procedural process and a politically fraught vote. There are few issues that have riled certain segments of the Democratic Party more than Trump's cap on state and local tax, or SALT, write-offs. Repealing it, however, would require Democrats to vote for something widely seen as a tax cut for the rich at the same time the party is proposing tax increases to make the Internal Revenue Service code more progressive. Read more from Laura Davison and Kaustuv Basu.
Biden's DOD Pick Scheduled for Hearing: Biden's nominee to run the Pentagon will have a confirmation hearing before the Senate Armed Services Committee Jan. 19, a day before the inauguration. Sen. Jack Reed (D-R.I.), who is expected to chair the committee once Democrats control the chamber on Jan. 20, announced the hearing for retired Army General Lloyd Austin Thursday. It's not unusual for the Senate, which was sworn in last week, to hold hearings on nominees ahead of Inauguration Day, particularly for key national security roles. Read more from Bill Faries and Roxana Tiron.
Labor Pick Walsh Is Consensus-Builder: Boston Mayor Marty Walsh's selection for labor secretary excites unions due to his organized labor roots, but his rise in politics demonstrates a knack for finding common ground with constituencies beyond his blue-collar base, including employers. The two-term Democratic mayor's origins as a Boston construction-union leader, friendship with Biden, and history of advocating for working families as a state legislator helped make him Biden's choice to helm the U.S. Labor Department. Yet Walsh's personal background and governance style are also strikingly similar to the deal-making consensus-builder who could soon be his boss. Read more from Ben Penn.
Loeffler Concedes Georgia Senate Race: Sen. Kelly Loeffler conceded the Georgia runoff election yesterday to Democrat Raphael Warnock, ending a hard-fought battle to keep the seat—and the balance of the U.S. Senate—in Republican hands. "Unfortunately, we came up slightly short in the runoff election," she said in a video posted on Twitter. "Earlier today I called Reverend Warnock to congratulate him and to wish him well in serving this great state," she said. Read more from Gregory Korte and Billy House.
What Else to Know Today
Louisiana Schedules Special Election: Louisiana Gov. John Bel Edwards scheduled March 20 special elections in the districts of Rep. Cedric Richmond (D) and the late Rep.-elect Luke Letlow (R). Richmond, who represents Louisiana's 2nd District, is resigning Jan. 15 to become a senior adviser in Biden's administration. Letlow died Dec. 29, five days before he was to be sworn in to represent the 5th District. In both districts, all candidates of all parties will run on one ballot. If no one wins a majority of votes, a runoff between the top two finishers will be held on April 24.
The candidate qualifying period is Jan. 20-22. The 2nd District includes most of New Orleans and part of Baton Rouge and is overwhelmingly Democratic. The 5th District, which includes northeastern Louisiana, is strongly Republican, Greg Giroux reports.
Hawley Book Scrapped by Simon & Schuster: Simon & Schuster canceled plans to publish a new book by Sen. Josh Hawley (R-Mo.), citing his connection to an effort to overturn the election of Biden that turned violent when supporters overran the Capitol. The publisher, which is currently owned by ViacomCBS, was slated to release Hawley's book called "The Tyranny of Big Tech." Read more from Gerry Smith.
IRS Sends Stimulus Payments by Prepaid Debit Card: The Internal Revenue Service is sending about 8 million of the $600 payments approved in recent stimulus legislation as prepaid debt cards. The cards will go to some of the individuals who didn't receive their stimulus payment by direct deposit in the past week. The IRS has already sent more than $100 billion of the roughly $164 billion of the second round of stimulus payments approved by Congress in late December. Read more from Laura Davison.
FCC Chair Says He's Dropping Social Media Order Trump Demanded: FCC Chairman Ajit Pai said he won't move forward with an order trimming a liability shield for social media companies, Section 230 of the Communications Decency Act, effectively killing the request from Trump. Pai said there isn't enough time to complete a rulemaking before he leaves office Jan. 20, according to Anne Veigle, a spokeswoman for the FCC. Read more from Todd Shields.
Boeing to Pay $2.5 Billion to Settle 737 Charges: Boeing agreed to pay $2.5 billion to settle criminal charges that it defrauded the U.S. government by concealing information about the ill-fated 737 Max that was involved in two fatal crashes. The company entered into a deferred prosecution deal in the Northern District of Texas yesterday, the Justice Department said in a press release. Read more from Alan Levin.
U.K. Imposes Mandatory Covid Tests on Travelers: All passengers arriving in the U.K. will be required to prove they do not have coronavirus, showing a negative test result taken within 72 hours of the start of their journey. Under rules announced today, anyone failing to produce the evidence of a negative test will be fined 500 pounds ($678). Travelers arriving from countries not on the government's open travel corridor list will be required to isolate at home for 10 days, regardless of their test results. Read more from Tim Ross.
Kim Jong Un Vows to Expand Foreign Relations: Kim Jong Un pledged to improve North Korea's external relations, in some of his first remarks on foreign affairs since Biden won the U.S. presidential election. Kim outlined plans for "comprehensively expanding and developing the external relations" during meetings of the ruling Workers' Party of Korea in Pyongyang, the official Korean Central News Agency said. Read more from Jeong-Ho Lee.
With assistance from Greg Giroux
To contact the reporters on this story: Zachary Sherwood in Washington at zsherwood@bgov.com; Brandon Lee in Washington at blee@bgov.com
To contact the editors responsible for this story: Giuseppe Macri at gmacri@bgov.com; Loren Duggan at lduggan@bgov.com; Michaela Ross at mross@bgov.com