What to Know in Washington: Progressives Eye Biden Open Fed Slot
Bloomberg Government subscribers get the stories like this first. Act now and gain unlimited access to everything you need to know. Learn more.
President Joe Biden's choice for Federal Reserve vice chair will signal where he stands on combating inflation — and whether he agrees with restive progressives worried that the central bank's rate increases will lead to job losses and recession.
It's a familiar dilemma for the president, who has had to choose between pleasing progressives and getting broader bipartisan backing in his past Fed picks. This time, however, the political stakes are higher as Biden prepares to mount an expected reelection bid where the economy and persistent inflation will be a central issue.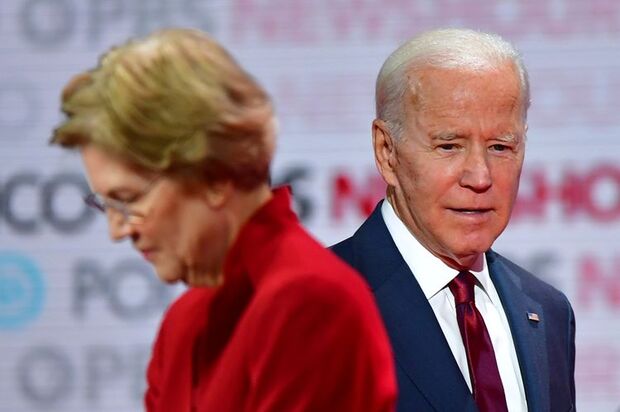 For Biden's first round of Fed picks, progressives pushed for nominees who would transform the central bank on regulatory policy, including a focus on the financial risks of climate change. But the economy has shifted since then, and the left is focused squarely on monetary policy as Biden seeks to fill the opening created when he tapped Lael Brainard last month to be his chief economic adviser.
Sen. Elizabeth Warren (D-Mass.) wants Biden to select a vice chair to counter Chair Jerome Powell, who she says "has made clear that he will take extreme steps on interest rates and he's willing to put millions of people out of work."
Since inflation hit 40-year highs last year, Powell and his team have raised rates rapidly from zero to a range of 4.5% to 4.75%, including four jumbo 0.75 percentage point increases. Recently, he's asserted that the booming labor market needs "some softening" if the Fed is to tamp down inflation — a stance progressives view as dangerous and unnecessary.
"If the Fed keeps pushing these extreme interest rate hikes, they can tip this whole economy off an economic cliff," Warren, who opposed Powell's renomination in November 2021, warned this week.
But Powell, who will testify before Congress next week, continues to enjoy support from Republicans and moderate Democrats. Democrats have a one-seat majority in the Senate, so Biden either must keep most of the party together or select a nominee who can appeal to Republicans, as he did with Powell's own renomination. Steven T. Dennis previews Biden's choice.
Happening on the Hill
CONGRESS' SCHEDULE:
Senators convene at 10 a.m. for votes on judicial nominees.
The House returns for votes Tuesday.
The Senate passed a measure to block the Labor Department from enforcing its new ESG retirement investing rule, guaranteeing a showdown with the White House on a resolution the Biden administration has pledged to veto.
The Senate voted unanimously Wednesday night to require Director of National Intelligence Avril Haines to declassify information on the origin of Covid-19.
Biden's pick to lead the Federal Aviation Administration said he would make safety a priority and work to recruit more people into aviation as he sought to fend off Republican concerns about his experience.
Lawmakers are hoping that housing-related tax policies will spur bipartisan action this Congress, bringing back bills that they say didn't get a fair shake last time around.
Homeland Security Secretary Alejandro Mayorkas is confident his agency is well-positioned to manage evolving threats to the US, but said he's open to hearing feedback from lawmakers launching a fresh bid to overhaul the sweeping department.
A Biden judicial nominee again defended himself against criticism over his past representation of a New England prep school in litigation with a student sex assault victim.
The Senate Agriculture Committee will hold a hearing on oversight of the Commodity Futures Trading Commission with Chair Rostin Behnam on March 8.
Elections, Politics & Probes
Biden will headline a conference next week for a union that was the first major labor organization to endorse a presidential candidate during the 2020 campaign.
Oklahoma could become the 22nd state to legalize recreational cannabis in an election that will show how much or how little marijuana can drive voter turnout.
Chicago's police chief announced his resignation one day after Lori Lightfoot became the first mayor of the third-largest US city to lose a reelection bid in 40 years.
Around the Administration
BIDEN'S AGENDA:
Biden meets with Senate Democrats for a 1 p.m. caucus lunch at the Capitol.
Press Secretary Karine Jean-Pierre holds a briefing at 2:30 p.m.
The Biden administration is set to release an aggressive new national cybersecurity strategy on Thursday that seeks to shift the blame from companies that get hacked to software manufacturers and device makers, putting it on a potential collision course with big technology companies.
The Biden Administration is expanding a program that administers door-to-door health surveys following the explosive train derailment in East Palestine, Ohio into Pennsylvania, a White House official said Wednesday.
The Federal Railroad Administration is kicking off "nationwide focused inspections" on railroad routes carrying large volumes of hazardous materials, starting in East Palestine, Ohio, the site of a recent train derailment.
Lawmakers are stepping up their probes of the Ohio train derailment as federal and local agencies continue to deal with the consequences of the Feb. 3 incident that released toxic chemicals into a small community.
Secretary of State Antony Blinken held a brief encounter with his Russian counterpart on the sidelines of the Group of 20 summit in India, their first in-person meeting since Russia's invasion of Ukraine a year ago. The top US diplomat pressed Foreign Minister Sergei Lavrov to move toward a peace deal with Ukraine and advocated for US citizens detained by Moscow, a Biden administration official said on Thursday.
The SEC has held more than three dozen meetings since December with stakeholders—including Amazon, Goldman Sachs, and the US Chamber of Commerce—that are still hoping to shape corporate climate reporting rules the agency looks to finish this spring.
The White House Council on Environmental Quality announced four new leaders to its environmental justice team on Wednesday.
Attacks on access to abortion pills and Covid-19 vaccines are on the rise, opening the door to battles over other government-approved products and therapies.
Most US spy agencies have concluded that a series of unexplained health incidents reported by government employees dating back to 2016 were "very unlikely" to have been attacks by a foreign adversary, saying they probably resulted from normal illnesses or environmental causes.
To contact the reporter on this story: Brandon Lee in Washington at blee@bgov.com
To contact the editor responsible for this story: Giuseppe Macri at gmacri@bgov.com
Stay informed with more news like this – from the largest team of reporters on Capitol Hill – subscribe to Bloomberg Government today. Learn more.