What to Know in Washington: Potential Hurdles on Infrastructure
Bloomberg Government subscribers get the stories like this first. Act now and gain unlimited access to everything you need to know. Learn more.
Senate Majority Leader Chuck Schumer's (D-N.Y.) plan to pass a $550 billion infrastructure bill this week hit a potential obstacle from a surprising source when a key Republican announced he tested positive for Covid-19 and would quarantine for 10 days.
Sen. Lindsey Graham (S.C.), one of 10 Republicans who helped negotiate the infrastructure package and provided crucial votes to move it forward in the Senate, said he was tested yesterday after experiencing flu-like symptoms on Saturday. He said he was vaccinated.
But the positive test for Graham highlights the surge in Covid-19 cases across the U.S. brought on by the fast-spreading delta variant and the risks for lawmakers.
Graham went to an event over the weekend hosted by Sen. Joe Manchin (D-W.Va.) on his houseboat and attended by other senators, according to spokesman Kevin Bishop.
Manchin told reporters he has tested negative for an infection. At least four other senators have confirmed they were at a gathering with Graham, but none so far has tested positive. Centers for Disease Control guidance doesn't require quarantine for vaccinated people who've been exposed unless they have symptoms.
The Senate doesn't allow proxy voting like the House, so the quarantine would mean Graham would miss votes on the legislation, which Schumer wants passed before the end of the week. Graham's vote alone wouldn't necessarily hold up the bill. There were 67 votes last week to advance it, including 17 Republicans. Sixty votes will be needed finish the legislation.
But the potential for more positive tests among senators in the narrowly divided chamber could upset Schumer's schedule, which already was delayed by drawn out bargaining over the infrastructure bill. Asked whether Graham's exposure would affect plan for a budget resolution vote after the infrastructure bill, Schumer said, "I hope not." Read more from Laura Litvan and Steven T. Dennis.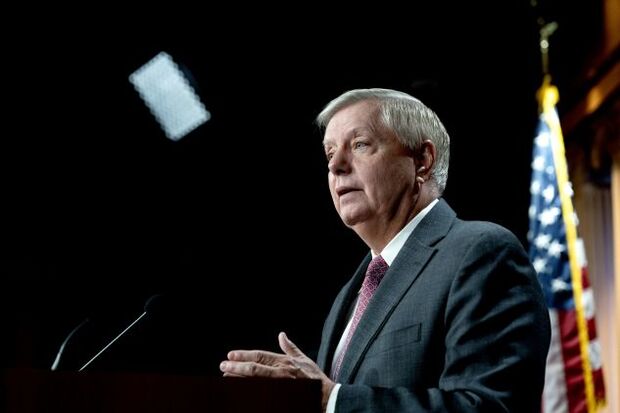 Drunk Driver Detectors Mandated: New cars will be required to have technology to detect drunk drivers and a system to keep children from being left in vehicles on hot days under a series of long-sought safety measures included in the infrastructure bill. Other provisions include a requirement for automatic emergency braking for new cars and rear guards for larger trucks. The provisions come as U.S. traffic deaths spiked by 7.2% from 2019, federal data show. Keith Laing and Lillianna Byington have more.
Toomey to Offer Crypto Amendment: Sen. Pat Toomey (R-Pa.) said he'll offer an amendment to fix the "overly broad" definition of a broker used in the cryptocurrency provision of the bipartisan infrastructure bill. Congress shouldn't "rush forward with this hastily-designed tax reporting regime for cryptocurrency, especially without a full understanding of the consequences," Toomey, the ranking member of the Senate Banking Committee, said in a statement yesterday, Maria Luiza Rabello reports.
Happening on the Hill
Today's Agenda:
The Senate will resume work on the infrastructure bill with at least one vote scheduled on an amendment.
Click here for a complete list of today's hearings and markups.
Report Says Agencies Fail Cybersecurity Basics: Seven large federal agencies have failed to secure personally identifiable information and meet basic cybersecurity standards after watchdogs identified the same systemic problems as two years ago, according to a report released today. The bipartisan staff report from the Senate Homeland Security and Governmental Affairs Committee follows a series of major cyber and ransomware attacks that infiltrated federal agencies in the last year, including attacks through SolarWinds and Microsoft software. Read more from Rebecca Kern.
Democrats Seeking Drug Cost Cap in Employer Plans: House Democrats agree with employer, labor and consumer groups that commercial health plans should be included in sweeping legislation designed to curb drug prices, sources say. Whether the plans sponsored by employers or insurers are covered under H.R. 3's proposed cap on drug price inflation will depend on whether it's allowed via a budget move Congress will use to advance widened Medicare benefits this fall. Sara Hansard has more.
Politics & Influence
Here's Who Keeps Killing Trump Voter Fraud Claims: Christopher Thomas took a consulting gig last year thinking he'd use his decades of experience as Michigan's elections director to help Detroit prepare for a recount. It didn't turn out to be the routine retirement gig he expected. Thomas became a star witness undermining Donald Trump's claims of "voter fraud" at multiple turns. He testified in a court case seeking to stop the election, addressed the meeting where the vote nearly wasn't certified, and shaped the Republican lawmaker's report finding no widespread fraud in Michigan's 2020 presidential race. Read more from Alex Ebert.
Sign up for Bloomberg Government's Ballots & Boundaries, a weekly check-in as states change voting laws and revise political districts
Around the Administration
Today's Agenda:
President Joe Biden and Vice President Kamala Harris will meet at 1 p.m. with Latino community leaders to discuss the economy, immigration, and voting rights. They will also commemorate the second anniversary of a 2019 mass shooting in El Paso, Texas.
The president will speak at 3:45 p.m. on Covid-19 vaccinations.
Energy Cyber Role Unfilled Amid Power Struggle: A showdown is brewing between Congress and the Biden administration over whether a political appointee or a nonpartisan civil servant should lead the Energy Department's cybersecurity office, a role that's become critically important given the increased frequency of cyberattacks on energy infrastructure. The Energy Department wants the role to be filled by a career employee and the administration has declined to nominate anyone for it. Lawmakers from both parties are so determined to force the White House's hand that they've introduced legislation in both chambers to codify the position as an assistant secretary subject to Senate confirmation. Read more from Rebecca Kern.
Biden Moves to Stave Off Mass Evictions: Biden and top White House officials sought yesterday to stave off a wave of evictions after the expiration of a federal moratorium, pressing federal, state and local government agencies to act quickly to stop tenants from losing their homes. The push comes amid intensifying criticism from liberals within his own party, who have complained the White House waited too long to ask Congress to pass legislation extending the moratorium. And it underscores the challenge the administration has faced in distributing billions of dollars in pandemic assistance through bureaucracies around the country.
Biden's request yesterday that the Centers for Disease Control and Prevention to consider another extension of an evictions moratorium – as requested by some Democrats on Capitol Hill – was resisted by the agency's leaders, who said they were unable to legally justify even a narrow ban following a Supreme Court ruling last month. Biden asked the agency to consider a 30-day moratorium focused on counties with high or substantial spread of coronavirus, White House Press Secretary Jen Psaki said in a statement yesterday. Read more from Billy House and Justin Sink.
'Very Real Fourth Wave' Presses FDA to Approve Shots: A surge in Covid-19 cases across the U.S. is increasing pressure on U.S. drug regulators to fully approve Pfizer's vaccine, the first one to apply for full licensure in the U.S. Full approval could help Biden's administration ramp back up its immunization drive and reassure vaccine skeptics that the vaccines are safe. It could also make it easier for more schools and workplaces to mandate the vaccines. Robert Langreth, who spoke with FDA's Peter Marks, has more.
Member nations approved the biggest resource injection in the International Monetary Fund's history, with $650 billion meant to help countries deal with mounting debt and the fallout from the Covid-19 pandemic. The creation of the reserve assets — known as special drawing rights — is the first since the $250 billion issued just after the global financial crisis in 2009, with Managing Director Kristalina Georgieva billing it as "a shot in the arm for the world" that will help boost global economic stability. The SDR allocation will be effective on Aug. 23, the IMF said in a statement yesterday. Read more from Eric Martin.
Treasury Takes Steps to Avoid Debt-Limit Breach: The Treasury Department began using additional special measures to avoid U.S. default, after the debt limit was reinstated Sunday following a two-year suspension. The department is pausing new investments in several federal employee retirement and benefit funds, Treasury Secretary Janet Yellen said yesterday in a letter to Congress. Previous secretaries have taken similar action during prior episodes over the limit, Yellen wrote. Read more from Katia Dmitrieva.
Fed Pick Pits Powell Against Push for Regulation: Biden has a tough decision in choosing the next Federal Reserve chair: Play it safe by giving Jerome Powell a second term or take a chance on a liberal like Lael Brainard, who would please progressives in Congress yet potentially agitate Wall Street. Either path offers speed bumps for the White House. Powell would likely sail to Senate confirmation, giving the Biden administration a significant bipartisan win. Financial markets would likely remain calm, but Biden would likely disappoint some progressive Democrats he needs for other issues.
A liberal nominee, like Fed Governor Brainard, who hews more closely to Biden's economic agenda and is far more of a hawk on banking regulations, would likely keep Democratic senators like Elizabeth Warren (Mass.) and Banking Chair Sherrod Brown (Ohio) happy. Yet it would presage a bruising confirmation fight, potentially even a 50-50 vote with Harris the tie-breaker. Read more from Steven T. Dennis and Saleha Mohsin.
Labor Board's Lawyer Moves to Safeguard Biden Work: The National Labor Relations Board's new general counsel has tried to defuse a legal challenge related to the firing of the agency's Trump-era top lawyer, in her first of what could be many ratifications of her immediate predecessor's work. General Counsel Jennifer Abruzzo last week filed a notice approving former Acting General Counsel Peter Sung Ohr's actions in a labor practice suit against software firm Exela Enterprise Solutions. Robert Iafolla has more.
Seekers of H-1B Visas Fight to Lie Up Lottery: Attorneys representing hundreds of specialty-occupation visa seekers are asking a U.S. judge to immediately block the Homeland Security Department from accepting applications from people who fraudulently submitted multiple lottery registrations in violation of rules limiting the program to one per applicant. Over 500 applicants for the visas sued in June arguing the Trump-era lottery system made it easier for bad actors to game the system. Lydia O'Neal has more.
To contact the reporters on this story: Zachary Sherwood in Washington at zsherwood@bgov.com; Brandon Lee in Washington at blee@bgov.com
To contact the editors responsible for this story: Giuseppe Macri at gmacri@bgov.com; Loren Duggan at lduggan@bgov.com; Michaela Ross at mross@bgov.com
Stay informed with more news like this – from the largest team of reporters on Capitol Hill – subscribe to Bloomberg Government today. Learn more.