What to Know in Washington: Pelosi Regroups on Infrastructure
Bloomberg Government subscribers get the stories like this first. Act now and gain unlimited access to everything you need to know. Learn more.
Speaker Nancy Pelosi (D-Calif.) plans to try again today for a vote on bipartisan infrastructure legislation that's been held up by a battle between moderate and progressive Democrats over President Joe Biden's economic agenda.
Lawmakers will pick up where they left off late last night, when Pelosi sent them home after hours of negotiations failed to produce an agreement in a setback for Biden. Top White House officials had spent the evening shuttling around the Capitol to meet with the warring factions yet fell short of a breakthrough.
Progressives are vowing to stall the $550 billion infrastructure bill if the House and Senate don't first vote on a tax-and-spending package worth as much as $3.5 trillion. That measure forms the bulk of Biden's agenda and funds a broad expansion of social programs, including child care, elder care and paid family leave.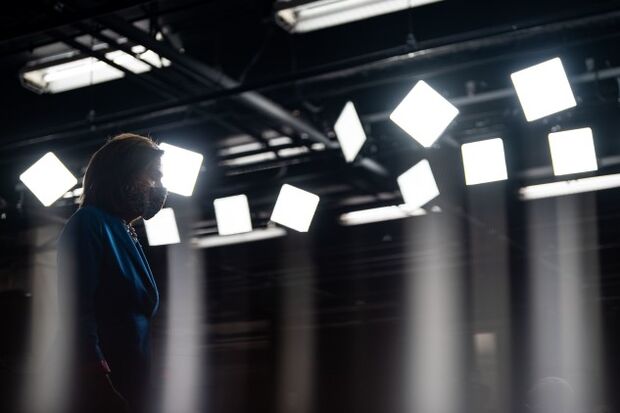 The delay yesterday underscored the vulnerability of Biden's economic plans, with the success of his presidency hanging on the outcome and members of his own party, rather than Republicans, posing the biggest immediate threat. Despite the rift between moderates and progressives, White House officials expressed optimism about the bill's chances on Friday, when talks will resume.
Moderates have wanted to sharply reduce the spending plan. Sen. Joe Manchin (D-W.Va.), a key moderate vote, emerged from a meeting with fellow moderate Kyrsten Sinema of Arizona, White House economic adviser Brian Deese and domestic policy adviser Susan Rice saying a deal was not at hand.
Manchin said late yesterday he still wants to cut the tax and spending bill by some $2 trillion. Read more from Erik Wasson, Laura Litvan and Emily Wilkins.
Highway Programs Pause: Federal highway programs are also on pause and thousands of Department of Transportation employees are facing furloughs after Congress failed to meet a separate midnight deadline to extend surface transportation programs, Lillianna Byington reports.
The Department of Transportation wrote this week that a lapse in authorization would cause federal highway programs to "cease," and that more than 2,500 Federal Highway Administration employees would be furloughed. The lapse would also cause the Federal Transit Administration to curtail much of its work, and would prevent it from sending funds to its state and local partners, the department said. Read more from Lillianna Byington.
Happening on the Hill
Today's Agenda:
The House returns this morning to continue consideration of the bipartisan infrastructure plan.
The Senate is also in session, though no votes are currently scheduled.
Congress Avoids Shutdown But Funding Hurdles Await: Lawmakers must overcome major hurdles to reach a full government funding deal later this year, though they managed to avert a shutdown with a stopgap measure through Dec. 3. Senators voted 65-35 in favor of the continuing resolution yesterday, followed by the House's 254-175 vote to pass the measure. Biden signed the bill into law later in the day.
The stopgap measure buys Congress some time, but it won't be easy to strike a deal on all 12 annual spending bills over the next nine weeks. While lawmakers have made progress negotiating a bipartisan spending level for the military, there's been no formal bipartisan, bicameral agreement on top-line spending levels for defense and nondefense programs. Read more from Jack Fitzpatrick.
Chopra to Tackle Stacked CFPB Agenda: The Senate confirmed Rohit Chopra along party lines to be director of the Consumer Financial Protection Bureau, installing an agency veteran and former FTC official with a reputation as an aggressive regulator. "Rohit will hit the ground running. He knows the agency, knows how to build support for agency actions, and will be swimming with the current of many like-minded CFPB staff," said Michael Gordon, a partner at Bradley Arant Boult Cummings and a former top CFPB official. Chopra helped establish the bureau after the financial crisis. He later served as the bureau's first student loan ombudsman under former Director Richard Cordray. Read more from Evan Weinberger.
Stone-Manning Confirmed at Land Bureau: The Senate voted 50-45 last night to confirm Tracy Stone-Manning as director of the Bureau of Land Management—the agency's first confirmed director since the Obama administration. As land bureau chief, Stone-Manning now takes charge of overseeing about 245 million acres of federal land and all the country's onshore oil, gas and other minerals. Sen. Chuck Schumer (D-N.Y.) said on the Senate floor yesterday that the bureau will play a key strategic role in combating climate change. Stone-Manning, a former environmentalist who was a public lands advocate for the National Wildlife Federation, was vehemently opposed by Republicans. Read more from Bobby Magill.
Tech Giants Get New Chance on House Antitrust Bills: Four of the biggest U.S. technology companies are getting a belated chance to give feedback on antitrust legislation that could force drastic changes to their business models and consumer products, according to people familiar with the request. The House antitrust subcommittee last month asked Alphabet's Google, Amazon, Facebook and Apple for more information on how the panel's package of antitrust bills would affect the companies. The request comes more than three months after the House Judiciary Committee approved the measures on bipartisan votes, despite complaints from the companies that the process was rushed and they hadn't been given an opportunity to weigh in. Read more from Anna Edgerton.
Politics & Influence
Texas Criticized for Ignoring Minority Growth: Texas's state legislature is drawing criticism for its proposed map of new congressional districts, likely to send at least two more Republicans to Washington next fall even as minorities have fueled the state's population boom over the last decade. The state was the only one in the U.S. to receive two new congressional seats following the 2020 decennial census, which showed that 95% of the 4 million new people in Texas over the past 10 years were minorities. The state's legislature, where both chambers are controlled by Republicans, has proposed a voting map that largely protects both Democrat and Republican incumbents, and corrals likely Republican voters into the two new seats. Read more from Catarina Saraiva, Ryan Teague Beckwith and Gregory Korte.
Republicans Have a Redistricting Problem as Suburbs Shift: Republicans have a dilemma as states start redrawing their political maps: Draw as many Republican districts as they can now—even if it makes them vulnerable to demographic changes in the future—or draw safer, more future-proof districts for Republican incumbents, even if it means ceding a few more seats to Democrats now. America's rapidly changing suburbs are largely where those decisions will be made. Read more from Rachael Dottle and Allison McCartney.
Around the Administration
Today's Agenda: Biden has no public events planned.
Biden Gets Approval to Keep Expelling Migrant Families: The Biden administration can continue expelling migrant families under a pandemic-related public health order, a federal court said yesterday. The U.S. Court of Appeals for the District of Columbia Circuit sidelined a lower court order that blocked officials from applying the Title 42 expulsion policy to families. Border officials can continue turning families away while the appeal proceeds, Ellen M. Gilmer reports.
Meanwhile, tens of thousands of employment-based green cards appeared set to go to waste yesterday, though U.S. Citizenship and Immigration Services says it's still exploring options to save them. The agency projected it would process 164,000 immigration status adjustment applications before fiscal 2022 begins today. That's short of the full amount available, though USCIS declined to provide a specific number of green cards that would go unused. Read more from Ellen M. Gilmer
Watchdog Says DHS Needs Morale Boost: The Department of Homeland Security needs to improve several key areas before a federal watchdog can take the agency off its list of "high-risk" government operations, an official said. The Government Accountability Office put DHS on its high-risk list in 2003, shortly after the agency was created. It's still struggling to improve its financial management and acquisitions, Chris Currie, director of GAO's homeland security and justice team, said yesterday in an update before the House Homeland Security oversight panel. Read more from Ellen M. Gilmer.
Flood Insurance Costs Set to Rise at FEMA: The federal government today rolls out a flood-insurance program revamped to reflect worsening climate change, a program that will raise rates for millions of homeowners. The Federal Emergency Management Agency in April announced the first significant update to the beleaguered National Flood Insurance Program, which covers about 5 million properties. Premiums have risen steadily, but the program is more than $20 billion in debt, thanks in part to rising seas and stronger storms. Now, a quarter of the participants will see lower costs while the rest see them rise. Read more form Leslie Kaufman and Polly Mosendz.
White House Situation Room to Get Overhaul: It's the highly secure space in the White House where presidents have gone to watch video feeds as U.S. forces killed terrorists Osama bin Laden and Abu Bakr al-Baghdadi. But the Situation Room is also a technology throwback, with some equipment that hasn't been updated in 15 years. Now the Pentagon has proposed shifting almost $46 million previously approved for other programs to accelerate an ongoing overhaul, adding to about $44 million backed by Congress for the project since fiscal 2017 and $10 million requested for fiscal 2022, according to Pentagon budget documents. Read more from Tony Capaccio and Jennifer Jacobs.
Blinken Sees 'Limited Runway' For Iran Talks: Secretary of State Antony Blinken said Iran is running out of time to get back into the 2015 deal that limited its nuclear program, as officials signal their concerns that a new agreement may be out of reach. Blinken was careful not to put a time limit on U.S. patience but reiterated that the Biden administration wouldn't wait forever for Iran to decide to rejoin talks on both sides coming back into compliance with the Joint Comprehensive Plan of Action. Former President Donald Trump quit the deal in 2018. Read more from Eric Martin and Nick Wadhams.
What Else to Know
North Korea Test-Fires Another Missile: North Korea claimed it had successfully test launched a newly developed anti-aircraft missile a day after the country's leader, Kim Jong Un, called Biden's North Korea policy a "petty trick" — escalating tensions with Washington. The test was of "very practical significance in studying and developing various prospective anti-aircraft missile systems," the state-run Korean Central News Agency said today. Read more from Jeong-Ho Lee.
Abortion Just the Start as Supreme Court Tackles Guns, Religion: The U.S. Supreme Court term that starts Monday isn't entirely about abortion. It only seems that way. The biggest abortion face-off in a generation will take place Dec. 1, when Mississippi defends its ban on the procedure after the 15th week of pregnancy. But more broadly, Justice Amy Coney Barrett's first full term offers a menu of opportunities for the court's conservative wing to exploit its 6-3 majority — and give Republicans the type of payoff they envisioned when they pushed through her Senate confirmation just before the 2020 election. Before the term ends in June, the justices will rule on guns, religion and federal regulation, and they could add cases on affirmative action, redistricting and Biden's vaccine mandate. Read more from Greg Stohr.
Merck Says Covid-19 Antiviral Cut Hospitalization, Deaths by Half: Merck's Covid-19 antiviral pill molnupiravir reduced the risk of hospitalization or death by 50% in an interim analysis of a late-stage trial, findings that could give doctors another potent virus-fighting tool. The company is halting the study and will seek an emergency-use authorization from the U.S. Food and Drug Administration as quickly as possible, Chief Executive Officer Rob Davis said in an interview. Merck also plans to submit applications to regulators in other countries. Read more from Emma Court.
To contact the reporters on this story: Zachary Sherwood in Washington at zsherwood@bgov.com; Brandon Lee in Washington at blee@bgov.com
To contact the editors responsible for this story: Giuseppe Macri at gmacri@bgov.com; Michaela Ross at mross@bgov.com
Stay informed with more news like this – from the largest team of reporters on Capitol Hill – subscribe to Bloomberg Government today. Learn more.