What to Know in Washington: Pelosi, Moderates Struggle for Deal
Speaker Nancy Pelosi (D-Calif.) and a group of centrist Democrats will resume talks today on how to advance President Joe Biden's legislative agenda, after hours of negotiations failed to break a stalemate.
Lawmakers will be continuing talks that went late into the night yesterday. Pelosi said the House would convene at noon and vote later.
Pelosi is proposing to hold off on passing a $550 billion infrastructure bill until a larger economic package worth as much as $3.5 trillion in social program spending is ready for consideration in the House, a process that could stretch well into the fall. Pelosi has pledged to bring up the infrastructure bill for a vote by Oct. 1. But there is no mechanism to enforce that promise and part of the discussions involve how to make that commitment.
At least 10 Democrats say they want to vote on the infrastructure bill now and will withhold their support for a resolution to unlock the budget process for the larger economic bill until the Senate-passed transportation and energy bill is up for a vote. The budget resolution will allow Democrats to use a process known as reconciliation to bypass the 60-vote threshold in the Senate and pass a multi-trillion spending bill without Republican support.
The moderate lawmakers, led by Rep. Josh Gottheimer (D-N.J.), balked at a procedural maneuver floated by Pelosi yesterday that would deem the budget resolution adopted in a broader measure that would also advance the infrastructure bill and voting rights legislation. That prompted House Democratic leaders to scrap a scheduled vote last night. Read more from Laura Davison, Billy House and Erik Wasson.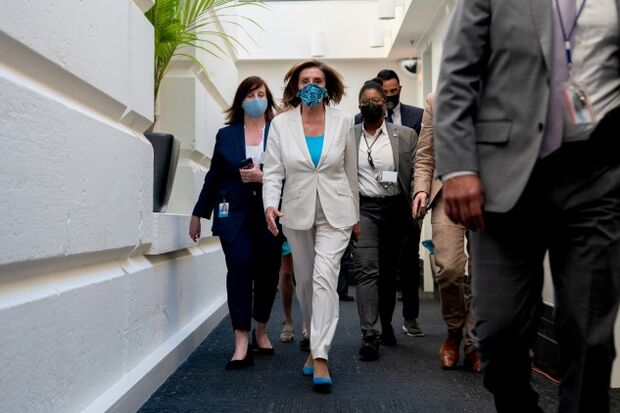 Happening on the Hill
Capitol Riot Probe Panel to Seek Lawmakers' Phone Records: Members of Congress are among the several hundred people whose phone, text and other communications records are being sought by the special House committee investigating the Jan. 6 insurrection, the panel's chairman said. The committee is requesting the information in letters going out this week to telecommunications companies, social media platforms and "other entities," Rep. Bennie Thompson (D-Miss.) told reporters. Read more from Billy House.
Powell's Charm Offensive in Congress for Job: Federal Reserve Chair Jerome Powell has built a reputation as a skilled advocate for the U.S. central bank, thanks to strong personal ties forged with Congress that will help if he's nominated for a second term. Since he took the helm of the Fed in February 2018, through June of this year, he's held at least 350 meetings, dinners or phone calls with members of Congress, according to his monthly calendars. That's almost nine per month, and many of those included more than one lawmaker. The tally doesn't count at least 16 appearances as chair before numerous congressional committees. Biden is expected to make his decision about who to nominate for the four-year term of Fed chair around Labor Day. Read more from Christopher Condon, Steven T. Dennis and Saleha Mohsin.
House Clears Budget Documents Bill: The House last night passed legislation that would require federal agencies to post budget justification documents they prepare online and list them on a central website. The Senate passed the bill, called the "Congressional Budget Justification Transparency Act," on June 24. House passage sends the measure to Biden. For more, read the BGOV Bill Summary by Michael Smallberg.
Afghanistan and Foreign Affairs
Today's Agenda: Biden will meet at 8:30 a.m. with his national security team to hear updates on Afghanistan. Biden then meets at 9:30 a.m. virtually with Group of Seven leaders to discuss coordination on Afghanistan policy, evacuations, and aid. At noon, Biden is scheduled to deliver remarks on the ongoing efforts in Afghanistan.
U.K. Sees Little Chance of Swaying Biden: Biden will face a plea from his closest allies to extend the Afghanistan evacuation deadline, though the U.K. warned they are unlikely to change his mind as conditions on the ground become more perilous. The airlift will dominate a virtual G-7 summit today, convened by British Prime Minister Boris Johnson just a week before the Aug. 31 date set by Biden to complete the withdrawal of U.S. troops. The stakes were raised further after the Taliban spokesman warned of "consequences" if the U.S. postpones its withdrawal. U.K. Defense Secretary Ben Wallace dialed back expectations on a possible extension. "I think it is unlikely, not only because what the Taliban have said but if you look at the public statements of President Biden," he told Sky News today. "It's definitely worth us all trying and we will." Read more from Alex Morales and Kitty Donaldson.
U.S. Races to Vet Afghans for Security Risks: U.S. agencies are rushing to complete security vetting of thousands of Afghanistan citizens who are in line to be relocated to the U.S., as some lawmakers raise alarms about the risk that terrorists and criminals could slip through. U.S. agencies are doing security screening while flights are in the air and when refugees arrive at temporary locations before being transferred to the U.S., including Qatar, Kuwait, Bahrain, Italy, Spain and Germany. "Intelligence, law enforcement, and counterterrorism professionals are conducting screening and security vetting for all SIV applicants and other vulnerable Afghans before they are allowed into the United States," the State Department said in a statement yesterday. Read more from Chris Strohm.
Harris Blasts China: Vice President Kamala Harris warned that China poses a threat to countries in Asia, while reassuring nations in the region the U.S. won't force countries to choose between the world's biggest economies. In a speech in Singapore, Harris spoke about the U.S. vision for a region built on rules, human rights, freedom of the seas and unimpeded commerce. She also offered for the U.S. to host the 2023 summit of the 21-member Asia-Pacific Economic Cooperation forum, signifying the administration's commitment to multilateral engagement. In her most pointed comments at Beijing, Harris accused China of coercion and intimidation over its vast territorial claims in the South China Sea. Read more from Jenny Leonard and Philip J. Heijmans.
Around the Administration
Tech CEOs to Talk Cyber With Biden: The chief executive officers of Apple, Microsoft and Amazon plan to attend a White House meeting with Biden tomorrow to discuss efforts by private companies to improve cybersecurity following a dramatic uptick in ransomware and online attacks over the past year. Apple's Tim Cook, Microsoft's Satya Nadella and Amazon's Andy Jassy plan to attend the event scheduled for tomorrow afternoon, according to people familiar with the matter, Rebecca Kern, Mark Gurman and Spencer Soper report.
FDA Approval May Spur Holdouts to Get Shot: For many vaccine holdouts, yesterday's full regulatory approval from the Food and Drug Administration of the Pfizer-BioNTech shot is just the news they said they were waiting for to finally get inoculated. That's particularly true among Black and Hispanic people. The Kaiser Family Foundation found that among unvaccinated respondents, 46% of Hispanic and 41% of Black people said full approval would make them likelier to get vaccinated, compared to 25% of White people, Amy Yee reports.
FDA, Brand-Name Drugmakers Agree on User Fees: The pharmaceutical industry and the FDA have reached an agreement on the next round of user fees, teeing up for Congress must-pass legislation to renew the fees that help fund the agency. The commitment letter released yesterday marks a critical milestone in setting up fees the industry will pay the FDA for the seventh authorization of the Prescription Drug User Fee Act. Read more from Jeannie Baumann.
U.S. Audit Watchdog Leaders to Step Down: Two of the U.S. audit regulator's last remaining board members said on Friday that they would step down this fall. Rebekah Goshorn Jurata and Megan Zietsman said in a joint statement that they didn't apply to be re-appointed to the Public Company Accounting Oversight Board and were ready to leave their posts sooner should the Securities and Exchange Commission name their successors before Oct. 1. Read more from Amanda Iacone.
Interim Head of DOL Agency Overseeing Jobless Aid Steps Down: Suzi LeVine has resigned as acting head of the Labor Department agency charged with overseeing unemployment benefits and job training, citing an inability to relocate to Washington, D.C. Lenita Jacobs-Simmons, a veteran career official at DOL's Employment and Training Administration, is the agency's new temporary leader, according to a letter to states published yesterday. Read more from Ben Penn.
Boeing Employees' Safety Concerns Under Scrutiny by FAA: U.S. aviation regulators are opening a new review of Boeing after a survey of company engineers found a sizable percentage said they couldn't raise safety concerns without interference. A survey conducted by the Federal Aviation Administration from May through July found that 35% of Boeing employees raised issues of conflicts of interest and a lack of independence, according to an Aug. 19 letter from the head of the agency division overseeing the company. Read more from Alan Levin.
U.S. Targets Crypto in Foreign Bank Account Crackdown: The federal government is racking up wins in cases tied to unreported foreign bank accounts after years of working to track them down, establishing a legal framework that is expected to help the pursuit of cryptocurrency held abroad. The recent court victories—including a judicial recommendation to repatriate more than $18.2 million—are tied to a requirement that individuals with overseas accounts holding more than $10,000 report them to the government annually. The government has brought in millions of dollars in penalties in a series of cases. Read more from Aysha Bagchi.
Politics & Influence
Hochul Sworn in as N.Y.'s First Female Governor: Kathy Hochul was sworn in as governor of New York at midnight, officially making her the first woman to serve in the role. She takes over after three-term Democrat Andrew Cuomo (D) resigned over a sexual-harassment scandal involving 11 women, most of whom worked for him. Hochul, 62, rose to the position after serving as lieutenant governor to Cuomo for six years. Hochul will serve out the remainder of Cuomo's term through December 2022 and has already said she plans to run for re-election. Read more from Emma Kinery and Shera Avi-Yonah.
Covid-19 Diagnoses Delay Arizona 2020 Audit Report: Contractors hired by the Arizona Senate to perform a partisan audit of the 2020 election in Maricopa County have tested positive for Covid-19, delaying a full report of their findings, Senate President Karen Fann (R) said yesterday, Brenna Goth reports.
Giuliani Ally Fruman to Change Plea: One of Rudy Giuliani's key associates in his effort to dig up dirt in Ukraine on Biden during last year's presidential race will plead guilty in a campaign finance case, according to people familiar with his plans. Igor Fruman had previously pleaded not guilty to charges that he laundered campaign donations and funneled foreign funds into U.S. elections. Fruman will now admit to a single count of soliciting a campaign contribution from a foreign donor to a U.S. politician to curry favor for a marijuana business he was trying to launch, according to two of the people, who asked not to be identified because the plea isn't yet public. Christian Berthelsen has more.
To contact the reporters on this story: Michaela Ross in Washington at mross@bgov.com; Brandon Lee in Washington at blee@bgov.com
To contact the editors responsible for this story: Giuseppe Macri at zsherwood@bgov.com; Loren Duggan at lduggan@bgov.com