What to Know in Washington: Pelosi Balances Impeachment, USMCA
Speaker Nancy Pelosi pulled off a delicate political maneuver by announcing in quick succession articles of impeachment against President Donald Trump as well as the delivery of a trade deal that's one of his highest priorities.
The seemingly conflicting turn of events in the space of a single hour yesterday illustrates the political landscape Pelosi faces heading into the 2020 election year that will decide control of the White House and Congress.
Pelosi had long expressed wariness about impeaching Trump despite pressure from the party's progressive wing. The public is generally split on the issue, and it could put at risk the 31 House Democrats elected from districts Trump won. Her keeping the speaker's gavel depends on those "majority makers" remaining in office.
At the same time, she has insisted she was determined to win House approval of the U.S.-Mexico-Canada Agreement on trade, which is favored by moderate Democrats in swing districts and opposed by progressives.
"Personally, I am not thrilled with how this has developed," said Rep. Alexandria Ocasio-Cortez (D-N.Y.), a USMCA opponent who has become a star of the Democratic left. "But I understand that there are more conservative members of the party that they want to communicate to their constituents that we are 'doing something' while impeachment is happening."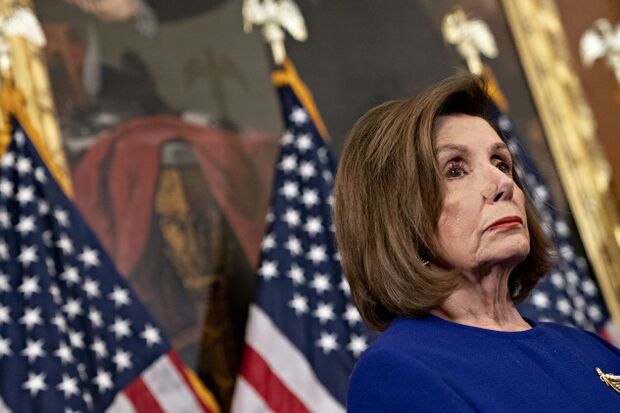 While impeachment is a political blow for Trump, getting USMCA approved by Congress is a clear victory. He now goes into his re-election able to tout fulfillment of a central campaign promise — replacing the North American Free Trade Agreement, which he's derided as a disaster for U.S. workers.
Leaving the White House for a political rally yesterday, Trump said the agreement on USMCA is the "silver lining" to the House drawing up articles of impeachment. "Without the impeachment they would have never approved it, in my opinion," he added.
But it was Pelosi who was in front of the cameras announcing final changes had been agreed to and that the House would move to a speedy vote by next week. She said Democrats had taken a flawed agreement negotiated by Trump and strengthened numerous provisions, including labor rights that were a high priority of the party's union allies. Pelosi also has countered the biggest weapon being used by Trump and Republicans heading into the next election: That Democrats are so obsessed with impeachment they are ignoring everything else. Read more form Erik Wasson and Laura Litvan.
Trump Responds: Still,Trump reiterated later that Pelosi used the announcement to distract from impeachment. "They announced impeachment, and then an hour later she announced that she's going to do USMCA," Trump said last night at a campaign rally in Hershey, Pa. "It's a huge deal and it plays down the impeachment. Because they're embarrassed by the impeachment. And our poll numbers have gone through the roof because of her stupid impeachment."
"You think she'd wait like a day," Trump said. Jennifer Jacobs has more from Trump's rally.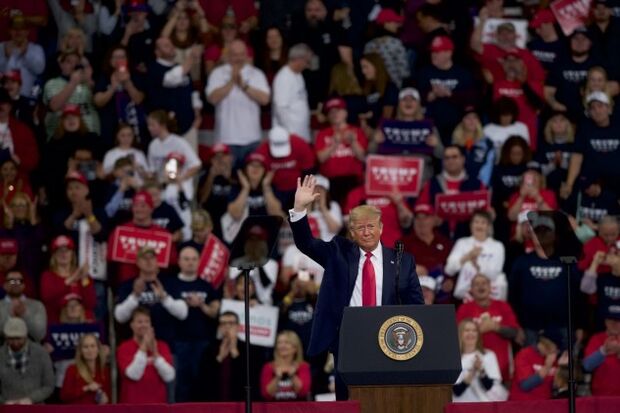 House Panel Begins Consideration of Articles of Impeachment
The Judiciary Committee will take a historic step Wednesday night when it begins considering two articles of impeachment seeking to remove Trump from office for abusing his power and obstructing Congress.
The 41-member panel meets at 7 p.m. to start debating what are now two narrowly written articles focusing on the Ukraine controversy. The hearing is expected to go for several hours, then reconvene Thursday morning and continue through the afternoon, or perhaps longer.
The aim is to finalize wording on articles that would be sent to the floor for a vote next week by the full House. The process may involve debate and votes on dozens of proposed amendments from both sides of the aisle — including to sort out disagreements among Democrats on whether to broaden the resolution's focus. Read more from Billy House.
Happening on the Hill
Pelosi Concession Paves Way for Drug-Price Bill: Pelosi's signature Medicare drug-pricing negotiation bill is likely to pass this week after she cut a deal with liberals in her caucus who were threatening to block the legislation. Leaders of the Congressional Progressive Caucus have been demanding changes to the bill, namely to extend some of the price caps in the legislation to employer-sponsor plans and to allow the uninsured to buy drugs at discounted rates. Pelosi offered to meet some of their demands during a meeting yesterday. The House will begin consideration of the bill today. Read more from Alex Ruoff.
Walden Sees Satellite TV Bill Agreement: House and Senate committee leaders have reached a potential agreement to make permanent several provisions of an expiring satellite television law, Rep. Greg Walden said in an interview. The Satellite Television Extension and Localism Act (STELA) is set to expire on Dec. 31, and could leave up to 870,000 Americans without access to their local broadcast television stations. The House passed a version of the measure yesterday. Walden said in an interview yesterday that lawmakers agreed to add the House-passed bill to a Senate
vehicle, likely an end-of-year spending package. Read more from Rebecca Kern.
Senate Clears Bill to Extend Funding for Black Colleges: The Senate, by voice vote, cleared H.R. 5363 to permanently provide $255 million in funding annually for historically black colleges, Andrew Kreighbaum reports. A ten-year authorization of money supporting science, technology, engineering, and math education expired Sept. 30. The House passed the bill earlier yesterday on a 318 to 96 vote, despite concerns from the Ways and Means Committee over the use of taxpayer data. The bill now heads to Trump. For more on the measure, read the BGOV Bill Summary by Naoreen Chowdhury.
House Votes to Boost Funding for Coastal Protection: The House passed a 10-bill legislative package yesterday to authorize more money to protect coasts from the consequences of climate change, including hundreds of millions of dollars to promote "living" shorelines to combat coastal erosion. The chamber voted 262-151 in favor of legislation that would expand programs helping communities protect eroded coastlines and declining fisheries, most of which are managed by the Commerce Department's National Oceanic and Atmospheric Administration. Read more from Tiffany Stecker.
GOP-Led Panel Eyes Russia, Turkey Sanctions: The Senate Foreign Relations Committee is pushing ahead with bills to sanction Turkey and Russia, along with a slew of other measures that could tie Trump's hands when it comes to diplomacy and cultivating personal relationships with global leaders. The hearing today comes the day after Trump met with Russian Foreign Minister Sergei Lavrov at the White House and the month after he hosted Turkish President Recep Tayyip Erdogan in Washington. Trump has consistently spoken favorably of Russia and Turkey, even as his closest allies in Congress demand harsher consequences foraggression from both countries. Read more from Daniel Flatley.
Modernization Panel Recommendations: Proposals to create a human resources department for members and staffers and to make websites more accessible are among the nearly 30 recommendations a House panel introduced to help bring the chamber into the modern era. The Select Committee on the Modernization of Congress, a bipartisan group of lawmakers assigned to update various aspects of the chamber, released legislation yesterday. During the past year, the committee has approved all the recommendations included in the bill. Read more from Emily Wilkins.
Lawmakers Spar Over Paid Family Leave: Members of the House Oversight Committee are the latest to debate the details of a national paid family leave plan in response to growing momentum in states and businesses across the U.S. Lawmakers came together yesterday for a hearing to examine the need for comprehensive paid family and medical leave, but Republicans and Democrats found little common ground on solutions that would best meet the needs of workers and businesses. Genevieve Douglas recaps the hearing.
Movers & Shakeups
'Not Qualified' Court Nominee Likely To Be Confirmed: Lawrence VanDyke is poised for confirmation to the nation's largest federal appeals court despite an American Bar Association assessment finding him unqualified and potentially unsupportive of LGBT rights. The Senate will consider confirming him today after it voted along party lines to invoke cloture, or limit debate, on his nomination that also has been criticized over his legal stance on environmental issues while an attorney representing state governments and the Trump administration. If confirmed to the U.S. Court of Appeals for the Ninth Circuit, VanDyke would be the 50th appeals court judge appointed by Trump, which is more than a quarter of appellate seats. Read more from Madison Alder and Ellen M. Gilmer.
Senate Confirmation of Gaynor to Head FEMA Is Delayed: The nomination to head the Federal Emergency Management Agency has been delayed as Democrats gather more information about nominee Peter Gaynor, Senate Homeland Security and Governmental Affairs ranking member Gary Peters (D-Mich.) said in an interview with Michaela Ross. Gaynor's nomination was approved by the panel Nov. 18, with Chairman Ron Johnson (R-Wis.) then saying he hoped it would pass the Senate by unanimous consent before Thanksgiving. Peters declined to comment on what type of information was being sought.
Trump's Regulatory Chief to Get Committee Vote: A Senate Homeland Committee vote has been scheduled on the nomination of Paul Ray to be Trump's next regulatory chief, despite Democrats' complaints about supporting documents being withheld. The panel yesterday announced the Dec. 17 vote, which comes less than two weeks after a hearing on Ray's nomination where Democrats voiced concerns about rulemaking activities at the office Ray oversees. Read more from Cheryl Bolen.
EEOC Nominee Must Wait Until Next Year: A Senate committee will vote on the pending nomination of Equal Employment Opportunity Commission member nominee Keith Sonderling next year. The delay on Sonderling's confirmation is sure to ruffle feathers in the business community, which had been hoping for a year-end deal to add the current Labor Department official to the commission. Read more from Jaclyn Diaz.
Trump Taps Liu for Treasury: Trump plans to nominate Jessie Liu to be undersecretary for terrorism and financial crimes at the Treasury Department, according to White House statement. Liu currently serves as the U.S. attorney for the District of Columbia.
Defense & Foreign Affairs
North Korea Tests Trump's Patience: All year, Trump refused to respond as North Korea carried out short-range missile tests and chipped away at crippling international sanctions. He even ignored a new volley of insults branding him a "heedless and erratic old man." That restraint may not last much longer as North Korea hints darkly that it will make a major move by the end of this month, possibly including a long-range missile launch or a nuclear bomb test as a "Christmas gift" to the U.S. Read more from Nick Wadhams.
White House Warns Russia on Elections: Trump warned Russian Foreign Minister Sergei Lavrov yesterday against interference in U.S. elections, the White House said in a statement after an Oval Office meeting between the two men. But Lavrov suggested in a news conference at the Russian Embassy in Washington that Trump delivered no such warning. Lavrov said he brought up elections during the meeting but only to protest a warning from Secretary of State Michael Pompeo earlier in the day. Read more from Justin Sink.
UN Investigators Unable to Trace Saudi Aramco Attack to Iran: United Nations investigators dispatched to Saudi Arabia after drone and missile attacks on state oil company Aramco in September determined they couldn't yet verify U.S. and Saudi claims that Iran was behind the strikes. The UN "is unable to independently corroborate that the cruise missiles and unmanned aerial vehicles used in these attacks are of Iranian origin and were transferred in a manner inconsistent with" UN resolutions, Secretary-General Antonio Guterres wrote in his semi-annual Iran report to the security council obtained by Bloomberg News. Read more from David Wainer.
Judge Blocks Building Border Wall With Military Funds: A U.S. judge barred Trump from using $3.6 billion in military construction funds to pay for a wall along the Mexico border. Yesterday's order follows an October ruling by U.S. District Judge David Briones in El Paso, Texas, in which he concluded that Trump's declaration of a national emergency to redirect Defense Department appropriations to a wall project that Congress specifically refused to pay for was illegal. The government is appealing the October ruling, Peter Blumberg reports.
Elections & Politics
Suicides, Addiction Unite Mental Health Groups: Rising rates of suicides and drug overdoses are driving mental health advocates to push candidates in next year's elections to support expanded funding for screening and early intervention programs.
The Kennedy Forum, a group focused on promoting parity between mental health and other types of health care, and dozens of other organizations formed a nonprofit educational initiative earlier this year trying to elevate mental health and addiction to the presidential level. The more than 80 organizations included in Mental Health for US are hoping that together they can prove that a sizable voting bloc of Americans want action on these issues. Read more from Alex Ruoff.
Biden Widens Lead, Buttigieg Drops: Former Vice President Joe Biden widened his lead in the 2020 Democratic field and Mayor Pete Buttigieg slipped two spots to fourth in a Quinnipiac University poll released yesterday.
Buttigieg Reveals McKinsey Clients: Buttigieg yesterday released the names of clients that he worked for as a consultant at McKinsey, a list that includes Blue Cross Blue Shield Michigan, the U.S. Postal Service and the Department of Defense. Buttigieg, who has risen to the top tier of candidates in the Democratic primary, had come under fire from Democratic rivals for not giving voters a full picture of his private sector experience. He made public the names one day after the firm released him from a nondisclosure agreement. Read more from Tyler Pager.
Andrew Yang Qualifies for Debate: Entrepreneur Andrew Yang on Tuesday became the seventh candidate to qualify for the Democratic debate in Los Angeles on Dec. 19. Yang will join Biden, Elizabeth Warren, Bernie Sanders, Pete Buttigieg, Amy Klobuchar and Tom Steyer. Tulsi Gabbard has met the donor threshold but lacks one national or state poll to qualify. She said yesterday she would skip the debate even if she qualifies. Read more from Emma Kinery.
(Michael Bloomberg is also seeking the Democratic presidential nomination. Bloomberg is the majority owner of Bloomberg Government's parent company.)
Around the Administration
DeVos Outlines Partial Relief for Borrowers: The Trump administration said yesterday it will begin awarding partial loan forgiveness to student borrowers who were misled or defrauded by their colleges, reviving a process halted in 2018 when its previous plan was struck down in federal court. Since a federal district court judge in California blocked the earlier plan in May 2018, the Education Department has stopped issuing any debt relief decisions.
Education Secretary Betsy DeVos has been under pressure from House Democrats for months to answer questions about her agency's debt relief policies. The department unveiled the new formula two days before DeVos is set to testify before the House Education and Labor Committee on the loan forgiveness program, known as borrower defense to repayment. Read more from Andrew Kreighbaum.
To contact the reporter on this story: Zachary Sherwood in Washington at zsherwood@bgov.com
To contact the editors responsible for this story: Giuseppe Macri at gmacri@bgov.com; Loren Duggan at lduggan@bgov.com