What to Know in Washington: Pelosi Allies Stumped on Impeachment
Lawmakers expect Speaker Nancy Pelosi (D-Calif.) will soon end her delay of President Donald Trump's impeachment trial without any notable concessions from Senate Republicans, leaving her allies stumped about her strategy in the three-week standoff.
Senior Democrats in the House insisted publicly that the speaker has given them no hints on timing for sending the two articles of impeachment over to the Republican-controlled Senate, the step that would trigger an immediate opening of the historic impeachment trial.
Amid speculation about her rationale and expressions of exasperation from Democrats in the House and Senate — delivered almost exclusively on condition of anonymity — Pelosi offered only cryptic clues.
"I'm not holding them indefinitely. I'll send them when I'm ready, and that probably will be soon," Pelosi said yesterday.
Some lawmakers said they took that to mean sometime in the coming days the House impeachment managers will be named and the articles of impeachment formally transmitted to the Senate.
Pelosi's ability to influence the rules for the impeachment trial has dwindled as her standoff with Senate Majority Leader Mitch McConnell (R-Ky.) has dragged on.
Senate Minority Leader Chuck Schumer (D-N.Y.) wants votes on calling witnesses who did not testify in the House investigation, but Pelosi hasn't made a specific demand — saying only she wants to see the rules for how the impeachment trial will be conducted. McConnell, however, has made clear he has no interest in or need to compromise. Read more from Billy House.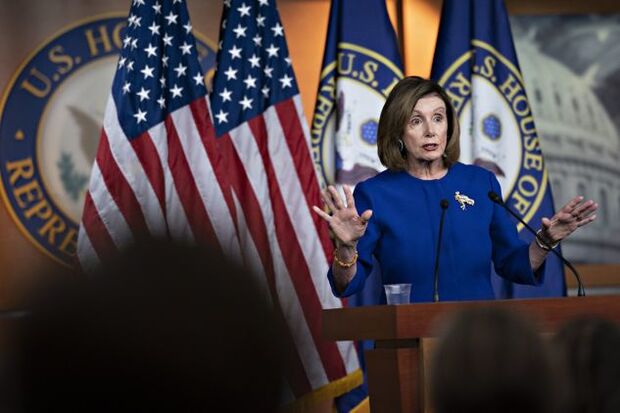 Happening on the Hill
House Votes to Curb Trump on Iran: The House voted yesterday to limit Trump's authority to strike Iran, a mostly symbolic move that Democrats argue defends Congress's constitutional powers, but one Republicans say endangers national security. The measure was adopted on a 224-194 vote, as Middle East tensions remain high after a U.S. airstrike killed senior Iranian general Qassem Soleimani. Iran retaliated with missiles striking an Iraqi base used by U.S. troops Tuesday, without casualties, leaving uncertainty about future hostilities.
With yesterday's resolution, the House is saying Congress should be consulted before the conflict with Iran escalates. The Senate now can either consider the House-passed measure or go forward with a different version of the resolution.
The effort to constrain Trump's power was backed by three Republicans but still faces tough odds in the Senate. Still, Pelosi said the measure has "real teeth," citing the 1973 War Powers Act to limit the president's military options without consulting Congress. House Democrats criticized the administration for failing to offer clear justification that Soleimani posed an imminent threat, while some Republicans criticized the White House for failing to address concerns about congressional approval.
Republican Reps. Matt Gaetz (Fla.), Thomas Massie (Ky.) and Francis Rooney (Fla.), along with independent Justin Amash (Mich.), joined 220 Democrats in supporting the measure. Eight Democrats and 186 Republicans voted against it. Read more from Daniel Flatley.
Trump last night mocked Democrats for their criticism that he should have notified Congress before killing the Iranian general. "We got a call, we heard where he was, we knew the way he was getting there and we had to make a decision," Trump said at a campaign rally in Toledo, Ohio. "We didn't have time to call up Nancy, who is not operating with a full deck," he said, referring to Pelosi. Read more from Justin Sink.
Labor Bill Vote in Coming Weeks: The House will vote before President's Day on an expansive labor bill that includes a wish list of union priorities, Majority Leader Steny Hoyer (D-Md.) said yesterday. The Protecting the Right to Organize Act would amend federal workplace laws to bolster a wide range of legal protections on the job. It also would crack down on the classification of workers as independent contractors, among a slew of moves likely to create new unionizing opportunities for labor organizations. Jaclyn Diaz has more.
Chinese Tech in Voting Machines: Infiltration by foreign countries like China into U.S. election voting equipment is emerging as a growing concern among vendors, who are actually asking for more federal regulation as they grapple with a lack of domestic suppliers producing key technologies. Top executives from the three largest voting machine vendors told the House Administration Committee yesterday that they are hoping for guidance and support from the Department of Homeland Security on how to secure their subcontractors.
Chairwoman Zoe Lofgren (D-Calif.) said the hearing marked the first time all three CEOs of the largest companies supplying voting machines in the U.S. agreed under oath that they'd welcome comprehensive regulations from the federal government. Read more from Michaela Ross.
More Defense & Foreign Affairs
Iran Calls on West to Prove Claims Boeing Jet Was Shot Down: Iran called on Western governments to prove claims the Boeing 737-800 passenger jet that crashed near Tehran on Wednesday was shot down, intensifying a standoff that could complicate an already difficult investigation fraught with geopolitical hurdles. "If they are certain and have the courage, they should share any finding that has scientific and technical backing," Ali Abedzadeh, head of Iran's Civil Aviation Organization, said during a televised briefing today. Iran is "certain" that Ukraine International Airlines Flight 752 wasn't shot down, he said, building on earlier government denials.
The comments come after the prime ministers of Canada, the U.K. and Australia said they had intelligence showing the plane was shot down by a missile. The crash, which killed all 176 people on board, comes at a time of heightened tensions between the U.S. and Iran, whose economy has been crippled by sanctions. Read more from Jennifer Jacobs, Alan Levin and Arsalan Shahla.
U.S. Army Plans to Expand Asian Cyber Efforts: The U.S. Army will expand efforts to counter China by deploying a specialized task force to the Pacific capable of conducting information, electronic, cyber and missile operations against Beijing. The unit, which Army Secretary Ryan McCarthy is expected to detail at an event in Washington today, would also be equipped to hit land- and sea-based targets with long-range precision weapons such as hypersonic missiles, possibly clearing the way for Navy vessels in the event of conflict. The Army task force would help neutralize some capabilities China and Russia already possess and are intended to keep U.S. carrier groups away from the Asian mainland, McCarthy said in an interview. Read more from Tony Capaccio.
Trump Sent Kim Jong Un a Birthday Greeting: Trump asked South Korea to deliver a birthday message to North Korean leader Kim Jong Un, in the latest exchange of personal greetings between the two leaders whose countries have been adversaries for decades. South Korea's National Security Adviser Chung Eui-yong told reporters at Incheon International Airport today that Trump made the request to send greetings to Kim, whose birthday was on Wednesday. "He had a well-wishing message that he wanted South Korean President Moon Jae-in to deliver to Chairman Kim Jong Un," he said. Read more from Jihye Lee.
Elections, Politics & Policy
Iran May Still Roil U.S. Election: Trump's decision to authorize the killing of an Iranian general and reignite Middle East tensions briefly roiled energy markets and underscored a U.S. political reality: Higher gasoline prices can tip elections.
The president, who is counting on a robust economy to win re-election in November and maintain Republican control of the Senate, is banking on record-shattering surges in domestic oil production to absorb any shocks unleashed by his moves on Iran. "We do not need Middle East oil," he said Wednesday. But Trump's confidence belies U.S. refineries' continued reliance on heavy grades of crude from the Middle East as well as warnings from oil analysts that renewed tensions — or a strike on energy infrastructure — could still pinch American consumers at the pump. Read more from Jennifer A. Dlouhy.
Buttigieg Woos 'Future Former Republicans': Pete Buttigieg likes to invite "future former Republicans" and independent voters into the fold, and the fiercely independent people of New Hampshire seem to be open to that offer. In a state where residents cherish their "Live Free or Die" motto, 42% of voters are not affiliated with either the Democratic or Republican Party, and they range from progressive to conservative. "They're looking for a candidate that is selfless and authentic," Judith Kaufman, the chairwoman of the Sullivan County Democratic Committee, said about independent voters.
So as Buttigieg crisscrossed New Hampshire during a four-day swing that ended this week, he tried to woo voters outside of the Democratic Party. Making inroads with independents may be a matter of survival nationally for the 37-year-old political neophyte, who has struggled to appeal to nonwhite voters and is banking on strong performances in Iowa and New Hampshire. Read more from Tyler Pager.
Garcetti Endorses Biden: Los Angeles Mayor Eric Garcetti endorsed Joe Biden, giving the Democratic candidate an influential supporter in the nation's largest state. "We need Joe Biden to bring our nation and world together during these most divided and dangerous times. I know that from day one, he will heal our nation, repair our relationships abroad and get things done—and will be a true partner in solving the national homelessness crisis," Garcetti said in a statement issued by the Biden campaign. Garcetti will also serve as a national co-chairman of the Biden campaign. Read more from Jennifer Epstein.
Steyer Surges in South Carolina, Nevada: Two breakout polls are bolstering the presidential campaign of billionaire Tom Steyer, who has surged to second place in South Carolina and tied for third in Nevada. The Fox News polls also allow Steyer to participate in the Democratic debate in Iowa next week, giving him the two additional polls he needed to qualify under Democratic National Committee rules. Biden still has a commanding lead in South Carolina with 36%, a sign of his strength with African-American Democrats. Read more from Gregory Korte.
Booker Says Impeachment Could Hobble Run: Sen. Cory Booker (D-N.J.) said the Senate impeachment trial of Trump could deal a "big, big blow" to his presidential campaign by keeping him in Washington during the final stretch before the Iowa caucus. "It's going to be a challenging four weeks in the caucus for us," Booker said in an interview with the Associated Press. "If we can't raise more money in this final stretch, we won't be able to do the things that other campaigns with more money can do to show presence." Four other senators running for president would also be required to serve as jurors. Emma Kinery has more.
(Former New York Mayor Michael Bloomberg is also running for the Democratic presidential nomination. He is the founder and majority owner of Bloomberg Government's parent company.)
Around the Administration
Fannie-Freddie Profit Sweep Brings Appeals to High Court: The U.S. Supreme Court could say as early as today whether it will intervene in a high-stakes fight over hundreds of billions of dollars in Fannie Mae and Freddie Mac profits that investors say the federal government has collected illegally. The justices meet to discuss whether they will review scores of cases, including appeals from each side on the so-called net-worth sweep, which has funneled more than $300 billion in Fannie and Freddie profits to the Treasury since 2013. Together, the appeals could determine whether the sweep can continue, whether the shareholders have leverage to extract an expensive settlement, and even how much job security Federal Housing Finance Agency Director Mark Calabria will have. The dispute could also affect plans by the Trump administration to end the government's control of Fannie and Freddie. Read more from Greg Stohr and Elizabeth Dexheimer.
Trump 'Bullish' on Post-Brexit Trade Deal With U.K.: Trump is "excited" about closer post-Brexit relations with the U.K., according to his envoy in London, who said the British government would gain more leverage with the European Union if it secured a free-trade deal with the U.S. and other security allies first. "I think he's very bullish," Ambassador Woody Johnson told LBC Radio today. "He's said dozens of times how excited he is about the prospect of a closer relationship… and how it's so important to the U.S. that our security and our prosperity are so closely linked." Read more from Stuart Biggs.
Private Push for Trump's Wall Moves Ahead: A federal judge cleared the way for a crowdfunded effort to build a section of Trump's Mexico border wall on private property along the Rio Grande, rejecting concerns that the project may violate an international treaty and endanger a butterfly habitat. The ruling yesterday is a victory for We Build the Wall, a group started by allies of the president to raise donations for construction of barriers along the U.S. southern border. The group's advisory board is chaired by Steve Bannon and includes other conservative luminaries. Read more from Tom Korosec.
U.S. Hiring at 2019 Finish Line Seen Close to Decade Average: The final jobs report for 2019 is projected to show payrolls growth capped the year with a gain almost exactly in line with the average of the decade-long economic expansion, and continuing to moderate from the 2018 pace. The Labor Department report due at 8:30 a.m. today is forecast to show employers added 160,000 jobs in December, according to economists surveyed by Bloomberg. That would be fewer than November's 266,000 but still enough to accommodate population growth and thereby hold down the unemployment rate. Private payrolls are forecast to rise 153,000 as the jobless rate holds at a half-century low of 3.5% and the annual pace of wage gains remained at 3.1%. Read more from Jeff Kearns.
To contact the reporters on this story: Zachary Sherwood in Washington at zsherwood@bgov.com; Brandon Lee in Washington at blee@bgov.com
To contact the editors responsible for this story: Giuseppe Macri at gmacri@bgov.com; Loren Duggan at lduggan@bgov.com