What to Know in Washington: Paul Blocks Senate on Russian Trade
Bill to revoke Russia's trade status stalled over sanctions provision
Democrats push for gas rebate checks to tackle pump prices
Legislation to revoke Russia's regular trade status with the U.S. remains stalled because of Senator Rand Paul's objections to a provision strengthening sanctions for human rights abuses as Democrats scramble to reach a deal with the Kentucky Republican.
Paul's objections have blocked Senate leaders from using a fast-track process for the bill, which has already passed the House. Paul is seeking to change language that would sanction Russian officials who commit human rights abuses so that it specifies which types of transgressions would trigger action.
Sens. Ron Wyden (D-Ore.) and Mike Crapo (R-Idaho), the leaders of the Senate Finance Committee responsible for the bill, want to advance the legislation without any changes. Modifying the legislation would require sending it back to the House for another vote before the bill could go to President Joe Biden's desk for his signature.
Senate Majority Leader Chuck Schumer (D-N.Y,) said Sen. Ben Cardin (D-Md.) is negotiating with Paul "to see if they can come up with a compromise."
Biden sought the legislation so the U.S. could be aligned with other allies to remove Russia's normal trading status in response to the invasion of Ukraine. It would put Russia in the same category as other pariah states such as North Korea and Cuba and allow the U.S. to impose higher tariffs on Russian goods.
The bill also would codify a ban on Russian fossil fuel imports and expand the Global Magnitsky Human Rights Accountability Act to allow the Biden administration to impose further sanctions on Russian officials for human rights violations.
Paul has argued that the expansion is too broad and would open the door to a U.S. president imposing sanctions on the leaders of many countries based on what is defined as a human right.
"Many different people have many different definitions of rights. The left, including the UN, believes you have a right to an abortion, to a house, to the internet, to health care," Paul said on the Senate floor last week. Read more from Laura Davison and Laura Litvan.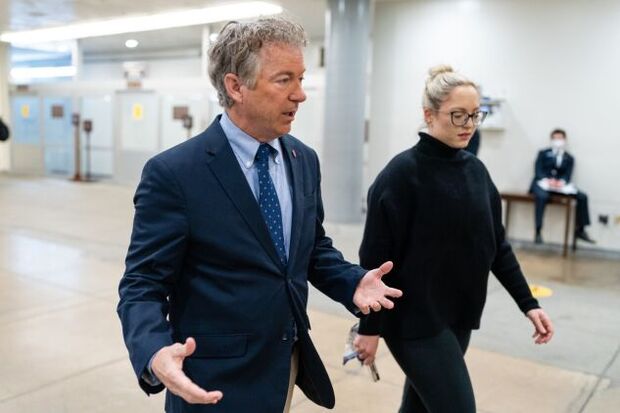 Democrats Push Gasoline Rebate Funded by Axing Oil Tax Breaks
Congressional Democrats on Wednesday are mounting a new push to send gasoline rebate checks to American motorists and pay for the relief by eliminating nearly a dozen tax breaks cherished by the oil industry.
The campaign signals growing momentum in Congress to address prolonged anxiety over rising fuel prices, building on earlier proposals from vulnerable Democrats in the Senate to suspend the 18.4 cents-per-gallon federal gasoline tax.
The new effort is led by Reps. Sean Casten (Ill.), Earl Blumenauer (Ore.), Donald McEachin (Va.) and Katie Porter (Calif.).
"A rebate to consumers is among the best and most efficient tool we have to put more money back in the hands of Americans struggling to make ends meet in the face of high gas prices," the four lawmakers said in a letter to Speaker Nancy Pelosi (D-Calif.) and Majority Whip Steny Hoyer (D-Md.).
To pay for the rebate, they told the House leaders, "we encourage you to consider repealing hundreds of billions in direct and indirect subsidies to oil and gas companies." Jennifer A. Dlouhy has more on the effort.
After refusing an invite from the House Natural Resources Committee, executives from some of the nation's largest oil companies have agreed to appear April 6 before the House Energy and Commerce Committee to testify about sky-rocketing gasoline prices. Executives from Devon Energy, Exxon Mobil, BP, Chevron, and Pioneer Natural Resources will be testifying at the House hearing next week on gasoline prices, according to a statement from the Oversight and Investigations subcommittee. Read more from Ari Natter.
Also Happening on the Hill
CONGRESSIONAL SCHEDULE:
House lawmakers meet at noon to consider nine bills under expedited procedure.
The Senate returns shortly before noon to consider several nominations, including for the Federal Trade Commission, Import-Export Bank, and Health and Human Services Department.
The top Republicans on the Senate and House Armed Services committees want Pentagon leaders to explain how they forecast inflation in the budget request, and what impact rising prices would have on the military's wide-ranging operations. The Pentagon's $773 billion budget request for fiscal 2023, released Monday, only accounts for inflation in the 2.3% to 2.6% range, a much lower calculation than necessary, Sen. Jim Inhofe (Okla.) and Rep. Mike Rogers (Ala.) said in a statement on Tuesday. Their remarks presage what is likely to be one of the thorniest fights over how high defense spending should go. Read more from Roxana Tiron.
Biden's Fiscal Year 2023 Budget Proposal — BGOV Webinar: Today at 11a.m., Bloomberg Government's expert analysts lead a deep dive review of and provide insights on Biden's budget proposal for fiscal year 2023 in a webinar, and answer your questions on the administration's top priorities. Topics include topline agency funding levels, new spending initiatives and revenue proposals, and next steps in the budget process. Register here.
Schumer on Tuesday night opened a path to break a deadlock and force a confirmation vote on the nomination of Alvaro Bedoya to the Federal Trade Commission. The vote, scheduled for Wednesday by Schumer, would bring Bedoya's nomination out of the Senate Commerce, Science, and Transportation Committee, where it has been blocked by committee Republicans for months. Bedoya's confirmation as an FTC commissioner would cement the agency's Democratic majority. Read more from Brody Ford.
The U.S. House passed an overhaul of ocean shipping rules that would make it harder for carriers to turn away goods at ports for the third time Tuesday. The provisions, which lawmakers say would help with supply chain delays, would give the Federal Maritime Commission more authority to regulate carriers. They were included in legislation to authorize Coast Guard programs that the House passed on a 378-46 vote Tuesday. Lillianna Byington also covers provisions on the Russian ship ban, and liability rule update.
The House overwhelmingly passed legislation that would expand the tax benefits for retirement accounts to bolster the savings of Americans, many of whom have nothing banked for after they stop working. The legislation, approved on a 414-5 vote, creates a tax credit of up to $1,000 per employee for small businesses that offer a savings plan. The bill also expands a tax credit for low-income individuals who contribute to their accounts. Workers would automatically be enrolled in retirement plans, with a choice to opt out. Read more from Laura Davison.
Biden signed a law Tuesday making lynching a federal hate crime, saying it's long overdue and honoring civil rights advocates who have fought for decades for the provision. Biden signed the Emmett Till Antilynching Act in a Rose Garden ceremony, flanked by Vice President Kamala Harris, U.S. lawmakers and advocates of the measure, including the great-granddaughter of civil rights icon Ida B. Wells, Justin Sink and Josh Wingrove report.
Labor organizations are eyeing union-friendly proposals in a House-passed China competition bill in hopes that some language will survive negotiations with the Senate. The bill includes prevailing wage requirements on construction projects receiving the federal funding, nearly $4 billion to expand apprenticeship programs, and "union neutrality" requirements for employers receiving federal dollars. The two chambers are now proceeding to a formal conference to negotiate the differences. Read more from Paige Smith.
To secure a bipartisan deal on immigration in Congress, a coalition of employers and faith groups is thinking small. The Alliance for a New Immigration Consensus is pressing lawmakers to pass legislation centered around protections for farm workers, Dreamers, and recipients of Temporary Protected Status that's paired with investments in border security. Senate Judiciary Chairman Dick Durbin (D-Ill.) said this month he plans to advance immigration legislation that could get the 60 votes necessary to avoid being defeated by a filibuster. Read more from Andrew Kreighbaum.
Americans support Judge Ketanji Brown Jackson's confirmation to the U.S. Supreme Court by a 2-1 margin, according to a new Marquette Law School poll. Asked whether they would vote to confirm Jackson if they were in the Senate, 66% of those surveyed said they would and 34% said they wouldn't. The poll also found Jackson, who would be the first Black woman on the Supreme Court, to have a higher approval rating than any current justice, with 44% having a favorable impression of her and 18% unfavorable. Greg Stohr has more.
Politics & Probes
The White House will not block former President Donald Trump's daughter and son-in-law, Ivanka Trump and Jared Kushner, from testifying to the House committee investigating the Jan. 6 insurrection. "The constitutional protections of executive privilege should not be used to shield from Congress or the public information about an attack on the Constitution itself," White House communications director Kate Bedingfield said. Kushner is expected to appear voluntarily before the committee this week, ABC News reported. Read more from Jordan Fabian, Justin Sink and Billy House.
One of the two New York prosecutors who quit over the slow pace of a criminal probe into Trump said the pair had never committed to staying with the Manhattan District Attorney's office through any trial, which would likely take years. Mark Pomerantz, 70, and Carey Dunne, 63, resigned last month when new District Attorney Alvin Bragg stopped supporting their aggressive push to bring criminal charges and expressed skepticism about their strategy. Both men had been recruited by Bragg's predecessor, Cyrus Vance, whose term expired in December. Read more from Greg Farrell.
Around the Administration
BIDEN'S SCHEDULE:
Biden is scheduled at 1:30 p.m. to deliver remarks on the status of the coronavirus pandemic.
U.S. trade chief Katherine Tai said it's time to forget about changing China's behavior and instead take a more defensive posture toward the world's second-biggest economy. In remarks distributed before she testifies before a congressional committee Wednesday, Tai said talks last year with China on a so-called phase one trade agreement reached under Trump failed to produce results. Daniel Ten Kate previews the hearing.
The Department of Homeland Security wants to make facial recognition technology the future of travel, but it will have to win over skeptical travelers to make a smooth transition. While millions of Americans embrace facial recognition applications in their everyday life—to unlock their phones, for example—critics say the government's use of the technology contributes to a growing surveillance state and disproportionately harms people of color. Read more from Ellen M. Gilmer.
Pentagon Chief Information Officer John Sherman said the initial contract in its revised cloud program is likely to be awarded in December, not April, as Alphabet and Oracle joined Microsoft and Amazon as contenders on orders for cloud services. The Defense Department last year scrapped the original $10 billion "Jedi" cloud-computing contract awarded in 2019 solely to Microsoft after several years of legal wrangling between the government and companies. Read more from Tony Capaccio.
To contact the reporters on this story: Michaela Ross in Washington at mross@bgov.com; Michaela Ross in Washington at mross@bgov.com
To contact the editors responsible for this story: Loren Duggan at lduggan@bgov.com; Giuseppe Macri at gmacri@bgov.com