What to Know in Washington: Partisan Tensions Disrupt House Work
Simmering partisan tensions in the House since Jan. 6 have led to outbursts, tit-for-tat retaliations, and a clogged legislative pipeline.
Bipartisan bills that in a previous Congress would be passed through quick voice votes were backlogged thanks to Freedom Caucus members requesting a vote on each one. At least two Democrats refused to partner with Republicans on legislation because of their votes against certifying the Electoral College results. And even trekking to the House floor to vote has become contentious, as some Republicans have chafed at having to pass through metal detectors and still wear a mask.
It's added up to a contentious and polarizing atmosphere in the closely divided chamber ahead of what's likely to be a hectic summer of legislating and as incumbents — along with former President Donald Trump — hit the campaign trail again.
"The partisan temperature right here has been nuclearized," Rep. Rodney Davis (R-Ill.) said recently, tapping one of the metal detectors off the House floor. Emily Wilkins has more on the state of House dysfunction.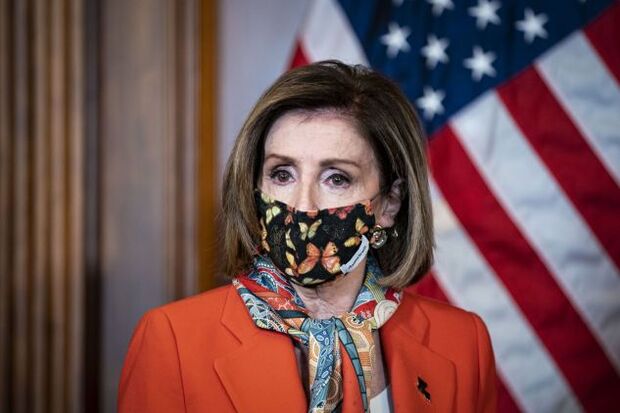 Democrats' Economic Plans
Biden-Capito Meeting Yields No Infrastructure Deal: President Joe Biden met yesterday with the Senate's leading Republican negotiator on infrastructure, and although the talks didn't yield a breakthrough for a bipartisan compromise, they agreed to speak again on Friday. The Oval Office session between Biden and Sen. Shelley Moore Capito (R-W.Va.), which the White House called a "frank conversation," lasted more than an hour. Read more from Erik Wasson.
Biden's Tax Hike Draws Concern From Democrat: House Agriculture Committee Chair David Scott (D-Ga.) said he has "serious concerns" on how Biden's tax increase proposals would affect farmers, ranchers and other small businesses, adding to the list of Democrats who have raised questions about Biden's tax plans. "The provisions could still result in significant tax burdens on many family farming operations," Scott said in a letter to Biden, Laura Davison and Mike Dorning report.
Global Tax Revamp Milestones to Watch: Global talks to revamp the international tax system and impose a worldwide minimum corporate rate have gotten fresh life in recent months, and this week's Group of Seven finance ministers' meeting may provide additional momentum toward a broader deal in July or October. Key details remain unresolved in the negotiations — led by the Organization for Economic Cooperation and Development — to re-imagine how the world's richest corporations should be taxed. The ultimate goal is to make the biggest companies pay more of their tax in the countries where they have sales, not headquarters, and stop competition among countries to attract business with low rates. Laura Davison, William Horobin and Isabel Gottlieb offer key milestones to watch.
Economists Brace for Volatile Monthly Jobs Report: Economists, blindsided by a major miss in April's U.S. employment report, are now ready for any number of surprises. Estimates for May payrolls growth are wide-ranging — from 335,000 to 1 million, according to a Bloomberg survey. After the previous month's disappointment, in which employment fell short of all projections, some forecasters have tweaked their models ahead of tomorrow's Labor Department report. "I have a range of models that spit out zero and others that spit out a million," said Aneta Markowska, chief U.S. financial economist at Jefferies. "That's the world we live in right now. Honestly, anything is possible." Read more from Olivia Rockeman.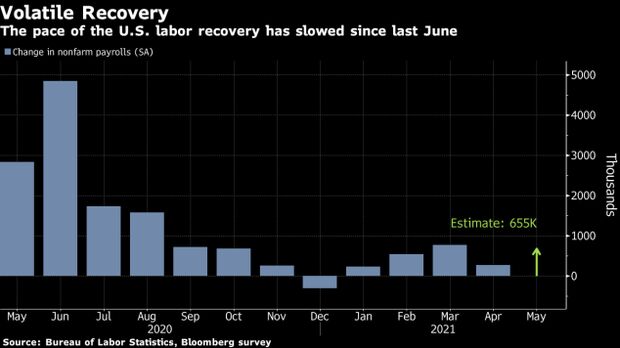 Around the Administration
Biden to Begin Vaccine Donations Abroad: The Biden administration is poised to announce which nations will get the first shipments of Covid-19 vaccines donated from the U.S.'s stockpile, amid the risk that more coronavirus variants will arise in countries lacking access to the vaccines, people familiar with the matter said. The White House, which has faced pressure to share its vaccines, has settled on a plan and an announcement is imminent, according to the people.
The planned recipients weren't immediately disclosed. The U.S. has said it'll send at least some of its doses to the Covax initiative, the World Health Organization's effort to buy and distribute vaccines to low- and middle-income nations. The U.S. has been consulting with Covax, one official said. Read more from Josh Wingrove.
China Triggers a 'Sputnik Moment' for R&D: Faced with a high-tech challenge from a rival superpower, the U.S. government reaches for its wallet. That's what happened some 60 years ago, after the Soviet Union edged ahead in the space race by launching the Sputnik satellite — spurring a wave of U.S. spending on science and innovation. Something similar may be under way now, when the challenge comes from China. Federal money for research and development, as a share of the economy, has been at historically low levels. But President Joe Biden has made support for innovation a key part of his program, calling for increased funding to key industries like semiconductor manufacturing, cybersecurity and electric vehicles. Read more from Susan Decker and Alexandre Tanzi.
Wiggle Room in Biden's China Blacklist Revamp: At first glance, Biden's plans to revamp a Trump-era ban on investing in certain Chinese companies could put potentially thousands of additional firms at risk. In reality, the impact will hinge on the overall state of ties between the world's biggest economies. Under Biden's amended order, expected to be signed later this week, the investment ban will no longer be linked to a U.S. Defense Department report on companies owned or controlled by China's military, which had been challenged in court. Instead, the Treasury Department will create a list of companies that could face financial penalties for their connection to China's defense and surveillance technology sectors. Read more.
FBI Confirms REvil Group Behind JBS Cyberattack: The FBI yesterday said the ransomware group REvil was responsible for the cyberattack on JBS that forced the Brazilian food giant to shut down all of its beef plants in the U.S. and to slow pork and poultry production. REvil, which is also known as Sodinokibi, emerged in 2019 and has become known for its dark web page, called the "happy blog," where it names victims and auctions sensitive documents. While it's not clear where its operators are located, the group's public face, who goes by the name "Unknown," exclusively publishes in Russian. Read more from Alyza Sebenius.
Sullivan, Germany Weigh Nord Stream 2: National Security Adviser Jake Sullivan discussed U.S. concerns about the Nord Stream 2 pipeline in a meeting yesterday with Jan Hecker, foreign and security adviser to German Chancellor Angela Merkel, the administration said. Sullivan and Hecker also discussed the upcoming G-7 and NATO summits, efforts to share Covid-19 vaccines, coordination on cybersecurity and ransomware attacks, and foreign policy priorities, Catherine Larkin reports.
Meanwhile, the Group of Seven nations have pledged to boost international cooperation in a bid to avert future crises akin to the coronavirus pandemic. Countries including the U.K., the U.S. and Japan will share information about how to detect emerging threats and ties to animal, plant and environmental factors, according to a statement from Britain's Department for Health and Social Care. Read more from Joe Mayes.
Fate of ACA in Limbo at High Court: The Supreme Court is expected to release a decision any day now on the constitutionality of the Affordable Care Act, a verdict that could create chaos if the signature health-care law is invalidated and make 30 million people lose their coverage, according to a report from the Economic Policy Institute. But legal scholars on both sides of the ideological line doubt the justices will go that far. Read more from Lydia Wheeler.
PTO Director's Influence Over Board Scrutinized: Two House lawmakers called on the Government Accountability Office to look into the influence the U.S. Patent and Trademark Office chief has over decisionmaking by the PTO's Patent Trial and Appeal Board. The justices heard oral argument March 1 in Arthrex Inc. v. Smith & Nephew Inc., in which they are reviewing a Federal Circuit verdict that the board's administrative patent judges were improperly appointed. Perry Cooper has more.
Eviction Moratorium Stays in Place for Now: The U.S. government's nationwide prohibition on evictions may remain in effect, a federal appeals court said. A three-judge panel in Washington said the eviction moratorium instituted by the Centers for Disease Control and Prevention can resume while the administration appeals a lower-court ruling that overturned the CDC ban last month. Read more from David Yaffe-Bellany.
Defunct Colleges Accreditor Nears Termination: An accreditor that came under scrutiny following the collapse of two college chains is a step closer to termination, after a top Education Department official withdrew federal recognition. The move means continued access to federal student aid, such as grants and loans, is at risk for roughly 70 colleges that the Accrediting Council for Independent Colleges and Schools has approved. Read more from Andrew Kreighbaum.
To contact the reporters on this story: Zachary Sherwood in Washington at zsherwood@bgov.com; Brandon Lee in Washington at blee@bgov.com
To contact the editors responsible for this story: Giuseppe Macri at gmacri@bgov.com; Loren Duggan at lduggan@bgov.com; Michaela Ross at mross@bgov.com