What to Know in Washington: Partisan Impasse on Policing Revamp
The House passed a sweeping overhaul of policing rules last night on a near party-line vote, with little expectation it will break a partisan stalemate that's put any Senate plans to act on hold.
The legislation, named the George Floyd Justice in Policing Act after the Black man who died a month ago at the hands of Minneapolis police, passed 236-181. Three Republicans joined all Democrats in voting for the measure— Reps. Brian Fitzpatrick (Pa.), Will Hurd (Texas) and Fred Upton (Mich.).
Bill author Karen Bass (D-Calif.), chairwoman of the Congressional Black Caucus, said the legislation would "transform policing in America."
"We are supposed to be the beacon of hope for human rights in other countries, and the Justice in Policing Act is a bill for human rights in our country," Bass said before the vote.
The Democratic bill was opposed by the White House. President Donald Trump accused Democrats of wanting to "weaken the police" in part because it would make it easier for police officers to be sued in brutality cases. GOP leaders in the House urged members to vote against it.
The House action came a day after a less stringent policing plan proposed by Senate Republicans was blocked by Democrats who said it was inadequate to address police brutality in response to massive demonstrations across the U.S.
While Democrats held out hope that passage by the House would force negotiations, some key Republicans said it's likely a dead issue in the Senate.
"It seems to be," said Senate Judiciary Chairman Lindsey Graham (R-S.C.). "It's a shame but we are where we are."
Sen. Tim Scott (R-S.C.), who authored the GOP plan, said the momentum behind the legislation "is dissipating as we speak." Democrats "are playing a dangerous game of politics that they can afford to wait until November or next year," said Scott, the only Black Republican in the chamber. "They may be right, but it's a dangerous game." Read more from Erik Wasson, Billy House and Laura Litvan.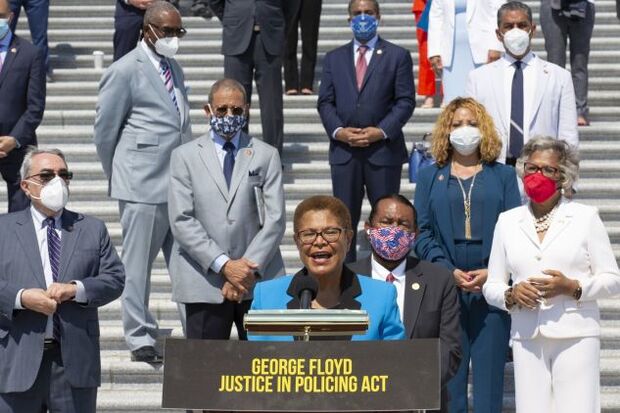 BGOV Resources:
Facial-Recognition Backlash Brews: Lawmakers are drafting new legislation to curtail the use of facial recognition by police departments and government agencies. They're looking to harness the public outrage over police misconduct and racial inequities, which have also put tech companies on the defensive over their sales of these products.
Civil-rights advocates have long complained that facial recognition tools promote bias by misidentifying people of color. But it's taken the widespread anger and sorrow over the death of George Floyd to galvanize the debate.
"What I've learned is when there's public sentiment around an issue, you can move mountains," said Rep. Jimmy Gomez (D-Calif.). "People are acknowledging that there is implicit bias in policing, and that leads to interactions that — for people of color — are harmful and can lead to death."
Lawmakers have introduced at least a dozen bills in the last year — including several since Floyd's death — and some are drafting new measures to curtail use of facial recognition by government agencies. But passing any of them won't be easy, with Congress deadlocked over a broader police overhaul. Read more from Naomi Nix and Rebecca Kern.
Also Happening on the Hill
Democrats Unveil Tax Package Promoting Clean Energy: Nearly 50 House Democrats yesterday introduced a long-awaited package of clean energy tax incentives to accelerate wind, energy, and other low-emission energy sources. The Growing Renewable Energy and Efficiency Now Act is endorsed by dozens of clean energy and environmental groups and would extend tax incentives for wind and solar production and resurrect tax credits for zero-emission battery vehicles. Read more from Dean Scott.
Defense Bill Set for House, Senate Action: Ahead of next week's markup, House Armed Services Chairman Adam Smith (D-Wash.) released a summary yesterday of his version of the National Defense Authorization Act for fiscal year 2021. The Senate is moving toward consideration of its $740.5 billion version of the defense policy bill after members voted 90-7 yesterday on a procedural motion to advance the bill. The Senate will meet Monday to resume debate and hold another procedural vote. Get the latest in this morning's BGOV Defense Briefing.
House OKs Sale of Fast-Track Patent Access for Humanitarian Tech: Organizations would be able to sell their access to fast-tracked patent reviews for inventions aimed at solving humanitarian issues, under legislation the House passed yesterday by voice vote. The bill would change a U.S. Patent and Trademark Office program that awards certificates to fast-track certain patent proceedings for inventions in sanitation, household energy, nutrition, medicine and improvement of living standards. Under the measure, entities could sell or transfer their certificates to other individuals. Those certificates would be subject to the program limitations. Read more from Ian Lopez.
Dunford Is Leading Contender for Chairman of Oversight Panel: Retired Marine General Joseph Dunford, former chairman of the Joint Chiefs of Staff, is the leading candidate to head the bipartisan Congressional Oversight Commission that's policing about $500 billion in coronavirus rescue loans made to industries, according to three people familiar with the matter.
The selection of the chairman is the shared responsibility of Speaker Nancy Pelosi (D-Calif.) and Senate Majority Leader Mitch McConnell (R-Ky.), and the choice of Dunford hasn't been finalized. One person said Dunford was going through background and ethics checks. Spokesmen for Pelosi and McConnell would not comment. Dunford was chairman of the Joint Chiefs from 2015 until 2019, and before that served as Marine Corps commandant. Read more from Billy House.
CDC Mistakes Merit Overhaul, Lawmakers Say: Congressional lawmakers are seeking changes at the Centers for Disease Control and Prevention before giving it a new injection of federal funding, citing mistakes at the public health agency during the coronavirus pandemic. The CDC needs a major investment of billions of dollars over several years to better prepare for outbreaks, many lawmakers agree. But they want the CDC to avoid repeating the same mistakes that led to delays in rolling out tests for Covid-19 and muted health messages.
"I don't know what the problem is—there's just a problem," Sen. Bill Cassidy (R-La.) said. "I'm not going to give them more funds unless they reform, unless that money goes toward reform," Cassidy, himself a physician, said in a statement to Bloomberg Government. Read more from Alex Ruoff.
Lawmakers Clash Over Reopening Federal Offices: The top Republican on a House Oversight subcommittee pressed for federal employees to be returned to office-based work, saying during a hearing that the government is out of step with private-sector businesses across the U.S. But Rep. Jody Hice (R-Ga.), ranking member of the House Oversight Subcommittee on Government Operations, was countered by the panel's chairman, Gerry Connolly (D-Va.), citing the recent surges in cases. Read more from Louis C. LaBrecque.
The Coronavirus Pandemic
U.S. Breaks Record for New Cases: The resurgent coronavirus produced a record number of new cases in the U.S., topping the peak seen in April during the initial outbreak, after many Americans let down their guard on social distancing. State health departments reported more than 37,000 new cases yesterday, led by Florida, Texas, California and Arizona, surpassing the 36,188 level from April 24. Total cases in the U.S. exceeded 2,418,000, according to data compiled by Johns Hopkins University.
Covid-19's revival is spooking investors and forcing public officials in the South and West to walk back some of their bold steps to lift restrictions. In Nevada, state officials ordered face coverings in public, and the governors of Texas and Florida said they wouldn't move forward with further reopenings as cases continued to spike there. Read more from Heather Smith.
U.S. Airline CEOs to Meet With Pence: U.S. airline bosses are set to meet today with Vice President Mike Pence, the White House said, as the Covid-19 pandemic that has battered travel demand worsens. The discussion is expected to center around procedures related to health and safety, said people familiar with the matter. Likely topics include contact tracing, taking passengers' temperatures at airports and potential action by the European Union to block U.S. travelers, said the people, who asked not to be named because the meeting preparations are private.
The gathering is set for 2 p.m. at the White House. Slated to attend are the CEOs of American Airlines, Delta Air Lines, JetBlue and United Airlines, said one of the people. Southwest Airlines confirmed plans for the meeting and said the company president, Tom Nealon, would attend. Read more from Mary Schlangenstein and Esha Dey.
Ousted Health Official Alleges Ongoing Retaliation: Rick Bright, who was removed as director of the Biomedical Advanced Research and Development Authority, filed an amendment to a complaint with the Office of Special Counsel alleging that the Trump administration has tried to thwart his performance in his new position at the National Institutes of Health. HHS employees have been told to refrain from doing anything that would help Bright be successful in his new role, the addendum says, Elizabeth Elkin and Jeannie Baumann report.
Trump Rally Drew People From Counties Experiencing Covid Spikes: Mobile-phone location data from people who attended President Donald Trump's rally in Oklahoma show that most came from outside Tulsa, hailing from at least 44 counties spread across 12 states. Covid-19 is on the rise in 33 of them. Read more from Rachel Adams-Heard, Andre Tartar and Aaron Kessler.
Elections & Politics
Biden Leads in Florida, Tied in Texas, Fox Says: Fox News polls released yesterday put Democratic presidential nominee Joe Biden ahead of Trump by 9 percentage points in Florida and by 1 point in Texas. In Texas, 45% of registered voters said they would vote for Biden if the election were held today, while 44% would back Trump. In Florida, Biden had 49% while Trump had 40%. Both polls were conducted June 20-23 and had a margin of error of 3 points. Fox polls also showed Trump trailing Biden, 47% to 45%, in Georgia and North Carolina, Ryan Teague Beckwith reports.
Trump Campaign Outlines Strategy to 'Define' Biden: The Trump campaign outlined a strategy to "define" his opponent Joe Biden by negatively comparing the two men's records ahead of the November election even as polls show the Democratic nominee leading in several crucial states across the country. "When you ask a question about Joe Biden, people don't know who he is," said Trump campaign communications chief Tim Murtaugh.
"We are very confident on running on the president's record and comparing that to Joe Biden's disastrous record," Murtaugh added. "Over the course of the next four-plus months Americans will get a full reading of what the differences really are." Read more from Misyrlena Egkolfopoulou.
Trump Turns Supporters Against Vote-by-Mail: Trump's frequent attacks on vote-by-mail are hitting home with large numbers of his supporters. A New York Times/Siena College poll released Wednesday showed that 88% of Democratic presidential nominee Biden's supporters strongly or somewhat support vote-by-mail, while 72% of Trump's backers strongly or somewhat oppose it. Read more from Ryan Teague Beckwith.
Rice Would Push National Service as Veep: Former National Security Adviser Susan Rice said yesterday that the U.S. should require mandatory civilian service for all young adults—and that she would advocate for such policy if selected as Biden's running mate. "I wish we could have mandatory national civilian service in this country so that every kid between 18 and 21 could spend 12 months, whether it's broadband, building infrastructure, or rehabilitating inner-city schools and libraries," she said. Read more from Gregory Korte.
What Else to Know Today
Administration Urges Court to Topple Affordable Care Act: The Trump administration told the Supreme Court that the Affordable Care Act is invalid, including its protections for people with pre-existing conditions. Filing a brief late yesterday in a case the court is set to hear around the time of the November election, the administration said "the entire ACA thus must fall" because of a tax law change made by the Republican-controlled Congress in 2017.
The administration is backing efforts by Republican-controlled states to invalidate the 2010 law, which is being defended by 20 other states and the District of Columbia. A federal appeals court found part of the measure unconstitutional and left doubt about the rest of it. Read more from Greg Stohr and Steven T. Dennis.
Roberts Bolsters Swing-Vote Status With Immigration Rulings: Chief Justice John Roberts has strengthened his claim to the title of swing vote on the U.S. Supreme Court, siding with the majority in all eight of its immigration cases this term and casting the deciding vote in half of them. The court heard an unusually high number of immigration disputes that made up nearly 15% of all expected opinions. Read more from Kimberly Strawbridge Robinson.
USTR Staffers Quest for Clients Draws Complaint: Two former officials who helped negotiate an overhaul of North American trade rules may have violated federal ethics standards when they sought private-sector consulting work while still on the government payroll, according to a complaint filed yesterday by a watchdog group. Read more from Bill Allison, Jenny Leonard and Ryan Beene.
Abramoff Charged by U.S. in Cryptocurrency Fraud: Jack Abramoff, the onetime Washington insider who went to prison in a lobbying scandal, was charged by the U.S. with illegally lobbying for a fraudulent cryptocurrency project. Abramoff has agreed to plead guilty to conspiracy and violating the Lobbying Disclosure Act and faces as long as five years in prison, according to a court filing and U.S. Attorney David Anderson in San Francisco. Read more from Joel Rosenblatt.
Germany Weighs U.S. Measures Over Pipeline: Germany is preparing to strike back against the U.S. if Trump follows through on his threats to kill off the Nord Stream 2 gas pipeline with sanctions. Chancellor Angela Merkel's administration is considering pressing for coordinated European Union action, according to two German officials familiar with the discussions. Read more from Patrick Donahue and Brian Parkin.
Bolton Says Johnson Played Trump 'Like a Fiddle': Just like Russian President Vladimir Putin, the U.K.'s Boris Johnson also played Trump "like a fiddle," according to John Bolton, who suggested the British prime minister can use that ability to his advantage. Read more from Alex Morales.
To contact the reporters on this story: Zachary Sherwood in Washington at zsherwood@bgov.com; Brandon Lee in Washington at blee@bgov.com
To contact the editors responsible for this story: Giuseppe Macri at gmacri@bgov.com; Loren Duggan at lduggan@bgov.com; Michaela Ross at mross@bgov.com