What to Know in Washington: Parties Set for Election Law Clash
Democrats in Congress and Republicans in many statehouses are on a collision course over elections laws, with both sides racing to get their preferred rules in place before the 2022 elections.
The Senate is set to kick off consideration of a Democratic-backed election bill with a hearing next week, coinciding with a $30 million advertising and mobilization campaign to push for passage of the measure. A House-passed version would outlaw restrictions on voting by mail and partisan gerrymandering, among scores of other provisions that also would change campaign finance and ethics rules.
At the same time, Republicans are teeing up bills in state legislatures they control that would tighten voting restrictions, such as by limiting options for mail-in ballots and early voting for many voters. They're also getting set for a new round of redistricting likely to favor GOP lawmakers, especially in southern states set to gain House seats.
Which side prevails could determine how elections are conducted — and who wins — for years to come, both parties say. Read more from Kenneth P. Doyle.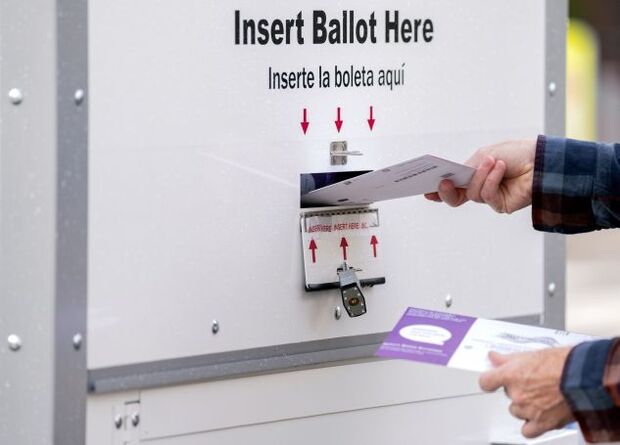 Happening on the Hill
Democrats Scale Back Immigration Ambitions: The House is set to vote today on two immigration bills that would provide a pathway to citizenship for millions of people living in the U.S. without legal status, as Democrats' plans for more ambitious legislation are evaporating with the surge of migrants arriving at the border with Mexico. The two bills — which address the fates of farm workers and young undocumented immigrants known as Dreamers — reflect a decision by House Speaker Nancy Pelosi (D-Calif.) to adopt a piecemeal approach to immigration amid a dearth of support for a more sweeping proposal from President Joe Biden. Read more from Laura Litvan and Billy House.
Justice Nominee Pledges to Divest from Chemical Firm: Biden's nominee for a top post at the Justice Department intends to sell as much as $55 million of stock in a company her father chairs amid questioning about a report the company sold chemicals diverted by Mexican drug cartels to make heroin. Vanita Gupta made the pledge in written responses to questions from Sen. Chuck Grassley (R-Iowa) as part of the nomination process. Grassley cited a Bloomberg Businessweek investigation, which found that a chemical Avantor, makes, acetic anhydride, was easily diverted by narcotics gangs. Read more from Steven T. Dennis and Chris Strohm.
Click here for a complete list of today's hearings.
Religion Top GOP Sticking Point for LGBT Protections: A landmark LGBT rights measure's handling of a federal law governing religious freedom is drawing fire from Republicans. The Equality Act would restrict groups from using the Religious Freedom Restoration Act to carve out exceptions from the legislation's protections for LGBT people. That drew the ire of GOP members of the Senate Judiciary Committee at a hearing yesterday over the impact on churches and faith-based organizations. Read more from Andrew Kreighbaum.
Treasury Asked if States That Take Aid Can Cut Taxes: House Republican leaders are asking Treasury Secretary Janet Yellen to clarify if there are any permissible ways for states to cut taxes if they accept funding from a more than $360 billion relief fund for state and local governments. The members in the letter say they're "especially concerned" about a provision that could levy restrictions on states if they accept the cash and then reduce state tax revenue through 2024. Read more from Laura Davison.
Meanwhile, Education Secretary Miguel Cardona yesterday told states how much they will receive from $122 billion in relief for K-12 public schools provided through the American Rescue Plan, Andrew Kreighbaum reports. The Education Department will release those funds this month to help pay for the cost of virus mitigation on campuses and cover other disruptions from the pandemic. Cardona said the top priority of his agency is the quick and safe reopening of campuses across the country.
King Plans National Data Breach Notice Law: Sen. Angus King (I-Maine) said he plans to introduce a national data breach notification law in the coming weeks following the massive cyberattacks on SolarWinds and Microsoft's email software. Read more from Rebecca Kern.
GOP Retirements Reshape Senate—BGOV Podcast: Bloomberg Government's Kyle Trygstad and Greg Giroux talked about what the handful of Senate Republicans not seeking re-election means for both the 2022 midterm elections and the institution itself. Sen. Roy Blunt (R-Mo.) last week became the latest to announce his retirement. All are the ranking members of committees, whose exits will affect governing in the next Congress. Listen to the latest episode of Downballot Counts and subscribe: Apple Podcasts | Overcast | Stitcher | Spotify
Around the Administration
Biden to Reach 100 Million Vaccinations Goal Early: Biden is poised to meet his goal of delivering 100 million Covid-19 vaccine shots in his first 100 days in office as soon as today, reaching the milestone more than a month ahead of time. As of yesterday, his 57th day in office, the U.S. had vaccinated nearly 98 million people since Biden's inauguration. The pace of shots has risen to an average of nearly 2.5 million per day for the last week. That leaves Biden within grasp of his target today — the 58th day of his presidency — and poised to hit it no later than tomorrow, barring a major slowdown. He's scheduled to speak publicly this afternoon about the state of vaccinations. Read more from Josh Wingrove.
Biden on Pace to Flip Positions at Supreme Court: The Biden administration is on track to reverse the government's position in more cases before the Supreme Court than the Justice Department did during the first full high court term of Donald Trump's presidency. In just under two months, Biden has flipped positions to defend the Affordable Care Act, side with union organizers in a takings case, reject a test put forth by the Trump administration in a voting rights dispute, support a California donor-disclosure law, and argue for a sentence reduction in a case on the new First Step Act. Read more from Kimberly Strawbridge Robinson.
Keystone Pipeline Halt Prompts Red States to Sue: Texas and other red states sued the Biden administration for canceling the $8 billion Keystone XL pipeline, stepping up a legal fight over the controversial pipeline that is extending into a third presidential administration. Biden lacks unilateral authority to change energy policy set by Congress, according to a complaint filed in a Texas federal court. Read more from Malathi Nayak.
Biden Officials Rethink Trump Environmental Rule: The Biden administration has identified "numerous concerns" with a Trump-era environmental review regulation and wants a federal court to remand the rule instead of carry on with litigation. Government lawyers laid out their view yesterday to the U.S. District Court for the Western District of Virginia, marking the Biden administration's first public effort to backtrack from the divisive rule. Ellen Glimer has more.
IRS Delays U.S. Tax Deadline to May 17: The Internal Revenue Service is delaying the April 15 tax-filing deadline to May 17, giving taxpayers an additional month to file returns and pay any outstanding levies. Read more from Allyson Versprille, Laura Davison, and Saleha Mohsin.
China Seeks Biden-Xi Summit in April: Beijing is seeking a meeting between and Xi Jinping next month if the first high-level U.S.-China talks in Alaska starting today are productive, according to people familiar with the situation. The Biden-Xi meeting as envisioned by Chinese officials would be organized around Earth Day on April 22 to show both leaders are focused on combating climate change, one of the people said. Both the U.S. and China have played down expectations for the talks in Alaska, which are set to run Thursday and Friday local time. Secretary of State Antony Blinken and National Security Advisor Jake Sullivan will represent the U.S., while Foreign Minister Wang Yi and Politburo member Yang Jiechi will speak for China. Read more from Jenny Leonard.
North Korea Rules Out U.S. Talks: North Korea ruled out further talks with the U.S. for now, as Kim Jong Un's regime sought to raise pressure on top Biden administration officials visiting Seoul. A senior North Korean diplomat confirmed today that Pyongyang had rejected numerous overtures from Washington over the past month, dismissing them as a "time-delaying trick." "It will only be a waste of time to sit with the U.S., as it is not ready to feel and accept new change and new times," First Vice Foreign Minister Choe Son Hui sa id, according to the official Korean Central News Agency. Read more from Shinhye Kang and Jeong-Ho Lee.
Racism, Violence In Spotlight After Atlanta
Trump Partly to Blame for Threats to Asians, Psaki Says: Former President Trump bears some responsibility for threats and violence against Asian Americans during the Covid-19 pandemic, White House Press Secretary Jen Psaki said yesterday, citing his offensive descriptions of the virus and its origins. Psaki called out what she described as Trump's "damaging rhetoric" about the virus after shootings at three spas in the Atlanta area Tuesday, where a White man allegedly killed six Asian women and two others. Justin Sink and Jordan Fabian have more.
Panel to Hold Hearing on Anti-Asian Violence: The House Judiciary Committee's civil rights subcommittee will hold a hearing today on "the discrimination and violence Asian Americans have faced both historically and since the onset of the COVID-19 pandemic," according to an emailed statement. The subcommittee "will examine this issue and explore ways to prevent racially-motivated discrimination and violence," Chair Jerrold Nadler (D-N.Y.) said. Read a statement on the hearing here.
Extremists Seen as Prepped to Attack in 2021: Extremists motivated by recent political and societal events pose a heightened risk of carrying out attacks in the U.S. this year, according to an unclassified assessment from intelligence and law enforcement agencies. The potential attackers will be inspired by biases "against minority populations and perceived government overreach," which "will almost certainly continue to drive" radicalization, says the four-page assessment from the Office of the Director of National Intelligence, Justice Department, and Department of Homeland Security. Read more from Chris Strohm.
With assistance from Emily Wilkins
To contact the reporters on this story: Zachary Sherwood in Washington at zsherwood@bgov.com; Brandon Lee in Washington at blee@bgov.com
To contact the editors responsible for this story: Giuseppe Macri at gmacri@bgov.com; Loren Duggan at lduggan@bgov.com; Michaela Ross at mross@bgov.com