What to Know in Washington: Panels Advance Biden's Economic Plan
President Joe Biden's economic agenda took a step forward yesterday as House Democrats advanced several major expansions of the safety net, with tougher fights ahead on how to pay for the new benefits.
The House Ways and Means Committee voted to approve 12 weeks of paid family leave for American workers and a mandate to enroll employees in tax-deferred retirement accounts. The committee also approved child care grants to states to expand access to child care by improving buildings and raising wages.
In addition, the Education and Labor Committee is on track today to approve $761 billion in benefits, including $450 billion for child care and universal pre-K education and $111 billion to provide two free years of community college.
More votes are planned in coming days, including on tax credits and rates as well as drug-price provisions and Medicare benefits. Once committees' work is finished, it will get merged together in a bill the House intends to pass later this month with as much as $3.5 trillion in social spending.
Republicans warned that the legislation creates new burdens on employers and that the taxes to be unveiled in coming days would lead to an economic downturn. Their unified opposition to the Biden package means that Speaker Nancy Pelosi (D-Calif.) can only afford three "no" votes when the bill comes to the floor. Read more from Erik Wasson, Kaustuv Basu and Alexander Ruoff.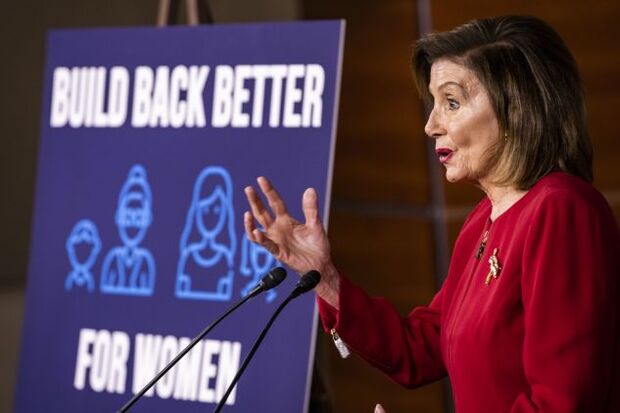 More on Democrats' Reconciliation Effort
Oil Drilling Bans Advance in House With Climate Change Assault: The House Natural Resource Committee yesterday also advanced its legislation to combat climate change, with plans to block oil drilling in most U.S. offshore waters, thwart potential mining in the western part of the country and invest billions of dollars in conservation. The $31.7 billion measure, approved 24-13 by the panel, would also slap new fees on oil and mining companies while funding drought relief, conservation and other programs. Read more from Jennifer A. Dlouhy.
Natural Gas Excluded in Plan for Clean Energy: Natural gas won't count as clean energy under a House Democratic plan that would eventually rid the electric grid of carbon and is part of the tax and spending package. The proposal by the House Energy and Commerce Committee would provide $150 billion to help spur electric providers to add more clean energy through a system of payments and penalties for electric suppliers. The funding, included in the budget package and scheduled to be considered on Monday, is designed to help meet the the White House's signature climate goals of decarbonizing the electric grid by 2035. Read more from Ari Natter.
Forestry, Climate Change Dominate Democrats' Agriculture Bill: Climate change and forest restoration are the biggest components of the House Democrats' proposed agriculture portion of the $3.5 trillion spending measure, with farm aid taking a back seat. The prospective legislation would provide $9.7 billion to reduce greenhouse gas emissions, $9 billion in grants for forest restoration and resilience projects, and $4.5 billion to develop the Civilian Climate Corps, a Biden initiative to conserve and restore public lands and waters. The House Agriculture Committee is set to mark up the bill today. Read more from Megan Boyanton.
Wyden Seeks to Overhaul Partnership Taxes: Senate Finance Chairman Ron Wyden (D-Ore.)—a key player in the tax and social spending agenda —has introduced a bill to tighten tax reporting requirements around business partnerships. Partnership "rules are too complex for working people who don't have armies of lawyers and accountants," said Wyden in a release touting the new legislation. Wyden's likely to include the tax bill in the tax section of the reconciliation bill. The complexity of the partnership rules allow, "the wealthiest individuals and most profitable corporations to decide when, and whether, to pay taxes at all," he said. Read more from Colin Wilhelm.
Around the Administration
Today's Agenda: Biden, First Lady Jill Biden and Education Secretary Miguel Cardona are scheduled to visit a local school in Washington at 9:30 a.m. before delivering remarks at 10:20 a.m. on keeping students safe from Covid-19 in classrooms.
School districts financially penalized by states for carrying out pandemic mitigation measures can apply for grants under a new Education Department program. The grants, announced yesterday, are part of a larger federal strategy to tackle the delta variant driving a surge in Covid-19 cases. The administration is also calling on states to adopt vaccine mandates for school employees as well as regular Covid tests for students and staff. Read more from Andrew Kreighbaum.
Biden Orders Shots for Millions, Calling Unvaccinated a Threat: Biden said he'd order all executive branch employees, federal contractors and millions of health-care workers to be vaccinated against the coronavirus, and that his administration would issue rules requiring large private employers to mandate shots or testing.
The new measures are Biden's response to a resurgent Covid-19 pandemic driven by the delta variant of the virus and by tens of millions of Americans who have refused to be vaccinated. Federal employees who don't comply could be dismissed, the administration said, and private employers might be fined. Biden also delivered some of his harshest criticism yet of the 25% of U.S. adults who've so far not been inoculated, saying that they're dragging out the pandemic that has claimed more than 650,000 lives in the U.S. Read more from Josh Wingrove and Jenny Leonard.
U.S. companies grappling with the thorny issue of whether to require worker vaccinations against Covid-19 say the U.S. government needs to provide more details about a new, far-reaching mandate announced yesterday. Businesses are now digesting the order, but there are concerns over what the mandate may entail. Read more from Jonathan Roeder.
The Biden administration's ramped-up effort to combat the Covid-19 epidemic tasks the Labor Department with writing a regulation that would force tens of millions of workers to get vaccinated—or produce weekly negative test results—a move that will test the agency's power and could draw a legal challenge. Read more from Ben Penn and Bruce Rolfsen.
The Biden administration also proposed greater fines for the growing numbers of unruly airline passengers who won't don masks while in flight. The plan will double financial penalties for those who violate federal rules requiring masks on commercial airplanes. Read more from Keith Laing.
CFTC Will Join Agencies on Biden's Competition Commission: The Commodity Futures Trading Commission will join Biden's competition council, which will hold its debut meeting today, said a White House official familiar with the plans. The council, established to curb corporate consolidation that Biden says raises prices for consumers, includes eight cabinet secretaries and chairs of six independent agencies, according to other officials familiar with the plan.
The council is led by National Economic Council Director Brian Deese, and attendees will speak about steps their agencies have taken to lower consumer costs, the officials said. The Security and Exchange Commission will participate in the council, and SEC Chairman Gary Gensler will speak and discuss ways that competition can help investors, the officials said. Read more from Josh Wingrove.
Yellen Warns of Financial System Risk with Debt Ceiling: Treasury Secretary Janet Yellen told U.S. financial regulators yesterday that if Congress fails to address the nation's debt ceiling, there may be "financial stability implications." The fallout from not raising the limit in a "timely manner" was among topics raised at a private meeting of the Financial Stability Oversight Council, the Treasury Department said in a statement. Yellen has campaigned for congressional action and has warned that the Treasury would probably reach the borrowing limit sometime next month. Jesse Hamilton has more.
Biden Calls Xi Over U.S. Frustration With Dead-End Talks: Biden urged China's Xi Jinping to cooperate on key issues even as they spar on other topics, as his administration grows frustrated over what it perceives as a lack of seriousness in Beijing's engagement with American officials. The leaders of the world's biggest economies spoke by telephone for 90 minutes last night, their first discussion since February. It came as the relationship becomes increasingly adversarial, with a senior administration official telling reporters that Biden initiated the call after meetings involving his cabinet officials and Chinese counterparts over the past months remained unfruitful. Read more from Jenny Leonard.
U.S. Says 10 Americans Left Afghanistan on Charter Flight: A total of 10 U.S. citizens and 11 lawful permanent residents left Afghanistan via a charter flight out of Kabul yesterday, U.S. Department of State spokesman Ned Price said in a tweet, Se Young Lee reports.
To contact the reporters on this story: Zachary Sherwood in Washington at zsherwood@bgov.com; Giuseppe Macri in Washington at gmacri@bgov.com
To contact the editors responsible for this story: Loren Duggan at lduggan@bgov.com; Michaela Ross at mross@bgov.com