What to Know in Washington: Omnibus, Jan 6 Report Drop in House
Bloomberg Government subscribers get the stories like this first. Act now and gain unlimited access to everything you need to know. Learn more.
Senators passed a $1.7 trillion government funding bill, as well as a short stopgap measure, as tonight's shutdown deadline approaches and House members face delays in voting on the legislation.
Senators voted 68-29 in favor of the bill. They then passed by voice vote a stopgap running through Dec. 30 because it's unlikely the full omnibus bill can make it through the House, be processed and get signed into law by tonight's deadline. House Majority Leader Steny Hoyer (D-Md.) said the chamber will begin votes at 9 a.m. today, though a vote on passage might come at a later time.
House Republican leaders have urged members to oppose the bill. If no Republicans vote for the measure, Democrats could only afford to lose two votes and maintain a majority.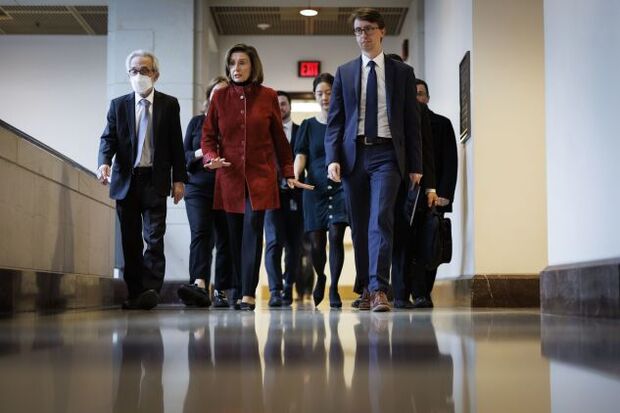 Senators added eight amendments to the bill, including measures to require accommodations for pregnant workers, add a Ukraine-aid measure, and tack on provisions to help victims and responders affected by the Sept. 11, 2001, terrorist attacks. They rejected a pair of amendments on Title 42 immigration restrictions, including one from Sen. Mike Lee (R-Utah) to block officials from ending the restrictions. Read more
Jan. 6 Panel Releases Report Blasting Trump for Capitol Assault
The House committee investigating the Jan. 6 attack on the US Capitol delivered a scathing report that blamed "one man," former President Donald Trump, for inciting violence to try and hold onto power.
The 814-page report concludes a 1 1/2-year probe that detailed Trump's behind-the-scenes fury and his efforts to pressure state officials and the Justice Department to overturn the election.
"The central cause of January 6th was one man, former President Donald Trump, who many others followed," the report asserts in its executive summary, placing the mob invasion of the Capitol within "a multi-part plan to overturn the 2020 Presidential election."
To read the report click here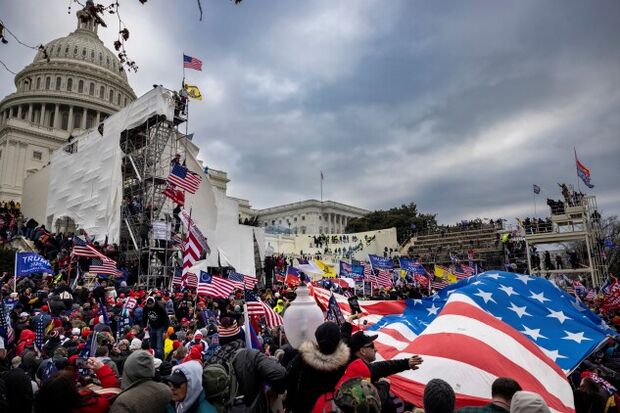 The panel of seven Democrats and two Republicans concluded its work Monday with the first-ever congressional criminal referral against a former president, urging that Trump be charged with four offenses including insurrection, conspiracy to defraud the US and obstructing a congressional proceeding. Read more
The report details unheeded intelligence warnings and other security lapses that allowed a mob of

Trump

supporters to storm the building. Impending violence in the days before the insurrection was — in the words of Gen.

Mark Milley

— "clear to all." An advanced threat assessment by Capitol Police on Jan. 3 even warned "Congress itself is a target." Read more
Former Defense Secretary Mark Esper testified in a transcript to the committee that he and others had to dissuade Trump from using active-duty military troops to quell the racial protests breaking out in the summer of 2020. Trump never seemed to have "embraced" the concept that the military should have a secondary role, particularly, for domestic disturbances, he said. Read more
The panel said Congress should consider whether to bar Trump and others tied to the Jan. 6 attack from public office, one of nearly a dozen recommendations aimed at preventing future attempts to overturn a US election. It also recommended closing loopholes in the congressional count of presidential electors, while also strengthening oversight and training of the Capitol Police.
Yet with Republicans preparing to take control of the House next month following the November midterm election, most of the proposals are considered dead on arrival. The committee of seven Democrats and two Republicans is set to disband as the new Congress is seated in January. Read more
Also Happening on the Hill
CONGRESS' SCHEDULE
The House meets at 9 a.m. to take up the omnibus spending bill.
The Senate has concluded business for the year, but will hold pro forma sessions today, Dec. 27, and Dec. 30.
In her first term in Congress, Rep. Lauren Boebert heckled President Joe Biden during the State of the Union, suggested another lawmaker was a terrorist, promoted conspiracy theories, ignored masking rules, and vowed to bring her Glock to Congress.
Dozens of Biden judicial nominees, some of whom have waited a year or more for a confirmation vote, are returning to the White House for reconsideration with Senate action on those appointments done for the year.
The Senate confirmed the president's pick for the country's chief agricultural trade negotiator on Thursday — a relief for trade watchers concerned by barriers to export markets around the world.
Senate Democrats yesterday, for the first time ever, published the rules that govern their leadership elections, committee assignments and internal debates. "It's fundamental that people know the rules and that it's open to the public," said Sen. Ben Cardin (Md.), Democrats' conference rules chair. "We should have done this a long time ago," Cardin said, Zach C. Cohen reports.
Federal efforts to act on state sales tax policy could arise in the new year as inconsistencies across the 45 sales tax states continue to plague retailers, the director of a multistate tax harmony pact warned Thursday.
Around the Administration
PRESIDENT'S SCHEDULE
Biden will make a holiday visit to the Children's National Hospital in Washington, D.C.
Meta Platforms has agreed to pay $725 million to settle a long-running lawsuit that claimed Facebook illegally shared user data with the research firm Cambridge Analytica. The settlement brings Meta a step closer to resolving the 2018 suit brought by Facebook users after it was revealed that the UK research firm connected to Trump's 2016 campaign for president gained access to the data of as many as 87 million of the social media network's subscribers.
Microsoft is fighting back against allegations from the US Federal Trade Commission that its proposed $69 billion acquisition of Activision Blizzard would harm competition in the video-gaming industry.
Biden administration plans to allow take-home use of opioid addiction treatment drugs and the sharing of substance users' medical records are steps in the right direction if done carefully, health experts say.
A dangerous form of strep A may be on the rise in children, adding another infection for pediatricians to worry about this winter.
US Secretary of State Antony Blinken told his Chinese counterpart that it was important for Beijing to be transparent about a growing Covid-19 outbreak, as questions mount about whether Chinese officials are trying to downplay the number of deaths. Read more
Meanwhile, China slapped sanctions on two Americans who have been involved with setting US policy, hitting back at Washington after it leveled measures against officials from the Asian nation over allegations of human rights abuses in Tibet. Read more
Women and girls also took to the streets in Afghanistan on Thursday after the Taliban banned women from higher education. Local media reported Taliban soldiers hit the protesters with sticks and whips, while detaining five of them along with two journalists covering the event.
The Pentagon is seeking industry feedback about its plans to hire a manager for a new consortium that will be tasked with filling gaps in the supply of critical defense materials.
The US International Trade Commission voted to initiate a patent infringement investigation focusing on certain location-sharing systems and related products that targets Google, Sony and two dozen other companies, according to a news release Thursday.
A monstrous, once-in-a-decade winter storm is battering the US, bringing with it heavy snow, searing winds and dangerously low temperatures, while causing mayhem for travelers across the country at the peak of the holiday season.
Editor's Note: BGOV's What to Know in Washington will not publish the week between federal holidays from Dec. 26 — Jan. 2. We'll resume publication when the 118th Congress convenes on Jan. 3, 2023.
With assistance from Zach C. Cohen
To contact the reporters on this story: Jack Fitzpatrick in Washington at jfitzpatrick@bgov.com; Michaela Ross in Washington at mross@bgov.com
To contact the editors responsible for this story: Brandon Lee at blee@bgov.com; Michaela Ross at mross@bgov.com; Giuseppe Macri at gmacri@bgov.com
Stay informed with more news like this – from the largest team of reporters on Capitol Hill – subscribe to Bloomberg Government today. Learn more.