What to Know in Washington: Odds Remain Long for Stimulus Deal
A last-ditch attempt by Democrats and the White House to restart negotiations on a new stimulus drew skepticism in Congress that a deal could be reached and written into law by Election Day.
Both sides had largely given up on stimulus talks after a weeks-long stalemate, even amid signs of strain in financial markets. But yesterday brought a flurry of activity that suggested movement on virus relief efforts as the clock runs out for Congress.
Speaker Nancy Pelosi (D-Calif.) and Treasury Secretary Steven Mnuchin expressed willingness yesterday to resume talks that broke off in August. Separately, House Democrats started work on what would be a roughly $2.4 trillion stimulus proposal that they could take into negotiations.
The new Democratic plan is roughly in line with the last offer made by Pelosi and Senate Minority Leader Chuck Schumer (D-N.Y.) to Mnuchin and White House Chief of Staff Mark Meadows, which the administration rejected. Smaller than the $3.4 trillion package the House passed in May, it's still more than the $1.5 trillion President Donald Trump has indicated he would accept, and much bigger than the $650 billion in new spending supported by Senate Republicans.
Rep. Kevin Brady (R-Texas), the top Republican on the tax writing committee, called the move to draft a Democrat-only bill "a waste of time."
"It doesn't get us an inch closer," Brady said.
Even if a deal can't be done by Election Day, some Democrats held out hope of passing a stimulus bill during the lame-duck session after the election, arguing that if Republicans lose control of the Senate they may be less concerned about winning the political argument about holding the line on spending. Read more from Erik Wasson and Billy House.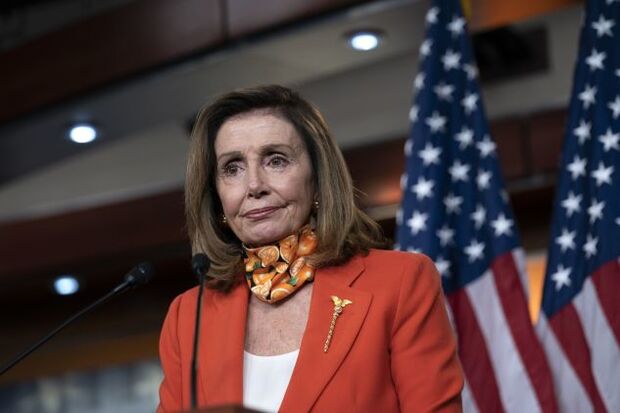 Happening on the Hill
Trump Turns to Congress on Health Care: Trump signed an executive order yesterday intended to pressure Republican lawmakers who have long been unable to forge an Obamacare alternative to come up with a plan to protect people with pre-existing conditions. Trump has often promised he would produce a replacement for the Affordable Care Act, which guarantees insurers can't deny coverage to sick people or charge them more. Just last week, the president said his plan is "ready." But the order essentially abandons the issue to Congress, suggesting he won't offer his own plan before the election.
A second order will direct Health and Human Services Secretary Alex Azar to work with Congress in addressing "surprise" hospital billings, Azar said in a briefing. The orders come as Trump faces Democratic criticism he's failed to offer a replacement for the Affordable Care Act now facing a U.S. Supreme Court challenge. While Azar said the president's order would make it U.S. "policy" that people with pre-existing conditions can't be denied insurance or made to pay more, he didn't address what the administration could do about this without a law being passed. Read more from John Tozzi, Jacquie Lee and Justin Sink.
Trump also said Americans in the Medicare program for the elderly and disabled will be sent $200 discount cards for prescription drugs within weeks. "Nobody's seen this before. These cards are incredible," Trump said in a speech outlining what he called an "America First Health Plan" in Charlotte, N.C. "The cards will be mailed out in coming weeks. I will always take care of our wonderful senior citizens." Trump didn't explain in his speech what program or authority would allow the government to provide the cards. Assuming they are sent to 33 million Medicare beneficiaries, the figure Trump used, the cards would cost about $6.6 billion. Read more from Justin Sink and Jordan Fabian.
Senators Seek Sanctions Over Navalny Poisoning: A bipartisan Senate group introduced a measure to levy sanctions on Russian officials "complicit in brazen violations of international law," including the poisoning of opposition leader and anti-corruption activist Alexey Navalny, according to a statement. Their bill also mandates a report on the "personal wealth amassed by the corrupt practices of Vladimir Putin and his inner circle." Read more from Chelsea Mes.
Bias in Military Promotions Targeted: Two senators on the Foreign Relations Committee unveiled legislation aimed at addressing bias in military promotions by withholding some identifying information from the boards that decide them. In a push to reduce biased choices tied to race or gender, Sens. Todd Young (R-Ind.) and Jeanne Shaheen (D-N.H.) want the Department of Defense to exclude information including a candidate's name, gender, age, and race. Photographs would also be banned. Read more from Josyana Joshua and Daniel Flatley.
Elections & Politics
Trump to Court Black Voters With Small Business Plan: Trump will make an appeal to Black Americans, a group poised to vote overwhelmingly against him in November, with offers of aid to expand small businesses and further criminal justice reforms. The president is to deliver a speech outlining policies he argues have helped the Black community. The White House chose Atlanta as the setting because it's a symbol of Black prosperity and home to many African American-owned businesses and entrepreneurs.
He plans to outline a policy the White House calls the Platinum Plan to increase Black employment and give Black-owned businesses access to $500 billion in capital, according to people familiar with the proposal. The people asked not to be identified discussing the proposal before the president announces it. Read more from Mario Parker.
Meanwhile, Black voters are seeing about 4% of their mail-in ballots initially rejected in the key swing state of North Carolina, twice the rate of White residents and a troubling sign for Democrats counting on one the party's most loyal blocs. As one of the first states to begin processing mail-in ballots, North Carolina offers an early glimpse into the the problems that may emerge as pandemic-wary voters across the nation try voting by mail for the first time. Because Democrats are choosing that option more than Republicans, ballot failures could cost challenger Joe Biden and benefit Trump. Read more from Todd Shields.
Republican Women Are Running Hard to the Right: After an abysmal showing for Republican women in the 2018 midterms—Democrats sent 105 women to Congress, while Republicans sent only 21—a new wave are seeking office this year. A record 227 GOP women have campaigned for seats in the House, almost 100 more than during the party's previous record-breaking year of 2010. Some didn't advance in their primaries, and others will fail to flip blue seats. But come January, it's almost certain that there will be more Republican women in the House.
On the whole, these politicians no longer fit the image long imposed on Republican women—that of the moderate consensus builder. These days, Republican women seeking office are warriors for hard-right politics. The shift predates Trump, but his style of conservative, populist rhetoric has turbocharged it. Read more from Naomi Nix and Rebecca Greenfield.
Biden's Spending Seen Driving Faster Recovery: Joe Biden's plans to boost government spending would help the U.S. economy bounce back faster from the coronavirus slump if he beats Trump in November's election, according to two new reports that crunched numbers from the candidates' platforms. The pickup in growth will be quickest if Democrats win the Senate as well as the White House, removing an obstacle to hikes in social welfare and infrastructure spending that would be "deficit-financed in significant part," according to a new study by Mark Zandi and Bernard Yaros from Moody's Analytics. Higher income taxes under Biden also likely wouldn't hold back private consumption too much, Moody's said. Ben Holland has more.
Obama Will Join Harris at Fundraisers: Former President Barack Obama will join Democratic vice-presidential nominee Kamala Harris at a pair of fundraising events next Friday, the first since Biden selected her as his running mate in August. The two will hold a virtual small-dollar fundraiser and a virtual event for high-dollar donors, with tickets selling for $100,000 or $250,000. Tyler Pager and Jennifer Epstein have more.
Kremlin Alarmed at Prospect of a Biden Win: In Moscow, analysts for the Kremlin and its Security Council are working overtime to war-game scenarios for a Biden presidency. Increasingly alarmed at the prospect of a White House without Trump, Russia is trying to determine what that'll mean for sensitive issues from nuclear arms to relations with China, energy exports, sanctions and far-flung global conflicts, according to people familiar with the efforts. Though few see much prospect for improved ties if Trump is re-elected, Biden would likely be bad news for Russia, people close to the leadership said. Read more from Henry Meyer and Ilya Arkhipov.
Federal Prosecutors Confirm Mail-In Ballot Probe: Federal prosecutors said they're investigating "potential issues" with a handful of mail-in ballots found in a Pennsylvania county, including several cast for Trump, who earlier seized on the probe as a sign of voting troubles ahead. Prosecutors at the Middle District of Pennsylvania said that investigators recovered nine military ballots that had been "discarded and then recovered" at the Luzerne County Board of Elections. Read more from Chris Strohm.
The Maine Supreme Judicial Court will hold a hearing Oct. 1 on the state Republican Party's request to halt the use of ranked choice voting in the Nov. 3 election while the GOP petitions the U.S. Supreme Court for a review, the court said. Adrianne Appel has more.
The two Republican members of North Carolina's State Board of Elections have resigned in a fight over the easing of voting access. In their resignation memos, David Black and Ken Raymond, the two Republicans on the five-member panel, cited voting changes that the board was proposing to settle a pending lawsuit and said they were not fully informed about the issues around the deal. Read more from Andrew M. Ballard.
What Else to Know Today
Agencies Racing to Finalize New Regulations: Federal agencies appear on track to issue at least a dozen high-priority regulations by the end of 2020, racing to enact Trump's agenda. Underscoring that sense of urgency, this month the Trump administration unveiled a pair of proposed rules—one empowering the Department of Homeland Security to expand its collection of biometric data from those seeking to enter the U.S., and one from the Department of Labor that could redefine what it means to be an independent contractor—each with just a 30-day window for public comment, rather than the more typical 60 or 90 days. Read more from Cheryl Bolen and Lydia O'Neal.
Trump's Plan to Wrap up Census is Blocked: The Trump administration was blocked from completing the 2020 census on a faster time line after civil rights group complained the plan would undercount minorities. U.S. District Judge Lucy Koh in San Jose, California, ruled yesterday that Commerce Secretary Wilbur Ross violated federal law by ordering a census "replan" that compressed deadlines and curtailed data collection. Read more from Joel Rosenblatt.
Covid Death Toll Nears 1 Million: The world will officially record 1 million deaths from Covid-19 in the next few days, but the real tally might be almost double that. Actual fatalities from the worst pandemic in a century may be closer to 1.8 million — a toll that could grow to as high as 3 million by the end of the year, according to Alan Lopez, a laureate professor and director of the University of Melbourne's global burden of disease group. The coronavirus's rapid spread and ability to transmit in people who show no signs of the disease have enabled it to outrun measures to accurately quantify cases through widespread diagnostic testing. Read more from Lisa Du.
Graduate Schools Add Students Amid Covid: Fewer undergraduates showed up to college this fall, but graduate schools provided a bright spot for the higher education sector. While undergraduate enrollment declined 2.5%, the number of students in graduate programs rose 3.9% over last fall—a trend that carried over from the summer, according to new data released by the National Student Clearinghouse. That growth was most notable at for-profit schools, which saw a 9.1% graduate enrollment boost. Read more from Andrew Kreighbaum.
Google's Search Business Targeted in Antitrust Case: Google's search engine, one of the most-profitable businesses in history, is about to face its biggest challenge as the U.S. government readies an antitrust lawsuit accusing the company of crushing competition to protect and extend its monopoly. After a 14-month investigation, the Justice Department is homing in on whether Google skews search results to favor its own products and whether it uses an iron fist over access to users to shut out rivals, according to people familiar with the matter. Read more from David McLaughlin and Gerrit De Vynck.
Telework Isolation Seen as Risk to Mentoring: Pentagon officials who touted the successes of telework are now seeing new challenges: isolation and making professional certifications as many workers face continued remote work. Some new employees have met supervisors only on webcams and other workers with expertise in areas like language must find ways to keep skills sharp, according to the Washington Headquarters Services and the Navy. Travis J. Tritten has more.
To contact the reporters on this story: Zachary Sherwood in Washington at zsherwood@bgov.com; Brandon Lee in Washington at blee@bgov.com
To contact the editors responsible for this story: Giuseppe Macri at gmacri@bgov.com; Loren Duggan at lduggan@bgov.com; Michaela Ross at mross@bgov.com