What to Know in Washington: Nuclear Talks Pitched After Attack
Russian forces occupy Europe's largest nuclear power plant
Fiscal experts rethink deficits amid funding talks, budget plans
Ukraine and Russian nuclear officials were called to attend negotiations by the international atomic regulator in order to dial down safety risks caused by the Kremlin's invasion.
International Atomic Energy Agency Director General Rafael Mariano Grossi said today he's offered to meet representatives from both sides at the site of the defunct Chernobyl nuclear power plant, north of Kyiv. The Argentine diplomat reiterated his grave concern at the growing risks following overnight shelling of Europe's biggest atomic generator, located in southeastern Ukraine.
"We are fortunate that there was not a release of radiation and that the integrity of the reactors themselves were not compromised," Grossi said. He wants to meet with both nations to agree on "a framework under the aegis of the IAEA" that will ensure the safety of Ukraine's nuclear infrastructure.
Russian forces already control the Chernobyl plant—the site of the deadly 1986 meltdown that's surrounded by a 1,616 mile exclusion zone because of residual radiation. Troops also are near the South Ukraine nuclear power plant north of Odessa. Rickety old Soviet reactors still operating at the Rivne plant, west of Kyiv, have been the focus of regulatory concern because of their higher safety risk.
"We are in completely unchartered waters," said Grossi, who put the IAEA's incident and emergency center on full alert overnight. Read more from Jonathan Tirone.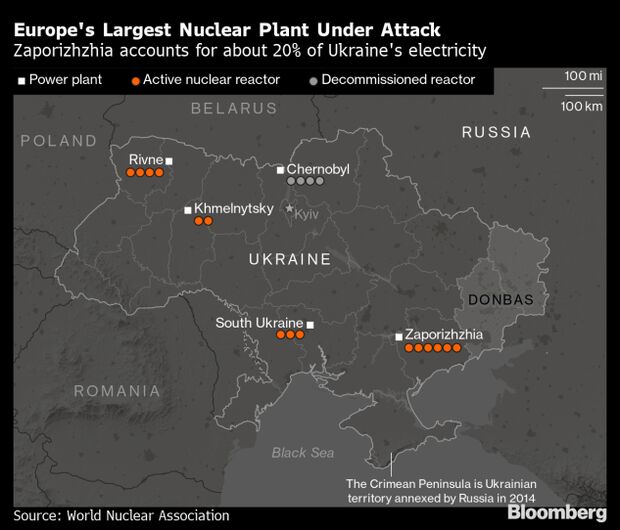 President Joe Biden spoke with Ukrainian President Volodymyr Zelenskiy as reports of the attack emerged and the leaders called on Russia "to cease its military activities in the area," according to a White House statement, Daniel Ten Kate and David Stringer report.
"Europe must wake up," Zelenskiy said in a video message early today, adding that he also spoke with U.K. Prime Minister Boris Johnson, German Chancellor Olaf Scholz and other leaders. "If there is an explosion, it is the end of Europe," Zelenskiy added. "Only urgent Europe actions can stop Russian troops."
Energy Minister Herman Halushchenko told Bloomberg Television early today that a missile had hit the nuclear plant's unit no. 1, and the Ukraine government was seeking more clarity on the damage. Reactors are "being protected by robust containment structures" and are being safely shut down, U.S. Energy Secretary Jennifer Granholm said in a statement, adding her department had activated its nuclear incident response team.
Zelenskiy is also stepping up his calls for a no-fly zone, but the NATO military alliance remains highly unlikely to support one, Natalia Drozdiak and John Follain report.
The pleas put the North Atlantic Treaty Organization in a difficult spot, given its position that it is purely a defensive alliance. While it has sent troops and equipment further east to reinforce countries closer to Russia, it has made clear it would not send troops into Ukraine. "We don't have to do anything to escalate," Spanish Foreign Minister Jose Manuel Albares told reporters ahead of a meeting of the alliance's ministers today in Brussels where the issue of a no-fly zone is set to be discussed. "Neither NATO nor the European allies nor the Ukrainians themselves and the Ukrainian government want war."
MORE ON THE UKRAINE WAR:
The Department of Homeland Security is expected to soon begin giving Temporary Protected Status to Ukrainians who are in the U.S., even as the Justice Department has halted the deportation of Ukrainian nationals who do not have green cards or other documentation. The protected status move by Homeland Security Secretary Alejandro Mayorkas would be effective as of March 1, meaning that Ukrainian nationals would have to had been in the U.S. by then to be eligible. Read more from Jordan Fabian, Ella Ceron and Ellen M. Gilmer.
The chorus is growing from America's oil executives for Biden to throw the federal government's weight behind an industry he once deliberately shunned: U.S. shale. The Biden administration, which has made climate one of its policy pillars, has more than once asked OPEC+ to raise crude production to tame energy prices—while at the same time declining to do so at home. Now, oil and gas executives say they can help ease the energy crisis triggered by Russia's invasion of Ukraine, but want help from the White House first. Kevin Crowley, Sergio Chapa and Jennifer A. Dlouhy have more.
Politicians around the world have made a show of talking tough about taking away the comforts of Russia's wealthiest. Yet actually seizing those assets will be much more difficult. There are layers of shell companies and vast troves of wealth hidden in tax havens. Read more.
Happening on the Hill
CONGRESS SCHEDULE:
The House and Senate are out today, with both set to return Monday ahead of the March 11 deadline to continue funding the government.
While the pending White House plan to fund the government will elicit the usual GOP handwringing on Capitol Hill, even Republican budget experts say they're OK with deficits that may surprise many Americans. The government could theoretically run annual deficits —the difference between government spending and revenue—in the hundreds of billions of dollars without any problems, conservative lawmakers and experts increasingly acknowledge. What they really want is rules that would require Congress to keep deficits in check, compared to economic growth. Read more from Jack Fitzpatrick.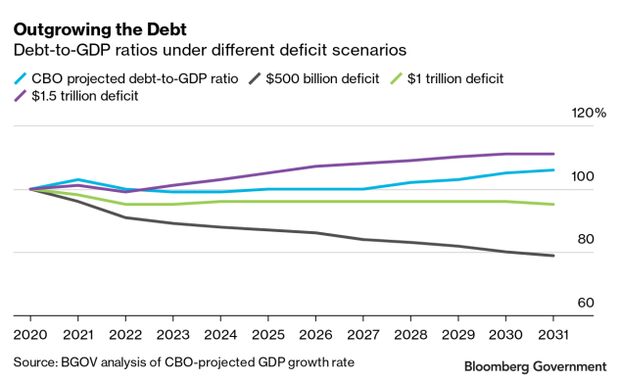 The upcoming funding bill to keep the government open is unlikely to include tax provisions. Industries advocating for particular tax provisions, especially a renewal of the more generous expensing rule for research and development that was phased out at the end of last year, have held out hope that their priorities could catch a ride with the must-pass legislation. In a brief interview Wednesday, Senate Finance Committee Chairman Ron Wyden (D-Ore.) remained noncommittal about including a tax section in the upcoming government funding bill. Read more from Colin Wilhelm.
Lawmakers are facing calls to provide the IRS with the funds it needs to address its backlog of tax returns and the "tax gap" between taxes paid and owed. "We encourage you to provide the IRS with sufficient funding to work down its backlogs this year while putting the agency on a path to effectively process tax returns, provide adequate taxpayer services, and efficiently collect revenue," a group of former government officials, professors and think-tank officials urged in a letter to the heads of the House and Senate Appropriations Committees. Read more from Naomi Jagoda.
Ocean carriers need more regulation that would make it harder for them to turn away U.S. goods at ports, senators from both parties said yesterday. Lawmakers and the Biden administration have taken special interest in solutions to backups at ports that have fed into shortages and high prices. As a potential remedy, a bipartisan bill would give the Federal Maritime Commission more authority to regulate international shipping companies and stop carriers from turning down U.S. exports. Read more from Lillianna Byington.
Jerome Powell is trying to balance uncertainty over the Ukraine war with political demands back home to move faster on inflation. That's a hard policy act to pull off without something breaking. Over two days of congressional hearings that wrapped yesterday, the Federal Reserve chair heard dismay from lawmakers in both parties over the fastest rate of inflation in 40 years, and urgent calls to do something about it. Read more from Craig Torres.
Politics & Influence
Donald Trump and two of his children won't have to appear for depositions in New York Attorney General Letitia James's probe of their family business while they challenge a decision requiring them to testify. Trump, Donald Trump Jr. and Ivanka Trump appealed a state judge's order issued last month forcing them to give testimony in James's investigation into possibly fraudulent asset valuations at the Trump Organization. James and the Trumps agreed they will not have to appear two weeks after a panel in Manhattan upholds the order, unless New York's top court puts the case on hold. Chris Dolmetsch has more.
Republicans will have a clear path to a lopsided 6–2 edge in Wisconsin's congressional delegation under a redistricting plan the State Supreme Court approved yesterday. The court, in a 4–3 decision, opted for a configuration offered by Gov. Tony Evers (D), who had rejected the version drafted by the Republican-controlled legislature. Read more from Greg Giroux.
Former President Bill Clinton plans to convene his signature gathering of business, government and philanthropic leaders in New York this September, according to a letter sent today to supporters of his charitable foundation. The Clinton Global Initiative hosted annual meetings from 2005 to 2016, with the final meeting held less than two months before Hillary Clinton lost the presidential election to Trump. During the 2016 campaign, the foundation faced scrutiny over whether its efforts to raise millions of dollars from governments and major companies benefited from her White House bid and her role as secretary of state in the Obama administration. Read more from Jennifer Epstein.
Florida would ban abortions after 15 weeks of pregnancy under legislation sent late yesterday to the governor's desk. The bill is similar to a Mississippi law that's before the U.S. Supreme Court. Read more from Jennifer Kay.
Around the Administration
BIDEN'S SCHEDULE:
Press Secretary Jen Psaki holds a press briefing at 1:15 p.m.
Biden will deliver remarks at 12:25 p.m. at the White House on on his administration's pledges to purchase domestic goods.
The president will meet with Finland President Sauli Niinistö at 2:30 p.m. in the Oval Office.
At 5:35 p.m. Biden will depart Washington for Delaware, and arrive in New Castle by 6:40 p.m.
Biden signed a bill yesterday to change how businesses resolve allegations of workplace sexual harassment and assault, and how such issues are addressed in employment contracts, Lauren Dezenski and Paige Smith report. Biden, at a bill signing ceremony at the White House, said it's a "momentous day for justice and fairness in the workplace." The law will prohibit enforcement of contract provisions that mandate third-party arbitration of workplace sexual harassment or assault claims.
The Department of Justice will focus more on victim outreach and restitution when reaching settlements with corporations, Criminal Division chief Kenneth Polite said in an interview. Prosecutors will be more deliberate and "explicit about ensuring that defendants are addressing victim restitution questions or outreach to victims as part of their 'Filip factor' presentations," which has not consistently been happening, Polite told Bloomberg Law, previewing his speech at the American Bar Association's white collar crime conference in San Francisco. Read more from Ben Penn.
The White House wants to work with Congress to ensure companies can continue to benefit from some tax incentives after the implementation of a global minimum tax, a Treasury official said. "We remain entirely committed to working with Congress to ensure that tax credits and other tax incentives that promote U.S. jobs and investment are protected," said Lily Batchelder, a top Treasury official for tax policy, at a Federal Bar Association event. She cited the "direct pay structure of the green credits" in the Build Back Better package and "some form of refundability" as examples. Read more from Isabel Gottlieb.
The U.S. should immediately move toward recognizing Taiwan as a country, former U.S. secretary of state and potential presidential candidate Mike Pompeo said in Taipei, comments that garnered a testy response from Beijing. "It is imperative to change 50 years of ambiguity," said Pompeo, the top diplomat in the Trump administration who is visiting Taipei in an unofficial capacity at the invitation of a think tank. Read more.
To contact the reporters on this story: Zachary Sherwood in Washington at zsherwood@bgov.com; Brandon Lee in Washington at blee@bgov.com
To contact the editors responsible for this story: Giuseppe Macri at gmacri@bgov.com; Loren Duggan at lduggan@bgov.com; Michaela Ross at mross@bgov.com