What to Know in Washington: No Infrastructure Breakthrough Yet
Bloomberg Government subscribers get the stories like this first. Act now and gain unlimited access to everything you need to know. Learn more.
The White House said it was "encouraged" by talks yesteray with Republican senators on a major new infrastructure package, even as lawmakers said the session yielded no agreement on an overall spending figure or on how to pay for it.
Administration participants in yesterday's session, who included Transportation Secretary Pete Buttigieg and Commerce Secretary Gina Raimondo along with senior White House officials, "were encouraged by today's discussion," the White House said in a statement. The White House plans to "follow up" with the Republican group later this week, according to the statement.
"I would say there is progress but we still have a ways to go," Sen. Shelley Moore Capito (R-W.Va.), who led the presentation of a Republican counteroffer to the administration in yesterday's discussions, said after the talks. "They are digesting what we proposed and will react to that." In her own statement, the senator said she too was "encouraged" by the meeting.
The negotiations followed a session hosted by President Joe Biden last week. Republicans have said they could go bigger than the $568 billion, five-year plan they outlined in April, with Senate Republican leader Mitch McConnell suggesting as much as $800 billion. Biden's $2.25 trillion "American Jobs Plan" is a much broader package that includes some social spending. Read more from Erik Wasson, Laura Litvan, and Steven T. Dennis.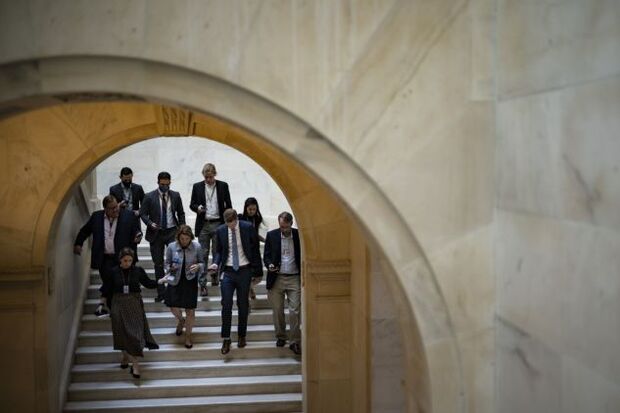 Highway Optimism Is High Despite Divergent Bills: House lawmakers are vowing to pass a bipartisan highway bill, as Republicans lay out their priorities this week and the top Democrat said "failure is not an option." Members are facing a Sept. 30 deadline to reauthorize surface transportation programs. "I'm doing everything I can to encourage bipartisan buy-in," House Transportation and Infrastructure Chair Peter DeFazio (D-Ore.) said at an American Public Transportation Association conference yesterday. Read more from Lillianna Byington.
More on Biden's Economic Agenda
Yellen Gets Cool Reception From Business on Infrastructure Plea: Business groups were unmoved by Treasury Secretary Janet Yellen's call yesterday for U.S. companies to accept higher taxes in return for a huge public investment in infrastructure aimed at boosting the American economy. "The data and the evidence are clear: The proposed tax increases would greatly disadvantage U.S. businesses and harm American workers," Suzanne Clark, president of the U.S. Chamber of Commerce, said following Yellen's speech to the group yesterday. Read more from Christopher Condon and Ilya Banares.
Biden Eyes Point-of-Sale Rebates for Electric Car Buyers: The Biden administration wants to give consumers rebates for purchasing electric vehicles to help the U.S. compete against China in manufacturing the next generation of cars, Biden's climate adviser, Gina McCarthy, said. The president wants "to invest more than $170 billion, and he is going to build out the electric charging stations that we need for consumers to buy these vehicles," McCarthy told Bloomberg TV. Read more from Jennifer A. Dlouhy and Emily Chang.
Stage Set for Paid Leave Debate Over Taxes: A looming debate over a national paid leave mandate began to take shape yesterday at a Senate committee hearing where Republicans raised concerns about paying for it while Democrats predicted it would boost the economy and women's workforce participation. Congress is set to consider creating the federally run paid family and medical leave program, as a part of the broader jobs and infrastructure bill pushed by the Biden administration. Read more from Chris Marr.
Happening on the Hill
Today's Agenda:
House Passes Hate Crimes Bill After Asian Attacks: The House passed by a wide bipartisan margin legislation to combat hate crimes across the U.S., a measure spurred by a sharp jump in attacks against Asian-Americans and Pacific Islanders since the pandemic started. The 364-62 vote comes weeks after the Senate passed the same legislation and sends it to Biden, who called for speedy action after March's shootings by a white gunman at Atlanta-area spas that left eight people, including six Asian women, dead. Read more from Laura Litvan.
China Bill to Include $52 Billion for U.S. Chips: The Senate will include $52 billion to bolster domestic semiconductor manufacturing in a wider bill to enhance U.S. competitiveness with China, Senate Majority Leader Chuck Schumer (D-N.Y.) said. He called it "a historic and immediate infusion" of federal funds to restore manufacturing of semiconductors in the U.S. A measure to authorize the money to support the domestic semiconductor industry was included in a defense policy bill, but it didn't actually provide money. Daniel Flatley has more.
GOP Senators Worry China Will Steal Vaccine IP: Senate Republicans are calling on top Biden administration officials to walk back support of an international plan to waive Covid-19 vaccine IP protections, calling the decision a "giveaway" to China and India that will only promote "vaccine nationalism." Countries like China that regularly steal U.S. intellectual property began urging the World Trade Organization to waive IP rights "almost immediately after these vaccines were proven to work," the senators wrote. Read more from Ian Lopez.
Warner, Rubio Ready Cyber Incident Bill: The top lawmakers on the Senate Intelligence Committee are working on bipartisan legislation aimed at preventing cascading cyberattacks following recent breaches at SolarWinds and Colonial Pipeline. Sen. Mark Warner (D-Va.), who leads the panel, said the narrowly focused legislation would mandate cybersecurity incident reporting while providing limited liability protections for companies. The bill would aim to reduce the economic effects of public and private sector cyberattacks by encouraging the government and companies to work together in sharing data. Read more from Rebecca Kern.
Elections, Politics & Probes
Rubio Challenge Could Shift Senate Battle Strategy: A challenge to Sen. Marco Rubio (R-Fla.) by Rep. Val Demings (D-Fla.) next year has the potential to reshape the strategies of both parties in the contest for Senate control. A bid by Demings in the view of Democratic officials would put Florida in play for 2022, expanding the Senate battleground, according to one Democrat with knowledge of the party's strategy. Read more from Steven T. Dennis.
Lost N.Y. House Seat Stirs Debate: New York will lose a congressional seat next year because of a 92-year-old law rooted in fears over African-Americans and immigrants gaining too much political power. The Empire State came up short in the latest Census count by just 89 people, joining six other states as losers in the upcoming reshuffling of House seats. The framers of the Constitution intended for Congress to grow with the country until a 1929 law capped it at 435, yet there is little appetite for House members to dilute their own power. Read more from Gregory Korte, Allison McCartney and Ryan Teague Beckwith.
FBI Probing Contractor Donations to Collins: The FBI has been reviewing a possible scheme to funnel illegal donations to the 2020 re-election campaign of Sen. Susan Collins (R-Maine), recently unsealed court records in Washington show. Read more from David Yaffe-Bellany.
N.Y. Opens Criminal Probe of Trump Organization: New York Attorney General Letitia James said her investigation of the Trump Organization, which had been civil, has morphed into a criminal probe. The disclosure means that former president Donald Trump's company is under criminal investigation by two state officials, James and Manhattan District Attorney Cyrus Vance Jr. Read more from Erik Larson and Greg Farrell.
Trump DOJ Didn't Push Back on Giuliani Search: Trump-era Justice Department officials in Washington raised no concerns to Manhattan federal prosecutors when they said they hope to covertly search Rudy Giuliani's Apple iCloud account in late 2019, people familiar with the matter said. Read more from Christian Berthelsen, Greg Farrell, and Chris Strohm.
'Left Out' Businesses Request Relief: Theme parks, equipment rental companies, ski slopes, and travel agents are among the businesses claiming they've been "left out" of pandemic aid and joined forces to call on Congress and the Biden administration to help their bottom lines before they face financial ruin. The slew of industries formed a new group called the Economic Bridge Coalition to push for their cause amid the country's slow re-opening from coronavirus restrictions and Americans' reluctance to attend large gatherings. Megan R. Wilson has more.
In the Courts
Supreme Court Delights Conservatives With Action: The U.S. Supreme Court is offering hints of the kind of paradigm shift conservatives have long craved by adding major abortion and gun-rights cases to its docket. Seven months after Amy Coney Barrett became the third Trump appointee on the court, it's moving to address some of the top items on longstanding conservative wish lists. In the coming weeks, the justices could also add an affirmative action showdown to the mix, giving them a trio of hot-button clashes for the nine-month term that starts in October. Read more from Greg Stohr.
All eyes will be on Chief Justice John Roberts and Justice Brett Kavanaugh next term when the U.S. Supreme Court considers an abortion dispute that could limit or even overturn a half-century of precedent dating back to the landmark ruling in Roe v. Wade. The other four Republican-appointed justices—Clarence Thomas, Samuel Alito, Neil Gorsuch, and Amy Coney Barrett—probably would be happy to jettison the court's current abortion precedent, said Cardozo law professor Kate Shaw. So "Roberts and Kavanaugh are the two to watch together," Shaw said. Read more from Kimberly Strawbridge Robinson.
Court Says States Can Challenge Census Delays: A federal appeals court yesterday revived an Ohio challenge to U.S. Census Bureau redistricting data delays in a ruling that gives states the power to sue the federal government over the late release of data used for political map-drawing. The three-judge panel of the U.S. Court of Appeals for the Sixth Circuit reversed an Ohio federal court decision saying Ohio Attorney General Dave Yost (R) didn't have the legal ability to bring his case urging for the immediate release of the figures. Alex Ebert has more.
Around the Administration
Biden Is Boxed In on Israel-Gaza, Able Only to Urge a Cease-Fire: After days of declining to call for a cease-fire between Israel and Hamas militants in the Gaza Strip, Biden reversed course. Whether it makes a difference on the battlefield is another matter. Biden's decision to show "support for a cease-fire" in a call with Israeli Prime Minister Benjamin Netanyahu on Monday signaled that the U.S. was looking for more public ways to stop the fighting. But his statement — expressing support for a halt to the deadly warfare but not demanding one outright — showed the limits of U.S. power and Biden's wariness of applying too much public pressure on Israel. Read more from Nick Wadhams.
Israeli airstrikes battered the Hamas-ruled Gaza Strip early today and rocket barrages from the isolated enclave thudded into Israel. Israel's Channel 12 TV reported late yesterday that Egypt, which has played a key role in ending previous bouts of violence in Gaza, had proposed a cease-fire that would start Thursday at 6 a.m., and that Hamas had agreed to comply. The report could not be confirmed. Fadwa Hodali and Saud Abu Ramadan have the latest.
Biden Looks to Build on Singapore, North Korea Deal: Biden is looking to build on a denuclearization agreement Trump reached with North Korea, a move likely to be welcomed by South Korea, which has seen it as a starting point for disarmament discussions. Read more from Jon Herskovitz.
Blinken Plans to Meet Russian Foreign Minister: Secretary of State Antony Blinken plans to meet with Russian Foreign Minister Sergei Lavrov during the Arctic Council summit in Iceland tonight, a State Department spokesman said. Read more from John Harney.
Biden Revives 'Access-to-Justice' Effort: Biden issued an executive order yesterday to move toward reviving a government office focused on access-to-justice issues. Biden's order directs Attorney General Merrick Garland to report within 120 days on the possibility of bringing back the Justice Department office, Sam Skolnik reports.
To contact the reporters on this story: Zachary Sherwood in Washington at zsherwood@bgov.com; Brandon Lee in Washington at blee@bgov.com
To contact the editors responsible for this story: Giuseppe Macri at gmacri@bgov.com; Loren Duggan at lduggan@bgov.com; Michaela Ross at mross@bgov.com
Stay informed with more news like this – from the largest team of reporters on Capitol Hill – subscribe to Bloomberg Government today. Learn more.