What to Know in Washington: NGOs Draw GOP Ire Over Migrant Aid
Bloomberg Government subscribers get the stories like this first. Act now and gain unlimited access to everything you need to know. Learn more.
A growing number of Republicans frustrated about the US-Mexico border are scrutinizing faith-based groups and other nonprofits that feed and shelter migrants, proposing to slash federal grants and accusing groups of enabling unauthorized border crossings.
The efforts to cut off federal funding and restrict the groups' work threatens to destabilize a system of partnerships between nonprofits and the federal government that Democrats and Republicans alike have historically supported. Ending partnerships with the nongovernmental organizations could lead to swift overcrowding at federal facilities or more frequent release of newly arrived immigrants onto the streets in border communities.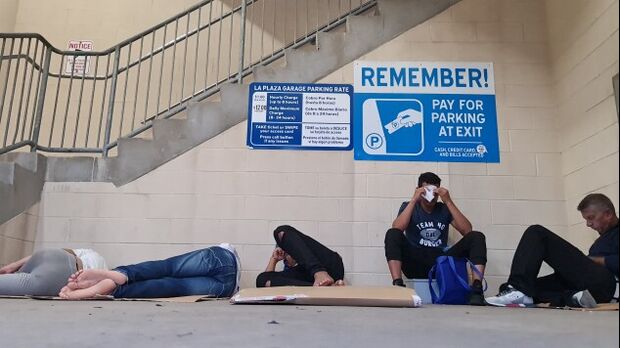 "We have to lean on these NGOs" because Customs and Border Protection facilities can't hold migrants for extended periods, Gloria Chavez, a longtime Border Patrol official who oversees the Rio Grande Sector, told lawmakers earlier this year.
"If they got their wish, which is basically to provide zero funding to local governments or NGOs who are assisting the federal government, we would have a humanitarian catastrophe unlike anything we've ever seen," Rep. Veronica Escobar (D-Texas), said of Republicans' efforts to end federal funding for the aid.
But critics say NGOs are part of the problem. In a recent Judiciary Committee hearing, Rep. Tom Tiffany (R-Wis.) called for Catholic Charities USA to testify to explain "what they're doing down on the border to facilitate this illegal immigration." Jewish Family Services, Lutheran Immigration and Refugee Service, and United Way Worldwide are also among more than a dozen organizations facing criticism.
Tiffany and other critics point to documentation that some groups have mismanaged federal funds and claim groups are rewarding immigrants who were able to sneak into the US. Many aid workers and leaders say they're caught in the crossfire of a partisan battle over border policies they can't control.
"The case somehow that we are facilitating illegal immigration is not true," said Bishop Jaime Soto of the Sacramento Diocese, which recently received a group of migrants sent by Texas officials. "We see a human suffering and people being exploited, and we have an obligation to try to be the Good Samaritan."
Nongovernmental organizations are poised to spend more time in the hot seat in the coming months as lawmakers squabble over government funding and Republicans investigate Homeland Security Secretary Alejandro Mayorkas's border policies. Read the full story from Ellen M. Gilmer.
BIDEN'S AGENDA
The president arrives in South Carolina shortly before noon to tour manufacturing giant Flex at 1 p.m.
At 1:15 p.m. Biden will give remarks on his economic policies and announce a $60 million investment from Enphase Energy in partnership with Flex to bolster clean energy supply chains. Read more.
The president is scheduled to return to the White House at 3:55 p.m.
Politics, Probes, and 2024
The Biden administration's battle with Republican-led states over free-speech limits escalated with its appeal of a judge's sweeping order barring federal officials and agencies from communicating with social media companies over postings they deem objectionable. It's the latest example of the judiciary flexing its muscles in cases testing the bounds of the First Amendment online.
The Trump-appointed judge who handed down the ruling has been sought out time and again by Republican states challenging the Biden administration, demonstrating the power of judge shopping, political science and legal scholars said. Read more.
Newly unsealed details from the Justice Department's investigation into Donald Trump's alleged mishandling of classified information shed light on how investigators made their case in court last year for a warrant to search the former president's Mar-a-Lago home, including the extent of surveillance footage they said showed boxes being moved.
Despite his mounting legal woes, Trump's army of small-dollar donors rallied to his side, bringing in more than $35 million in the second quarter. Read more.
From coffee to clothing lines, banking services to skin care, companies are promoting themselves as alternatives to so-called "woke" household corporations. Backers of the online platform Public Square tout it as an opportunity to take a stand over ESG policies and profit off a market that could reach 100 million shoppers.
More News We're Reading
Treasury Secretary Janet Yellen will meet with Chinese Premier Li Qiang in Beijing Friday, a senior Treasury official said, her first formal engagement in two days of meetings in the Chinese capital. Also on Friday, Yellen will meet with her former counterpart Liu He and participate in a dinner hosted by former People's Bank of China governor Zhou Xiaochuan. She will also meet with representatives of US firms conducting business in China.
Sweden is making a last-ditch push to convince Turkey that the Nordic nation should be allowed to join NATO, seeking to end a year-long stalemate that's stunted the alliance's northern expansion.
The DOJ's new plan to crack down on environmental crimes in Puerto Rico and the Virgin Islands is badly needed to combat corruption and shore up threadbare local agencies, according to Puerto Rico's former top environmental official.
The US is considering restrictions on China's access to computing over the Internet as part of attempt to limit that country's ability to develop AI capabilities, according to a person familiar with the discussions.
A push to allow small businesses and self-employed business owners to join together in large groups to buy health insurance is seeing early success, despite concerns it could skirt Obamacare protections.
The Secret Service on Wednesday confirmed that a powdery substance found inside the White House over the weekend is cocaine.
To contact the reporters on this story: Brandon Lee in Washington at blee@bgov.com; Giuseppe Macri in Washington at gmacri@bgov.com
To contact the editor responsible for this story: Kayla Sharpe at ksharpe@bloombergindustry.com
Stay informed with more news like this – from the largest team of reporters on Capitol Hill – subscribe to Bloomberg Government today. Learn more.