What to Know in Washington: Next Relief Bill to Face Tough Road
President Joe Biden's soon-to-be-unveiled longer-term economic stimulus package is set for far tougher obstacles in Congress than the pandemic-relief bill that's on the verge of squeaking through without a single Republican's backing.
The "build back better" program that the White House says will be announced after Biden signs the $1.9 trillion aid bill — heading for final passage as soon as today — will be far more expansive than its predecessor.
Spanning measures to address infrastructure, climate, health care, inequality and much more, and costing trillions of dollars over a decade, the initiative is far more complex. And Republican opposition to tax hikes will make it all the harder to fund the initiative.
Biden has the same three options as for his first package: go without the GOP on a bill that's as expansive as moderate Democrats and Senate rules will allow, dramatically scale back ambitions to lure at least 10 Senate Republicans, or split the program up and pursue a combination of approaches.
At stake for Biden is achieving the kind of sustained, longer-term fiscal support for the economy that the Obama administration lacked in the wake of the last recession. Read more from Steven T. Dennis and Erik Wasson.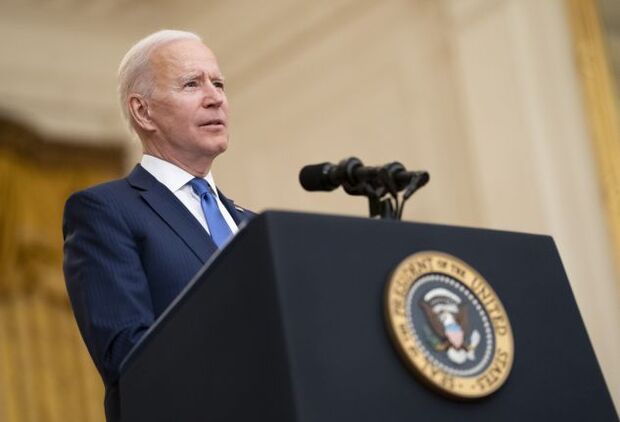 Relief Bill's Aid to Minority Farmers Shows Democrats' Priorities: The nation's shrinking pool of minority farmers is due to receive $5 billion of assistance in the Covid-19 relief bill, reflecting the Democrats' focus on the lingering impact of racism and their battle to take control of the Senate.
At a time when much of Washington is fixated on the influence of moderate Sen. Joe Manchin (D-W.Va.), the new debt relief program targeted specifically to Black, Hispanic, and Native American farmers also shows the political weight of Sen. Raphael Warnock (D-Ga.). The Black freshman senator's runoff win in Georgia, along with that of fellow Democrat Jon Ossoff, tipped the Senate to Democratic control. "For too long, farmers of color have been left to fend for themselves, not getting the support they deserve from the USDA, making it even more difficult for them to recover from this pandemic," Warnock, who was a driving force behind the provision, said on the Senate floor, referring to the Department of Agriculture. Read more from Mike Dorning and Megan Boyanton.
Building the Biden Administration
DOJ Picks Vow Urgent Action After Capitol Riot: The Justice Department must take deliberate action in coming weeks and months to defend democracy and the Constitution in response to the deadly Jan. 6 Capitol riot, Biden's picks for two top posts in the agency said in written testimony for their nomination hearing today.
"Today, the Justice Department is at an inflection point," said Lisa Monaco, who's been nominated to be deputy attorney general. "Our response to the shocking events of January 6th, an attack that cut to our country's core — and I know so personally affected many in this room — is nothing less than the defense of our democracy."
Vanita Gupta, who's been nominated to be associate attorney general, said she's committed her career "to ensuring that the promises made in the Constitution are kept, and that our federal laws are fairly and impartially applied." "As the events on Jan. 6th make clear, our democracy and Constitution do not protect themselves," Gupta said. "It is people of good conscience who do." Read more from Chris Strohm.
Antitrust Pick Will Reveal Biden's Stance on Monopolies: Biden's nominees have largely avoided a contentious confirmation process, but his selection for the Department of Justice's antitrust chief likely won't be able to avoid a progressive-moderate split. It will also carry enormous stakes for the future of Big Tech and American business generally. Biden's choice for this role will signal whether his administration is going to try to limit growing corporate consolidation, especially among technology companies, or, as some critics fear, follow the more deferential path of the Obama administration. Read more from Joshua Green.
Meanwhile, Biden plans to tap Lina Khan, a Columbia University legal scholar, to the Federal Trade Commission, Politico reports, citing unidentified people familiar with the matter. Khan is backed by anti-Big Tech activists, and the selection indicates Biden could target the industry.
Biden Promotes Two Female Generals Trump Didn't: Biden marked International Women's Day by saying he's nominating the second and third women to lead a combatant command in the U.S. military and in creating a gender policy council within the White House. The president said that he's selected General Jacqueline Van Ovost as commander of the U.S. Transportation Command and Lt. Gen. Laura Richardson as commander of U.S. Southern Command. Jennifer Epstein and Nancy Cook have more.
Douglas Bush, the former House Armed Services Committee deputy staff director, has joined the Pentagon as principal deputy assistant secretary of the Army for acquisition, logistics, and technology. A West Point graduate, Bush had served on the House committee in several roles including as a staff member for the Tactical Air and Land Forces subcommittee, with jurisdiction over Army and aviation programs. Read more from Roxana Tiron.
Ex-Treasury Official Barr All But Ruled Out for OCC: Michael Barr, an Obama-era Treasury Department official, is no longer expected to be nominated to lead a regulator that oversees Wall Street's biggest banks, according to people familiar with the matter. Biden had weighed him as his likely pick to run the Office of Comptroller of the Currency, but his candidacy saw a torrent of opposition from progressives. Read more from Saleha Mohsin and Jennifer Epstein.
Around the Administration
Pentagon Prepares Next Budget: Pentagon officials are crafting a fiscal 2022 budget plan that assumes the military will receive $704 billion to $708 billion, essentially a flat budget instead of the increase anticipated under former President Donald Trump, according to three current or former defense officials. The previous administration had announced that it would propose about $722 billion for the Defense Department in the year that begins Oct. 1, although lawmakers of both parties have predicted less would be available amid competing spending demands and rising deficits from Covid-19 relief packages. Read more from Tony Capaccio.
Biden Sends Migrant Lifeline to Venezuelans: The Biden Administration offered temporary protected status to an estimated 320,000 Venezuelans who fled their home country, allowing them to legally stay and work in the U.S. Venezuelans who are accepted into the program will receive temporary immigration status for 18 months. They'll be required to apply in the next 180 days, pay a fee, demonstrate they were already residing in the U.S. and do a background check. Read more from Justin Sink.
Presidential Power Questioned After Sacking of EEOC Lawyer: The Biden administration's sudden termination of the Trump-appointed top lawyer at the EEOC has raised questions about the legality of the action and potential effects on how the workplace civil rights agency functions. The White House informed Sharon Gustafson that she would be terminated in her role as U.S. Equal Employment Opportunity Commission general counsel on March 5 after she cited her four-year term as one of the reasons why she wouldn't heed the administration's call to resign. Read more from Paige Smith.
OPM Nixes Trump-Era Diversity Reviews: Federal agencies no longer have to submit their proposed diversity training plans for review by the Office of Personnel Management, under guidance that continues the Biden administration's rollback of changes instituted by Trump that banned "divisive" diversity training and "scapegoating" based on race and sex. Federal agencies may "resume using training materials previously deemed 'non-compliant'" under Trump's order. Read more from Louis LaBrecque.
EU to Go It Alone on Tech Tax Without U.S. Deal: European Union leaders are poised to affirm their commitment to a unilateral tax on tech giants if they fail to agree on a global framework with partners, including the Biden administration, by the middle of this year. Over a summit later this month, leaders will "stress the need to urgently address the tax challenges arising from the digitalization of the economy to ensure fairness and effectiveness," according to an early draft of a joint communique seen by Bloomberg. Read more from Nikos Chrysoloras and William Horobin.
Travel Groups Urge U.S. to Develop Vaccine Passport: U.S. airlines, joined by travel groups and labor, urged Biden's administration to take the lead in creating standards for temporary Covid-19 health credentials that would help reopen global travel by documenting vaccination and test result status. The U.S. "must be a leader" in efforts already underway in other parts of the world to implement such travel passports, groups including Airlines for America said in a letter to Jeffrey Zients, Biden's virus response chief. Read more from Mary Schlangenstein.
Clues for how the trio of available coronavirus vaccines compare may come through a real-world study on longer-term effects of inoculation, offering a chance to subdue worries over whether one shot is better than another. Thousands of health-care workers will be surveyed in the next few years on their health and well-being as part of a study known as "HERO-Together." Read more from Jeannie Baumann.
Politics & Influence
RNC Says Trump Will Permit Name for Fundraising: Donald Trump has given approval for the Republican National Committee to use his name in fundraising and other materials after the former president had threatened to sue if the GOP continued to do so, the RNC said in a response yesterday. Trump told Chairwoman Ronna Romney McDaniel last weekend that he was fine with the RNC's current use of his name, RNC Chief Counsel J. Justin Riemer said in a letter. Read more from Mark Niquette.
Cuomo Probe to Be Led by Ex-Federal Prosecutor: New York Attorney General Letitia James selected a former top federal prosecutor and a prominent employment bias lawyer to lead the state's investigation into sexual harassment claims against Gov. Andrew Cuomo (D). James has selected Joon Kim, who ran the U.S. Attorney's Office in Manhattan for around nine months in 2017, and attorney Anne L. Clark to shepherd the independent probe, the attorney general said in a statement. Read more from Erik Larson.
Israeli Billionaire Loses Trump-Granted Reprieves: The U.S. will end a temporary sanctions reprieve for Israeli billionaire Dan Gertler, the Department of State said yesterday, reversing a decision granted in the Trump administration's final days. The U.S. sanctioned Gertler and his firms in 2017 for allegedly corrupt mining deals in the Democratic Republic of Congo. Trump's Treasury Department quietly issued a special license in January exempting Gertler's business activities, Saleha Mohsin, Nick Wadhams, and Michael Kavanaugh report.
To contact the reporters on this story: Zachary Sherwood in Washington at zsherwood@bgov.com; Brandon Lee in Washington at blee@bgov.com
To contact the editors responsible for this story: Giuseppe Macri at gmacri@bgov.com; Loren Duggan at lduggan@bgov.com; Michaela Ross at mross@bgov.com